Chris: Hi! Can you tell us more about yourself and the role you're playing in that blooming project?
Mr. Tonn: I am Christian Tonn, shareholder and managing director of CeBioLabs and CeBiol Blockchain Solutions GmbH. I am 36 years old and living in Hamburg, Germany. After I graduated from high school, I was working for an import company for more than 10 years. Then in 2018, I founded my first company, CeBiol GmbH. CeBiol is a wholesale company for CBD products, today we supply different customers all over Europe. In the following years we have been working on solutions for the global CBD and Cannabis market. In 2021, I founded CeBioLabs with a friend who has been a blockchain expert since 2015.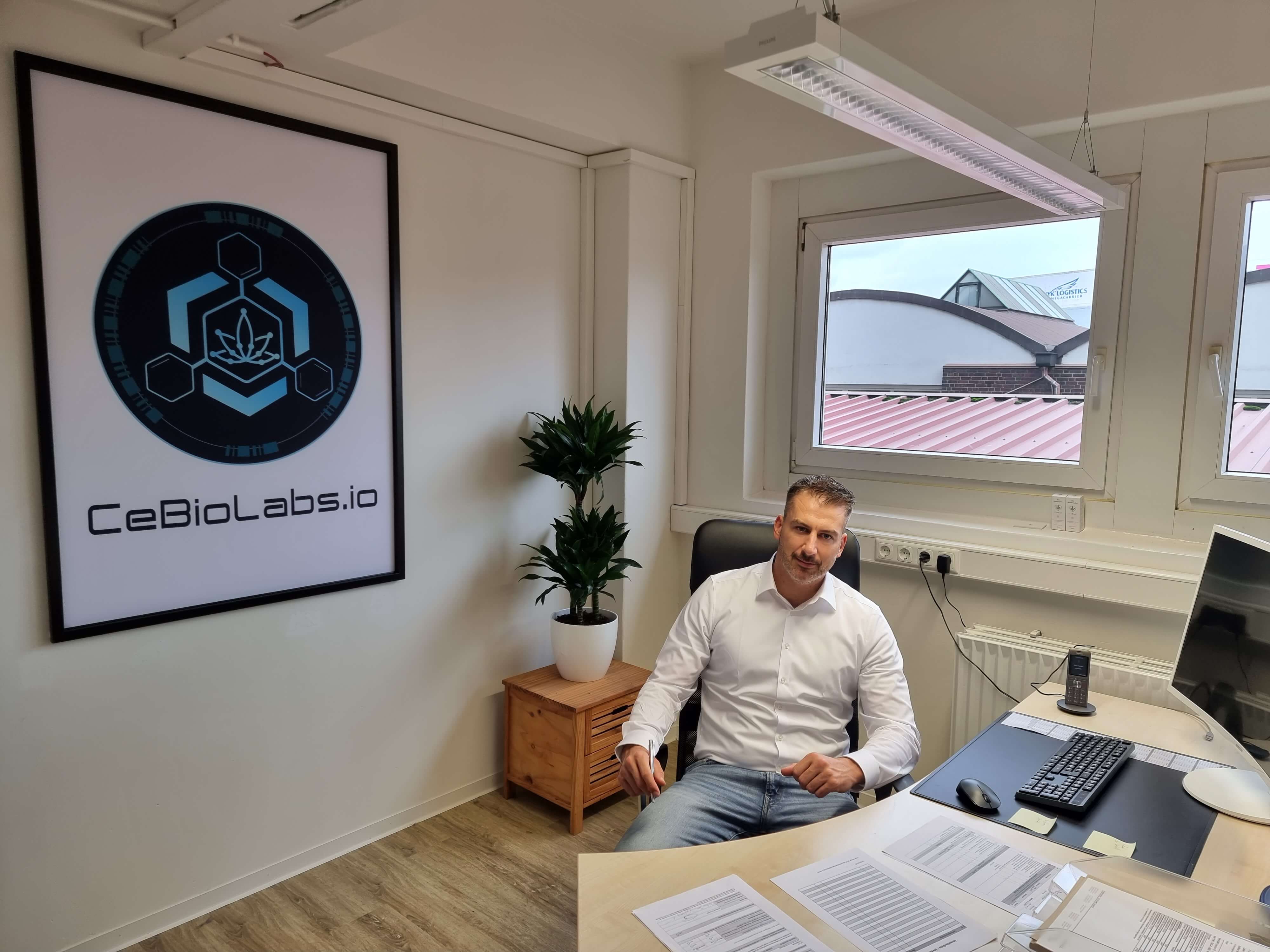 Chris: You guys set to change Global market of CBD and Cannabis — what made you want to do this?
Mr. Tonn: Through CeBiol GmbH we know the CBD and cannabis market with its problems. Due to the ongoing CBD and cannabis boom, the number of products and providers is growing very quick. Also, the upcoming legalization in Germany, but also in many other countries around the world, is a cause why the market will continue to grow strongly. The problem is that the market is not transparent. Supply chains often cannot be traced, and product analyses are also often inaccurate or even manipulated. As a result, poor quality products and often illegal products end up on the market. With CeBioLabs and its blockchain based solutions we want to solve all these problems.
Chris: What are the main features of your project?
Mr. Tonn: The key features are our blockchain-based systems with which we aim to solve the current problems in the CBD and Cannabis market and the CBSL token. The CBSL token is a utility token classified by the German federal financial authorities. It plays an important role in the CeBioLabs enterprise ecosystem and is already tradable on several crypto trading exchanges.
Our team has been working on the conception of CeBioLabs since mid-2021, which is explained and presented in detail in the white paper. Since the beginning of 2022, the first systems have also been actively worked on and developed. We plan to launch this on the international market in early 2023.
Chris: It is visible that your company has got an unparalleled support from various businesses in the industry — how did you achieve that?
Mr. Tonn: Since we have been active in the cannabis market for several years, we have been able to build up a big network in the Cannabis Industry. We are constantly in exchange with different market participants. CeBioLabs is the first project of its kind worldwide and offers the cannabis industry unique solutions for their businesses. The Blockchain technology as well as the company's own utility token CBSL will play an important role in this.

Chris: Do you have any limitations as far as regulations go?
Mr. Tonn: Regarding the regulatory classification of the CBSL token CeBioLabs has legal support by well-named lawyers for financial and capital law. Our lawyers have also been in the communication with the German Federal Financial Supervisory Authority. About other legal regulations, we naturally comply with the strict regulations applicable in Germany.
Chris: What is a chain management tool "CeBioLabs SCM"?
Mr. Tonn: CeBiolab's SCM is the world's first blockchain-based supply chain management system for the cannabis industry. The SCM system aims to ensure transparency and traceability along the entire value chain for CBD products. All market participants involved in the value chain, from the cultivation of the plants to the sale of the end products, are offered a comprehensive platform on which all relevant information on production, processing, and distribution steps, including quality controls and laboratory analyses, is documented in detail and can be accessed permanently. Through blockchain technology, all data is stored in a decentralized and immutable manner. The CeBioLabs SCM Tool will make the value chain for CBD products transparent and traceable for all stakeholders. The tool can be extended for cannabis products and will be available mainly in English. Thus, the CeBioLabs SCM system can be used for the global cannabis industry.

Chris: Can you share some exciting milestones you plan to reach this year and beginning of 2023?
Mr. Tonn: Some important milestones are the developments of the various CeBioLabs systems. These include our CBSL Marketplace and our blockchain-based Certificate of Analysis portal. This portal will store important documents with a proof of authenticity in the blockchain and contribute to more transparency in the market. We will launch this solution worldwide at the beginning of 2023. In addition, there are further e-commerce projects such as comparison platforms for CBD and Cannabis products. Other important tasks are improving our CBSL token, our community and aquire further exchange listings for CBSL.

Chris: Thanks! Anything else you would like to mention? Where can we follow your updates?
Mr. Tonn: All updates can be followed on our website and our social media channels.