Fajar Jasmin is the CEO & Founder of BeKind.
With more than a decade of experience under his belt working for and leading in various social global initiatives and causes for a better world, Fajar now takes the role of leadership in the BKND team.
Well-versed in charities, the NGO world, and the issues of climate change and children, his unique leadership mix of authenticity, flair and vision is never a short game, but one which results in impacts and changed lives.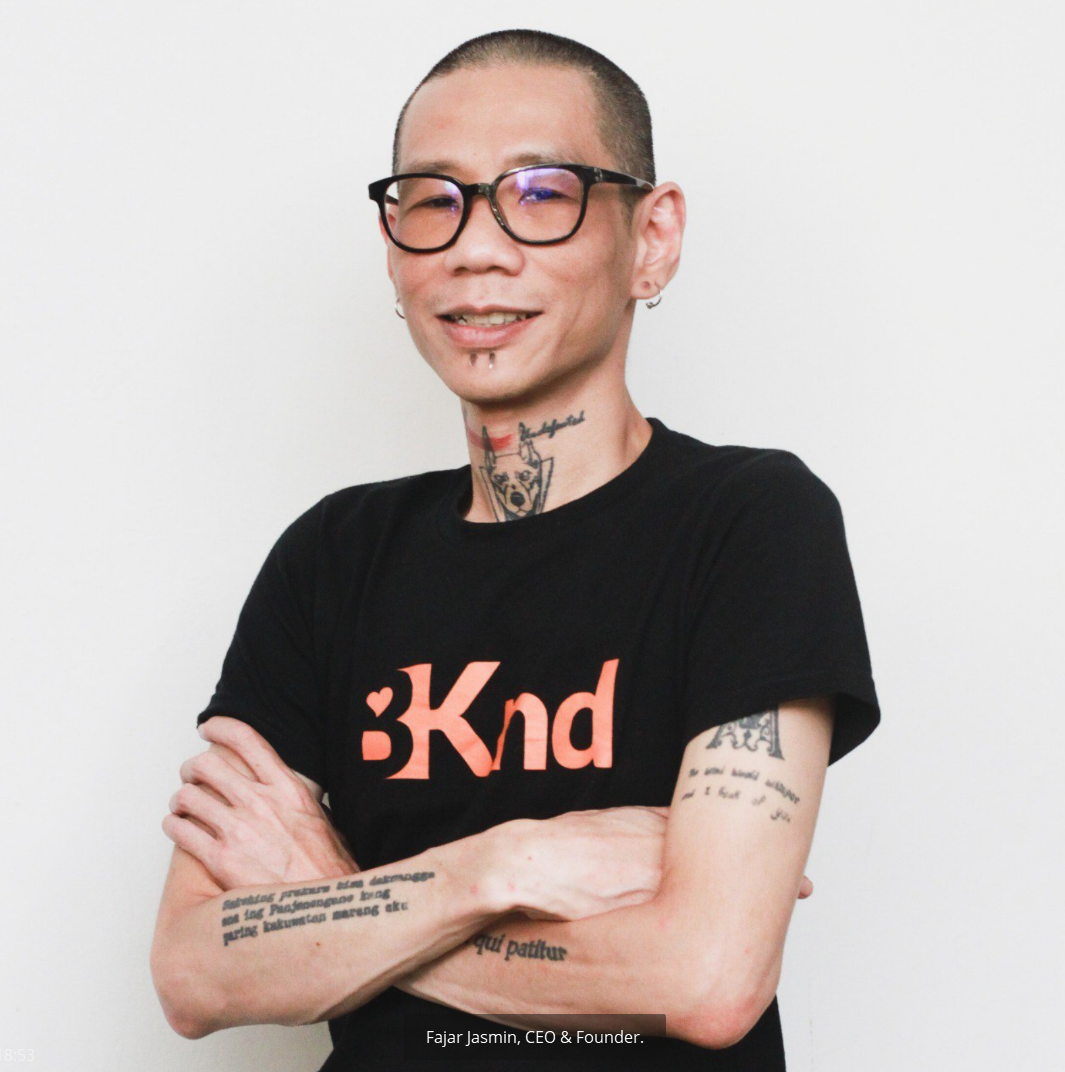 Chris from BitCourier: Was the story of BeKind creation any different from what we are used to seeing in the crypto world? How did the project come around?
It started out as a shared concern of the founding team: that donations, albeit noble in principle, can be improved in many ways to ensure maximum impact. Often, donations can take a lot of time to be executed with a process that is far from frictionless. Other issues can also arise: unclear fees, misuse of assets, or contracting market cycle due to causes like the global pandemic - we all know that this actually affects donations because people are not making donating a priority during a pandemic.
With this whole idea, we felt the need to provide a solution: and that's what prompted the creation of BeKind. We aim to not only make donating frictionless, but fast and transparent too. We are the first Indonesian BSC token that facilitates and supports a robust, accountable system of charity/donation by using a clear and transparent platform. This way, kindness can be executed without borders and we maximize the impact of donations.
Chris from BitCourier: Who is your target audience? What objective do you set for yourself in terms of helping people moving forward?
We'd prefer to call them adopters, as they will adopt our technology and products. These adopters can be anyone: we believe kindness should not be limited. Whether you're an NGO/social foundation or just an individual, you can participate in our ecosystem. As of now, we are concentrating on making partnerships with relevant entities to ensure that we can reach out as many people as possible, helping those in need.
Chris from BitCourier: Did the DeFi movement change the industry in your opinion?
Fajar Jasmin: Definitely. With DeFi, various new options are born. In fact, we are leveraging its staking feature, which can provide sustainability for the donations ecosystem. Both from donors and fundraisers' sides, they can now allocate a budget and stake it to gain yields, which will allow that budget to self-sustain, providing continuous amount so they can still regularly spread kindness, even during weird times like now.
Chris from BitCourier: What is your opinion on the current state of the market? What are the most promising asset categories to be tokenized?
Fajar Jasmin: It's good. I'm not talking about being bearish or bullish. As we all know, the crypto landscape can change in an instant. However, it's actually a good thing, as these changes attract more people into the crypto/blockchain universe because they're being broadcast as news, which results in more and more people knowing about the market. This, in turn, resulted in more adopters of blockchain and cryptocurrency. We believe any asset can be tokenized as long as it's executed well and provides answers to real-life issues. The potential of blockchain is limitless, really.
Chris from BitCourier: Did COVID19 affect your business? How did you adapt?
Fajar Jasmin: In ways like how we work, there are some adjustments, yes. Just like in many other areas, we now have to mostly work from home and practice several safety and health measures. However, I'm a half-glass full kind of guy: If anything, COVID19 actually opens doors for us to act. We rose to this challenge by responding: in September, we finished distributing free oxygen cylinders with our partners for COVID19 patients in several hospitals in Java, Indonesia.

Chris from BitCourier: Do we need a pile of cash to take the project to the promiseland in 2022?
Fajar Jasmin: It's not a matter of how much, I think. If you think about it, sometimes pouring sizeable sums into marketing can attract a wrong kind of crowd: those who are looking to speculate for short term gain only.
Rather, it's more of the message that we want to send, and whether we'll stay true to our own message. Plus, we at BeKind like to think that what's more important is our project itself. We believe by building a real, strong project with real use cases and actions, we will become more well-known and "hot" as time passes - it's only a bonus. Living out our passion to do something good for this world is already great! We are privileged to know that we can put smiles on more people's face.
Chris from BitCourier: How do you wed social charities and the investment aspect of BeKind?
Fajar Jasmin: While BeKind is a project, we're still developed under a legal LLC company in Indonesia: PT BeKind Teknologi Asia. This means, just like any other companies - especially since we're working on our own token, there's bound to be people who will purchase BKND for investment purposes. As we grow and start doing more charities and social actions, putting our token and the BSC blockchain into real use, the value of BKND should grow.
Chris from BitCourier: I wonder if you have UK-based projects in your portfolio? Do you plan to get any?
Fajar Jasmin: We don't, not at the moment. Starting up this kind of ecosystem needs careful and scalable implementation, starting from the geographical location in which we're physically located: Indonesia. That said, our roadmap clearly states that we're looking to expand our ecosystem and services beyond our boundary to include Asia, and the whole world ultimately.
Personally, though, I do have some experiences working with an international NGO based centrally in London, so clearly there are some potentials to be explored in fast-tracking this avenue of adoption.
Chris from BitCourier: What kind of partnerships are you looking for (integrations, media partnerships, contractors, etc.)? Do you have any specific plans for the UK market?
Fajar Jasmin: We don't look for any specific kind of partnerships. We are more into entities/individuals who share the same values as us: which is to promote kindness in a way that's transparent and sustainable. As mentioned in the previous question, in the long run, we'll start expanding BeKind to reach as many people as possible, not only in Indonesia - and we'll start from our neighboring countries. From then we'll look at expanding our market to the UK. Unfortunately we cannot share much of our strategies for now. Just stay tuned!
Chris from BitCourier: When do you plan to launch, and, seeing how volatile crypto can be, how do you see the fluctuations of BeKind affecting your project?
Fajar Jasmin: We plan to be launched in Tokocrypto, the biggest crypto exchange in Indonesia, in Q4 of 2021. While this exchange is in Indonesia and we cannot yet disclose the specifics, anyone interested in purchasing our tokens should not feel excluded, as the plan is to also provide them a market despite not being in the country.
I believe the fluctuations of BeKind (you're talking about the token, right?) shouldn't affect our project much. As we elaborated before, our main focus is to take some real actions. If our token drops in value , as long as we continue to learn and do real things, it can recover. If, on the other hand, it rises in value, that can only mean that we're more widely adopted and we're doing things the right way!