The Digital Fortress investment fund has invested $350,000 in BondAppetit in exchange for 1.74 million BAG.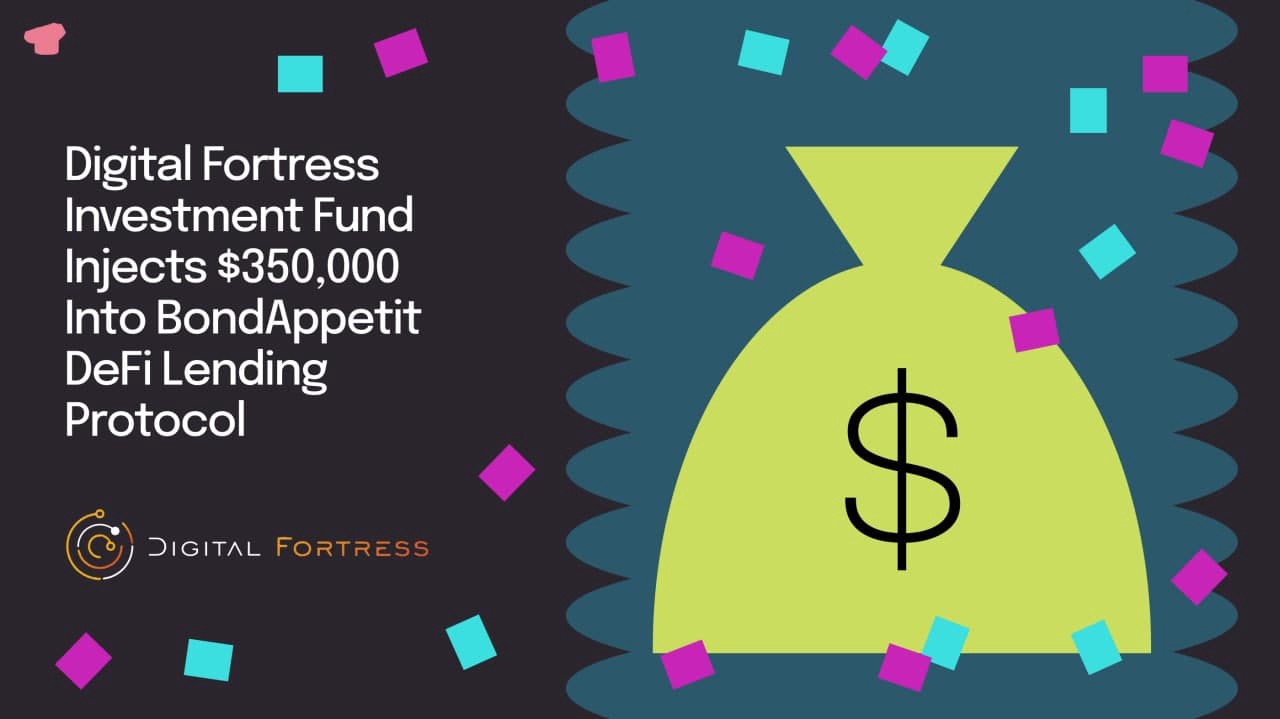 "The corporate loans and short-term liquidity markets are immense and worth tens of trillions of dollars. In the coming years, DeFi services will be taking up a significant share of this market," as stated by Evgeny Yudin, Director of Digital Fortress.
"BondAppetit can become a significant player on the debt financing market. The protocol has an innovative hybrid model and a strong team with the necessary experience and connections in both the traditional finance and the cryptocurrency markets. The BondAppetit USDap stablecoin is decentralized and has transparent collateral that can be verified online at any time. 100% of the collateral is composed of stable assets from the traditional financial sector."
The fund retains an option of acquiring more BAG tokens throughout the year. The details of the option contract will be published later.
The entire amount of $350,000 will be used for the acquisition of bonds to increase the emission of USDap.
BondAppetit
BondAppetit is a DeFi protocol for business loans. The core product of the protocol is the USDap decentralized stablecoin, which is backed by bonds at 100%. The presence of collateral can be verified at any time at https://bondappetit.io/collateral.
The protocol was launched in 2021 by Artem Tolkachev, the former director of the Deloitte blockchain laboratory. The technical team is headed by Vladislav Komissarov, the former business development director of the SPARK-Interfax international news agency. The advisor to BondAppetit is Waves CEO Alexander Ivanov.
As of October 2021, BondAppetit is at the MVP stage. The protocol has managed to achieve full backing of the USDap stablecoin with real-world assets. The project has also started the distribution of profits among holders of BAG governance tokens, and has entered into a partnership with the EAST.Finance project of the Waves ecosystem.
Digital Fortress
Digital Fortress is a venture capital fund founded in 2021 by a group of blockchain enthusiasts and believers in the potential of an open economy.
The company's headquarters are located in Cyprus, the country with the fastest growing technology sector.
The fund mainly focuses on investing in innovative and promising blockchain projects in the DEX, NFT, DeFi, DAO, Play2Earn and other sectors.
The fund's mission is to build the future of an open economy.
Links
Website: https://bondappetit.io/
Whitepaper: https://bondappetit.io/whitepaper
Litepaper: https://bondappetit.io/static/media/bondappetit_litepaper.pdf
Dev docs: https://bondappetit.io/docs/
News channel (EN): https://t.me/BondAppetit
Chat EN: https://t.me/BondAppetitEn
News channel (RU): https://t.me/BondAppetitRuNews
Chat RU: https://t.me/BondAppetitRu
Twitter: https://twitter.com/DeFiBonds

Source