Artur Makowka — the CEO of MintMe. A Unix engineer with experiences in different countries and corporations around the world. Artur also runs a free hosting provider in Poland, which expanded its coverage to regions such as Ukraine, the Middle East, and Latin America. Over 1 million people all over the world are active users using this solution.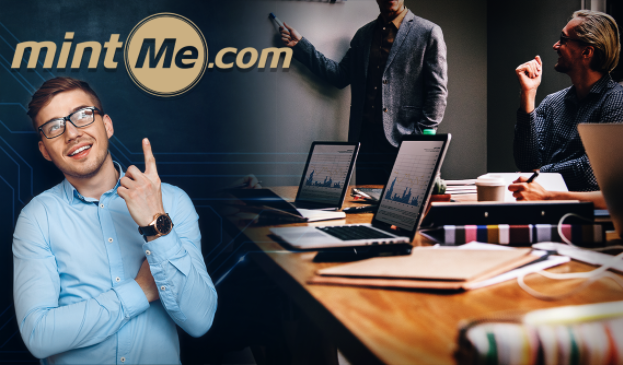 We are publishing the content of our recent interview with Artur, talking about MintMe.

Chris from BitCourier: Tell us about the creation of MintMe. What prompted the creation?
Artur: Everything started with an idea. As a Unix engineer, I was offered a job at Google. At the time, I had already started my hosting business so during my interview I was surprised when they asked me why I was not focusing on my own ideas. It made me realize that I wanted to focus on my own projects instead of working for someone else. I rejected the Google offer and successfully started growing my web hosting business.
After that, the ultimate idea developed in my mind. I thought that usually supporting influencers through donations doesn't allow people to benefit from their future success or doesn't give any decision power over the influencer's career, also people have it hard issuing shares or even receiving payments or economic support more directly from their fan base.
Then, in 2017 I started the path to establish my dream project called MintMe. This business started with the creation of the Blockchain MintMe Coin and MINTME as the base cryptocurrency. A cryptocurrency that was meant to be different from others in the market, transparent, and focused on equal mining.
We launched it at first under the name Webchain but were rebranded to MintMe to fully show the purpose behind it. MintMe was finally launched as BETA in June 2019 and fully opened in May 2020.

Chris from BitCourier: Who is your target audience? What objective do you set for yourself in terms of helping people?
Artur: Even though right now MintMe's platform is focused on crypto-knowledged people, our project is marketed as both a blockchain/crypto exchange and crowdfunding solution for everyone. We hope to expand and develop to allow more people to join and learn to use cryptocurrencies from scratch without needing any knowledge to get started.
Mintme can help people grow because it brings an innovative and completely new approach to the crypto and crowdfunding world. Both: token creators and their supporters have the possibility to earn money through token trading, unlike other crowdfunding platforms in which only one side gets it all.
This project was created, and it's in constant development to provide people with a platform in which they can share airdrops, exclusive material with their followers, and communicate directly with their supporters with security and transparency at the same time that they crowdfund for their projects, exchange crypto and of course trade with their tokens.

Chris from BitCourier: What are some of the unique features that put you ahead of the competition?
Artur: MintMe is not an isolated coin, all of our projects are connected through it and that is one of the reasons why it's a coin with such potential. Our main platform mintme.com uses MINTME as the main currency in which the price of the tokens created is set. We have also launched a hosting region called mintme.host directed to all MintMe users where they can also pay for hosting services with MintMe coins as well as any other of our Hosting servers. This approach has given MintMe high stability and profitability opportunities.
MintMe offers something truly revolutionary in terms of functions as well, different from any other crypto exchange and crowdfunding platform. The win-win situation that is created through token trading, and the features that sustain it such as DMs, a voting system, airdrops and referrals, direct buying and also in our next release we will have bounty programs, rewards, and significant expansion of the trading markets.

Chris from BitCourier: What is your opinion on the current state of the STO market? What are the most promising asset categories to be tokenized?
Artur: MintMe works on the basis that no crypto assets that are available via our platform can be classified as "security" by the United States SEC and/or other competent authorities. Although people at MintMe can create their own tokens for their own purpose, as a crowdfunding platform we encourage the utility tokens market. People can support and give without expecting a legal-bond compensation. Most projects would have the tendency to be startups, which will require a lot of work to earn people's trust and can only succeed working hand in hand with followers.
What is possible at MintMe though, is to encourage people to buy in exchange for prizes or rewards. An actor giving an exclusive interview, an app startup offering free memberships to first buyers, entertainers, or YouTubers offering insights or exclusive previews of their upcoming performances and presentations. It means that promising assets will be those that manage to earn people's interest through innovative ideas and originality.

Chris from BitCourier: Did COVID19 affect your business? How did you adapt?
Artur: Since we work as a remote company with a small team positioned in different parts of the world we have handled our business without further complications. Thankfully our employees were safe at home even though the general economy has been full of difficulties.
A positive factor, though, is that the crypto market boosted a lot during this time. Because of COVID-19, the crypto industry took a turn for good, and we have managed to see the silver lining through this rainy season.

Chris from BitCourier: Can you tell us about an accomplishment you are most proud of?
Artur: We are built up as a completely remote company. In the beginning, we started by creating a series of different projects, and have tried different branding faces, but through them all, we have remained focused on the kind of project we want to develop. Employees from different departments have had close participation in bringing up ideas and pulling out our weaknesses to improve and solve problems.

Chris from BitCourier: finally, what kind of partnerships are you looking for (integrations, media partnerships, contractors, etc.)?
Artur: Recently MintMe raised 700k$ by the hand of an independent investor who believes in cryptocurrencies and projects such as ours. We are looking forward to other investors who are willing to support this idea and collaborate in the development of our plans for the future. This also includes the listing of MintMe on important exchanges and with the boost of our popularity other steps in terms of marketing will ease up.