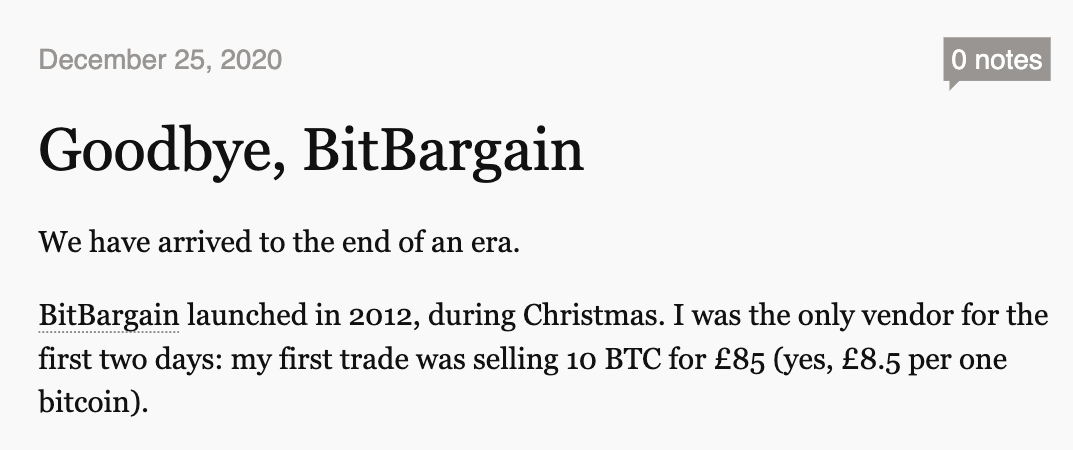 BitBargain, a UK-based peer-to-peer bitcoin exchange and one of the oldest in the industry, announced this week that it would close down its platform.
The closure comes a little ahead of the Jan 10, 2021 deadline specified by the UK Financial Conduct Authority (FCA) for crypto exchange businesses that do not wish to comply with new anti-money laundering and counter-terrorist financing (AML/CTF) rules.
On Dec 25, BitBargin CEO Martin published an exhaustive 'Goodbye' piece explaining why the exchange chose to shut down instead of abiding by the new requirements.
The company deemed as "overboard," the new regulatory effort by the FCA and regulators globally. Earlier measures that BitBargin employed to control money laundering and nefarious activities were more efficient and "worked, not only in the short term."
"Those in power want as much control over crypto as they have over your personal bank account," Martin wrote, lamenting on how surveillance tools and regulatory authorities end up putting innocent people at risk in the name of ensuring compliance.
He explained how regulators are slowly pushing users to own accounts on websites instead of setting up self-custodied wallets. Innocent users now get locked out of their accounts for merely using privacy-focused features such as trading via a marketplace, using conjoins, or a gambling site.
The BitBargain CEO further mentioned specific features of the incoming regulatory regime that they do not support.
Among these includes mandating KYC for users that buy only £200 worth of coins, giving authorities the right to instantly query customer information and transaction history, regulating crypto-to-crypto trades that do not involve fiat, and maintaining a compliance team even for self-custodial wallet services.
BitBargain will instead shut down its exchange platform and revert users to a chatroom on Bitresident.com where they can easily verify each other and carry on trading securely.
Meanwhile, BitBargain's closure comes less than a week after the FCA put companies with pending registration documents under a temporary regime. The exchange did not apply for the regime, and will now permanently go offline before January 10.