Bitcoin proponents often argue that the cryptocurrency is a safe haven asset. Although that statement may be true in terms of positive returns, it remains largely unproven in terms of the asset's ability to withstand a broader market sell-off such as that recorded on Sept 21. BTC and the crypto markets saw a steep sell-off alongside the stock and commodities market.
What was Behind Bitcoin's Latest Drop?
The market drop came off the back of troubling news that Chinese real-estate giant Evergrande would default on its £219.5 billion ($300 billion) debt.
The fear was largely attributed to the fact that Evergrande defaulted on the debt. If they do, it could force the company to liquidate its many real estate properties in China at a discount, creating a cascading effect in the nation's economy. The default would also affect the many global banks and financial institutions holding bonds issued by Evergrande, and trigger a broader market correction.
Following multiple media reports about the alleged severity of the Evergrande development, Bitcoin took a nosedive alongside the rest of the financial market, dropping from around $48,000 on Sept 19 to as low as $39,500 in the space of 72 hours.
Another source of concern for the crypto market was the news that U.S. regulators were planning to introduce new regulations that would affect the multitude of cryptocurrencies that fall under the broad "securities" definition.
Much to the relief of bulls, buyers managed to ensure a Bitcoin close around $40,500, thus defending the $40k support.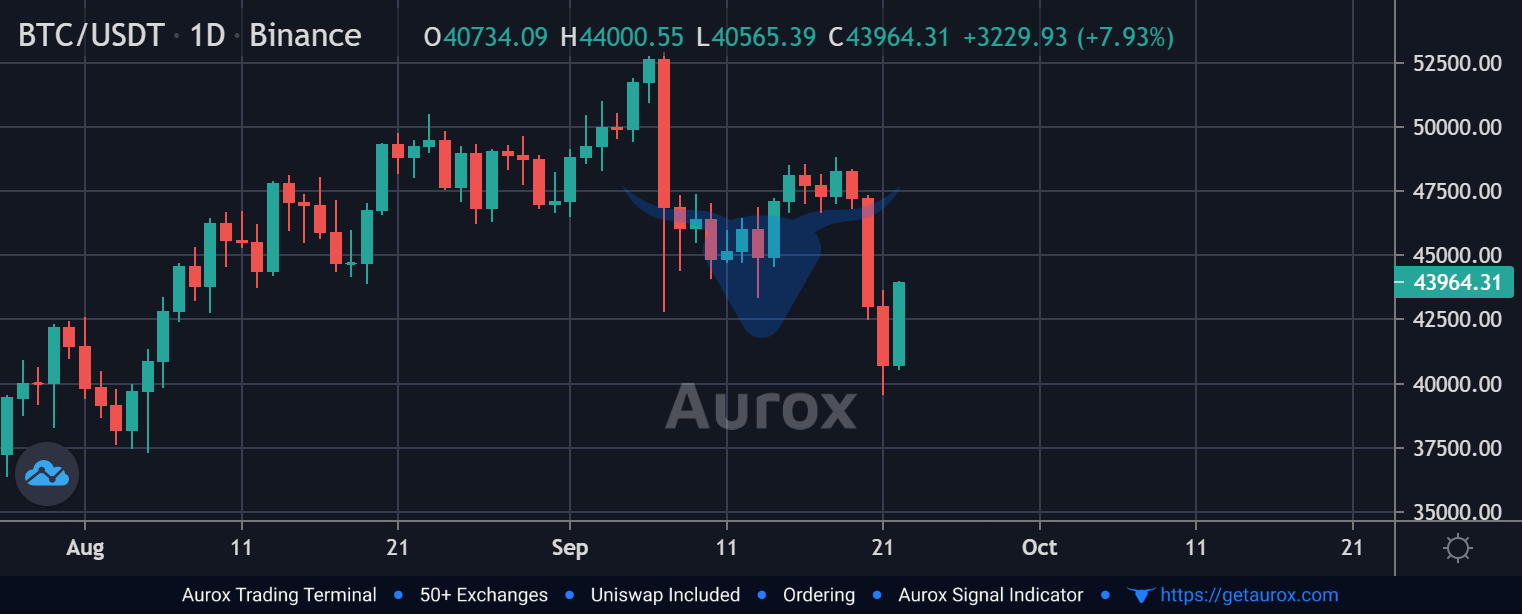 (Source: Aurox)
Since the drop, Bitcoin has gained 4% trading at £32,261 ($43,900) at the time of writing this line. The Bulls will be hoping that the worst is already over, and that the defense of that support will serve as a launchpad for BTC and the rest of the crypto market to set a new all-time high before the end of the year.
That hope has further been strengthened with positive news from China regarding the Evergrande situation. The country's central bank injected 120 billion yuan ($18.6 billion) into the banking system through reverse repurchase agreements, ensuring that the economy won't be adversely affected by the negative news around Evergrande.
Additionally, Evergrande agreed deals on Wednesday to pay interest on its domestic bonds, news that is largely responsible for relief rallies across the crypto and stock markets. Barring any further negative developments, Bitcoin may consolidate above the $40k mark over the next few days before deciding its next path.