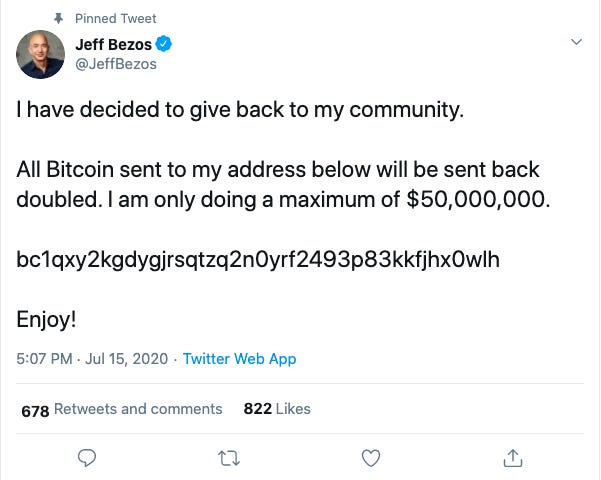 The Spanish National Police have arrested a British male, Joseph O'Connor (22), for his alleged involvement in the hack of celebrity accounts on Twitter last year. The arrest in Spain follows a warrant issued by a U.S. federal court that would see O'Connor face charges related to extortion, authorised computer access, as well as cyberstalking.
In July 2020, over 130 Twitter accounts of famous celebrities, corporations, and politicians were held hostage for approximately an hour. Popular accounts include Bill Gates, Joe Biden, Apple, Uber, Kanye West, and a number of cryptocurrency exchanges.
The people behind the scheme sent out misleading tweets to their millions of followers, requesting that they send Bitcoin to a provided address, in exchange for twice the amount. Before Twitter got the situation under control, the hackers had received up to £130,000 ($180,000) worth of bitcoins from unsuspecting followers.
Authorities have since arrested and prosecuted Graham Ivan Clark, a teenager alleged to have been the mastermind of the incident. Clark pleaded guilty in March and received a three-year prison sentence, to be followed by another three years of probation.
However, now-arrested Joseph O'Connor (known as a popular online hacker by the name 'PlugWalkJoe'), had earlier denied being involved in the incident.
The Liverpool resident spoke with the New York Times just two days after the hack, saying, "I don't care - they can come arrest me."I would laugh at them. I haven't done anything." That earlier denial, now followed by his arrest in Spain, means that O'Connor is set to face trial and perhaps a heavier sentence if found guilty.
Scams such as the ones perpetrated during the Twitter hack are common in the crypto industry, with newcomers often falling victim to it. The UK FCA recently announced plans for an £11M campaign to educate young investors on the risks associated with crypto investing.