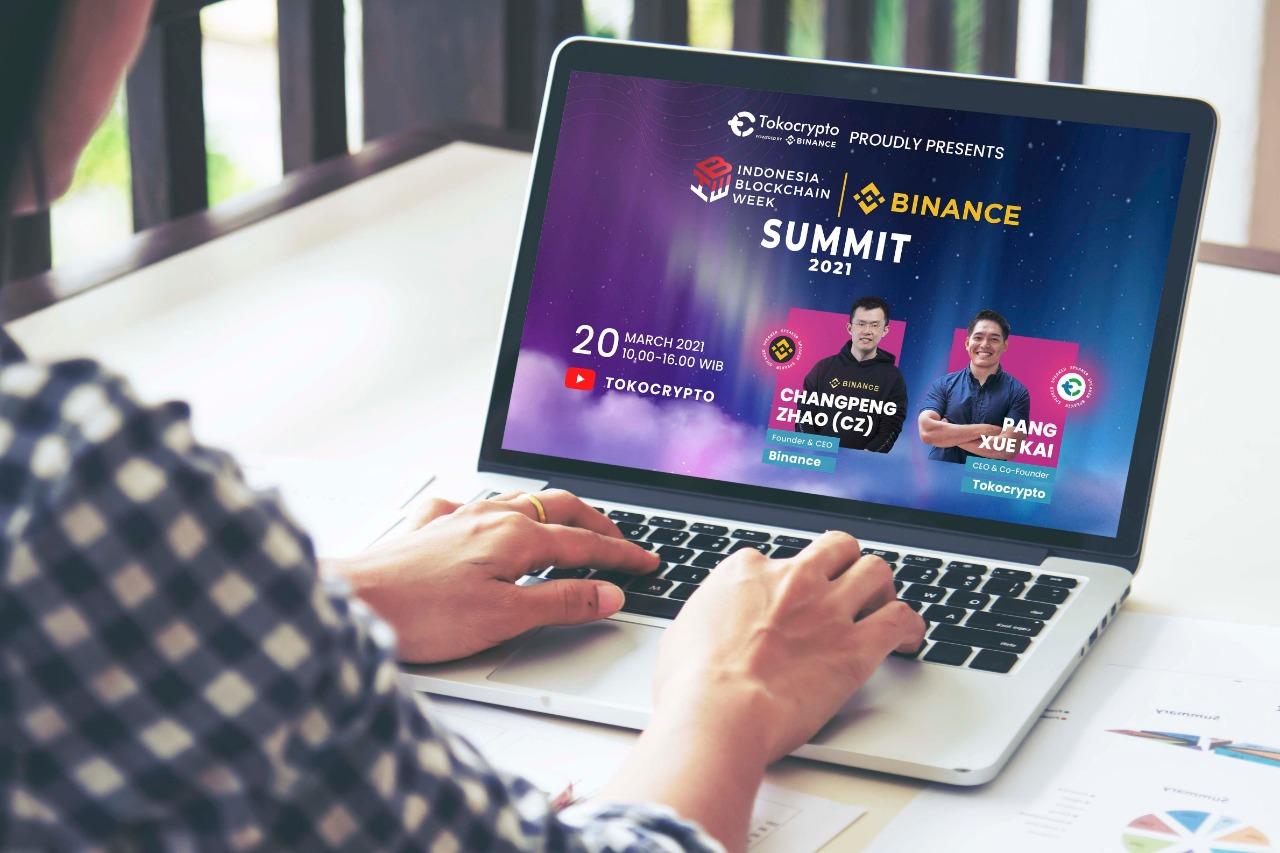 Jakarta, 18 March 2021 – Indonesia Blockchain Week which was successfully held twice in a row in 2019 and 2020 have inspired Tokocrypto and Binance again to become a co-host of the upcoming Indonesia Blockchain Week x Binance Summit 2021, the largest blockchain of webinar event in Indonesia on March 20, 2021. An event that will explore the CeFi, DeFi technology and specifically focus on discussing the Binance Smart Chain ecosystem.
The first session of the online summit will focus on various applications of Binance Smart Chain and DeFi in Indonesia. Meanwhile, in the second session, we will discuss the Binance Smart Chain from a technical and development perspective. There will be world-class speakers who will share their insights and experiences, including; Binance Founder & CEO, Changpeng Zhao (CZ); Tokocrypto CEO & Co-Founder, Xue Pang Kai (Kai); Tokocrypto COO, Teguh Kurniawan Harmanda; Binance CSO, Gin Chao; CFO of Binance, Wei Zhou; CEO of SafePal, Veronica Wong; COO CertiK, Daryl Hok; Overseas Marketing Director, Janet Wong, ForTube; Yprivacymatter CMO & COO, autofarm.network; UniFi Protocol; as well as many other speakers.
In organizing this online summit, Tokocrypto is also supported by various strategic partners who have the same perspectives and initiatives related to Binance Smart Chain, CeFI and DeFi and what are the benefits for Indonesia. among others; SafePal, CertiK, autofarm.network, ForTube and Unifi Protocol.
"Our enthusiasm to continue initiating various sharing and discussion forums which aim to encourage greater adoption of blockchain in Indonesia would not stop here. This is in-line with Tokocrypto's goal of developing a Token Shop (TKO), as the first hybrid token in Indonesia on top of the Binance Smart Chain. TKO will be Indonesia's first local crypto asset project to offer a unique hybrid token model, with utilities such as token exchange platforms, NFT Marketplace, CeFi, and DeFi," said Pang Xue Kai, CEO & Co-Founder of Tokocrypto.
In addition, the winners of the NFT design competition with a total prize of 10,000 TKO will also be announced and signed by the CEO of Binance and the CEO of Tokocrypto. As we all know, NFT has become a hot topic in the blockchain world lately with a market capitalization of $ 338 million at the end of 2020. This competition is also the beginning of Tokocrypto's initiative to support the creator's content ecosystem in Indonesia and until this news is published, there have been more than 200 NFT designs that will be selected.
Information about Indonesia Blockchain Week x Binance Summit 2021 can be seen here.
—
About Tokocrypto
Tokocrypto is Indonesia's no. 1 most trusted crypto-assets digital exchange. We are the first entity in Indonesia to be registered under the Trade and Futures Exchange Ministry (BAPPEBTI). Formed by a group of crypto enthusiasts who are strong advocates of the benefits of blockchain technology, our current goal is to help Indonesians gain a broader knowledge of the industry and to integrate the technology into society and subsequently, the global economy.
Established in late 2017, Tokocrypto recently joined hands with Binance, the world's largest cryptocurrency exchange, to upgrade our platform to Tokocrypto v 2.0 with the latest technology and security. This will allow our users to create their own alternative finance in an efficient, transparent, and scalable manner with industry-grade security and liquidity.
Whether you're a first-time investor or a professional trader – Tokocrypto has got you both covered! Visit our website for more information https://www.tokocrypto.com/
—
Media Contact
Rieka Handayani
+6281322468469