As the first and only company publicly known to date to use blockchain technology to fight depression and anxiety, FivebalanceUSA is one of a handful of companies listed on Coinmarketcap and trading on exchanges that has a real product fighting real-world problems. The Company has just signed a linkage agreement with V.O.A to provide services.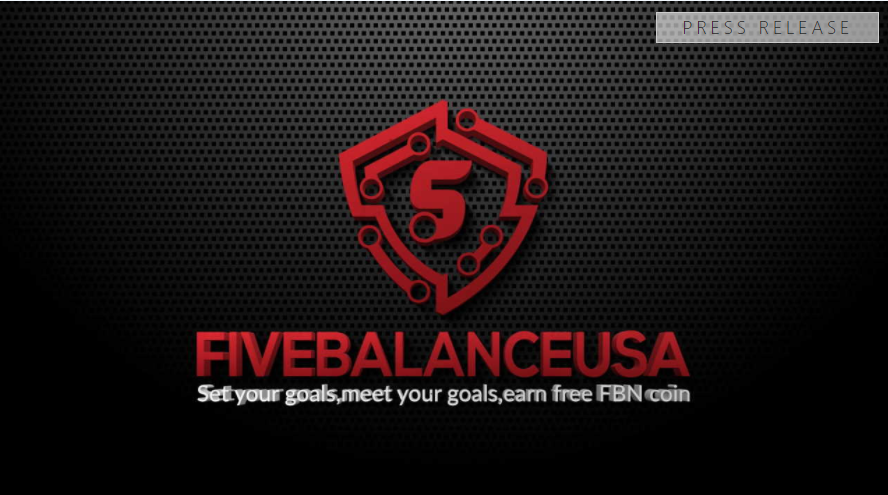 Fivebalance trades on the Mercatox exchange under the ticker symbol FBN. At the time of writing its current price is well under a quarter of a penny. This is significant for a number of reasons which will be laid out in this article.
Fivebalance has just over 1 billion coins in circulation as verified on Coinmarketcap.
The order books on Mercatox exchange look extremely thin, so much that 50 dollar transactions move the price.
When speaking with the CEO James McCoy, he has said he wants to see a minimum of 10 cents, but he believed fair value to be a dollar per coin. When asked for the reasoning behind those numbers, he stated "FBN Coin is designed to be an incentive/motivation for users of the mobile app to reach their goals, and to assist in self improvement. He stated that a coin with no real value would not be much of an incentive. He said he looks at FBN coin as a form of Universal basic Income, and that he is building partnerships and relationships that will help to bolster the mobile apps user base as well as the value of the Coin. He said money can't solve everything, but it can help in a lot of cases, and if at least 1 person can benefit from the app, then that's a great start."
Fivebalance has applied to all major exchanges, and their Coinbase and Binance applications are well over 8 months pending. Coinbase said back in January that they wanted to list all coins that were compliant. Fivebalance has obtained their Attorney opinion letter, as well as installed Rossetta into their code per Coinbase previous requirements. They have met the minimum requirements and are patiently waiting for their application to move through the que.
FiveBalanceUSA is a unique startup that has developed a self-improvement application available for free on the Google Play store. The app serves people dealing with sub-clinical depression by rewarding them with the FBN cryptocurrency upon achieving their personal customized goals in 5F categories – Fit, Financial, Family, Flair, and Faith.
The FiveBalance app incentivises users with FBN cryptocurrency to meet their life goals.
Another thing that was mentioned by James was the new incentive for premium members. Fivebalance mobile app users that have purchased a premium membership will soon be able to receive Shiba Inu coins for reaching their goals. The mechanism to facilitate this is currently being evaluated at the time of writing. This would be a game changer, to allow users multiple options of coin rewards for meeting their goals. When asked about the possibility of using DogeCoin as an additional reward since Elon Musk recently called Doge the peoples coin, James stated. Although he respects Mr. Musk for his technological wizardry, he's just too out of touch with the common folk. James stated that with no disrespect intended towards Mr. Musk's, but his employees wouldn't be considered the common people where he comes from. Their goal is to help the average everyday person who struggles daily. Your fast food workers, City employees, factory workers, etc. Those are who James considers the people, and FBN Coin was designed for them.
FivebalanceUSA's mission is to support all people who desire to have a prosperous and productive life. FivebalanceUSA has released new articles with resources to help individuals facing anxiety and subclinical depression caused from the stresses of dealing with Covid19 and the many hardships this pandemic has created. Articles with resources on emergency shelter, food, healthcare, as well as free counselling and where to go for financial aid have been released in the mobile app. These resources will also be available on their Youtube channel FivebalanceTV for those users that do not have access to the mobile app. "We want to help everyone" James stated.
Building partnerships
FivebalanceUSA has secured a working partnership with Volunteers of America of Greater N.Y to provide their self improvement tools to the Clients of the V.O.A. Volunteers of America is celebrating their 125th year of providing much needed services to Veterans, Families in need, Homeless individuals, Women who have been subjected to domestic violence, and many other important at risk groups. This will allow for the clients of Volunteers of America to have access to the Fivebalance mobile app. The Volunteers of America organization serves on average 1.5 million people a year and counting. With the mental and physical stress created by Covid-19 as well as many other situations, Free resources for individuals to have access to is not just a great idea, it's mandatory at this point.
You can learn more about Volunteers of America and how they have been helping individuals for over a century on their website https://www.voa.org/about-us
Fivebalance Mobile app ecosystem
A Chat feature has been implemented into the Fivebalance mobile app to allow users that are facing sub-clinical depression and anxiety to be able to chat with others facing similar issues. The Company intends to build its own ecosystem inside the app complete with Social media video and audio interface, a marketplace where they currently have NFT's and self improvement novels, and much more. Development is expected to continue to roll out through the end of the year, and well into 2022.
Summing things up!
Real Company with real products, real use case, real partners, low market cap, pending applications on major exchanges, and dedicated reachable team. All the correct ingredients at the correct time!
A video is available on how to purchase FBN coin on Mercatox exchange on their Youtube channel FivebalanceUSA https://youtu.be/xtt37ughpWk
For details about the project, the leadership, the company's whitepaper, and upcoming updates, please visit the provided link: https://coinmarketcap.com/currencies/fivebalance/ or contact Fivebalance on its Social Media feeds.
Social Links
https://www.facebook.com/FivebalanceUSA-101385951798293/".facebook.com/FivebalanceUSA-101385951798293/
https://twitter.com/FivebalanceU
Media Contact
Company: FivebalanceUSA. LLC
Contact: James
Email: [email protected]
Website: https://fivebalance.com/
SOURCE: TD publishing
DISCLAIMER
This is not investment advice! Investing in Cryptocurrency is risky, and you could lose your investment. Mercatox, is NOT a U.S regulated exchange. This guide does not imply in any form or fashion that the coin price will rise or fall in value. This guide is simply to show you how to purchase FBN Coin at this time. As always, please do your own research and consult with a licensed Financial advisor for any investment advice.