Rohan Kotkar - is the Founder & CEO, a Professional Trader with a sophisticated history (5+ years) in the blockchain field. At a very young age, Rohan set up his own small financial business as a professional trader and blockchain consultant under the name "RK Investments". Today, we are talking about his current business, i.e. Uma Chit Fund.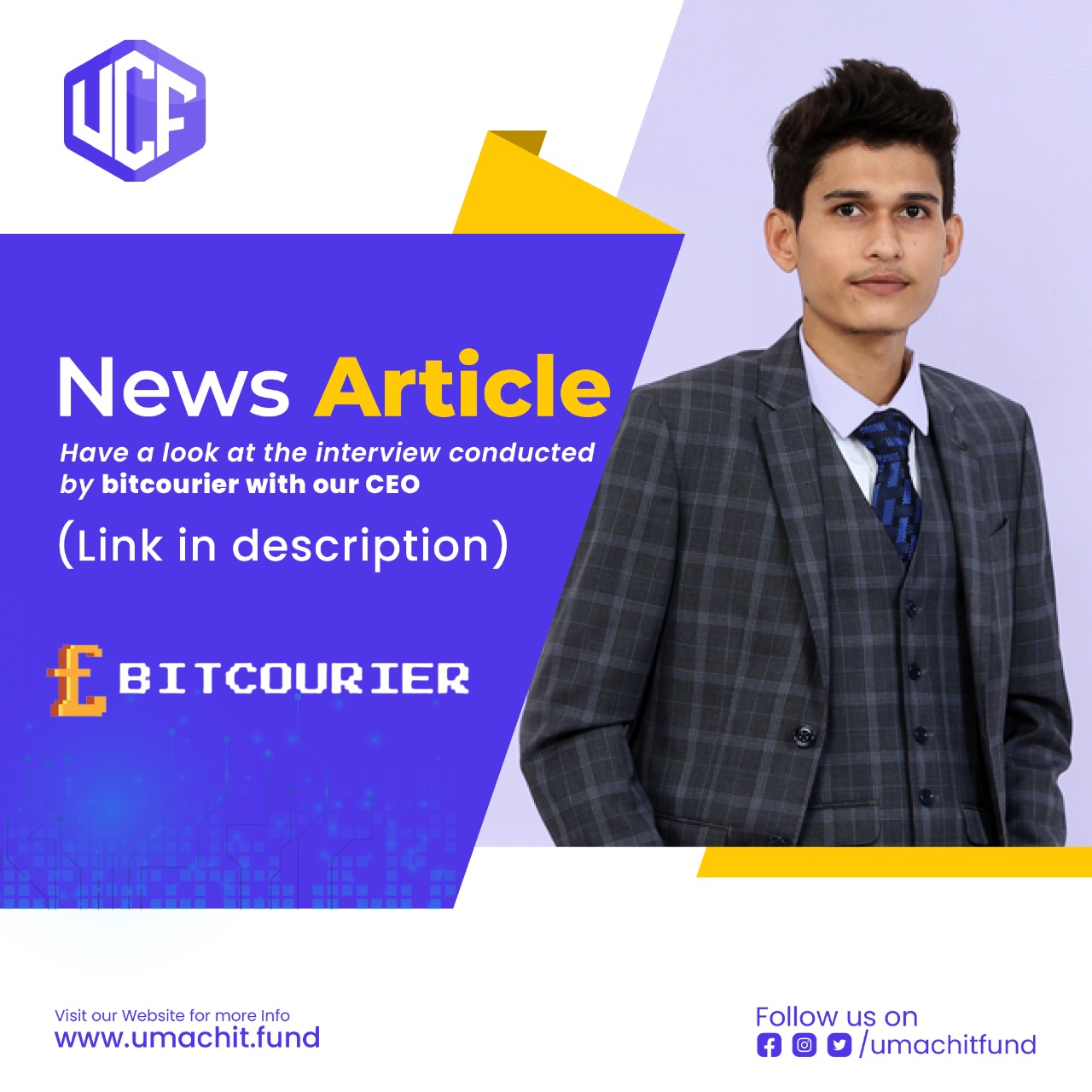 Bitcouurier: Tell us about the creation of Umachit.fund. What inspired the creation of it?
Rohan: Uma Chit Fund was founded in 2019. After case study I had a clear concept about the solution to the current problems faced in the chit industry and that's where the journey started. The name "Uma" is driven
from the most inspirational person in my life and that's my mother.
BitCourier: Who benefits from your project? What advantages do you offer to the people?Rohan: Basically every generation suits our project but we would be focusing on the new generation. UCF would help incubate savings habits which would be beneficial for the users in need. With UCF, user can borrow loans at minimum percentage and even can lend funds to avail maximum benefits through dividends, etc. Small industries can plan their expansion by investing in such chit rounds.

BitCourier: Can you explain what differentiates you from other Financial institutions? For a layman?
Rohan: The thing that makes us stand out of the queue is the cutting edge technology powering UCF. UCF would be offering a completely digital onboarding process. It would allow us to tap the tech-savvy millennial
generation.
As compared to other financial institutions, Chit Funds provide the minimum interest rate for the borrowers and maximum benefits to the lenders.
Being backed by the blockchain technology, we would be able to cut down the functioning and other unnecessary commodities which would allow us to bring down the foreman charges between 2-4%

BitCourier: Is UCF a utility token and what are the use cases?
Rohan: Yes, UCF is a utility token which would be used as an internal financial tool over the platform. UCF would be used for joining and paying EMI's for various rounds. UCF would be the only valid collateral on the platform to borrow loan. UCF can also be used to create your own chit group where you could be the captain. UCF is a ERC20 token with a total supply of 1B and launched at a price of 0.1 USDT.

BitCourier: Did COVID19 affect your business? Did new opportunities arise from it?
Rohan: Covid19 has been a nightmare for more of the industries. It does affect the amount of chit holders as well but as UCF offers a completely digital onboarding process, it helps the chit holders to join according to their structure. UCF would also be a great tool to save funds for times like covid19.

BitCourier: Can you tell us about an accomplishment you are most proud of? What do you plan to achieve in the next phase of your development?
Rohan: Being a startup, we have formed a community and listed on a few listing platforms. UCF has also achieved ready-to-go signal from the legal entities. Our current target is releasing our MVP which would be fully functional and open for testing. UCF is also conducting Private sale at the moment which unlocks upto 30% bonuses. Listing on major exchanges would be our second target which would be achieved in Q3 2022.

BitCourier: To bottom-up, I wonder if you have UK-based projects in your portfolio? Do you plan to get any?
Rohan: Being in the developing stage, we do not have UK-based projects in our portfolio but we expect to add them soon.