The United Kingdom is the leading region in terms of crypto adoption, according to new data published by analytics firm Chainalysis. Considering the period between July 2020 and July 2021, the research found that the UK received £125.6 ($170 billion) billion worth of cryptocurrencies.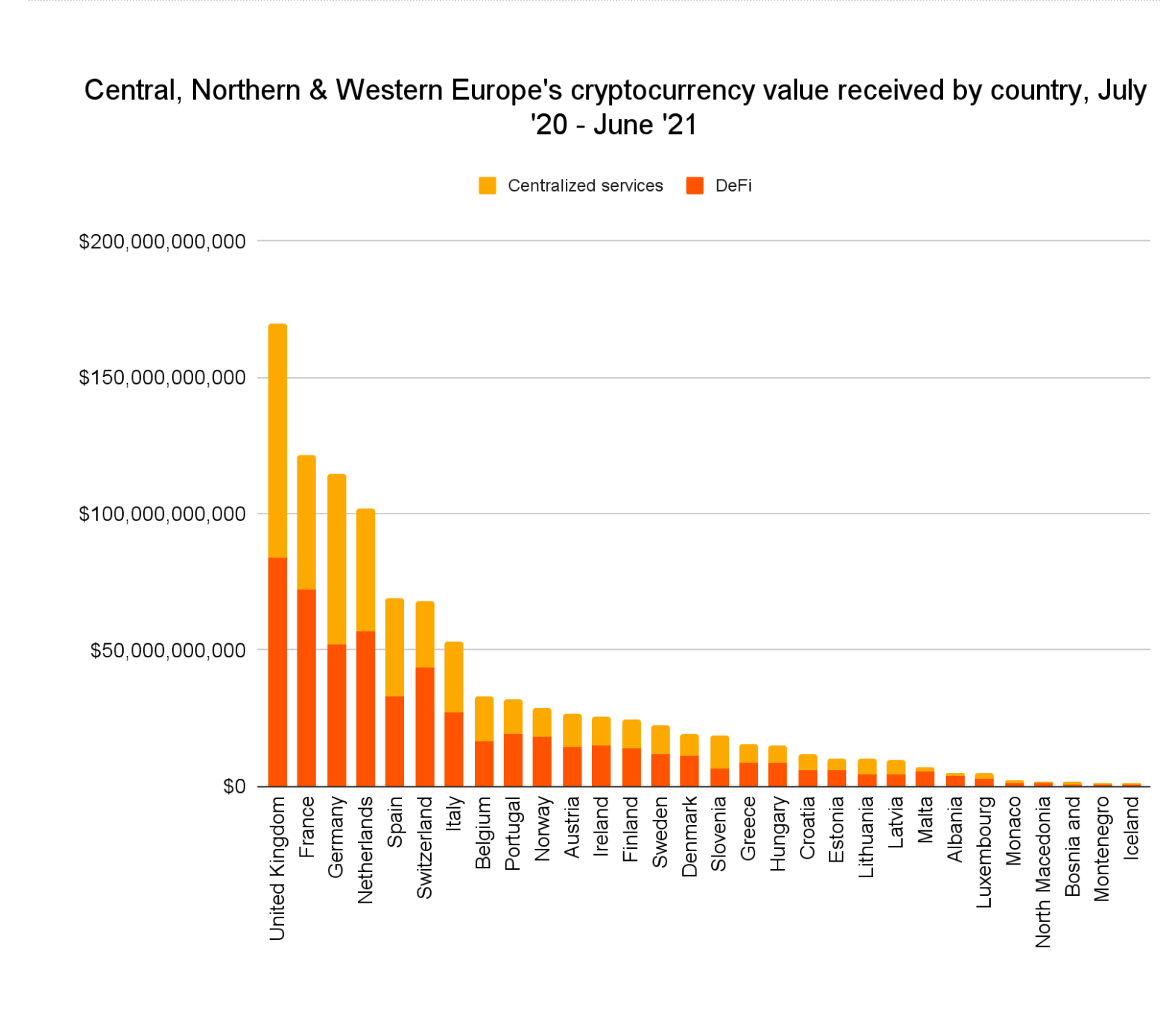 (Source: Chainalysis)
The received value signifies that the UK was the greatest counterpart for cryptocurrency transactions, providing liquidity for investors globally during the period. Chainalysis's findings coincide with a period in which the United Kingdom Financial Conduct Authority (FCA) found that the total number of adult crypto holders in the UK topped 2.3 million people.
The increased cryptocurrency activity in the UK contributed to the Central, Northern and Western regions of Europe (CNWE) finishing in first place in the Chainalysis rankings of the largest crypto economies by region.
CNWE reportedly received £739 billion ($1 trillion) worth of cryptocurrencies last year, finishing ahead of East Asia and North America. The four countries behind the UK in terms of crypto value received within the CNWE were France, Germany, the Netherlands, and Switzerland.
Another interesting find is that close to 49% of value transacted in the UK were sent to decentralised finance (DeFi) protocols, with centralised services coming slightly ahead with 51% of value. The research notes that Bitcoin (BTC), Ether (ETH), and its tokenized form, Wrapped Ether (wETH), are the most popularly transacted cryptocurrencies in the UK. Bitcoin boasts 28% while ETH and wETH contribute to 40% of the total.
While the number of retail participants has increased over the period, a significant chunk of the CNWE's volume came from institutional investors. Institutional crypto transaction value grew from £1.03 billion ($1.4 billion) in July 2020 to £34.2 billion ($46.3) billion by the end of June 2021.
The increased involvement of institutional investors undoubtedly brings more legitimacy to the emerging industry, and is largely responsible for the crypto market hitting a £1.4 billion ($2 trillion) market cap within the past year. A recent survey by Nickel Digital found that 74% of crypto hedge funds plan to increase their crypto exposure within the next two years.