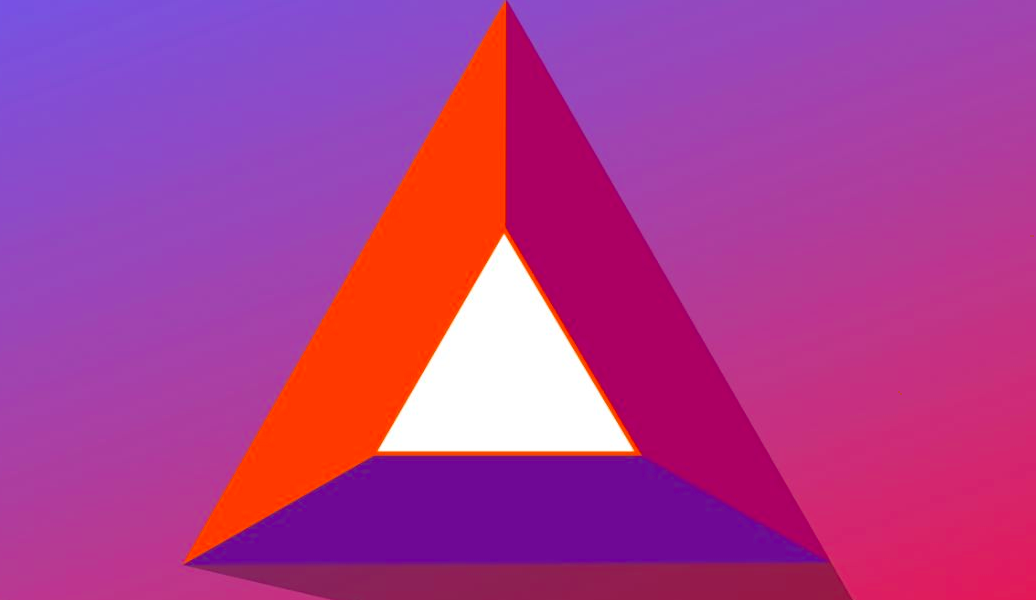 BAT could genuinely be one of the most revolutionary projects out there in the world of digital advertising. And now is the right time to buy Basic Attention Token in the UK.
Table of Contents
A quick guide on how to buy BAT on Binance:
Register an account.
Go to the deposits section
Select your preferred payment method and confirm.
Go to the Market section and select the BAT.
Select the desired trading pair and click on the Trade button.
Select your type of order.
Enter how much BAT you want to buy.
Double-check the details and confirm your order.
Basic Attention Token in a nutshell
BAT is short for Basic Attention Token; it is a digital advertising token which is built on the Ethereum blockchain. The purpose of the BAT token is to create an ad exchange marketplace that will connect the advertisers, publishers, and users in a decentralized manner. The purpose of BAT is to monetize user attention.
The Basic Attention Token (BAT):
Serves as a unit of exchange by cutting out the middlemen
Rewards users, publishers, and advertisers.
Users get paid for giving attention to ads.
Publishers get a portion of the ad revenue as is the norm.
Advertisers get better ROI for their content.
The BAT team created Brave, an in-house native browser that is integrated with the Bat system. BAT tokens are the native currency that will be used by the system.
What is a Brave browser?
How is this browser different from Google Chrome or Safari?
The Brave browser is constantly monitoring your attention to see what are kind of content you are spending most of your time on. Based on that, the publishers will get paid accordingly. Since the browser uses the blockchain to keep track of all this data, it is impossible to tamper with it.
Along with that, the Brave browser constantly measures the Attention Value of each and every ad on the browser. This value is calculated based on the incremental time the ad is in view and the number of ad pixels that are visible in proportion to relevant content. Using machine learning on the attention value of different ads, the Brave browser shows the users the kind of ads they want to see.
The unique thing is that you as a Brave browser user can make money watching the ads. Brendan Eich, the founder of the company, stated that as of right now, users can make up to $70/year from viewing ads and it will eventually go up to $224/year by the end of 2020.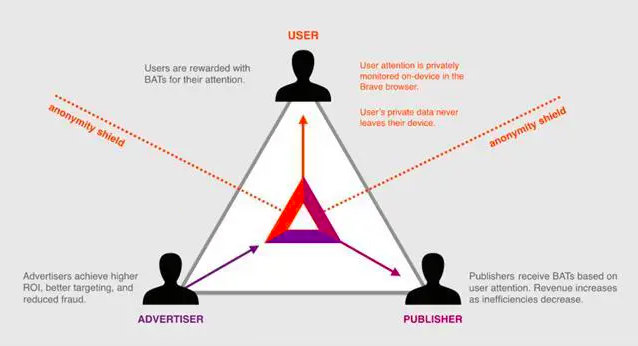 Does it mean that everyone has to watch those ads when using the Brave browser? Not really. You have a choice to turn on/off the ads.
Users that opt into ads will be rewarded with BAT tokens for doing so and are shown content to specifically match their interests.
The goal is to persuade people to willingly accept advertising, with the understanding that it's high quality, potentially useful, and that they're getting paid for it. In turn, advertisers are able to get better results from higher quality products more closely tailored to individual users.
Meanwhile, publishers can monetize their sites without sharing profits with middlemen like Google AdSense.
What to consider before buying BAT?
Basic Attention Token can reach mass adoption, thus increasing its demand, its use, and in turn its value.
BAT wasn't designed to be bought and sold. Its creators specifically say as much and haven't gone to any particular effort to get it listed on exchanges. This hasn't prevented it from being listed on a wide range of popular exchanges though.
The browser market is hotly contested, and Brave is among the dozens of browsers with a market share of a fraction of a percent. Since BAT is designed for use on the Brave browser, you will need to decide if this will affect the widespread use of BAT. Will people switch from using Google Chrome and Microsoft Edge to using Brave?
The actual functions of Brave and BAT (ad blocking, machine learning algorithms to determine user interests, various measurements of user engagement) also exist in various forms already, and despite the disruption that blockchain brings, Google will probably fight to keep its share of the ad market.
If the BAT ecosystem starts gaining more adoption and expands outside of the Brave browser (which in itself is already huge), large ad corporations might start getting interested in this new technology. They will realize that by launching their ad campaigns on BAT, they can not only target users more effectively but also save money by filtering out fraudulent actors like bot networks.
However, in order for ad corporations to participate in the BAT advertising network, they need to buy BAT. If this comes true, we are not talking about small BAT buy orders, but multi-million dollar bulk orders since these corporations often launch marketing campaigns costing tens of millions.
Furthermore, since BAT is an asset that fluctuates in price just like any other commodity, there might be an incentive for ad corporations to stock-up on BAT early to potentially get a better price for their advertising budget. This could cause BAT to rally even before the ecosystem grows to its full extent.
Where to buy BAT in the UK?
Basic Attention Token on Binance
Malta-based Binance is one of the world's largest cryptocurrency exchanges. Why is it one of the best?
Highly competitive BAT price
Very low trading fees
Advanced trading features
You can buy BAT with GBP using your credit/debit card or a wire transfer and SEPA as well as using other cryptocurrencies like BTC, ETH, BNB, USDT as well as BUSD and USDC stablecoins.
Buy BAT with cryptocurrency
Step 1: Create an account on Binance
Account registration is very straightforward and shouldn't take you more than 1 minute. After setting a secure password and confirming your verification email, you are now ready to start using your Binance account.
Step 2: Deposit BTC/ETC
Assuming you already have one of those currencies in your private wallet and now just need to transfer them to Binance.
In order to do so, you first need to hover your mouse over the "Funds" tab, and then click on "Balances". When you're on the "Balances" page, you now simply need to look for the coin you want to deposit, in this coin Bitcoin or Ether, and click "Deposit". Binance will now show you an address that you need to send your coins to.
Ether deposits are usually processed in under 10 minutes, Bitcoin deposits may take up to 1 hour when the network is very busy.
Step 3: Place an order
Go to the Markets page of Binance and look for the trading pair in the coin you deposited. If you deposited Bitcoin, you would look for BAT/BTC. If you deposited Ether, you would look for BAT/ETH.

After you click on the trading pair of the currency that you deposited, you will see a chart with the price of BAT. Simply scroll below the chart to the box that says "Buy BAT".
Select the type of order (Limit, Market, Stop-limit)
Type in the number of BAT that you want to buy
Set the price you want to buy at
Click on the "Buy BAT" button!

Buy BAT with a credit card
Step 1: Create an account on Binance
Register your account in order to move forward.
Step 2: Verify your account
All fiat transactions require account verification by providing a government-issued ID.
Step 3: Buy crypto (BTC) by credit card
As soon as you have completed the registration, you must first buy a cryptocurrency on Binance, which you want to exchange later for a Basic Attention Token (BAT). On Binance you can exchange BAT for BTC, ETH, BNB, and a few others I mentioned above.
I will just show you the process of using Bitcoin as an example:
Select "BTC" and your local currency with which you would like to pay.
Enter your credit card details.
Purchase BTC.
Step 3: Trade BAT
As soon as the Bitcoins have arrived on Binance, you can start the trade. Go to the Markets page, select the BAT/BTC pair and choose between a "Limit", "Market" and "Stop-Limit" order.
Enter how much Basic Attention Token you want to buy and click on "Buy BAT".
The BATs will then be visible on the Basic Attention Token Binance Wallet within a few seconds.
Buy Basic Attention Token on Coinbase
The American exchange is one of the veterans of the crypto market. While in the beginning, Coinbase was only a broker where you could buy Bitcoin, in the past years numerous features and services have been added.
Coinbase offers fiat currency payment options, including wire transfer, ACH bank transfer, and SEPA.
Buy Basic Attention Token by bank transfer or credit card
Step 1: Create an account on Coinbase
You will then be asked to enter your name, email address, and password. You will need to verify your email address via a confirmation link that will be sent to your previously provided email address. Coinbase would also like to know your telephone number. You also have to verify this with a PIN code, which is sent to you by SMS.
Step 2: Identity verification
Coinbase must also fully verify your identity, i.e. all other personal data, in accordance with the Know Your Customer laws required worldwide.
Step 3: Deposit some USD or EUR
It's time to deposit USD or EUR to the exchange in order to buy BAT. In order to do so, you first need to click on the "Accounts" tab.
When you're on the "Accounts" page, you will see a list with all of the coins/currencies that you can deposit on Coinbase. You now need to look for USD or EUR and click "Deposit". Now you only need to enter your bank details and you are good to go.
USD and EUR deposits are usually processed in 2-3 days, it may take a little longer during times of extremely high traffic on Coinbase.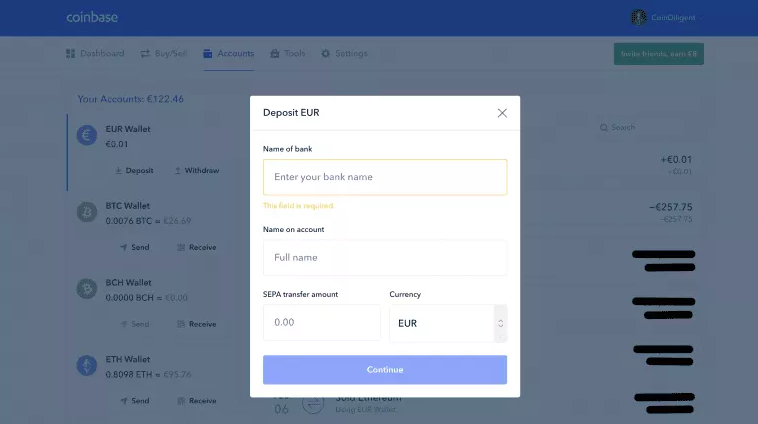 Step 4: Buy BAT
Now you need to go back to the homepage of Coinbase and look for "Basic Attention Token". Note: you may have to click on "Discover more assets" if you can't see Basic Attention Token directly on your homepage.
After you click on "Basic Attention Token", you will now see a chart with the price of BAT, basic stats and information about the coin, and of course a button to purchase the coin. Now simply select the amount of BAT that you want to buy, click "Buy BAT, and that's it!
Buy BAT on Guardarian
One more way to get a service token known as BAT is the Guardarian exchange. The last one supports over 250 cryptocurrencies and the procedure of coin purchase seems quite clear and simple. There are several payment methods including SEPA, VISA, Mastercard, Union Pay to buy BAT and you should perform the following steps.
Select the preferred currency (USD, EUR, CNY, and 50+ other currencies) in which you want to buy Basic Attention Token.
Select BAT from the drop-down menu at the top of the page.
Select the payment system you want to use to pay for your BAT. Guardarian has provided a choice of popular payment systems such as Visa, MasterCard, Union Pay, and SEPA.
Also, don't forget to specify the wallet to which you will send the funds.

Basic Attention Token on LiteBit
Litebit.eu is a broker based in the Netherlands that offers cryptocurrencies for customers in Europe (payment by Euro). Because Litebit is based in the Netherlands, it is regulated under European law and therefore has very high safety standards. You can use one of the following payment methods to buy the Basic Attention Token:
SEPA bank transfer
SOFORT
Credit card
GiroPay
Step 1. Create an account.
To buy BAT, you must first register on Litebit. The first step is to create an account with and provide some personal information at the time of registration.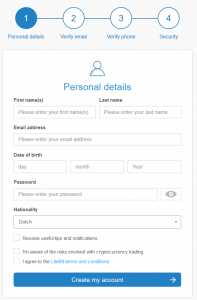 You will need to verify your email and phone number.
After completing these three steps, your account at Litebit is set up. You already meet the requirements for the first level – "Tier 1".

Step 2. Set up your Payment Method
"Sepa Bankwire" has the lowest fees (at the time of writing it was 0.61 EUR, regardless of the price).
The bank transfer has the big disadvantage that it can take up to 24 hours.
Step 3. Buy BAT
The actual purchase of the Basic Attention Token (BAT) on Litebit is really easy and quick. You simply click on the "Buy" tab in the upper menu and then select "Basic Attention Token" in the drop-down menu.
Below you can select the amount in Euro – either by entering it or by clicking one of the four buttons.
If you have not yet set up a wallet, it is also possible to store the BAT on the Litebit first and then send it to your external wallet. There are no additional costs for this on balance. If you choose the Litebit Wallet, click on "Litebit Wallet".
If you want to use an external wallet, select "External wallet" and enter your BAT reception address (step 3 in the picture). The "Receive Address" is your BAT Wallet address. In the last step, you only have to choose a payment method.
What can I do with BAT?
As a user, BAT tokens can be used in conjunction with Brave Rewards to support one's favorite publishers and content creators on the web. However, BAT will also let users redeem premium content, gift cards, discounts, digital goods, and subscriptions with participating brands. (For example, users will be able to redeem BAT rewards at over 250,000 top brand partners in the TAP Network.
Premium subscriptions and other content purchased with BAT will generate cryptographic receipts that allow the user to enjoy purchased content without having to register for an account with the content provider.
Users will also be able to transfer BAT tokens out of the Brave Rewards wallet by, e.g., linking an Uphold account to Brave Rewards.
Where to store BAT?
As soon as you purchased your BAT on one of the above-listed exchanges, you should transfer all the coins to a private wallet for safety reasons. And that's where you come across another question – what is the best wallet to store your new token?
MyEtherWallet
When it comes to managing Ethereum-based tokens (ERC20), the MyEtherWallet is the de facto standard.
It is one of the most popular Ethereum wallets available. It is super easy to use and lets you store Ethereum as well as ERC-20 tokens which is a BAT.
Brave Wallet
There is also the official Brave Wallet as an extension for the Brave Browser.
Hardware Wallets
And of course, hardware wallets considered to be one of the safest options, but it comes with a price.
Hardware wallets use a form of 2-factor authentication (also known as 2FA). This means that in order to access your funds you'll need to prove your identity through something you have (the physical wallet) and something you know (the PIN code for the wallet).
Ledger and Trezor are the most famous brands.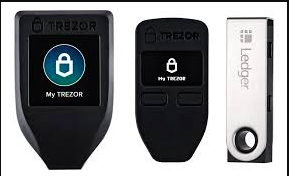 Summary
You may not be able to buy Basic Attention Token with GBP directly, however, there are multiple payment options as well the exchanges where you can trade BAT coins.
Basic Attention Token is one of the few cryptocurrencies that have a chance at reaching mass adoption. And now is the right time to buy it.