The growing popularity of cryptocurrency leads to the necessity to have more all-in-one platforms that will provide crypto enthusiasts with all necessary solutions. One of them has appeared back in 2016 and is called Crypto.com. This platform allows not only buying and selling cryptocurrency but also storing, sending, tracking, and making use of many other services offered. Do you want to learn more about this world's fastest-growing crypto app and find out if it is safe?
Look: this Crypto.com review is your guide to the world of numerous perks and features offered by this platform, so learn more about it and decide if it meets your expectations too.
Table of Contents
What is Crypto.com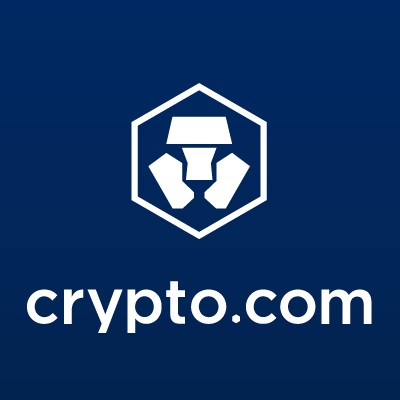 Crypto.com is an all-in-one platform that aims at delivering cryptocurrency in every wallet. Founded in 2016 this platform has attracted over 10 million users from over 90 countries. The team of this company consists of 2,500 people and the insurance coverage is over 360 million US dollars. Crypto.com has its own CRO coin that allows saving on trading fees, offers rewards to crypto enthusiasts, and supports crypto purchases for fiat money.
All the services provided by Crypto.com are available only in the app. The last one allows buying and selling over 100 cryptocurrencies at true cost, spending cryptocurrency with Crypto.com Visa Card, and receive cashback, as well as receive rewards on crypto-assets possessed. The app can be downloaded on Google Play and App Store depending on the operating system of a mobile device used.
Crypto.com features
Looking at any crypto.com app review, you will come up with a similar range of features characteristic of it. The main of them look as follows:
Crypto.com offers different opportunities to get extra income. Users can benefit from cashback, coin staking, affiliate program, and other ways.
All the funds and personal information shared with the app are securely protected and encrypted. The wallet is non-custodial, so the loss of funds is minimized too.
It is enough to download an app, register an account, and you will get access to the whole list of functions offered in the app.
The app offers a variety of features including buying, selling, swapping, spending, and doing other activities.
The app offers quite competitive fees as well as great discounts for CRO staking and high-volume trading.
Crypto.com products
Since Crypto.com is a versatile platform with lots of different solutions, the range of products offered is quite extensive too. They include the following examples.
App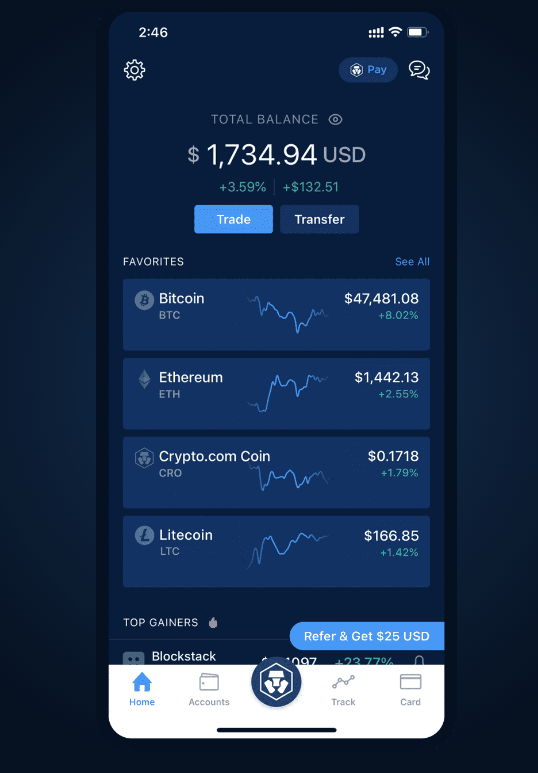 A mobile application is a good place to buy cryptocurrency at true cost. Users can buy over 100 coins with over 20 fiat currencies as well as assess, manage, and spend funds anytime. Other features of the app are tracking over 200 cryptos by setting up price alerts and price movement alerts and instant sending crypto to other users of the app.
NFT
Crypto.com has its own NFT platform. It has got a marketplace to buy NFTs from a variety of creators. People interested in NFT may also learn the latest news in this sphere, find out about recent drops and collectibles and brands operating in this sphere.
Metal Visa Cards
Spending crypto is easy if you get a Visa Card from this platform. You can use it without annual fees and top up the balance with fiat or cryptocurrency. The main benefit of the card is a cashback on purchases up to 8% and some pleasant surprises from the project partners like free Netflix or Spotify. It is worth mentioning that this card can be ordered only after staking the CRO token for at least 180 days.
Crypto.com Pay
Paying with crypto with the help of the platform app is great since you can get rewards for that. When users pay merchants, send crypto to friends, buy Pay gift cards, top-up mobile airtime or buy collectibles and NFT they can get earn up to 10% in CRO funded by the network.
Crypto Earn
Stablecoins can bring about extra earnings up to 14.5%, so staking them on Crypto.com is a great opportunity to get dividends. The platform offers the most extensive number of supported tokens and coins - over 40. There is an online calculator that allows learning how much you can get on staking. You should select the token, amount, and period to find out the amount of the reward to get.
Crypto Credit
If you need funds, you can borrow them using an app too. Crypto holders can borrow up to 50% of their crypto collateral. You can get a credit limit of the necessary size and payback on your own schedule with lower interest rates if you stake stable coins. No credit check is required.
Exchange Home
Crypto.com offers a user-friendly exchange interface. The trading platform is powered by CRO and characterized by deep liquidity, small fees, and best execution prices. It supports different types of trading including margin, spot, derivatives as well as perpetual and futures trading. A rewarding affiliate program makes trading more exciting and profitable too.
Wallet
The service has developed a non-custodial wallet where users keep their private keys by themselves and have access to a whole variety of DeFi services. The wallet supports storage of over 100 coins and fast coin import, sending crypto at the user's own choice of the confirmation speed and network fee, earning interest by staking, swapping tokens, etc. It is also a secure wallet where private keys are encrypted on the device used and protected by biometric and 2FA.
Crypto.org Chain
The company has also launched the testnet of its own public, open-source, and permissionless blockchain. This is a fully decentralized network characterized by high speed and low fees. It was designed to be a public good created to help drive mass adoption of blockchain technology through use cases like Payments, DeFi and NFTs.
Crypto.com coin
CRO is a native cryptocurrency of Crypto.com chain. It was released with the goal to speed up the mass adoption of cryptocurrency worldwide and power the app released by the company.
CRO went live at the end of 2018. It provides utility to the users of payments processed vis Crypto.com as well as other financial and trading services.
CRO is a stakable coin that can bring about interest and act as a validator of transactions. It can be also used to settle transaction fees on the chain and this is the asset users get cashback in on purchases and other payments. In general, CRO is an instrument that powers the Crypto.com chain and contributes to making crypto payments go viral.
The CRO token is currently listed on 23 exchanges including such popular ones as Bittrex International, Huobi Global, IDEX, and others.
How does it work
All the crypto solutions are available on Crypto.com only after you get the mobile or desktop app. Therefore, getting started on the platform seems to be quite simple:
Download the app.
Register an account.
Pass through the verification procedure.
Use the services you like.
Supported cryptocurrencies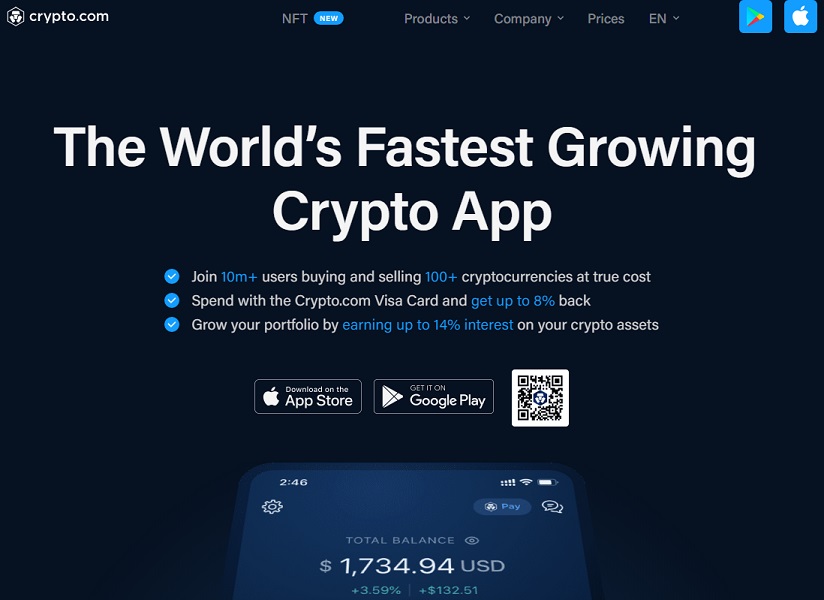 The number of coins supported by the app exceeds 100. There you can find such top-rated assets as Bitcoin, Ethereum, Cardano, Dogecoin, Polkadot, and many others.
Fees on Crypto.com
There is a maker-taker fee system on Crypto.com, so the percentage depends on the liquidity you provide. It is possible to reduce fees if you have a bigger monthly trading volume or/and if you stake CRO token. The basic fee structure looks as follows: there is a 0.40% maker and taker fee for the 30-day trading volume ranging between $0 and $25,000. It can drop to 0.04% taker fee and 0.10% maker fee if your trading volume exceeds $200,000,001.
There is a range of features that are free on the platform:
Fiat deposits;
Crypto purchases with fiat money deposited;
Sending crypto to other users of the app;
Exchanging crypto to crypto;
Crypto deposits.
Debit and credit card crypto purchases are charged a fee of 2.99%, while the cost of crypto withdrawals depends on the currency.
Limits
There are no limits on crypto trading, so users can grow their monthly volume as high as they wish. However, the minimum deposit amount is $20 via ACH and $5,000 for wire transfer.
Customer support
Crypto.com has a professional help center for its users. It is available in 12 languages and contains lots of details that can be interesting to customers of the platform. Live support is provided in the chat that can be accessed in the lower right corner of the screen, while other queries can be sent to [email protected] The support team is available 24/7 and is highly responsive and friendly too.
Pros&cons
Weaving cryptocurrency in your everyday life with the help of the Crypto.com app has a number of pros and cons.
Pros:
Variety of services and solutions in one app;
Both desktop and mobile app;
Competitive fees;
Rewards, dividends, and cashback offers;
High-security standards;
Availability of tax support;
Over 100 coins are listed.
Cons:
Not many educational resources;
Some challenges in navigation;
The quality of customer support is not excellent.
Is Crypto.com safe?
Crytpo.com is committed to the security of both information and money stored as well as user personal details. The company drives a Zero Trust, Defence in Depth security strategy across all systems and platforms. The staff of the platform is trained regularly on security and privacy awareness. All deposits are screened for compliance. All user cryptocurrencies are kept in cold storage and there is an amount to insure all funds against loss or theft.
Crypto.com follows a Secure Software Development Lifecycle, uses Multi-Factor Authentication, and withdrawal protection. All personal details provided by users are encrypted and stored in secure servers too.
Is Crypto.com right for you?
You may appreciate Crypto.com for a variety of reasons, but it will be a perfect solution for you if you want to find an exchange with affordable fees and fiat money support. There is no need to look for alternatives if you do not need many educational materials and need an all-in-one solution for crypto.
F.A.Q
Is there a VIP program on Crypto.com?
Yes, it is. Members of the VIP program are rewarded with exclusive trading incentives and perks.
What information is required to pass through the verification procedure?
Users should provide an ID card and a selfie with themselves holding a piece of paper with "Crypto.com" and the date handwritten on it.
How to deposit cryptocurrency to Crypto.com app?
It is necessary to complete three steps:
Tap on the "Transfer" button > "Deposit" > "Crypto"
Select the cryptocurrency to deposit
Send funds to the deposit address using a QR code generated.
What fiat currencies are supported in the Crypto.com wallet?
You can deposit and withdraw the following fiat currencies: AUD, CAD, EUR, GBP, USD, USDC, and BRL.
Where is Crypto.com available?
There are over 100 markets where you can use the Crypto.com services and it can operate legally in 49 US states too.
Summary
Crypto.com is a crypto trading app that has everything every modern crypto investor can wish. This application provides necessary functionality and flexibility as well as is constantly improved by the development team to guarantee users the best trading experience. However, despite being an all-in-one solution appreciated by many, Crypto.com's rating on Trustpilot is only 2.4, so users should not forget that crypto trading is a risky process and it is always important to be careful!