Cryptocurrency has become a perfect alternative to paper money when it comes to international and fast transactions. No wonder many modern blockchain projects focus on the development of coins that will make financial transactions faster, safer, and cheaper. One of them is Widecoin. This digital cryptocurrency allows making cashless transactions with lots of benefits provided by the blockchain. But what makes this coin different from others and can you contribute to its growth?
Look: this Widecoin review focuses on the main points of the project for every investor to make the right conclusions.
Table of Contents
What is Widecoin
Widecoin is a cryptocurrency based on secure blockchain technology that allows users to perform instant payment transactions in a variety of ways with an embedded digital signature feature. This coin allows making transactions anytime and anywhere without high fees. These transactions are secure, time-savvy, and convenient too.
How does it work
Crypto holders can use the WCN platform developed by the company only if they have Widecoins. When coins are obtained, it is possible to proceed with the process. The business model lying at the foundation of the Widecoin project involves 4 simple steps.
Depositing Widecoin to get WCN coins.
Installing the WCN app on the PC.
Getting WCN coins approved and transferring them to a PC or mobile device.
Trading, selling, or making transfers.
Features
Widecoin is characterized by a number of features worth your consideration:
Transparency provided by public access to the blockchain transactions and the inability to change or delete them.
Lower transaction cost achieved thanks to the removal of third-party intermediaries.
Empowered users who become administrators of their transactions and have full responsibility for them.
Eliminating risks by excluding extra involvement.
Problem and solution
It is not a secret that you can spend money only if you have banknotes in your pocket. Furthermore, there are restrictions on the amount of money allowed to take with when you cross the border or make an international bank wire transfer.
Naturally, cryptocurrency was called a solution to this problem, but not all coins are absolutely safe and easy to invest in, and not all exchanges are trustworthy. The lack of trading experience results in the inability to get dividends too.
Therefore, a group of crypto enthusiasts has created Widecoin - an asset with accessible customer service, various financial product offerings, and several exchange capabilities. It will be used across the globe for quick and affordable transactions.
Technology
Naturally, the main technology used to create Widecoin is blockchain. Being an encrypted database of agreements, it makes the transfer of digital funds more democratic, efficient, and secure. Furthermore, Widecoin is also a distributed and public ledger platform that records all the transactions across numerous computers and there is no chance to apply changes to these records retroactively without the alteration of all subsequent blocks and the collusion of the network. The management of the blockchain database is performed autonomously using a P2P network and a distributed time-tamping server. It is authenticated by mass collaboration powered by collective self-interests.
Mining pools
There are several mining pools for Widecoin with servers located in several countries. They have different fees that don't exceed 1.5%. Hashrate depends on the number of miners and mining hardware capacity.
.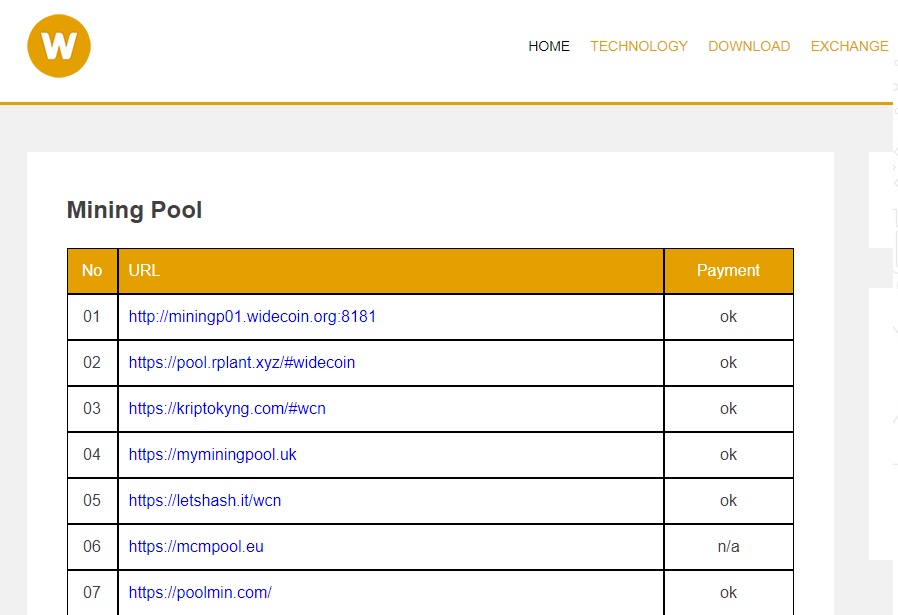 Block explorer
According to the stats provided by block explorer, 10 blocks are found every 2-5 minutes and currently, over 157,000 blocks have already been mined. The hashrate is based on mining hardware capacity.
Coin mechanism
Widecoin is a coin built on the basis of Proof-of-Work protocol and SHA256 algorithm. The coin is listed as WCN on exchanges and its total supply won't exceed 35 million coins. The coin is available for mining with blocks found every 30 seconds.
How to buy coins
Widecoin is listed on several exchanges including Txbit, BankCEX, Solidus, Bitsails, atomicDex and Scalaris DX.
Txbit offers to trade WCN with BTC. BankCEX offers to trade WCN with BTC, USDT, and Bank Token. Solidus offers to trade WCN with BTC. atomicDex and Scalaris DX (decentralized exchange) can pair with many currencies. Bitsails started offering WCN-BTC pair and there are plans to increase the number of pairs in the future.
Wrapped Widecoin (WWCN)
Wrapped Widecoin (WWCN) is the powerful gateway of Widecoin with the adaptable portal of an ERC20 token.
Wrapped Widecoin (WWCN) is the ERC20 token backed with Widecoin 1:1. Completely Secure and Transparency.
Website: https//wwcn.widecoin.org
Widecoin wallet
When it comes to wallets, Widecoin offers a whole variety of wallets to select from.
There are core wallets for Linux, Windows (7, 8, 9, 10), and MacOS as well as a paper wallet available for download. In addition to core wallets, there are also lightweight wallet versions for all these operating systems as well. Mobile users can opt for Android and iOS wallets offered on Google Play and App Store respectively.
Pros&cons
Widecoin is a new project, so it has both its strengths and weaknesses to consider.
Pros:
Responsive customer support;
Multiple wallets with back-up feature;
Wide online presence;
Clear roadmap;
Several mining pools;
Cheap, fast, and secure transactions.
Cons:
Minimum of information on the official website;
No unbiased Widecoin reviews.
F.A.Q
What is Widecoin?
Wifecoin is a blockchain project that has created a network with the native WCN coin to make secure, instant, and transparent transactions across the globe.
How can you get Widecoin?
There are three ways to get WCN: become an investor and get WCN rewards, mine coins in several mining pools available, and buy coins on three popular exchanges including Txbit, Solidus, BankCEX, Bitsails, atomicDex, and Scalaris DX.
What WCN coins are used for?
The main goal of the project was to develop a system for quick, affordable, and efficient transactions for any distance, so WCN coins are used for this purpose, first of all.
Where can you store Widecoin?
There are web and mobile wallets for Android and iOS devices as well as desktop wallets for Windows, MacOS, and Linux.

Summary
Widecoin is still at the development stage. Despite several impressive milestones that have been already achieved, now the project is seeking more investors to join it. Everyone who agrees to become a Widecoin investor will be rewarded WCN and will become a part of the Widecoin community. The team ensures that all funds invested are used with transparency and entirely for project development, so no risks are involved.