Cryptocurrency-to-fiat payments are once again in the news after Paypal announced the support of cryptocurrency wallets on its platform. But are we there yet?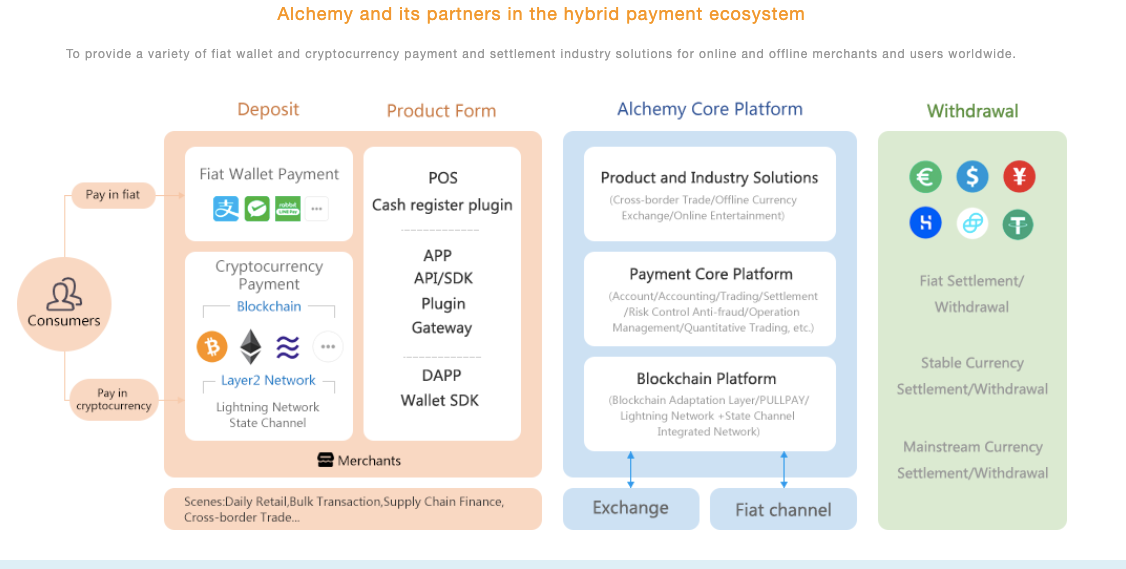 Alchemy Pay Ecosystem
The vast majority of crypto payment providers still support only cryptocurrency payments while traditional regulated providers mostly avoid Bitcoin at all costs. Merchants today have to rely on at least two separate payment infrastructures which increase the complexity of accounting and operations.
Instant crypto-to-fiat transactions, when customers pay with a preferred method, and merchants accept the desired currency, is the next logical evolution step, according to John Tan, the Global Marketing Director of Alchemy Pay. Mr. Tan has been in marketing and corporate communications for the past 10 years consulting Singapore exchange-listed companies as well as fortune 500 companies such as Honeywell, RSA Security, and DBS Bank.


John Tan
BitCourier "sat down" with Mr. Tan to discuss the Alchemy Pay strategy and their interest in the UK Market.

BitCourier: What prompted the creation of the Alchemy Pay Project?
John Tan: Alchemy Pay – as our name suggests – is a blockchain project that is very much focused on payments. We established ourselves in Singapore 2 years ago and the project is founded by a team of seasoned business professionals and tech developers who were senior executives from top payments companies and financial institutions such as PayPal, Mastercard, China UnionPay, etc.
Our founders envisioned a future where payments are frictionless as they should be, and consumers can make payments with methods they prefer. This is why Alchemy Pay pioneered the world's first all-in-one hybrid payment system which can help businesses accept crypto and fiat payments using any existing platforms – be it online, in-app, payment terminals, point of sale systems, and any iOS-Android mobile devices. This strategy ensures Alchemy Pay is well-positioned for growth no matter which stage of transition from fiat to crypto the world is at.
BitCourier: What target user did you have in mind?
John Tan: While the end-users of our hybrid payment systems are the merchants and the paying consumers, our expansion strategy relies on a top-down approach i.e. we work with top payment companies such as QFPay (over 1.2 million merchants in 18 countries) and SaaS companies like Shopify (1 million online merchants across 175 countries) that have huge merchant network to deploy our solutions to ensure speed and widespread adoption.
BitCourier: How was the initial response when you launched?
John Tan: Before Alchemy was even founded, the like-minded founders of Alchemy have already heard the pain points from people in the payments industry and knew there was a demand for a multi-functional payment solution that can do all payments – Alipay, WeChat Pay, VISA, Mastercard, Bitcoin, Ethereum, you name it. We were met with strong interest by payment industry players during our launch and in just 1 year, our merchant network has already surpassed 2 million signed and we have onboarded over 4000 businesses with our systems.
BitCourier: What has interest/momentum been like recently?
John Tan: Alchemy Pay had two massive milestones met in the past two months that had generated a lot of interest in our project from both merchants, industry giants, and investors. Firstly, Alchemy Pay had its first listing for its ACH token on Huobi Global exchange on 7th September and was also the first project selected by Huobi to launch their first stake HT token to earn tokens campaign. Secondly, together with our key partner QFPay, we completed our integration with Shopify to deploy our hybrid payment solution for their merchants.
BitCourier: Is your service available for UK-based users? Do you have customers and integrations in Europe yet (your website says it's planned on Q3 2020)?
John Tan: the United Kingdom is a key target market with huge business potential for Alchemy. There were expansion plans for offline merchants but that had to be put on hold due to the global pandemic. However, this has not stopped us from our foray into the region. Our current strategy is to work with the region's online payment gateway service providers and other platforms such as Arcadier and Shopify to extend our online payment services.
BitCourier: I wonder where can UK-based users purchase ACH tokens today?
John Tan: In addition to Huobi Global, several other exchanges like DragonEX, BKEX, and MXC.com are proactively listing ACH token due to market interest.