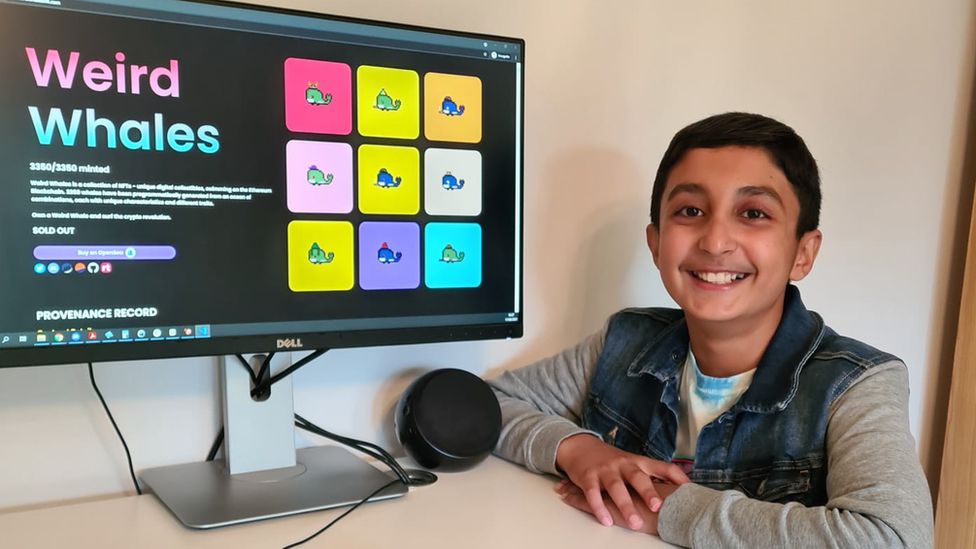 12-year-old Benyamin Ahmed from North London has reportedly earned up to £290,000 (appr. $400,000) from selling whale artwork that he designed as non-fungible tokens (NFTs).
NFTs are blockchain-based tokens that represent ownership of a particular artwork or design, allowing artists to distribute their work directly to fans. The tokens use a digital stamp to ensure that no two people own a single piece, thus making the item unique to the buyer.
Speaking in an interview with The Telegraph, Ahmed revealed that he made the "Weird Whales" art collection during his school days and seized the growing interest in NFTs to sell his work online. The Weird Whales collection includes 3,350 pixelated whale images, with each possessing rare attributes.
Benyamin Ahmed has been coding since he was five, having been taught by his dad, himself a software developer. It took a few weeks to create the image and its accessories and then feed it into the computer program to generate the rare items
Although not a natural artist, he undertook the project as an educational endeavour and it ended up paying off big time. He reportedly said,
'I watched a few YouTube videos and worked out how to draw whales in pixel form really quickly. It took me a few weeks to create the base images and various accessories and then I fed them into my programme that helped me to configure the rarity across the different traits, making some more collectible than others.'
The "Weird Whales" collection sold out in nine hours with Benyamin generating roughly £290,000 (appr. $400,000) in Ether (ETH). According to data from NFT marketplace OpenSea, where the sale was conducted, the collection now has 1,600 holders with over 1600 ETH in volume traded.
Benyamin's story highlights just how easily young ones can understand the concept of digital assets such as NFTs and cryptocurrencies, further strengthening public belief that the upcoming generation will place a high value on these items.