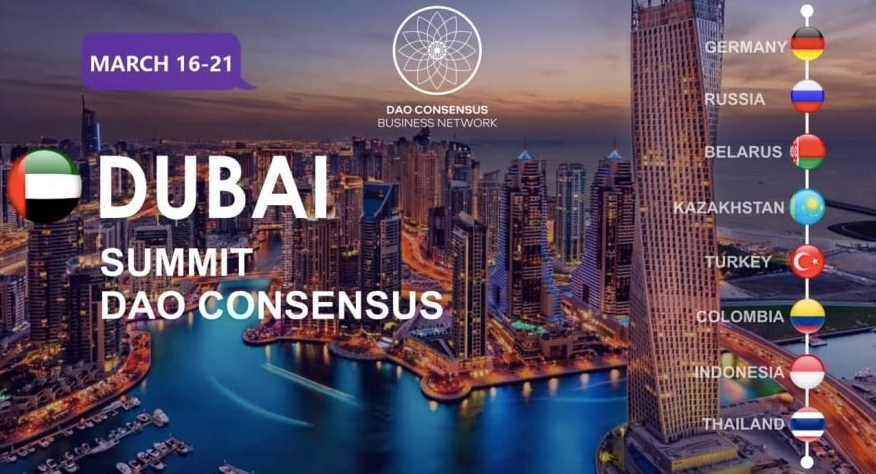 From March 16 to 21, Dubai (UAE) will host the Dubai DAO Consensus Summit – the largest crypto event of the spring with more than 40 major experts, entrepreneurs, investors, and traders.
#DUBAIDAOCONSENSUSSUMMIT is a hot week of pumping in the world of the digital economy in an online&offline format with a live broadcast and a live program in Dubai. This is a brilliant opportunity for both beginners in investment and experienced entrepreneurs and investors to get the most up-to-date knowledge about the decentralized economy, new sources of income, learn about the latest trends and the best DeFi projects.
Among the speakers are:
Tone Vays, Content Creator, Derivatives Trader & Consultant
Mru Patel, Investor, Best Selling Author, CEO Sapian Group, COO Flashgroup
Jorge Sebastiao, seasoned ICT Expert in areas of Cyber Security, Artificial Intelligence, Blockchain, CTO Advisor, Speaker CISSP
Ilya Churakov, CEO of DAO Consensus and TESTAMEX
Sergei Khitrov, Founder and CEO of Listing.Help and Blockchain life
Maria Stankevich, Head of Business Development at the EXMO Cryptocurrency Exchange
Georgy Galoyan, founder of DAO.vc
Vyacheslav Nazarov, PR director of DAO Consenshs
Oleg Orlov, Chief Financial Officer of DAO Consensus
and others.
March 16-17: online program with the participation of top speakers. Pumping for beginners and those who are already actively making steps in the world of the digital economy.
March 18-19: live broadcast of speeches from the venue, the capital of the digital economy - the city of Dubai.
March 20-21: closed live program in Dubai. Only for members of the DAO Consensus community.
Do you want to really pump up in the field of DeFi, immediately applying the most trending investment tools in practice and learning about the main market opportunities firsthand? Immerse yourself in the ecosystem of the digital economy, learn the experience of successful projects and be on the wave of the digital world that has no borders. Learn the profession of the future and understand how to properly use digital technologies to get income. The program also includes a unique live training on international sales from the market leaders.
Only the first three days of the summit are open and free for all registered participants: online program + broadcast. The closed paid part of the program, in addition to live trainings, also includes:
yacht riding
jeep safari in the desert
participation in races on real sports cars
award ceremony for industry leaders
an exquisite gala dinner
and a fabulous afterparty!
The organizer of the Summit is DAO Consensus, a global business community, each member of which receives a share of all the network's profits. The DAO is based on smart contracts, where each transaction is transparent, and each member of the community can influence its decisions with their own voice.
Registration is open: https://daoconsensus.info/dubaisummiteng