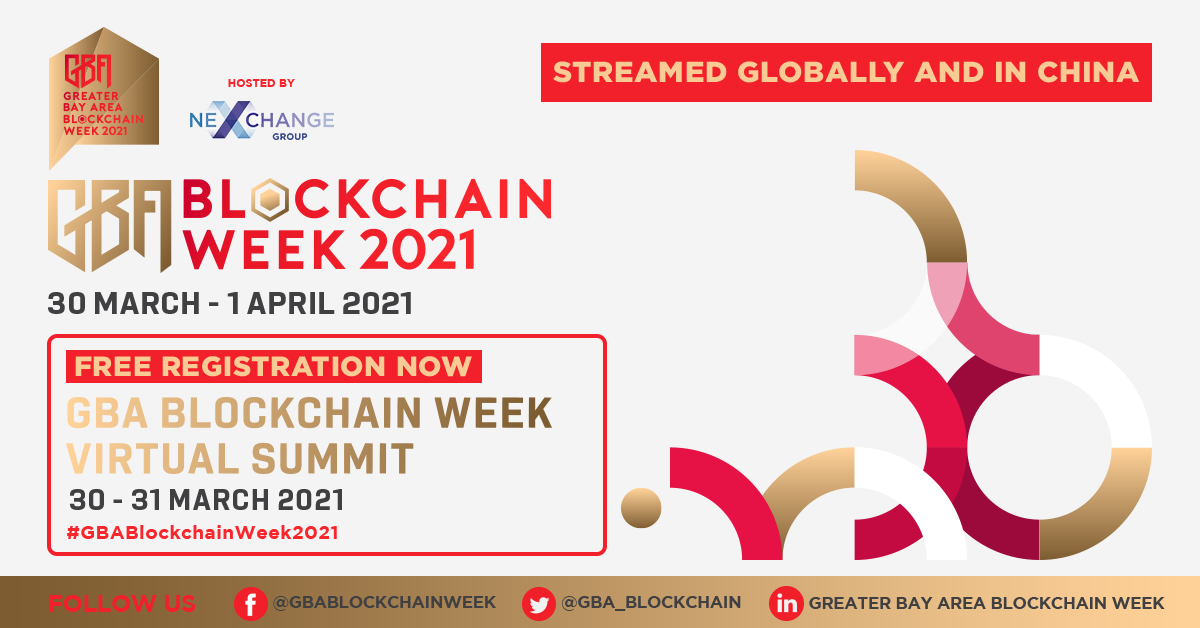 Being one of the world's fastest-growing tech hubs, Greater Bay Area (GBA) attracts audiences passionate about smart technology applications for business, education, and finance to come together for the premier international virtual event.
A nearly week-long event of the GBA Blockchain Week 2021 will convene thousands of online viewers to the brightest spot on today's global financial map. The event, including the core 2-day Virtual Summit, will be broadcasted globally and in China, showcasing cutting-edge technologies and its most exciting case studies.
The conference agenda will revolve around a series of keynotes, fireside chats, and interactive live panel discussions led by over 100 industry experts. Over 2000 participants from 50+ countries are expected to attend the GBA Blockchain Week.
Key industries affected by technologies like blockchain and AI will be explored during sessions dedicated to the development of smart regulation, DeFi, NFT's, public blockchain networks, investment strategies, blockchain governance, as well as fintech bridges from GBA to EMEA regions.
China's own Greater Bay Area such as Hong Kong and Macau as well as cities within the Southern Guangdong province is home to almost 70 million people. The area consists of unique city clusters: the financial and legal center for APAC, Hong Kong as well as Macau, enjoying the world's highest GDP per capita. To top it off, China's own Silicon Valley, Shenzhen. These counteract with other prominent bay area's such as San Francisco or Tokyo. The area is a test ground for urban infrastructure innovations and financial tech, and is expected to see accelerated growth of capital and talent in the next few years.
Speakers and high-profile experts from all over the world will converge to GBA Blockchain Week 2021 to discuss major opportunities and prospects of China's heavily discussed project of DCEP. The digital yuan has been already launched for several batches of testing in GBA. Participants will also assess legal frameworks and results of the operation of virtual banks' ecosystems in the region.
The themes mentioned on the event agenda will cover the brightest momentum for digital assets: the Bitcoin Bull-run has certainly boosted further interest, particularly from a vast number of professional investors within the Cryptocurrency believers club. Institutional investors definitely drive the attention to mass adoption, bringing together the big industry players and international regulators to create a safe and progressive environment.
Juwan Lee, Chairman of NexChange: "Greater Bay Area Blockchain Week brings a unique chance for the world to learn how technology changes the way so many industries operate in one of the most tech-advanced places on earth."
About NexChange: NexChange Group is a venture builder and media platform specializing in Blockchain, FinTech, HealthTech, AI, and Smart Cities. NexChange is known for hosting annual Hong Kong Blockchain Week, a premiere blockchain event organised in closed collaboration with local governments.
For more information on the speakers, agenda, side events, and partnerships, please visit https://www.gbablockchainweek.net or contact: info@nexchange.com