Markus Fleischli (@N1njaWTF), a young entrepreneur, seasoned crypto veteran, trader, and indie developer shares his thoughts on Telegram crypto bots and the story behind his CoinTrendzBot in an exclusive interview with BitCourier.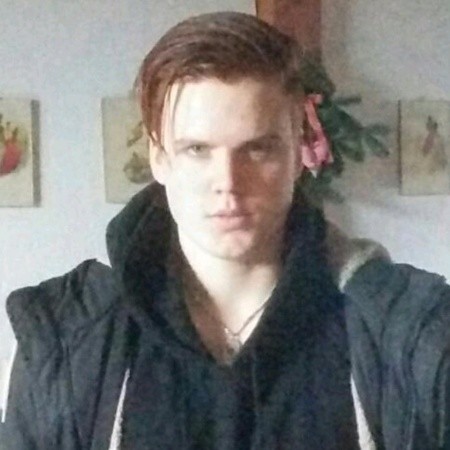 Markus Fleischli
BitCourier: Please, introduce yourself
My Name is Markus Fleischli, 21 years old, and currently living in Switzerland. Many probably know me as "N1njaWTF" on the Internet :P I am the founder and CEO of CoinTrendz.com and the famous crypto Telegram bot "@CoinTrendzBot".
I have also created a few other Crypto related websites such as neotogas.com and more. My background is in IT and I am working part-time as an IT System engineer. I always had some kind of side-hustle going on and I taught myself how to code and build websites at a young age after school. Since then, I already gained 6 years of experience in web development and I like to code in my free time every now and then. I've joined the crypto space in 2014 and have fallen in love with the people and the movement since.
My Crypto journey has taught me a lot of trading/investing skills and I have developed a passion for trading/investing in all kinds of markets including stocks, crypto-forex, metals, and more.
BitCourier: What prompted the creation of the CoinTrendz?
I was interested in building tools for myself to get a better overview of the markets using the massive amounts of data that are available out there. Then I started developing a dashboard where people can signup and link their Telegram account to my website to receive alerts on all kinds of things like Price, Volume, Indicators, and more.
Later, I've also developed a Free Telegram Bot for everyone to use in their group chat or personally.
BitCourier: What target user did you have in mind?
My target audience is mainly crypto traders and people looking for tools to better understand the markets to increase their chances of successful trades.
I do also have newbies that want to learn how to trade properly and use the tools I offer to make better decisions.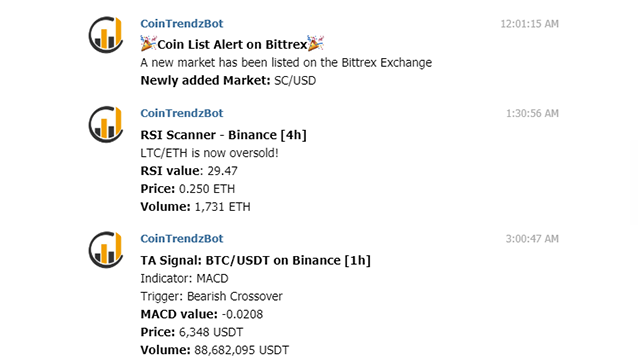 CoinTrendzBot in action
BitCourier: How was the initial response when you launched?
The response was great and users demanded more tools/options to better analyze all the data out there.
BitCourier: Can you tell us more about CoinTrendz Crypto Bot? Did you notice unsatisfied demand when decided to launch a bot?
I developed the Bot for fun first and to use it in my own groups. There have already been some bots but I didn't really like the design of their commands and the charts. I believe my bot was one of the first crypto telegram bots out there which displayed the famous and most liked charts from "TradingView" with all the indicators supported.
Then I started adding more and more commands which the users suggested. I guess that's why the bot has been added to so many groups because I tried to code all the commands the users requested. For Free.
BitCourier: What has interest/momentum been like recently?
The interest has been massive recently. We have seen a big increase in users and our numbers on the Bot have risen by around 5x in recent months. Today, CoinTrendzBot is in more than 3700 crypto-related Telegram groups, some of which have multiple thousand members.
BitCourier: According to your website the Bot is free? Do you plan to monetize it in the future?
Yes, that is correct. Our crypto Telegram bot is free since day 1 and will stay free forever. We do show a small little sponsored link-advertisement at the bottom of each command, so the bot generates some revenue to keep it running.
It's possible for crypto projects, platforms, and ICO's to rent this Ad Space on a monthly basis and display their adverts in front of a massive crypto audience on telegram. I think this form of advertising is very new, extremely targeted, and interactive. The Ad is only displayed to people interested in Crypto by using our commands and potentially thousands of people in the same group happen to see it. We are one of the first projects that offer such kind of unique and new-age advertisement options on Telegram... and as you know, most things that happen in crypto are being talked about on Telegram and Twitter.
Maybe, in the future, we are going to launch a "premium" option of the bot, which does not include any form of advertisements and has some special commands which are only accessible for people having a premium plan. The Telegram Bot as it is now will definitely stay free for everyone to use! :)
BitCourier: Which bot commands are the most popular among your users? Do you have more commands on the way?
Our Bot currently supports more than 35+ Commands. Mainly crypto-related but also stocks, forex, and some fun commands. The most used commands seem to be the "/c" command to display Cryptocurrency Charts as well as "/p" for displaying the Price, Marketcap, and more Info on a coin. One of the most loved "fun" commands is "/quote", which displays you a random quote from a massive collection of inspirational quotes.
BitCourier: Do you think the Bot can eventually overgrow the CoinTrendz web service?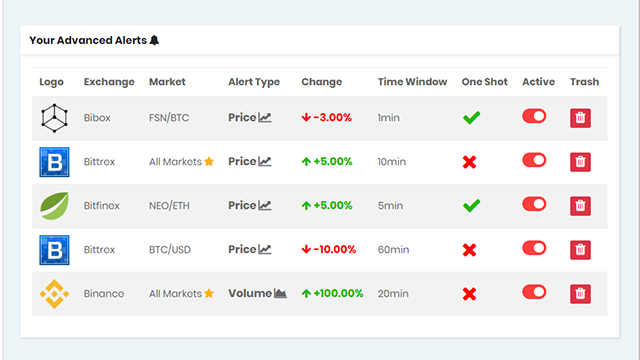 CoinTrendz web service
I believe the Bot already did overgrow the CoinTrendz Web Service to some extent. The adoption of CoinTrendzBot is massive and increasing day by day. I am very glad to be able to provide some free value and a useful tool for the people out there. I love seeing people use my bot in their groups and appreciate it.
If you have any suggestions or feedback please let me know on Telegram or DM me on Twitter. Thanks!