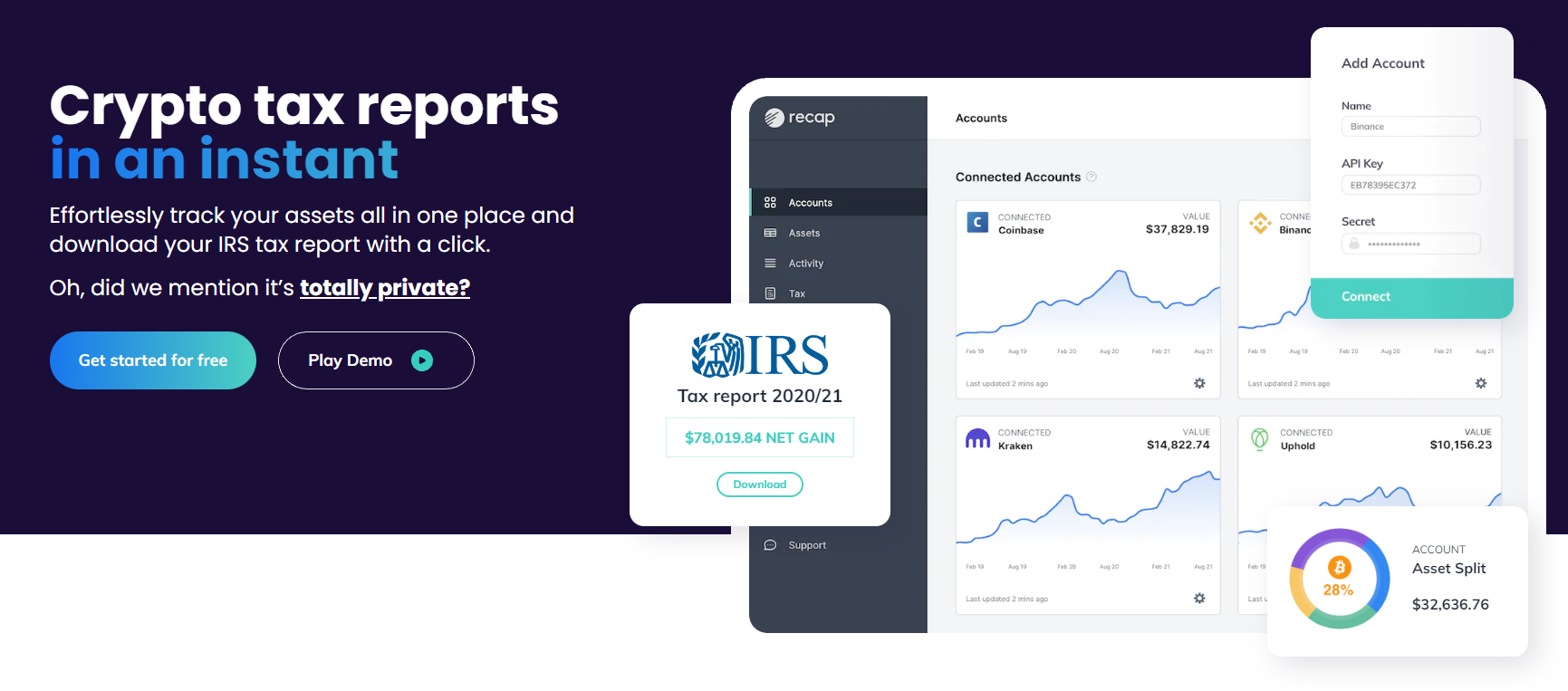 Chris: Hi! Can you tell us more about yourself and the role you're playing in that blooming project?
Dan: Dan Howitt, Founder & CEO @Recap and Co-chair Crypto UK's Crypto Tax Working Group. My crypto journey started in 2013 with Recap's CTO Ben Shepheard when we built a crypto exchange. We were one of the first companies to define Bitcoin's regulatory position in the UK and have been involved with the industry ever since.
Chris: Hello there! What a remarkable project you got! Can you tell our readers what Recap.io is in short?
Dan: Recap is a privacy-focused crypto tax calculator that makes crypto taxes simple.
Chris: How did Recap come to be?
Dan: Recap was born in 2018 when Ben and I struggled to do our own crypto taxes. We both wanted to be compliant, but using any of the existing solutions meant surrendering our financial privacy - the whole ethos of cryptocurrency.
Chris: Great. Let me ask you about taxation in the UK and which main problems you guys handle that every single person will appreciate?
Dan: In the UK, most individuals with crypto activity will be treated as an investor liable for capital gains tax on the disposal of their cryptoassets. Some activities, for example, mining and staking rewards will be subject to income tax.
Although this sounds simple in theory, it is actually a massive headache for crypto investors because calculating the gain/loss needs to be done for every individual disposal. This includes activity like crypto-to-crypto trades and purchases made using crypto, not just cashing out crypto for fiat, as is often assumed.
Most crypto users are active on multiple platforms and blockchains so keeping track of all assets and historical transactions is extremely hard. Throw into the mix the UK's complicated capital gains tax rules like the Same Day Rule, Bed and Breakfasting, Section 104 Pooling and Fair Market Valuations and tax becomes an impossible task to do yourself.
Recap simplifies things by bringing together all of an individual's crypto accounts and wallets in one place, automatically calculating the capital gain (or loss) and income so the user is aware of their crypto tax position. Recap applies consistent valuations for assets, applies all HMRC rules and even flags when data may be missing or more information is needed, so the calculations are super accurate. The final output is a downloadable tax report with all information required by HMRC that you can pass to your accountant or use to complete your own tax return.
Chris: Can you please elaborate on the warning you issued on the site, i.e. that "tracking your portfolio can be addictive'?
Dan: It's not really a warning, but more a statement that we can all relate to! I'd say I check my crypto portfolio more often than social media! Crypto is volatile, but it's also really accessible, you can make a trade at the click of a button - Recap shows my overall portfolio position as well as any taxes I owe, giving a true picture of my crypto net worth.
Chris: How secure is the platform?
Dan: Massively secure!! Recap is the only crypto tax calculator with client-side encryption, making it the most secure solution available. Unlike alternative crypto tax apps that have visibility of user data, our privacy approach means that user data is stored on the user's device and encrypted with their keys, therefore it can never be intercepted by Recap or any third party.
Chris: Interesting! Can you tell us about your team? What are your backgrounds?
Dan: We're a UK-based team of crypto enthusiasts with a mix of office-based and remote workers. Interests and opinions in crypto range from traditional bitcoiners to multi-chain investors, gamers and NFT collectors. We also collaborate with the UK's leading crypto accountants who ensure we always understand and comply with the latest tax guidelines.
Chris: How big is your community? Do you put a lot of effort into nurturing it?
Dan: Our community is a good size and we expect it to grow as more crypto investors learn about their tax obligations. We serve quite a niche community of users who value their privacy and anonymity, with support via DM, Twitter, Reddit and Telegram. Nurturing our community is a team effort, we're particularly pleased to see our users sharing experiences, and helping each other within these spaces. We're grateful to our partners (accountants/advisors) who also monitor the conversations and chip in with professional advice.
Recap is well known and very active within the UK crypto space, we are proactive in shaping UK crypto tax policy and regulation. We are members of CryptoUK and I co-led CryptoUK's response to HMRC's Call for Evidence on Taxation of DeFi involving Lending & Staking.
Chris: What are your milestones for the end of 2022, first quarter of 2023?
Dan: Following the success of our recently launched Ethereum support, we'd like to offer support for other on-chain activity in time for the UK tax season as well as more exchange integrations and a revamped portfolio dashboard. By the end of 2022, we will also have released crypto tax support for UK companies.
Chris: Thanks! Anything else you would like to mention? Where can we follow your updates?
Dan: Recap wants to take the stress out of tax compliance for crypto users, as well as our app we have also put together a Crypto Tax Guide with UK accountants which makes HMRC guidance easier to understand. You can get started and discover your crypto tax position for free at www.recap.io. For updates follow us on Twitter.