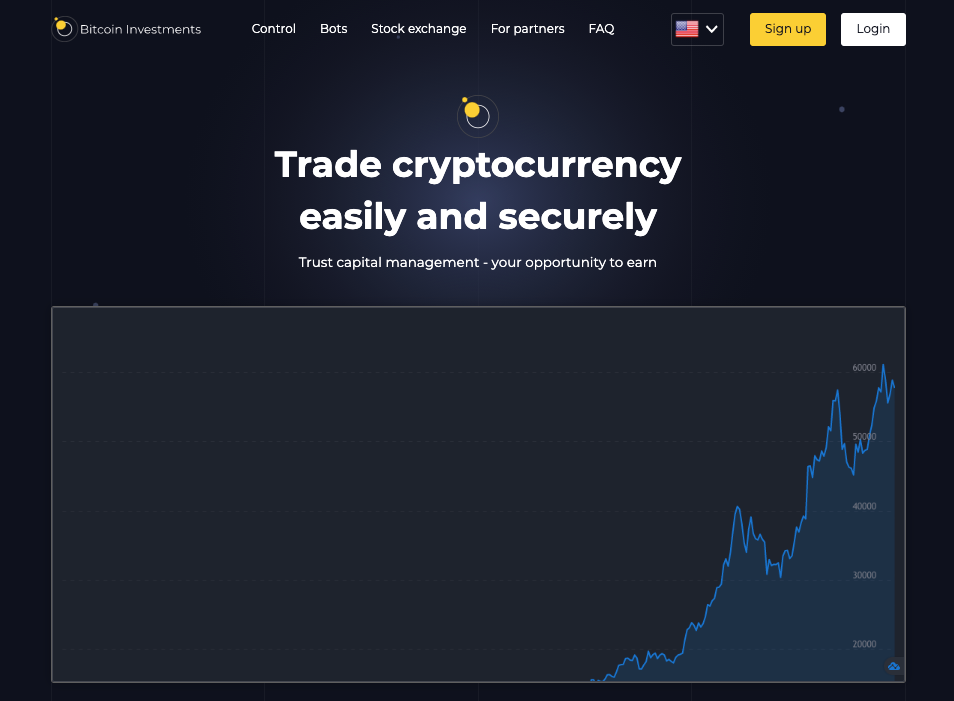 Cryptocurrency trading is a popular income-generating trend of the modern world, but there is still a problem of how to choose the best trading platform. If you prefer spot trading destinations, there is sense to pay attention to a new trading service called Bitcoin Investments. It was created by experienced traders who even provide help to people willing to earn on crypto volatility. Are you excited? Read this Bitcoin Investments review and learn how this service can help you benefit from crypto trading.
Table of Contents
Bitcoin Investments overview
Called by its founders the Exchange of the future Bitcoin Investments is a spot trading platform that allows buying, selling, and trading cryptocurrency. The main peculiarity of this trading destination is being a spot for meeting people who want to buy and sell crypto assets.
The company was founded in 2016 by Viktor Sokolnik. This is a trader with 15 years of experience in managing people's assets. The exchange began its operation in December 2020 and offers trading opportunities without extra commissions and interest.
Currently, the team of experienced traders is involved in trading on the exchange. Each of them can help new traders get profits from investments made. Every trader is responsible for his own price segment and the minimum investment is $10 only.
Bitcoin Investments features
Spot trading;
Assistance in trading with guaranteed profits;
Profit calculator;
Rewarding affiliate program by levels;
Support for several popular payment systems;
Excellent security (EV SSL, Cloudflare, etc.);
Instant withdrawals with low limits;
Website is available in 9 languages;
24/7 support.
Products and services
If you decide to try Bit Investments, you should understand what services this trading platform offers to users. This short overview can be rather useful.
Stock Exchange
Bitcoin Investments stock exchange is characterized by state-of-the-art trading tools, innovative technologies, and exceptional customer support. It allows trading cryptocurrency with other users since this exchange operates as a spot platform for both buyers and sellers.
Control
The Control section on the menu provides users with information about traders you can cooperate with on the platform. There is the contact information for direct communication since any interaction outside the platform is forbidden.
You can learn the name of the trader, his background and experience, minimum investment, period to invest funds, and the approximate earnings percentage.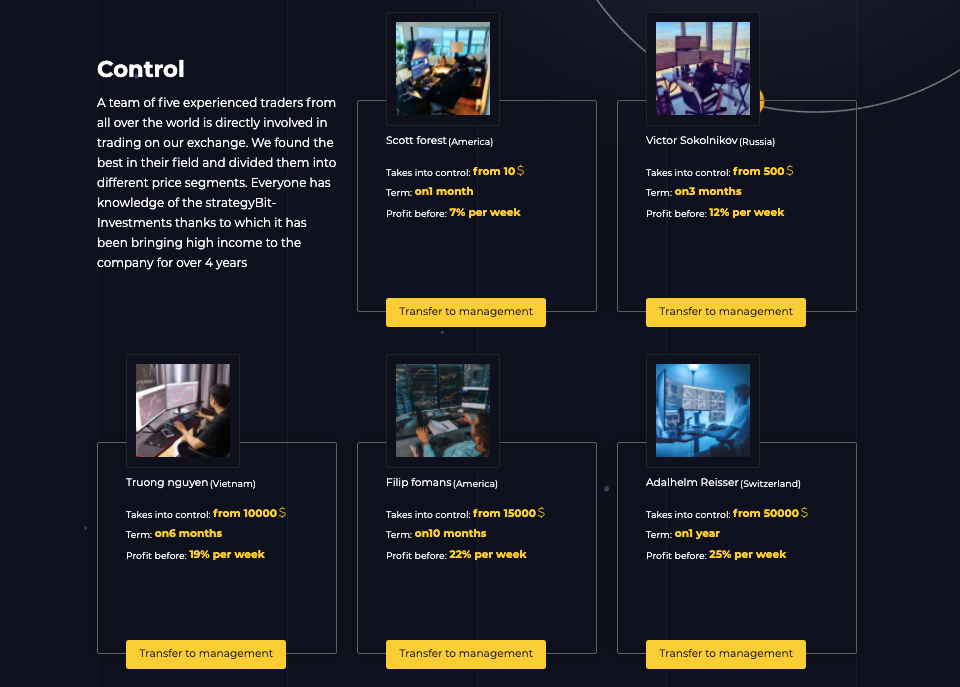 There are 5 traders on the platform that accept deposits from as little as $10 up to $50,000 and guarantee income between 7% and 25% a week.
Bots
The platform offers services of 3 bots to simplify the trading process:
The first bot allows getting profits of 1.5% in a day with a minimum investment amount of $1,000.
The second bot allows getting profits of 2.5% in a day with a minimum investment amount of $15,000.
The third bot allows getting profits of 4% in a day with a minimum investment amount of $35,000.
All bots have an indefinite lifetime and can be launched on the platform if you are a registered user and have deposited enough money to run it.
How does it work
It does not take much time and effort to start trading on the platform or hire remote traders to work for you.
Registration
You should access the official page of bit-investments.com and find the Register button in the upper right corner of the screen. There are several details to provide to complete the process: Name, Surname, Login, E-mail, Password, Phone, etc. Naturally, users are asked to read the User Agreement and the Privacy Policy, agree with them, and confirm not being a bot in a traditional way. When you complete the sign-up procedure, you should access your email and follow the link provided in the message to activate it.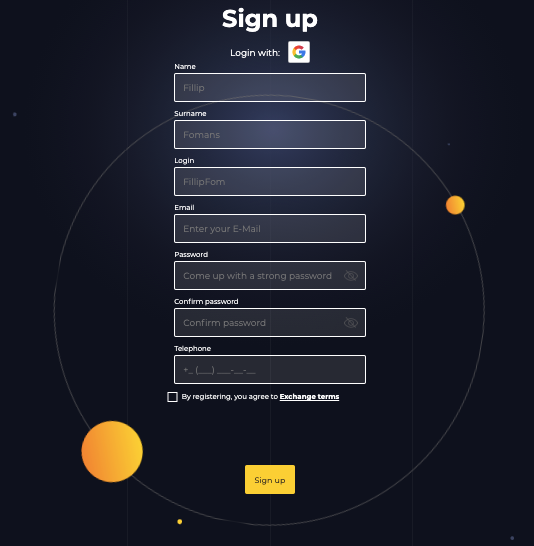 Deposits and withdrawals
The next step you should make before you start trading is depositing funds. All the account top-up options supported by the platform are provided in the Wallet section. Currently, this range includes the following payment methods: PAYEER, PerfectMoney, AdvCash, Yandex.Money, Visa, MasterCard, and cryptocurrencies (Bitcoin, Litecoin, Dogecoin, Ethereum, Zcash, Ripple, etc). The minimum deposit amount is $10.
Withdrawals can be found in the Wallet section too. A user should select the necessary cryptocurrency or fiat money and press the Withdraw button. You will see the list of supported banking options for this currency to select the most suitable one. There are no fees applied to withdrawals except for ones charged by operators. The minimum withdrawal amount is $0.10.
How to start trading
When you have created an account and made a deposit, you can proceed to trade. Go to the Exchange, select the currency you want to sell or buy and the system will find the best deals automatically. All the transactions are displayed on the home page or in the account profile.
If you want to attract a trader, you should access the management section where you can find information about traders. When the choice is made, press the transfer to management button, choose in which currency you want to open trust management (In Fiat or Cryptocurrency), enter the amount, and click transfer to management. You can open as many controls as you wish.
How to calculate profit
It is very easy to find out how much you can earn on Bitcoin Investments thanks to the profit calculator available on the platform. You should select a trader from the list, enter the amount of your deposit and you will see an immediate result. If you are satisfied with the number, you can join the platform by pressing the Get profit button.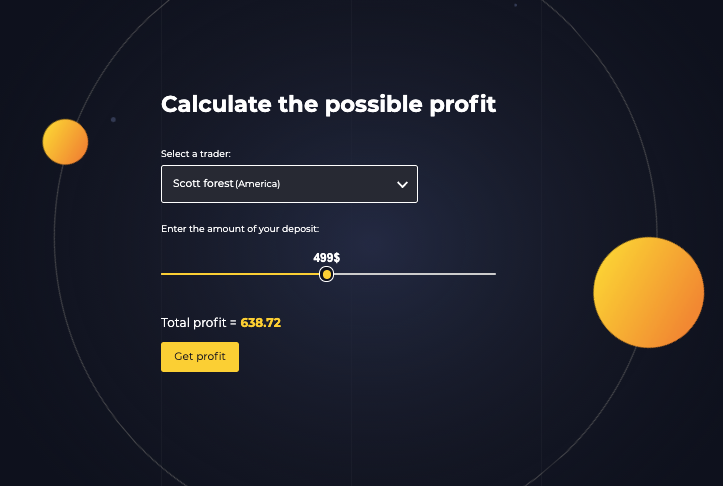 Affiliate program
An important focus in Bitcoin Investments is made on partners. Investors can get profits not only from trading but also additional income for being active and attracting new users to the platform. Everyone can copy his unique affiliate link, share it with others, and get a minimum of 8% of the partner's profits.
You can participate in the referral program even if you don't open remote control yourself. It is enough to register and find the affiliate link in the affiliate program section of the account menu. Funds received from the partner's activity are credited to the balance automatically and can be found in the same menu category.
Support
Bitcoin Investments offer round-the-clock customer support that can be accessed in several ways. The easiest way to contact a support representative is a green chat button located on the right at the bottom of the page. You will get an immediate reply from the team.
However, you can scroll the page down and find the Contacts category on the bottom menu. It will give you access to the phone and the feedback form as well as offer links to the company's pages on popular social media platforms.
Need more information?
The FAQ section is an important category of the upper menu. It contains questions regarding different aspects connected with Bitcoin Investments. You can find details about this platform, how to open and delete accounts, get answers to the questions as for deposits and withdrawals, affiliate program, as well as remote control trading. If you forgot your password, have extra questions, or have problems with logging into your account, there is information to read about too.
Summary
Bitcoin Investments opens doors to the world of crypto trading not only to experienced investors but also to people who have a minimum of knowledge about that. Being a spot exchange, it helps to save on fees and get the best deals. However, its main breakthrough is remote control trading services provided by the industry specialists, since they allow everyone to earn on crypto volatility, no matter how knowledgeable you are in this sphere.