The majority of modern cryptocurrencies have been designed for trading and investment. It is difficult to find a coin that can be used as a traditional payment option for making online purchases, but the group of innovators decided to approach this problem in a completely new way. They introduced a token designed to overcome the majority of problems connected with cryptocurrency. What kind of token is it and what makes it different from others?
Table of Contents
Look: this Monetran Network review focuses on the main features of the project and why it is worth the attention of crypto holders.
What is Monetran Network
Monetran Network is a system that includes a native Moneda token and a web application integrated with the Stellar network. This is a project of Monetran LLC, a company registered under the laws of the State of Delaware, USA. The main goal Monetran aims to achieve is solving problems that most of the popular cryptocurrencies have.
The leading cryptocurrencies like Bitcoin, Ethereum, and Ripple are not only highly volatile but also expensive to use and NOT backed by anything of value. It makes them risky investments and not the best solutions for payment processing. Moneda has been created with the goal to solve these problems and become the token for mass adoption.
Monetran LLC has established its asset account with Fidelity Investments and one of the oldest US banks - Fulton Bank.
Monetran features
What makes Monetran different from other cryptocurrencies? There is a number of features to consider:
Built on the Stellar network that guarantees fast, seamless, scalable, economical transactions.
Stable since it is backed by a fully transparent, actively managed portfolio of financial assets.
Designed for profits with a built-in staking algorithm.
Monetran units were issued under SEC Crowdfunding regulations.
Redeemable for a percentage of the principal in the Fidelity Investments asset account.
Compound interest that is added to the balance and remains invested too.
Featuring low fees from 0.10% per transaction to 2% for international transactions.
Support for micropayments under $1.
Team
Monetran is a US-based company created by a team of enthusiasts who have spotted numerous problems connected with the most popular crypto assets and decided to solve them by creating their own token. The project is charged by Don Bielak who is Chief Executive Officer and Founder. He has spent many years working as the Publicity and Media Relations Director for a major New Jersey sports venue and came up with the idea to create something unique in the world of cryptocurrency. Currently, the team consists of 8 professionals from different corners of the world whose main mission is to establish a cryptocurrency that can be used in e-commerce on a daily basis.
Moneda Token
Moneda is a native token of the Monetran network which is 100% backed by tangible assets. It was built on the Stellar network and is redeemable which is expected to achieve a high level of stability with high chances of value increase. This token can save up to 70% on international financial transactions making them swift.
Monetran App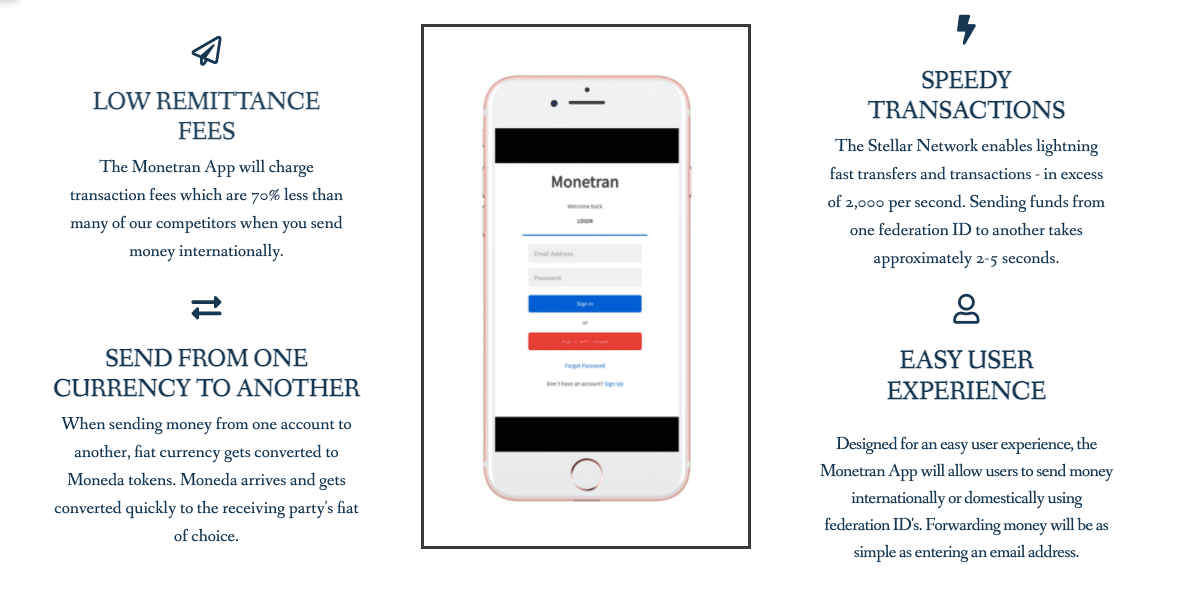 Monetran has developed a web application integrated with the Stellar Network. It is not only a computer-based app since both Android and iOS users can benefit from it too. The app enables users to deposit funds such as fiat money or cryptocurrencies (Stellar Lumens or Mobi) to the created accounts. This deposit is converted into Moneda tokens automatically, the transaction fee is extracted from this sum, and tokens are forwarded to the anchor. When they arrive, these tokens are converted to the fiat money preferred by the recipient. Due to the Stellar Network, this process takes only several seconds, especially if you can pay directly in Moneda.
Another important feature of Monetran is a 'safe deposit box' service. Storing Moneda it will increase in value incessantly if kept in the wallet. It is guaranteed since the company has created an asset account with Fidelity Investments to preserve capital, to seek a reasonable rate of return, and to reward crypto holders as well.
Monetran and Stellar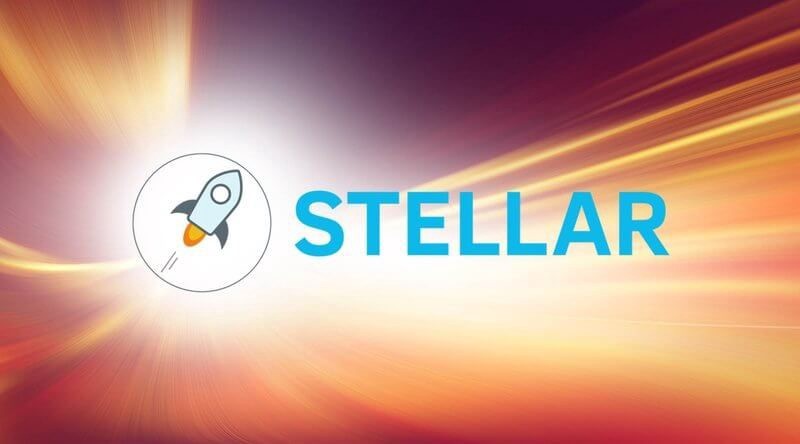 Monetran is based on the Stellar network which is a complex distributed system that makes it possible to complete a transaction in 2-5 seconds only. It operates according to the so-called Byzantine Agreement created by Professor David Mazieres.
Stellar is an open-source protocol to exchange money. There are many independent servers that participate in the Stellar network, so a failure of any of them won't impact the operation of the network. A crucial role in the Stellar network is played by anchors. People entrust them with deposits and anchors issue credits into the Stellar network for these deposits. All money transactions in this network occur in the form of credit too.
The Stellar ledger stores orders created by the users to buy or sell currencies and becomes a global marketplace for them. This allows people not only to buy and sell currencies but also to convert currencies seamlessly during transactions.
How to open an account
You should proceed with the following steps to open an account:
Open the Monetran sign in page.
Click the Sign Up button at the bottom of the page.
Enter the information asked and invent a password.
Click the Sign Up button in the blue bar.
Receive an email to verify your email address.
Complete the procedure and enter the newly created account.
One more important aspect in the process is linking a banking account, since it will be used for making all payments to users, so this procedure should be completed too.
How to buy tokens
The platform offers 3 ways to buy Moneda tokens:
They can be purchased directly from the Monetran app using a bank transfer. This way is available only for registered users with a Monetran account.
Another way is a purchase made in the Monetran app but via an international or domestic wire transfer.
The third way is buying Moneda tokens on the Stellar decentralized exchange Stellar Term. They can be purchased for fiat money or cryptocurrency Stellar Lumens.
Monetran advantages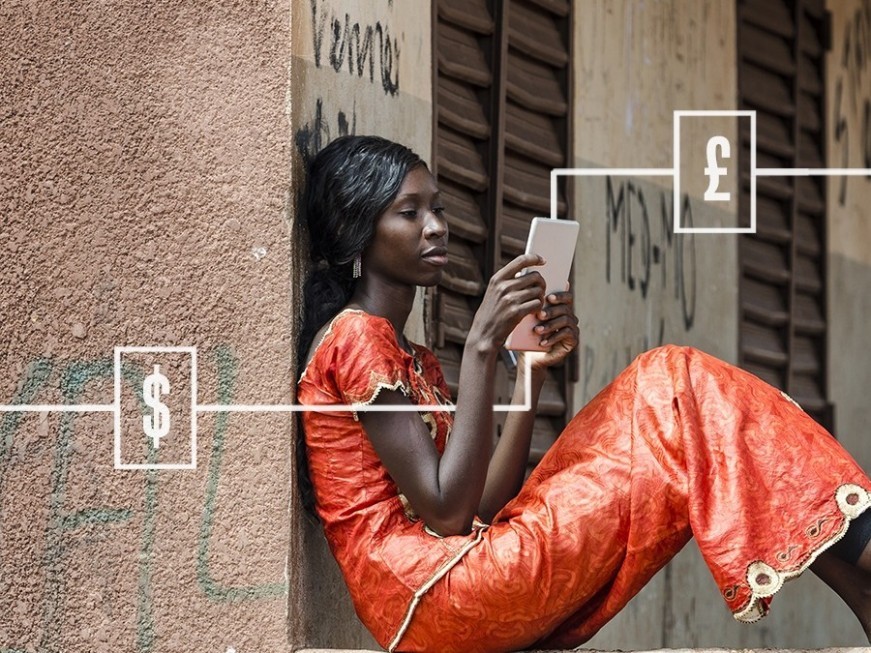 What makes Monetran outstanding about other projects? These are benefits of this network:
SEC compliance and availability to US investors;
Fast transactions that take only 2-5 seconds;
Back up from financial instruments;
Support for micropayments under $1;
Token stability and increasing value;
Enabling P2P international transfers including conversions;
Moneda will be traded on popular exchanges soon.
Summary
Monetran launched a new cryptocurrency, that does not require mining and is a redeemable asset-backed coin with increasing value over time. Moneda features value-producing instruments and guarantees ultra-fast transactions nevertheless what distance there is. The project team expects Moneda to have a high level of stability and increasing value which makes it great for storing value and transacting online.