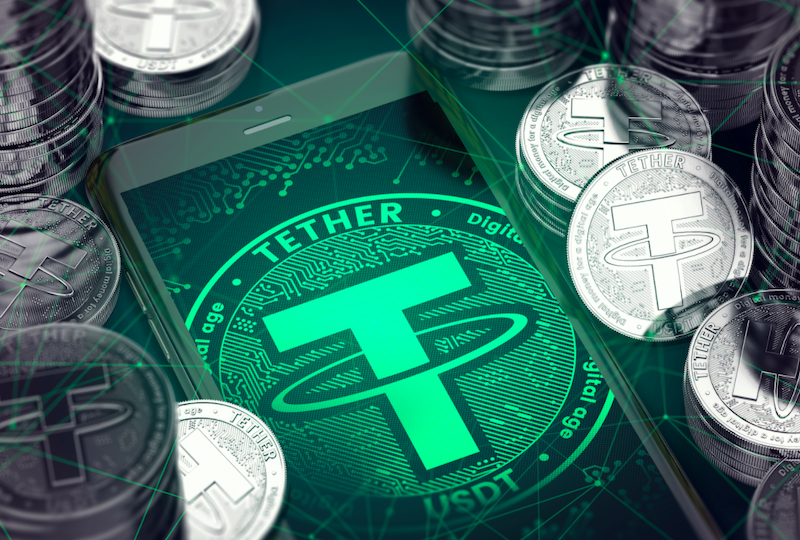 Tether (USDT) is a great middle man to trade multiple crypto coins on different exchanges. This stablecoin does not know what volatility is. Meaning you won't lose your money overnight because the rate has unexpectedly changed (like with BTC). How to buy Tether (USDT) in the UK?
Create your account on Binance.
Verify your identity (required for fiat transactions).
Use your credit card or a bank transfer to fund your account.
Go to the Trading page, select USDT, and place your order.

Where to buy Tether (USDT)?
Now it is high time to learn how to transfer GBP to USDT.
Table of Contents
Binance
Trade USDT with cryptocurrency
Register your account.
Fund your account with BTC or ETH that you already have in your private wallet. In order to make your deposit, go to the navigation bar at the top of the website and click Funds > Deposits.
Place your order. To place an order, go to the Markets page. On the top right corner, select BTC (or ETH) and search for USDT. The USDT/BTC trading pair should appear. Click on the trading pair, enter the order details, and submit your order.
Buy USDT with a credit card
Create your account on Binance.
Verify your identity in order to get access to fiat transactions.
Go to Buy Crypto -> Credit/Debit Card
Select USDT, input amount, and select a payment method.
Confirm payment details.
Complete 3DS Safety Certification.
Complete payment.
Buy USDT with a bank transfer
Create an account on Binance.
Verify your account.
Deposit your Binance account Using SEPA or Faster Payments
Place a buy order for USDT.
CEX.IO
This is where you can directly buy USDT with GBP.
Buy USDT with a credit card or a bank transfer
Register for a CEX.io account here
Verify your account.
Deposit your account with GBP via:

Debit or credit card
Bank transfer

Head to Buy/Sell and choose to buy USDT for GBP, enter the amount you wish to purchase and click on the Buy button.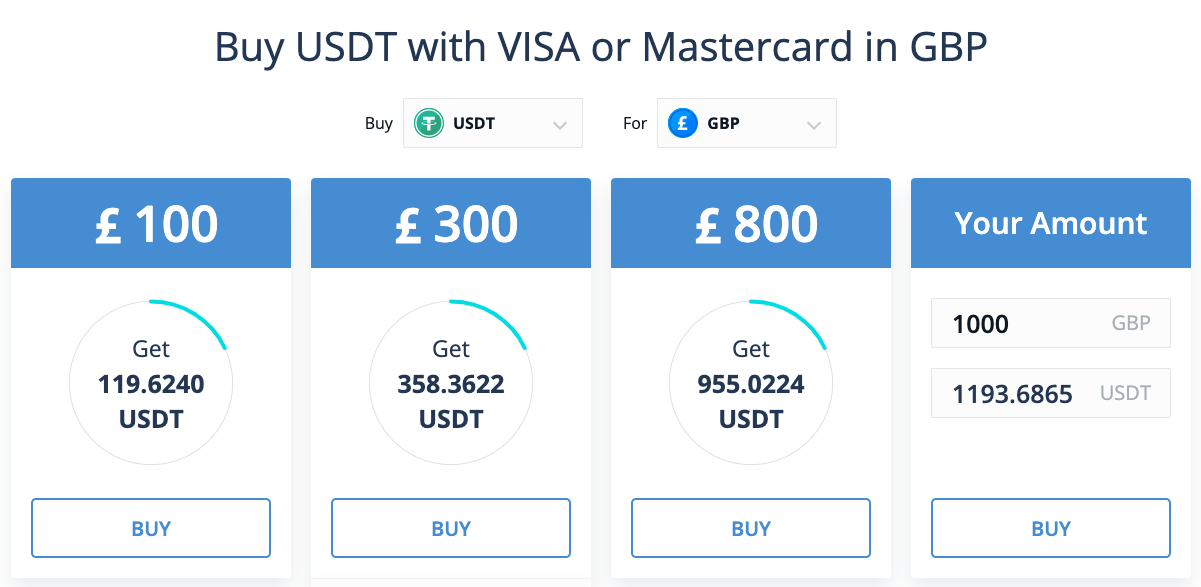 Kraken
Sign up for a Kraken account
Verify your account. You will need to provide your name, date of birth, country of residence, and phone number.
Deposit your account with fiat. Another option to buy Tether with GBP.
Place your order to buy USDT.

What is Tether (USDT)?
Tether (USDT) is a mix of cryptocurrency and blockchain technology and fiat currencies. Sounds a bit confusing, doesn't it?
Let me paraphrase it. Tether is a stablecoin whose crypto coins in circulation are backed by an equivalent amount of traditional fiat currencies, like the US dollar, the Euro, or the Japanese yen, which are held in a designated bank account.
Stablecoins aim at keeping cryptocurrency valuations stable, as opposed to the wide swings observed in the prices of other popular cryptocurrencies like Bitcoin and Ethereum.
It was specifically designed to build the bridge between fiat currencies and cryptocurrencies and offer stability, transparency, and minimal transaction charges to users. Tethers maintain a near-perfect 1:1 parity with their underlying assets which is a US dollar.
So if you submit some USD to be converted to Tether, you get the same amount of USDT, which is USD Tether, that can now be tradable, exchangeable, and redeemable as a cryptocurrency. Also, it's a popular payment method in the gambling industry, especially for Bitcoin slots – it's like a "stable" dollar, but still crypto with its advantages.
How does Tether work?
Tether was originally launched and issued on the Bitcoin blockchain via the Omni Layer protocol, a platform used for creating and trading digital assets on top of Bitcoin.
This technology enables the minting and burning of Tether tokens based on the amount under custody. The circulation of Tethers can also be tracked and reported via the protocol. As of 2020, Tethers are also available as assets on Liquid, a Bitcoin sidechain.
Tether is now also available on other blockchains, including Ethereum (ETH), Tron (TRX), and EOSIO (EOS), which allow for the creation of new assets natively on their blockchains.
Where should USDT be stored?
As I have mentioned earlier, USDT is a stablecoin. It is used for easy and quick trading as there are so many pairs with multiple coins (which are not available with regular USD, GBP, or EUR). So you don't really need to move it away from the exchange, since this is not the best choice for long storage, but rather a quick middle man.
It means you can hold USDT in any hot wallet or exchange that offers the coin, including Binance, OKEx, Bittrex, Kraken, Poloniex, and ZB.com.
The main crypto wallets for semi-hot storage include Holy Transaction and Omni wallet.

For long-term USDT storage, you should use a cold wallet like Ledger Nano S to protect your funds against hackers.
Summary
As you can see, it is quite easy to buy tether in the UK. You can do it using cryptocurrencies or fiat coins like USD, EUR, and GBP. Just need to select your exchange and start trading.