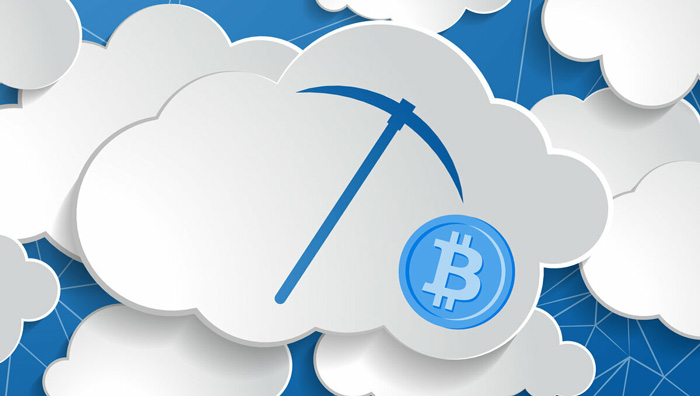 The only way to avoid losing money to fake bitcoin cloud mining companies is to do careful research for the best mining service providers. Doing such research is no easy feat.
Table of Contents
If you do a Google search for "bitcoin cloud mining sites", you'll find tons of ads referring to shady companies that are ready to separate you from your money. Worse still, some of the top-ranking websites feature paid content from bad guys and list companies that don't even exist.
How do you separate the wheat from the chaff?
Well, we did that for you in this article.
We spent ample time researching the space before coming up with this shortlist of the best and trusted cloud mining providers. We also provide information such as their launch date, country, available contracts, and payment methods.
Let's dive right in!
Best cloud mining platforms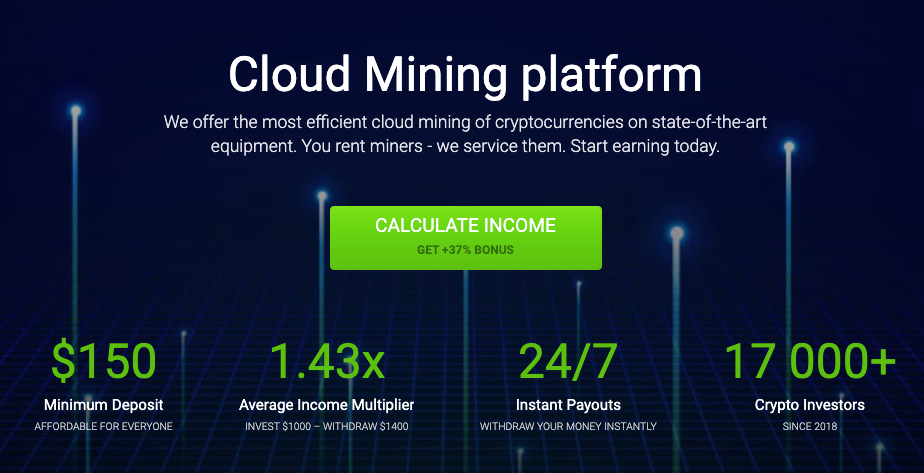 Launch date: 2018
Country: United Kingdom
Shamining is a popular mining platform that offers profitability of over 140% and was originally created for companies. It switched to individual farming services in 2018, and now it supports Bitcoin cloud mining and offers control from any device including mobile ones. The minimum deposit is $150 and there are over 17k miners registered on the platform. It is enough to register an account, choose a suitable plan, and make a deposit to start mining there.
Available Contracts and Minimum Pricing
CPU miners = $0.0120 per 1Gh/s
GPU miners = $0.0113 per 1Gh/s
ASIC miners = $0.0109 per 1Gh/s
Payment Options: Visa, MasterCard, American Express, SEPA, BTC
Pros:
24/7 customer support available by email or chat;
Availability of individual plan;
37% extra bonus on your investment;
Cross-device control of mining;
Availability of profit calculator for new investors;
Fast and round the clock withdrawals (the minimum amount is 0.0006 BTC);
A single price per GH/s unit;
Profitable promotions for new investors;
Low entrance amount.
Cons:
Mining the only Bitcoin;
Possible delays in payouts up to 24 hours.
Sponsored by SHAMINING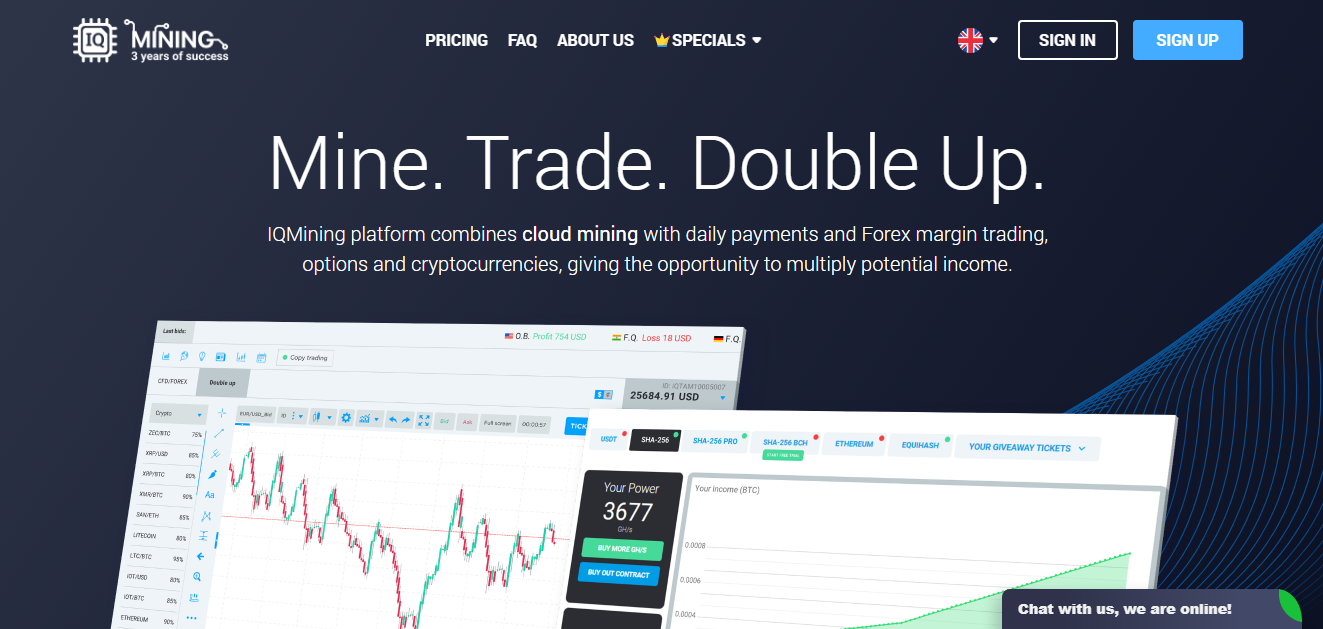 Launch date: 2016
Country: United Kingdom
IQ Mining is a company that has been around for four years now. The company has data centers in Canada, Georgia, China, Russia, Algeria, and Iceland. It offers affordable contracts, and possible payouts are easy-to-calculate.
Available Contracts and Minimum Pricing
1-Year Contract
SHA-256 = $50 for 4000 GH/s
SHA-256 Pro = $60 for 4580 GH/s
SHA-256 Bitcoin Cash = $60 for 4580 GH/s
2-Years Contract
SHA 256 = $103 for 4582 GH/s
SHA-256 Pro = $108 for 4582 GH/s
SHA-256 Bitcoin Cash = $108 for 4582 GH/s
5-Years Contract
SHA 256 = $186 for 4585 GH/s
SHA 256 Pro = $195 for 4585 GH/s
SHA 256 Bitcoin Cash = $194 for 4585 GH/s
Lifetime
SHA 256 = $334 for 4576 GH/s
SHA 256 Pro = $349 for 4576 GH/s
SHA 256 Bitcoin Cash = $349 for 4576 GH/s
Payment Options: BTC, LTC, DASH, USD, TUSD, USDT, Card Payments, Wire Transfer, Perfect Money.
Pros
Your income is trackable through an easy-to-navigate dashboard.
Responsive customer support team.
Phone support numbers available.
The referral program provides another source of income.
The company supports multiple cryptocurrencies and payment methods for deposits and withdrawals.
The website includes a mining income calculator.
You can also register for a forex trading account on their service.
Cons
The service is not open to U.S persons,
No mobile app available
Ethereum and USDT contracts were out-of-stock at the time of writing.
IQMining's website suffered a downtime when we were researching their product.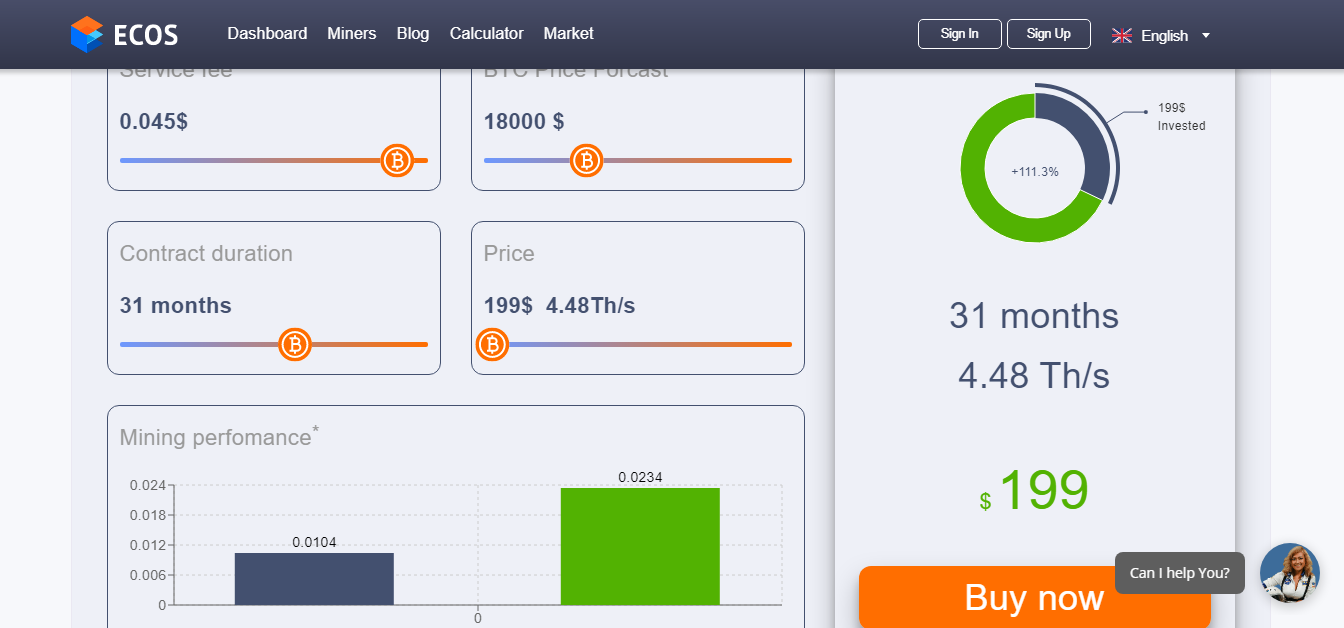 Launch Date: 2017
Country: Armenia
ECOS Mining is another cloud mining computing service. The company brands itself as a provider of "legal solutions for mining bitcoins." ECOS claims to have authorization from the Republic of Armenia to operate in its free zone, thus allowing for tax-free and cheap electricity operations.
Available Contracts and Minimum Pricing
ECOS offers very flexible mining contracts, allowing investors to choose their preferred duration.
Minimum Pricing: $25 for 1 TH/s (12 Months)
Other Contracts
6-Months
$149 for 11.12 TH/s
1-Year
$149 for 6.43 TH/s
2-Years
$149 for 3.97 TH/s
Payment Options: BTC, ETH, LTC, XRP.
Pros
ECOS provides flexible contracts starting from six months.
The website allows equipment owners to connect to a pool.
Customers can monitor account earnings via their dashboard.
ECOS has an active Telegram community.
Their website is available in English and Russia.
Potential investors can attend a webinar to learn more about ECOS.
The company supports cryptocurrency and credit card payments for buying contracts.
Cons
ECOS Supports only SHA-256 Bitcoin mining.
No lifetime plan available.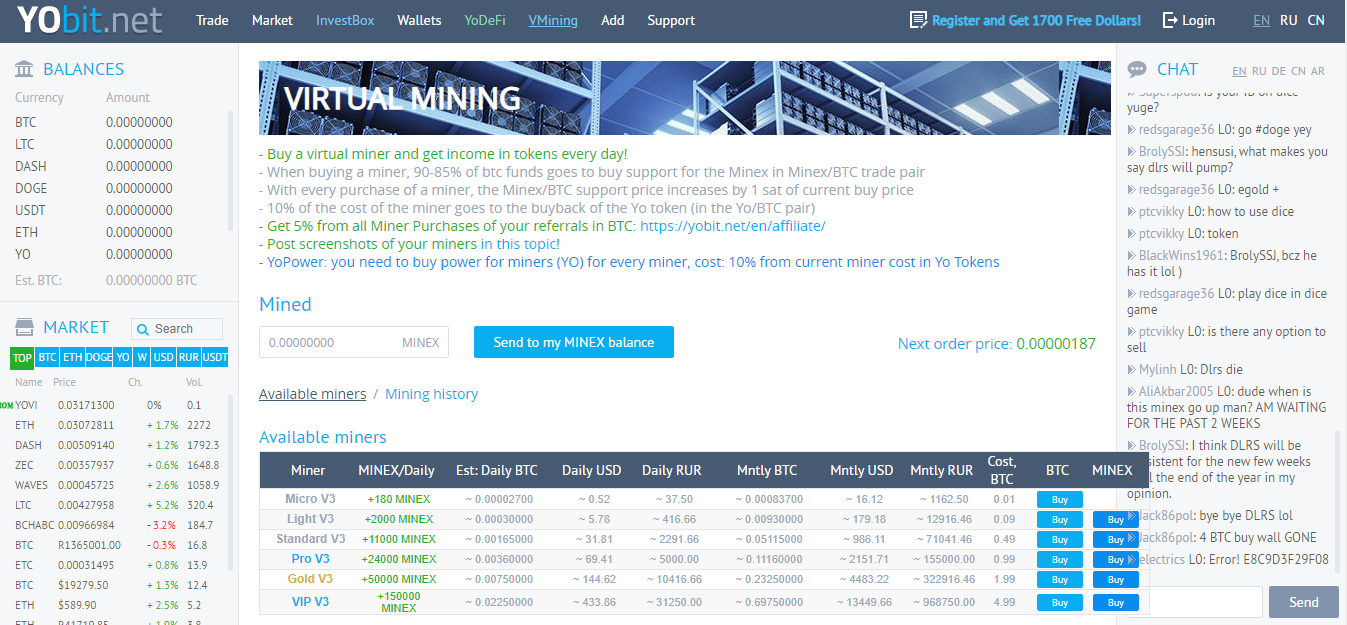 Launch date: September 2020
Country: Russia
Yobit is a Russia-based cryptocurrency exchange that has been around since 2014. But it was only in September 2020 that the company launched its virtual mining service for users. The option is available on the Yobit dashboard, and investors earn rewards in MINEX tokens, which they can then convert to BTC.
Available Contracts and Minimum Pricing
Micro V3 = 0.01 BTC
Light V3 = 0.09 BTC
Standard V3 = 0.49 BTC
Pro V3 = 0.99 BTC
Gold V3 = 1.99 BTC
VIP V3 = 4.99BTC
With VMining, the contract pricing and income fluctuate based on the current BTC price.

Payment Options: BTC
Pros
A long-existing crypto exchange that now offers a virtual mining service.
Investors get a 5% commission for referrals who purchase contracts via YoBit.
You could net extra profits based on the price performance of the MINEX token.
There is little to no action required after purchasing the plan.
Investors could break even within 1-3 months after putting in money.
YoBit has an active community of users and investors in the VMining program.
Cons
YoBit does not provide insights regarding its operations.
The lowest contract at 0.01BTC ($190) may not be affordable for some investors.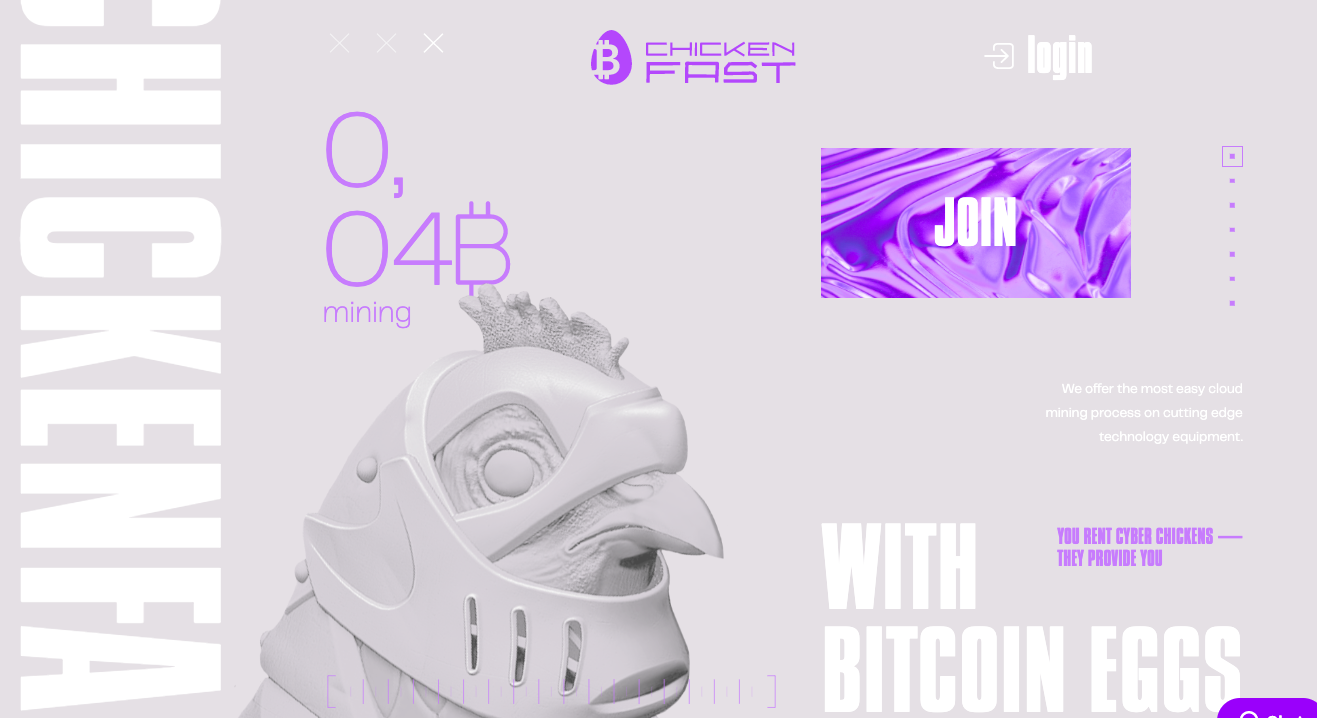 Launch date: 2015
Country: China
ChickenFast is a cloud mining software based on cutting-edge technology equipment. It allows renting cyber chickens to get Bitcoin eggs. The platform was launched in 2015 with the goal to make mining simple and predictable. The company is represented in 3 countries: the USA, Denmark, and China. It strictly follows all business principles and traditions while working with finances. Users are promised to get an average income of 1.12x per month.
Available Contracts and Minimum Pricing

Gold:
Contract deposit: $5,000
Hashing rate 53,956 Gh/s

Silver:
Contract deposit: $1,000
Hashing rate 10,622 Gh/s

Bronze
Contract deposit: $600
Hashing rate 10,622 Gh/s
Payment Options: MasterCard, Visa, Bitcoin
Pros:
Daily BTC payouts;
Maximum functionality and simplicity;
Individual security settings;
No delays and holds;
Referral program;
Green energy;
Live support 24/7.
Cons:
The minimum contract duration is 1 year.
Withdrawal is processed for 24 hours.
Earning potential: an annual income from $1,464 to $12,200 depending on the contract
Supported platforms: Windows, iOS, macOS, Android.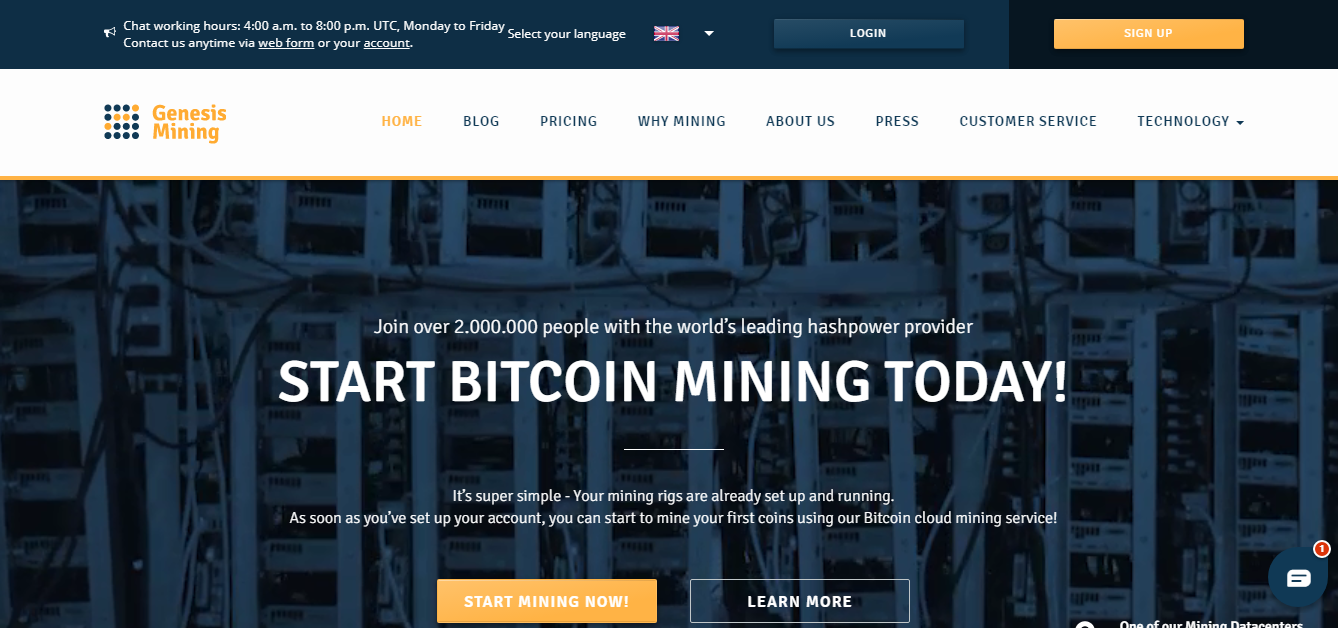 Launch date: 2013
Country: Bermuda & Hong Kong
Genesis Mining is one of the oldest cryptocurrency cloud mining service. The company mines Bitcoin, Ethereum, Litecoin, Dash, Litecoin, Monero, and ZCash. Investment contracts are sold periodically and, thus, not always available for new investors.
Available Contracts and Minimum Pricing
At the time of writing this article, only the Ethereum Radiant Zero Plan was available.
1-Year
Small = $198 for 9 MH/s
Medium = $992 for 46 MH/s
Large = $4,989 for 236 MH/s
2-Years
Small = $198 for 8.50 MH/s
Medium = $993.5 for 43.50 MH/s
Large = $4,993.5 223 MH/s
Payment Options: Debit and Credit cards, Bitcoin, Litecoin, Dash.
Pros
Genesis Mining is a reasonably reliable service provider.
The platform supports credit card payments.
Users can choose a custom plan that matches their financial strength.
Genesis provides a 24/5 customer service desk.
The company also publishes regular updates regarding operations and new developments that could affect customers.
Cons
All contracts are not readily available.
Earnings are not paid out daily, but when they reach a certain threshold (0.0015 BTC).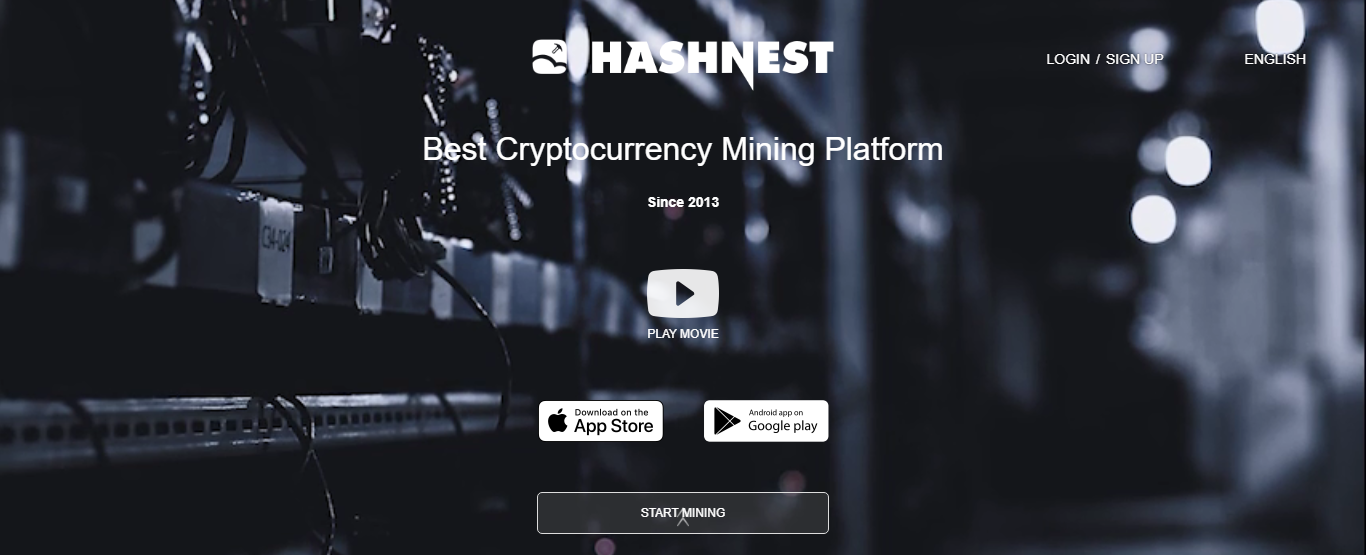 Launch date: 2013
Country: China
Hashnest is a mining service backed by renowned crypto mining chip maker, Bitmain. The company supports Bitcoin, Litecoin, Dash and Zcash, and directly links with Antpool, one of the largest bitcoin mining pools in the world.
Available Contracts and Pricing
All plans offered by Hashnets can last up to the lifetime of the purchased equipment.
(Ethereum) GPU 598 with 31 MH/s = $299
(Bitcoin) Antminer S19 pro with 110 TH/s = $3999
(ZEC) Antminer Z15 with 420 KSols/s = $3599
(CKB) Antminer K5 with 1130 GH/s = $1699
Payment Options: BTC, BCH, LTC, USDT, ZEC, DASH, GRIN.
Pros
Hashnest is backed by Bitmain and, thus, reasonably reputable.
Hashnest offers a mobile app for managing your account.
You can easily track earnings via an easy-to-understand interface.
Hashnest charges a friendly maintenance fee of 0.075 USD per kWh.
There's a LiveChat option available on the website.
Cons
Hashnest is ideal for investors with large capital.
How we picked and tested
As we mentioned at the onset, there are numerous fake bitcoin cloud mining companies. We carefully reviewed the offerings provided by the services listed in this article and concluded that they're relatively reliable.
Among the factors we considered include how long they've existed, available contracts and the feasibility of fulfilling payouts, and the countries where they operate. Although Bitcoin mining is not illegal in most countries, including the UK, the high electricity costs associated with it makes cloud mining companies a hot service.
Meanwhile, we still recommend that you do more research on any firm that you eventually choose to invest money with and make decisions only when you're satisfied with the answers they provide.
What is cloud mining?
Cloud mining, as used for cryptocurrencies, refers to the practice of renting CPU power to mint new cryptocurrencies.
Most cryptocurrencies like Bitcoin work on a Proof-of-Work (PoW) consensus mechanism and require computational power to verify and confirm transactions. The miner who verifies a block receives new units of cryptocurrencies as a reward.
However, one would require a lot of capital to acquire equipment, pay electricity bills, and hire personnel to manage their operations.
Cloud mining gives interested investors to buy a contract with a company that has machines already mining on a cryptocurrency network and then earn proceeds from their investment.
In some cases, the person buying the contract purchases dedicated mining equipment associated with his account. The company charges a maintenance fee for setting up and managing the equipment.
Types of cloud mining contracts
Each company offers unique plans to customers. However, these plans could easily come under the two categories listed below:
Periodic Mining Contract: In this case, the company purchases and leases a mining machine to the investor over a specified period, usually six months to five years. The company charges a maintenance fee for the duration and pays out profit to the investors.
Lifetime Mining Contracts: Some cloud mining companies offer lifetime contracts or at least agreements that will exist for as long as the cryptocurrency industry exists. The fees are usually lower, while a portion of the profits is set aside for replacing the mining equipment if it becomes obsolete or completes its life cycle.
What should you look for in a cloud mining service?
Before you invest money with any service, here are some factors to look out for:
History: You can determine if a mining company is legitimate by reviewing how long it has existed and consistently fulfilled its obligation to customers. If you can't find any reliable information about the company, other than a few paid articles published by media publications, then it's probably best to stay away from them.

You can also use free tools such as WhoIs to determine which company owns the domain, when they registered it, and how long it has been online.

Available Contracts: Different cloud mining services offer different units of purchasable hash power or mining equipment. Therefore, it is vital to find one that matches your investment needs and capital size.

Yobit arguably offers one of the most flexible contracts, although it doesn't provide adequate information regarding its operation.

Community: Another thing to look for in a cloud mining service is whether it has a loyal investor community. No, we're not talking about a community with members posting proof of payment or comments that put you under pressure to invest.

Such comments would be an indication that the company isn't legitimate and only looking for unsuspecting investors.

Payouts Threshold: While many companies claim to offer daily payouts, they often do not mention a threshold before users can withdraw funds. If a service stipulates this information on its website, then it's probably a sign that they're legitimate.

Additionally, although some offer daily payouts, it is usually best to accumulate your returns over a period to save on network and exchange fees for conversion to fiat or other cryptocurrencies.

Supported Coins: If you want to mine a particular cryptocurrency, it's best to confirm that the service supports it. While many companies support BTC cloud mining, they may exclude Litecoin, XMR, Dash, etc., based on client demands.

Payment Methods: We provided information on supported payment methods for the companies listed above. Offering credit and debit card payments alongside cryptocurrency deposits and withdrawals could signify that the company promotes inclusion.
How to start cryptocurrency cloud mining
Since the whole point of cryptocurrency cloud mining is to save investors the stress of setting up a physical mining farm, starting a cloud-based bitcoin mining farm is straightforward. It involves the following steps:
Select a service provider.
Sign up and complete their verification process.
Choose a mining contract or equipment.
Review the investment information and potential risks.
Purchase the mining contract via your chosen payment method.
Monitor your machine's performance and earning via the provided dashboard.
Withdraw your earnings.
Bonuses & promotions
It is not unheard of for these companies to offer bonuses to attract new customers.
During our research, we found that ECOS mining offered BTC rewards for new signups. At the same time, Yobit gave out 10 BTC to a group of investors who purchased their mining contracts and shared their portfolio on their Bitcointalk forum.
Therefore, you may want to enquire about promotions and bonuses associated with any service that you choose to use. Using these bonuses allows you to maximize your profit potential.
How to avoid cloud mining scam
Aside from what we've shared so far, here are additional ways to identify and stay away from mining scams:
Paid articles and reviews: The easiest way to identify scams is that they usually pay publications to publish fake review articles that are either marked or not marked as such.

Such articles usually highlight all the benefits of investing with the company, while little or no information is available regarding the associated risks. If such reports appear to be the only information about the company online, it's probably a scam.

The pressure to Invest: Mining scams try to instill in you the fear of missing out (FOMO). You may find a ticker telling you that the last few contracts are about to sell out, and you will miss out on potential profits if you fail to take action.

Fraudsters use such a method to make their victims act faster, and you shouldn't fall for it.

Unreal Returns: How about making 100% of the invested amount within a month? Cryptocurrency mining is a high-risk endeavour and susceptible to massive price fluctuations that could make your investments near worthless (albeit for some time).

Therefore, any company offering you the chance to get fixed and guaranteed returns only want to separate you from your money within a short time. They only portray the supposed benefits and not the risks. Don't do it!.

Free Trial: No legitimate company offers a free trial since this would be very detrimental to their capital and business objectives.

Therefore, if any service claims to provide a free trial contract, it's probably an advanced scam. Don't fall for it!

Difficulty With Withdrawal: The most glaring way to identify a cloud mining scam is when you reach the stipulated withdrawal threshold, and the company still doesn't let you withdraw.

Instead, they require that you pay an additional amount in processing fees or hold your funds longer to attract more interest. It would be best that you don't put in more money at this stage since you're not going to get it back.

Spend Quality Time to Research: Do not get tired of searching government and corporate websites, reading reviews, and engaging with communities to find out if they're legitimate. The time will well be worth it, and help you decide whether to proceed with a particular company.

Don't Invest More Than You Can Afford to Lose: When you've found a supposedly legitimate cloud mining company, we strongly recommend that you only invest an amount you can afford to lose.

The developing nature of the crypto space means that even the most reputable companies in the industry could go bankrupt instantly.
Pros
Undoubtedly, cloud-based Bitcoin mining is an idea that looks good and exciting on paper but still lacks sufficient industry adoption. Here are some benefits that it brings to investors:
It allows anyone with capital to participate in securing the Bitcoin network.
The maintenance and operations costs on mining operations are low compared to setting up a physical mining farm in your location.
Little or no technical knowledge is required to set up a cryptocurrency cloud mining account.
Most mining companies issue payouts daily and allow withdrawal once the income reaches a certain threshold. Thus, cloud mining could provide a passive income opportunity for investors.
Investors are not confined to the hash rate limits usually associated with having in-house mining equipment. You can increase or decrease your purchased hash rate based on market performance.
It's easier to exit the market if BTC's price sharply drops since you don't have to worry about selling your equipment.
Cons
Here are some reasons why we don't recommend this method of cryptocurrency mining:
Most cloud mining firms are not transparent regarding their operations and are only interested in accepting investors' funds.
Surprisingly, most mining websites have a poor UI interface and dashboard for monitoring earnings.
Although it is often advertised as cheap cloud mining, it could take a long-time, up to six months, to break even on your investment. You'd probably be better off just holding bitcoin.
Most of them do not have a mobile app that investors can rely on to track their portfolio on the go.
Even though one would usually expect it, these companies usually off no phone-call support options.
Many have reported losing bitcoins to fake cloud mining scams, and it is admittedly difficult to find trusted actors in the industry.
F.A.Q
Should I Invest in Bitcoin Cloud Mining?
You should only invest in bitcoin cloud mining if you understand the risks associated with doing so. You could gain a lot and you could also lose all your money if you end up investing with a fake company or if prices drop like a rock.
How Much Can I Earn from Bitcoin Cloud Mining?
The amount you can earn from your mining investment depends on the hash rate you purchase or the mining equipment.
Most companies also provide a mining profit calculator for listed contracts. Note that the numbers usually are estimates and rely heavily on the markets remaining healthy, less competitive, and attractive.
Are There Regulated Cloud Mining Companies?
Most cryptocurrency mining companies are unregulated (including the ones covered in this article). Although some may claim to have some government affiliation, it doesn't typically mean that they are regulated.
We do believe that as the cryptocurrency industry matures, we could see regulated cloud-based mining companies join the party.
Conclusion
This article reviewed five (5) trusted cloud mining sites that UK investors can check out. We also covered other vital information, such as identifying cloud mining scams and the pros and cons of clouding mining investment opportunities.
We hope that the information provided herein will guide you to make the right choice and protect your capital. Bitcoin cloud mining looks good on paper and is still a largely unexplored space that we'll keep an eye on in the coming years.