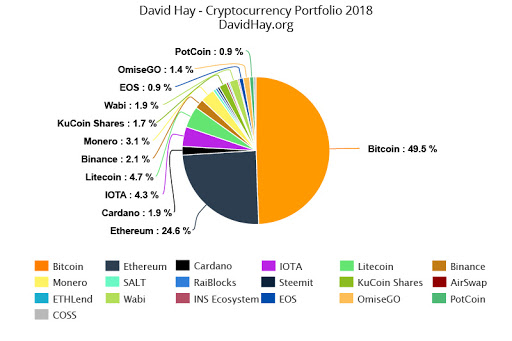 If you've ever tried monitoring your crypto without using a crypto portfolio tracker app, then you already know it is no easy task. The crypto market is highly volatile, and it is almost impossible for someone to manually keep an accurate record of all their profits and losses at all times.
Table of Contents
Even those who invest only in Bitcoin struggle to reconcile the amount they invested and the units of coins received, fees incurred, short term price growth, and at what percentage they will break even.
You will lose your mind if you hold up to 5-20 coins in your portfolio and try to repeat the cycle mentioned above.
Happily, though, the advent of crypto portfolio tracking apps means you no longer have to track the progress of your crypto investments manually.
In case you still do not understand what we're talking about or have not used any of such apps, we'll take a moment in the next subheading to define crypto portfolio trackers and how they work.
What is a crypto portfolio tracker?
A crypto portfolio tracker is an application that lets you monitor the price of cryptocurrency assets that you invest in and how they are performing. It gives you an overview of how your coins increased or decreased in value over a certain period.
Most portfolio trackers require that you input buy and sell transactions manually. Others that support exchange API integration can pull your assets' price on these platforms to give you an overview of their performance.
Some trackers also include an option for you to buy, sell and exchange assets that you hold in your portfolio.
Now that we know what a crypto tracking app is and the purpose it serves let's walk you through some of the best ones in the market right now.
Best crypto portfolio trackers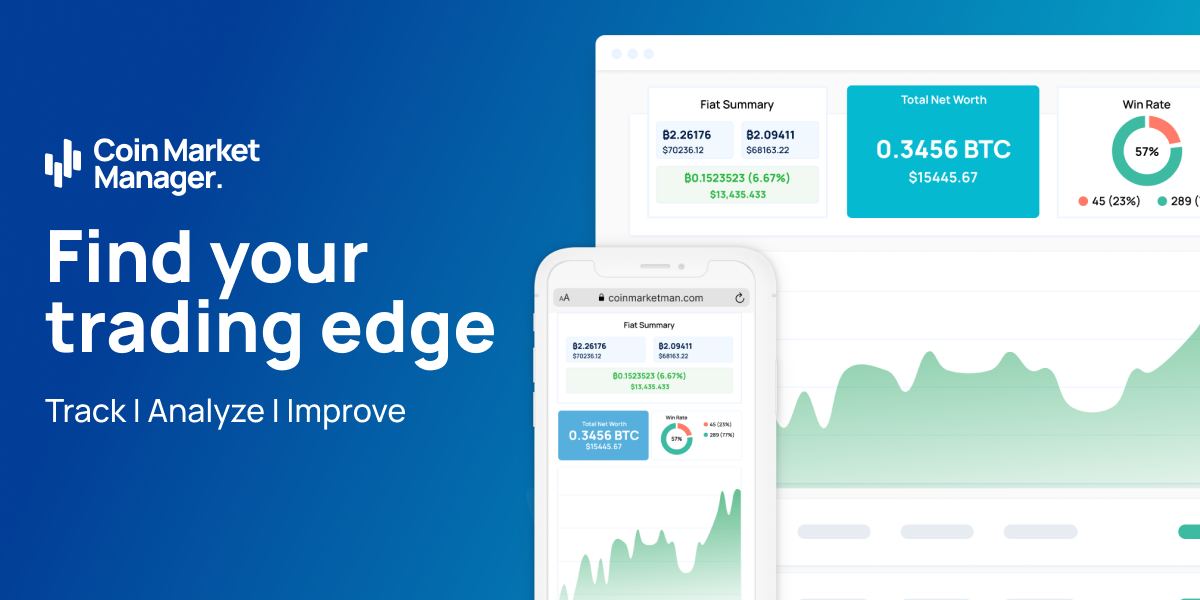 Type: Web platform
Free or Paid: Free and paid
Coin Market Manager positions itself as the #1 automated journaling & analytics platform for crypto traders. Active traders in the space are flocking to CMM for the most in-depth analysis in the industry of their trading performance. The project has been servicing the best and brightest traders on the scene for over 3 years now, and will only continue to improve, offering further analytics and more exchange integrations.
CMM is one of the most sophisticated options if you are trading actively in the crypto space.
Features
In-depth trade tracking and analysis;
Real-time balances and overall PNL;
Monitoring of all positions in one place;
Advanced trading history view;
Performance visualization;
Account analytics;
Balance history chart.
Pros
A variety of tools to track the crypto investments;
7-day risk-free trial with no payment details required;
Lifetime free access to CRM;
Comprehensive fiat account management;
Mobile website version.
Cons
No mobile app;
Support for 8 exchanges only.
Links

Type: App
Free or Paid: Free
Blockfolio is by far the most widely used cryptocurrency portfolio tracker and for a good reason. The app has remained free to users since launching in 2014 and continues to integrate new features every year.
Features
Price alerts.
Global cryptocurrency market cap and volumes.
Latest news curated from industry-leading publications.
Support for tracking over 10000+ cryptocurrencies and 100+ fiat currencies.
Profit and Loss overview for watched coins.
Support for 12 languages.
Token communities for project teams to communicate with their communities.
Connect with over 500+ exchanges via API.
Seamless integration with messaging apps via Slack.
Pros
Blockfolio is free to use and offers excellent features that could easily be a paid application.
The app is user-friendly and easy to navigate for even first time users.
There are no annoying ads or hidden fees.
Users can track and view historical charts for both crypto/crypto and fiat/crypto trading pairs.
Integration with the crypto data provider, Messari allows users to get a quick overview of coins, including links to official communities and whitepapers.
Blockfolio regularly rolls out new features based on user requests.
Users can set up two-factor authentication to further secure their accounts.
If you lose your device, you can restore your data using a provided security token.
Cons
Blockfolio is yet to integrate a crypto exchange function.
A recent acquisition by FTX Trading means that the app could become heavily integrated with the exchange in the future.
App Rating: 4.7 out of 117,977 ratings
Download Links

Type: Web and Mobile
Free or Paid: Paid
CoinTracking is a sophisticated cryptocurrency portfolio tracker. The service launched out in Germany in 2013 and offered one of the complete solutions for managing your assets via a single platform.
Features
Advanced Charts and Trends
Advanced-Data reporting, including duplicate or missing transactions.
Exchange API integration and support for closed legacy platforms like MtGox.
Wallet and Blockchain Imports
Tax reporting and assistance.
Multi-Language Support.
Tutorial Videos to help you get started.
Pros
CoinTracking offers a complete suite of tools for tracking your investments.
The company provides a demo version so users can decide whether or not to subscribe.
Users can pay for the service via bitcoin and other supported cryptocurrencies.
The mobile version streamlines the dashboard and makes it more insightful for investors.
Cons
CoinTracking is not ideal for new investors since there are more straightforward options.
The app does not support bitcoin purchases.
App Rating: 4.5 out of 3345 ratings.
Download Links
CoinStats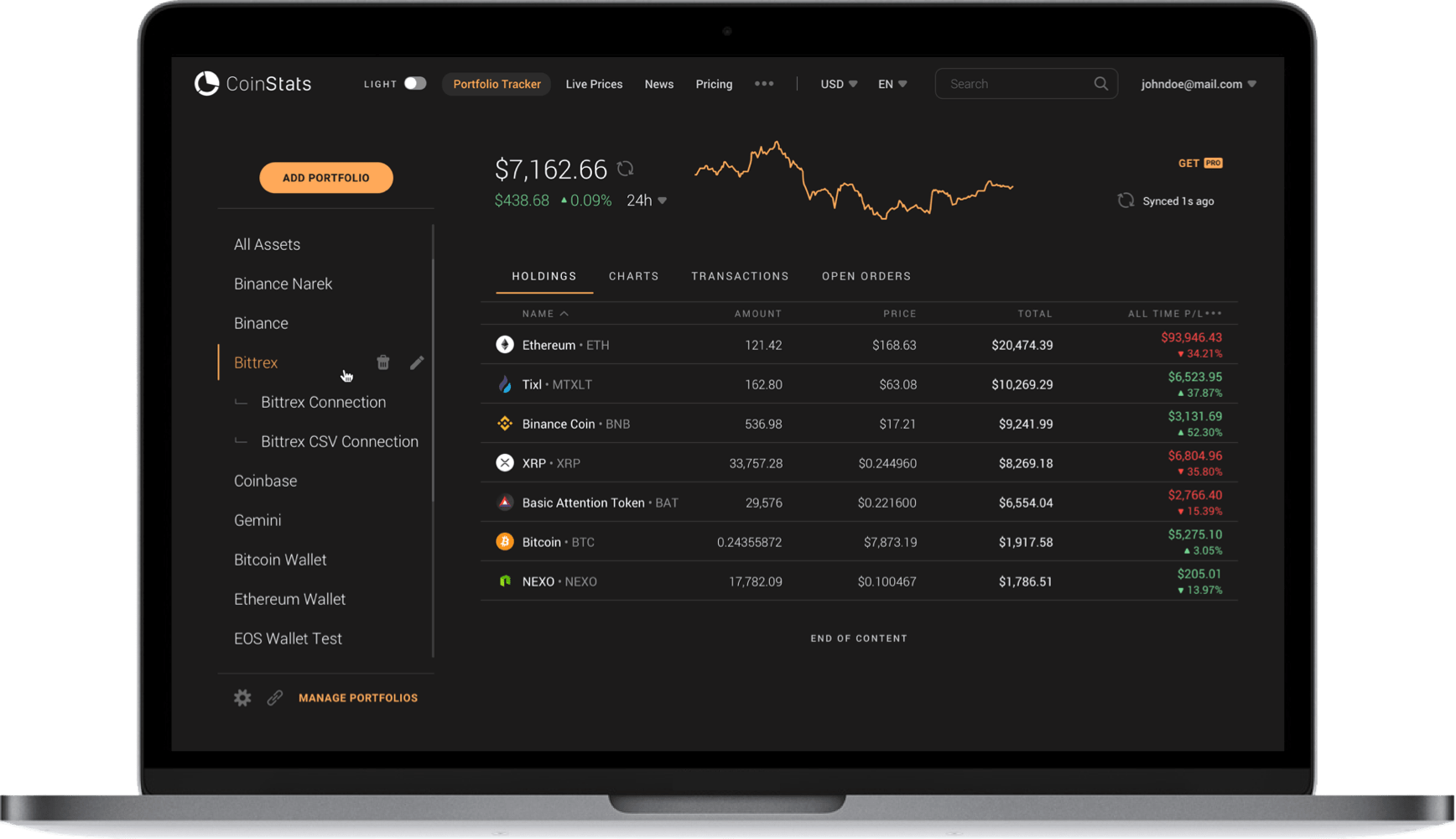 Type: Desktop and Mobile
Free or Paid: Paid
CoinStats is a popular cryptocurrency research data provider launched in 2017. Among the company's core products is a paid cryptocurrency portfolio tracker that offers slightly different features than Blockfolio.
Features
Set up an alert for price limits, volume, whale transactions, portfolio value, and team updates.
A news feed curated from over 40 leading publications.
The option to track 8000+ cryptocurrencies and 30+ fiat currencies.
View profit and loss analysis, transaction details, etc.
Buy and sell crypto using credit and debit cards.
Easy integration with 350+ exchanges and personal wallets like Ledger and Metamask.
Pros
CoinStats is available across all devices, including as a browser extension.
The application is feature-rich and user-friendly.
You can directly trade on your exchange accounts via the CoinStats app.
Users who cannot afford a paid plan can still enjoy many features on the free version.
The team offers a customer support desk, in addition to an active community on social media.
Cons
CoinStats supports fewer coins and fiat currencies.
Users must upgrade to a paid plan to get the best value out of the application.
App Ratings: 4.7 out of 8,341 ratings.
Download Links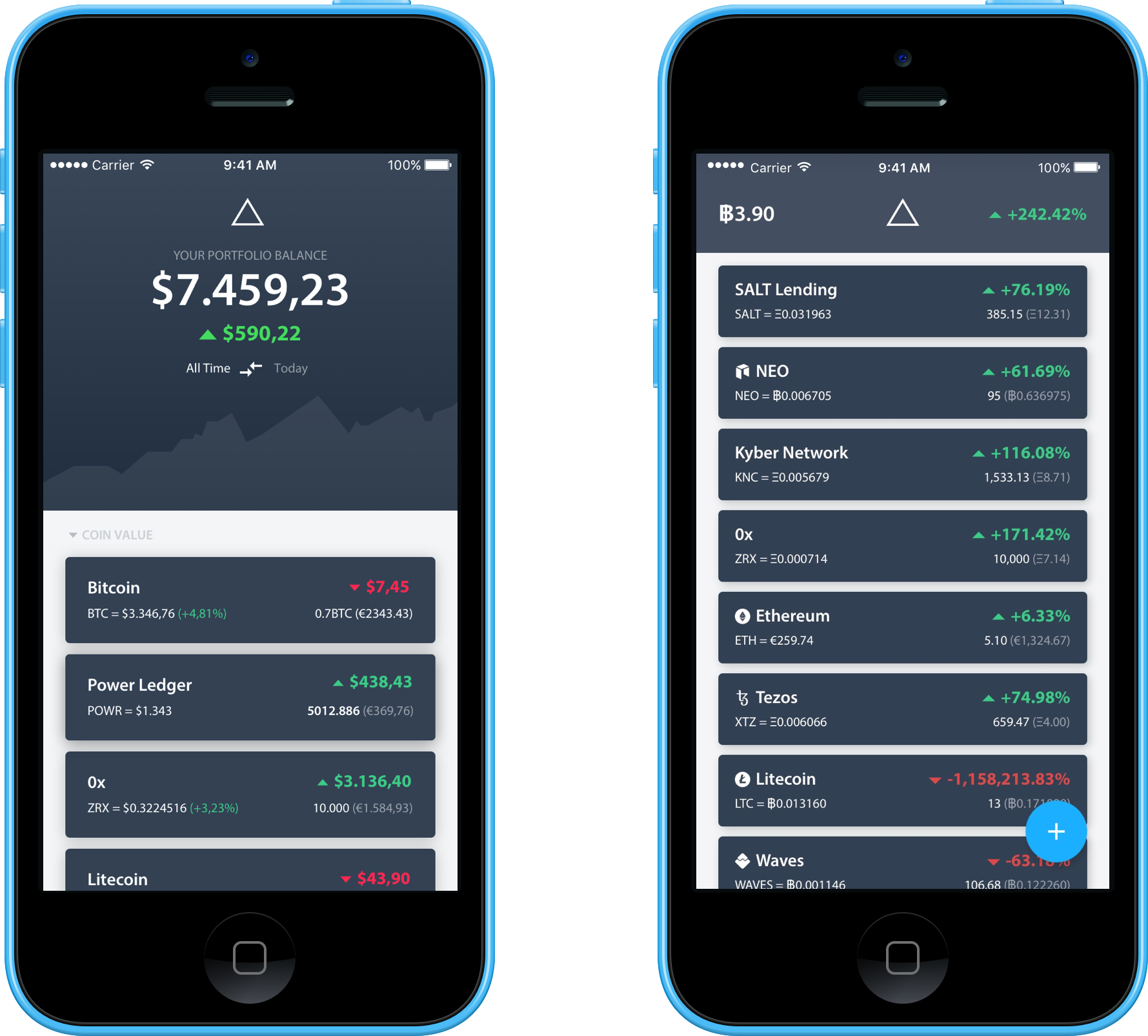 Type: Mobile
Free or Paid: Free & Paid.
Delta launched in 2017 as a Bitcoin and cryptocurrency portfolio tracker app and quickly captured a share of the market. Delta is owned by eToro, one of the best investment apps on the market today.
The app also supports the free tracking of stocks and other investment classes.
Features
Price and advanced portfolio alerts.
Support for tracking 7000+ cryptocurrencies and 200+ fiat currencies.
Favourite assets you want to track, but not hold in your portfolio.
Connect Multiple Exchange Accounts and Wallets.
Manage multiple portfolios via the same application.
Full news feed covering crypto and the global financial market.
Delta Direct allows project teams to communicate with their investor community directly.
Buy Bitcoin with a credit or debit card via eToro.
Track your own Shares, Indices, Forex, Funds, all in one place.
Pros
The free version of Delta offers many capabilities for the average crypto investor.
Users can restore their accounts via recovery code, and also sync data across multiple devices.
Delta provides passcode and fingerprint authentication security features.
The News Feed is streamlined so that you can view news for each asset separately.
The app supports advanced analytics, including fee breakdown, market performance, good and bad decisions, coin location, etc.
Delta is ideal for investors who hold and want to track their other non-crypto investments.
Cons
Delta supports fewer cryptocurrencies and crypto tracking functions.
The app is only available on mobile devices.
The paid version costs as much as $58.99/yr.
App Ratings: 4.3 out of 17,526 ratings.
Download Links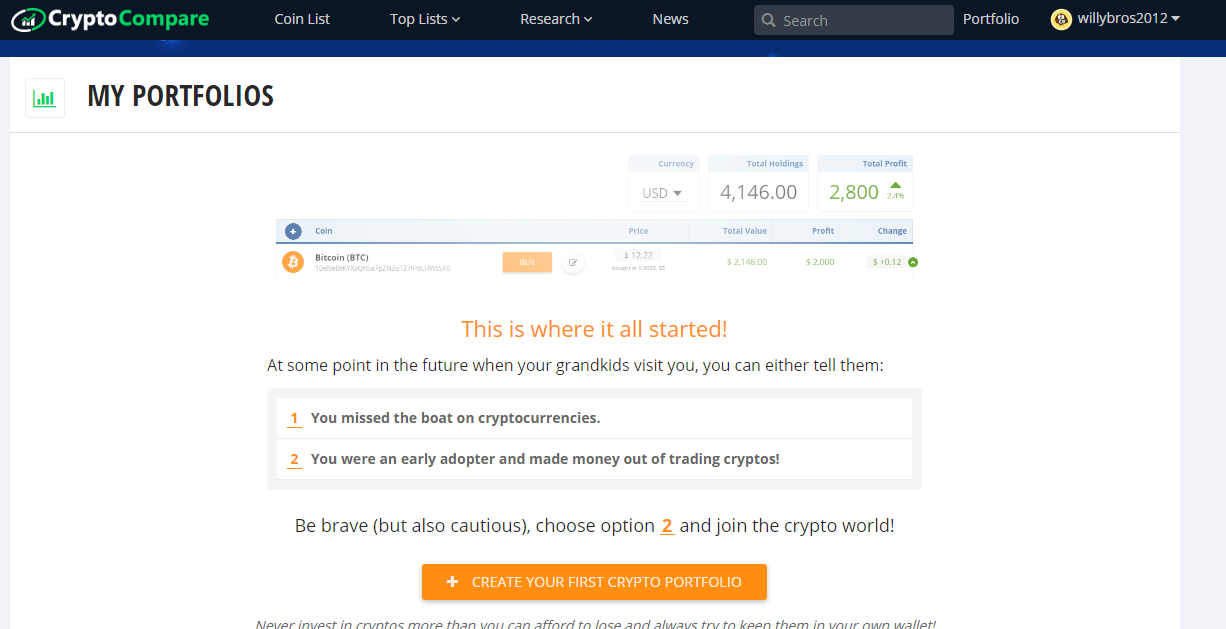 Type: Web and Mobile
Free or Paid: Free
CryptoCompare is a crypto resource provider and also provides an option for investors to track their portfolios. The app isn't as sophisticated as the other crypto portfolio trackers we've considered so far. However, it offers enough functionalities and a simple interface for new investors.
Features
CryptoCompare's tracking service is cloud-based.
Manage multiple portfolios.
Set Portfolio Status as Public or Private.
Algorithmic Risk Analysis feature for coins.
Displays profit and loss analysis and investment ROI.
Add notes to transactions.
CryptoCompare provides excellent resources for reviewing exchanges, projects, etc.
Pros
Completely free to use.
Easy to set up and manage.
Minimalistic and simple design.
You can view your portfolio from any device by simply logging in.
The platform includes advanced charting tools for experienced traders.
CryptoCompare features a tax calculator to help investors solve their tax headaches.
Cons
CryptoCompare Doesn't support price alerts and other time-based advanced tracking features.
The app supports only 27 fiat currencies and ten cryptocurrencies.
CryptoCompare doesn't allow for Exchange integration and trading.
App Rating: 3.9 out of 250 ratings.
Download Link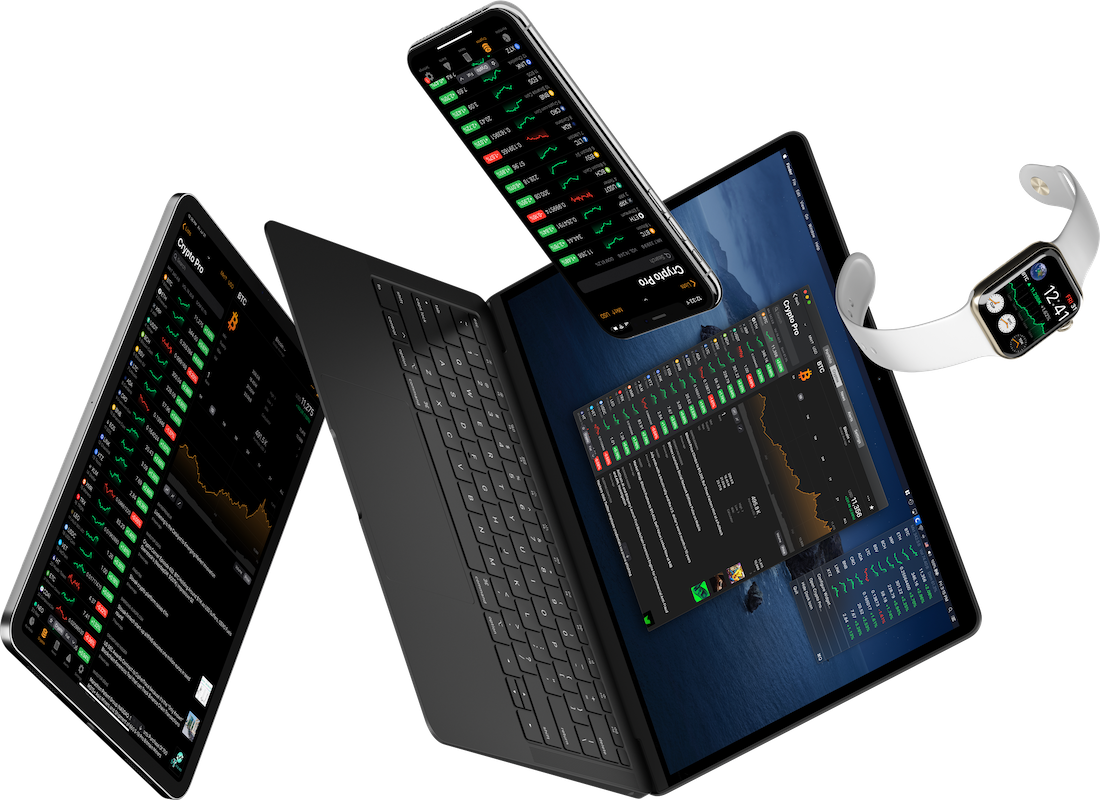 Type: Mobile app
Free or Paid: Paid
If you're an Apple user and looking for a cryptocurrency portfolio tracker, the CryptoPro app will likely be among the first options you consider. The app appears exclusively built for Apple devices and is available on iPhone, iPad, Mac & Apple Watch.
Features
Portfolio tracking with Profit and Loss calculation.
Price alerts and News Feed for separate coins.
Support for 5000+ cryptocurrencies, metals, and all major fiat currencies.
View historical price and volume data.
API integration with multiple exchanges.
Import and view wallets.
Currency conversion calculator.
Backup and Sync Portfolio via Dropbox or iCloud integration.
Pros
The app is user-friendly, easy-to-navigate, and suited to all classes of crypto investors.
CryptoPro claims to be privacy-focused and does not store or share your information with advertisers.
The app offers advanced security features such as Touch and Face ID unlock.
Users can unlock advanced features by inviting friends to install the application.
CryptoPro releases regular app updates to improve on its offerings.
Users can enable the 7-day trial period to determine whether or not to go Premium.
Cons
Only available for iOS and macOS users.
The Premium plan costs $47.99/year and, ideal for large portfolio investors.
App Rating: 4.5 out of 582 ratings.

Download Link
Zerion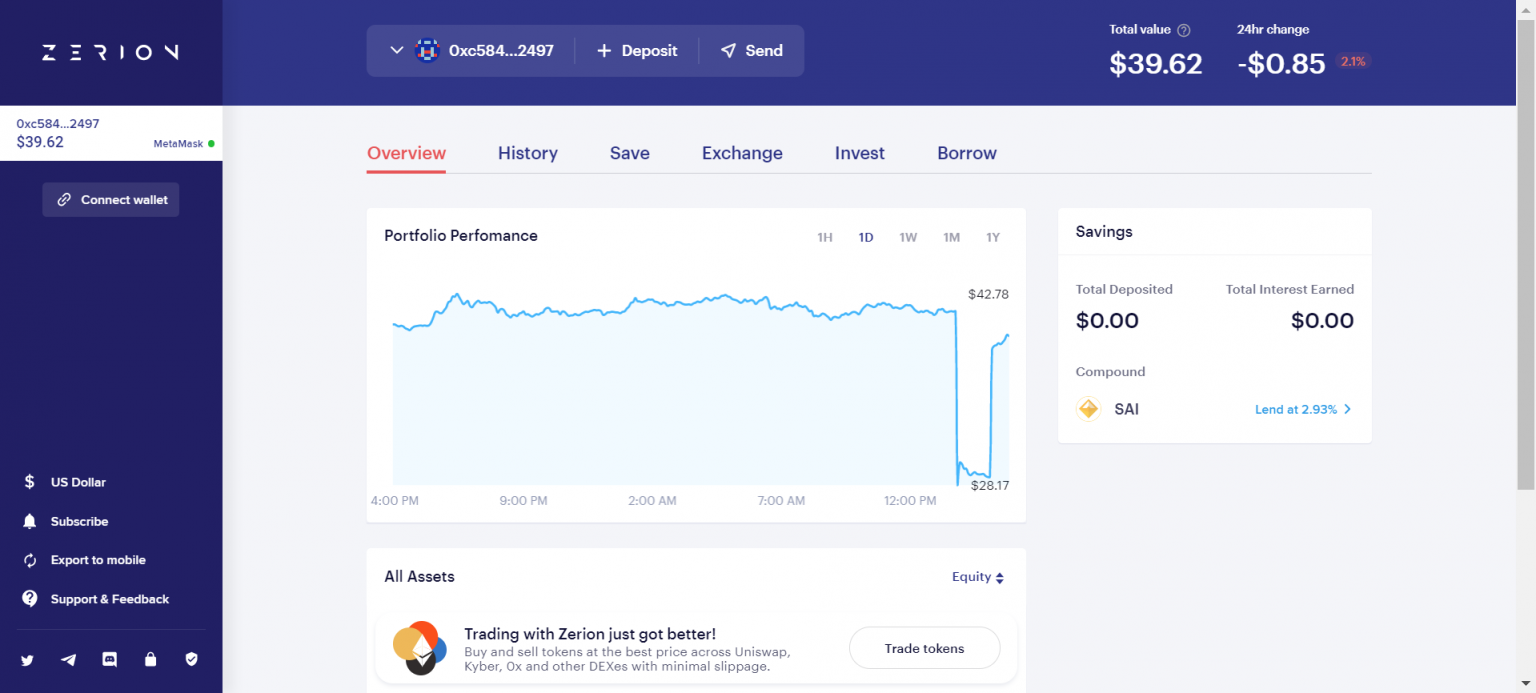 Type: App
Paid or Free: Free
Zerion is a purpose-built cryptocurrency portfolio tracker. It is designed for crypto investors that put money in decentralised finance (DeFi) applications built on Ethereum. DeFi investors can use the app to earn interest in stablecoins, view their assets' performance, and deposit assets to liquidity pools.
Features
Advanced Portfolio Analytics, including profit and loss accounts, fees, etc.
Support for popular DeFi protocols.
Seamless integration with MetaMask, Coinbase wallet, and other non-custodial wallet apps.
Exchange function for Ethereum-based tokens.
Buy ETH with a Credit Card.
Streamlined market data (Top gainers, losers, and pools).
Push notifications for wallet transactions.
Export transaction history as a CSV file.
Pros
Free to use and accessible to anyone.
Zerion offers a minimalistic and easy-to-use dashboard for tracking a DeFi portfolio.
The solution is non-custodial, meaning that you are entirely in control of your assets and the provided data.
Users can borrow or lend stablecoins to earn interest via integration with Compound Protocol.
An integration with TokenTax lets DeFi investors calculate their taxes.
Zerion is continually improving its service to capture the fast-evolving DeFi space.
Cons
Zerion is great for DeFi, but not useful to anyone who doesn't understand that corner of the crypto industry.
App Rating: 4.6 out of 617 ratings
Download Links
Why do you need to track your portfolio?
It is easy to dismiss the importance of tracking their crypto portfolio, especially when you invest to hold for a long time. However, the following are some reasons why some investors prefer to track their portfolio.
Cut Losses: The cryptocurrency space is still nascent, and not all coins or projects eventually survive.
Actively tracking your portfolio gives you a chance to cut losses with projects that enter a period of steep decline, for instance, a 60% loss in a single day. You can then decide whether to ultimately sell off your holdings to cut losses, or simply swap them for another coin with more potential.
Rebalancing: Even in the traditional investment world, portfolio rebalancing is a recommended practice. It lets you get the most out of your best-performing assets and reduces your exposure to underperforming ones.
Using crypto portfolio trackers gives you a clear overview of how your investments trended over time and the assets you should accumulate, more or less.
Buying the dip: As we noted in our guide on the best time to buy crypto, savvy investors wait for a drop before adding to their portfolio. If you work another job, you probably cannot monitor the market to purchase crypto when the price dips.
However, you can take advantage of the price and portfolio alert features on tracking apps to know when the market dips and seize the opportunity.
What to look for in a crypto portfolio tracker
From what we covered so far, we realise that different crypto portfolio trackers offer other functionalities. High-profile investors may need to install one or more of such applications to manage their portfolio correctly.
When you make a choice, here are the key features to keep in mind:
Security: Security is a scarce commodity in the crypto space, and the last thing you want is to give away access to your exchange or wallet accounts in the process of monitoring them via a portfolio tracker.
To this end, only use apps to provide advanced security features such as PIN lock, fingerprint authentication, Face Lock, two-factor authentication, etc. Also, confirm that the service has a flexible recovery process for restoring your data if you lose your device.
Supported Coins and Currencies: Most tracking apps support the most popular cryptocurrencies and a handful of fiat currencies. If you want to track a specific unpopular coin, though, or currency, then make sure to verify that the service supports it before you install the application.
Platform Design: The best crypto portfolio trackers are simple and easy-to-use for both new and experienced investors. Basic platform designs include a button for adding recent transactions, an overview of portfolio assets, and a news section.
How to choose the portfolio tracking app
Your choice of a portfolio tracking app depends on your specific investment needs and your portfolio's size.
For instance, you can always use a free crypto tracker like Blockfolio or CryptoCompare if you don't hold substantial amounts in crypto or do not want to invest in a paid app. On the other hand, professional traders and investors may need a paid version of CoinTracking, CryptoPro, or CoinStats to stay in charge of their investments.
If you invest in DeFi protocols, Zerion is your best option. If you hold stocks or ETFs and want to track them alongside your crypto holdings, you may want to use Delta app instead.
There is also no rule that says you cannot try out one or more apps to find out which one works best for you as an investor.
How to use a crypto portfolio tracker
Using a crypto portfolio tracker is not difficult. After you install the application from the app store, you can take the following steps:
Sign Up or Sign In to the application.
Enable Security Features
Add Select Coins to your portfolio.
Add a transaction when you make a purchase and enter the details.
Save Transactions.
Click each coin to view their performance analysis and project news.
Set up price alerts on each coin you want to monitor.
Link to Exchange Accounts via a provided API key from your exchange if applicable.
Explore other features on the app.
Conclusion
Monitoring your cryptocurrency investment used to be a challenging task, until the advent of crypto portfolio trackers.
Today, there are many such applications on the internet, and we reviewed in this article, the best portfolio apps that you can start using immediately. Hopefully, you can find the perfect match for your investment goals and enjoy the luxury of always staying in charge of your assets in a highly volatile crypto market!