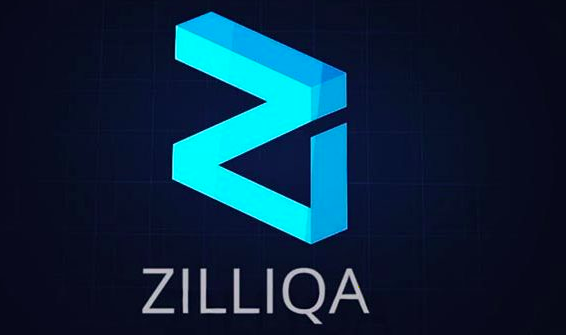 Looking to invest in ZIL cryptocurrency? No wonder, Zilliqa is definitely worth taking a look at. Why? It is one of the closest competitors of Ether in terms of technology. Interested? Then read our guide on how to buy Zilliqa in UK.
Table of Contents
Here is a basic guide on buying ZIL from one of the top exchanges Binance:
Register for an account with an exchange like Binance.
Use your credit card or bank wire to buy BTC, BNB, BUSD, ETH, or USDT for GBP.
Go to the "Market" page again
Search for the pair you want to trade (e.g. BTC/ZIL).
Select a Limit, Market, or Stop-Limit Order.
Enter the amount you want to buy.
Review transaction details.
Confirm your purchase.
Zilliqa in a nutshell
Zilliqa is a Singapore-based project that was born out of a project at the National University of Singapore (NUS). Since the blockchain was launched in Jan 2019 Zilliqa became the first-ever public blockchain to implement sharding- meaning that the network is ready for rapid growth due to its ability to scale.
The Zilliqa's fast and advanced blockchain allows developers to use Smart Contracts using a new language called Scilla, and over 60 project teams from over 20 countries have contributed to Zilliqa's ecosystem, developing wallets, explorers, developer toolkits, smart contract testing frameworks, decentralized Apps, and more.
How does it work?
Its impressive scalability is achieved by using a database partitioning technique called sharding. This involves dividing the network into groups of 600 nodes. Each of these groups is called a 'shard' – effectively a mini-blockchain. By dividing the work done on the network across multiple shards Zilliqa achieves much faster throughput of transactions than singular blockchain networks. Throughput will increase with each additional shard.
With sharding functionality, Zilliqa can process 2828 transactions per second making it perhaps the fastest blockchain platform as compared to others. Bitcoin can only process 7 transactions per second, Ethereum 15, Tezos 50, Cardano 250 and Visa can do 8,000.
Zilliqa token
Similar to ETH, it acts as a native token that is used to pay for transactions on the Zilliqa network. However, ZIL is much cheaper as compared to ETH.
What to consider if you want to buy Zilliqa?
Price

This token is bloody cheap. And this is great timing to stock up and wait for the price to go up.

Staking

The estimated annual staking yield for ZIL is between 8% – 10% currently.

Potential Coinbase Listing

Coinbase has put Zilliqa under their watchlist in 2018. This watchlist is a list of digital assets that Coinbase is exploring to list in the future.

Given that Zilliqa is gaining huge momentum across all metrics (social, fundamental, technical). And all those coins who manage to get into Coinbase are going to see a huge pump.

ETH 2.0 Sharding

You have probably heard that Ether launches sharding seamlessly in the next few months as well.

The new token is attractive now because it can process transactions >200x faster than Ethereum. And the gas fees are also way lower. But if ETH 2.0 can achieve the same scaling properties as Zilliqa, will the token still be that popular?
Summing Up the Pros and Cons
Pros
Zilliqa is the first to use sharding technology
Solves the scalability problem
Unplanned ICO showed that the project has considerable support
Cons
Ethereum'is adopting sharding technology to solve the scalability problem
Growth hasn't lived up to the hype surrounding Zilliqa
Not recommended for short-term investment
Where to buy ZIL in the UK?
To tell the truth, ZIL is not the most popular coin, so just a few exchanges would add it to their markets. However, we were able to gather all the possible options here for you:
Buy ZIL with other cryptos
This is the easiest way to buy Zilliqa as many centralized exchanges and brokers sell Zilliqa.
Here is a list of crypto exchanges where you can buy Zilliqa (ZIL).
Buy ZIL with a bank transfer or a wire transfer
There are some exchanges where you can deposit or transfer fiat currencies and buy your desired cryptocurrency by credit. However, their number is very limited as well as supported fiat currencies. Since Bithumb and Bitbns are located in Korea and Indonesia, they only support their local currencies. On the other hand, you can use USD to trade ZIL on Bitfinex. Unfortunately, you cannot buy Zilliqa with GBP there.
Bitfinex: Supported pairs are ZIL/USD
Bithumb: Supports KRW
Bitbns: Supports INR/USDT
How to buy Zilliqa on Binance?
Buying ZIL with cryptocurrency
Step 1: Create your account
First of all, you need to create your Binance account. All you need is a valid email address and a password.
Step 2: Activate your Account
Check your mailbox, there should be an email from Binance to activate your account. Open your email client and click on the activation link.
Step 3: Log in
It is time to log into your account with the credential you provided in the previous step.
Step 4: Fund your Binance account
You can buy Zilliqa (ZIL) tokens only by using Ethereum, Bitcoin, BNB, USDT, and BUSD. In order to deposit your funds, tap on the Funds tab on the top navigation bar. Then click Deposit Withdrawals and from the list below find the right wallet. Select the wallet address provided and use it in the exchange or wallet you have your funds and send them to Binance.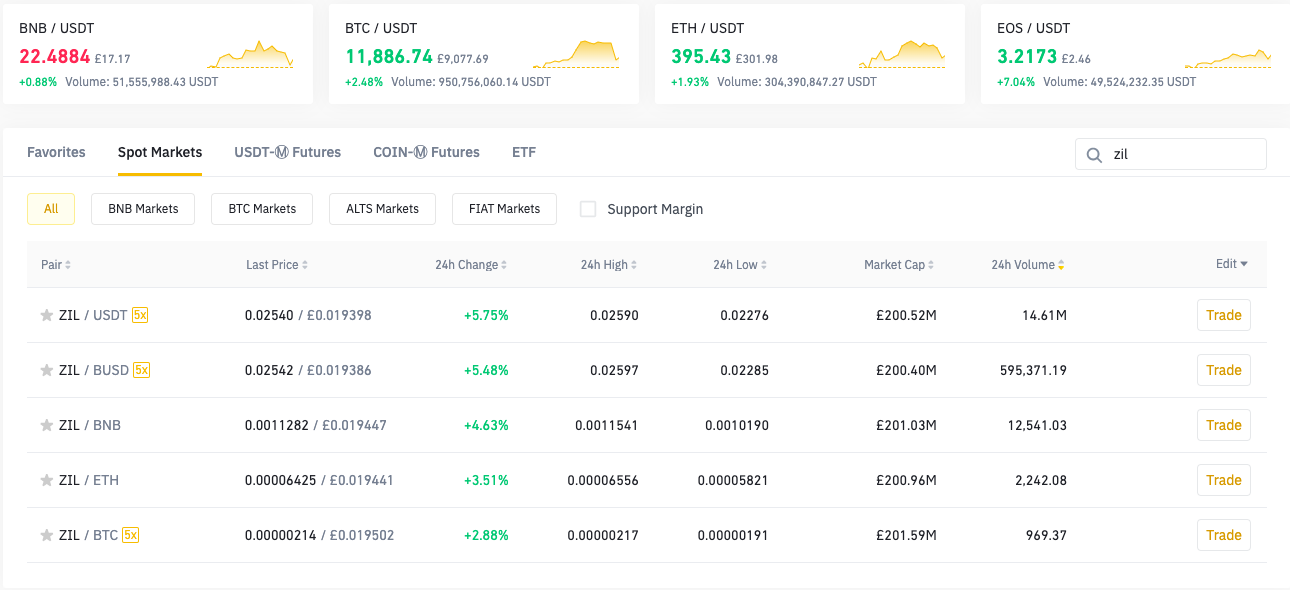 Step 5: Buy Zilliqa
Go to the Markets tab. Search for the desired pair to buy. Select your type of order, enter the amount you wish to buy, and submit your order.

Buying ZIL with GBP
Step 1: Create your account
Create your Binance account.
Step 2: Activate your Account
Click on the activation link in the email from Binance
Step 3: Verify your account
Since you are going to use GBP which is a fiat currency, you firstly need to verify your identity by providing a government-issued photo ID as well as your information including your address.
Step 3: Buy crypto by credit card
Now it's time to buy a cryptocurrency on Binance, which you want to exchange later for ZIL. On Binance you can exchange it for BTC, BNB, BUSD, ETH, or USDT
Select "BTC" (or any other coin from my list above) and GBP.
Enter your credit card details.
Buy BTC.
Step 3: Trade Zilliqa
Go to the Markets page, select the ZIL/BTC pair.
Select the desired type of order: "Limit", "Market" and "Stop-Limit".
Enter how much Zilliqa you want to buy and complete the order.
How to buy Zilliqa on Bitfinex?
Buying ZIL with a credit/debit card
You can purchase any ERC20 token (including ZIL) with your debit or credit card on this platform, with a minimum purchase of $25.
Step 1. Sign up to Bitfinex.
Firstly, you need to create your account.
Step 2. Account verification.
In order to get access to fiat transactions, you need to complete full account verification. Please visit the Account Verification page for full details. Once all the sections are submitted, the account verification process will start. Upon successful verification, you will be notified via email.
Step 3. Select the payment processor.
Bitfinex supports 2 payment processors: Mercuryo and OWNR wallet.
Step 4. Deposit your account
Go to Deposit, choose Cards as the desired Payment option, and add your card details.
Step 5. Open order.
Go to the trading page and select your ZIL/USD pair. Fill in the order form, select the destination wallet, and proceed with payment.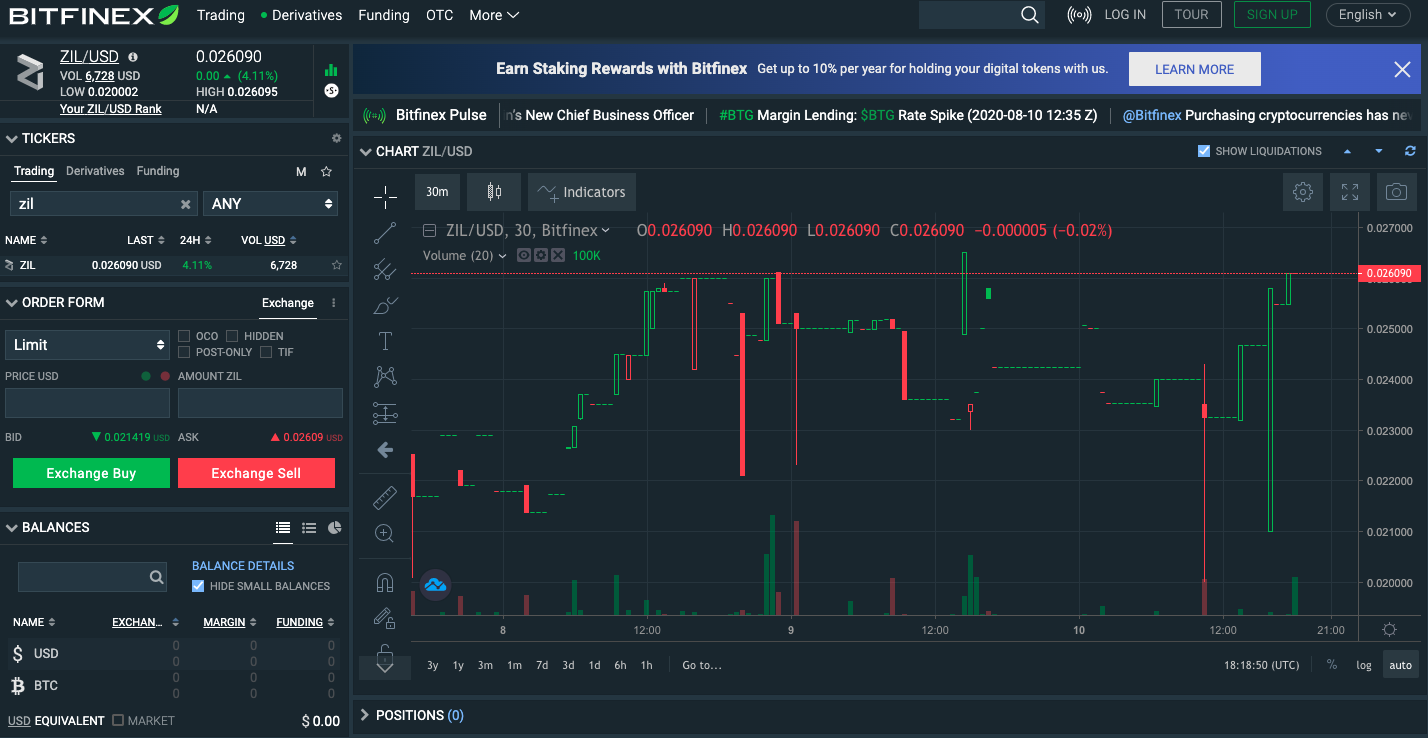 How to store Zilliqa?
Here are a few tips on where you can store ZIL coins (as it is not recommended to keep any coins on any exchange for a long time):
Ledger Nano X: One of the safest options for store any token. However, it's not the cheapest wallet out there, but if you're serious about security, it's worth it.
Moonlet Wallet: An extension for Chrome that supports both ERC-20 and Zilliqa native tokens. The Moonlet Wallet was developed with the help of the Zilliqa grants scheme to assist the token adoption.
Trust Wallet: It is a mobile phone-based crypto wallet that supports the storage, sending, and receiving of leading cryptocurrencies, including Zilliqa. You can set your wallet up without giving any personal details so you can stay anonymous, and the wallet private key is stored locally on your phone so you are guaranteed privacy.
Summary
Zilliqa looks like a good investment. They have solved the problem of scaling with sharding and they have literally no competitors at the moment.
The team is their strong side as well. They are all computer scientists PhDs and they understand the technology of blockchain very deeply. So much so that they even create an enhanced smart contract programming language out of it.
However, the new token is listed only within a few exchanges so far, it is still worth buying for a long-term investment.