What does a perfect crypto exchange look like? Probably, it should support lots of pairs including fiat currencies, have no limits, low swap fees, and never bother with registrations and verifications. If you think that such a swap platform has not been launched yet, you are mistaken. Have you heard about ChangeNOW? All these and many other beneficial features are associated with this service. Would you like to learn more and find out if it is worth your trust?
Look: this ChangeNOW review is written to provide you with all the information you can be interested in about this exchange.
Table of Contents
What is ChangeNOW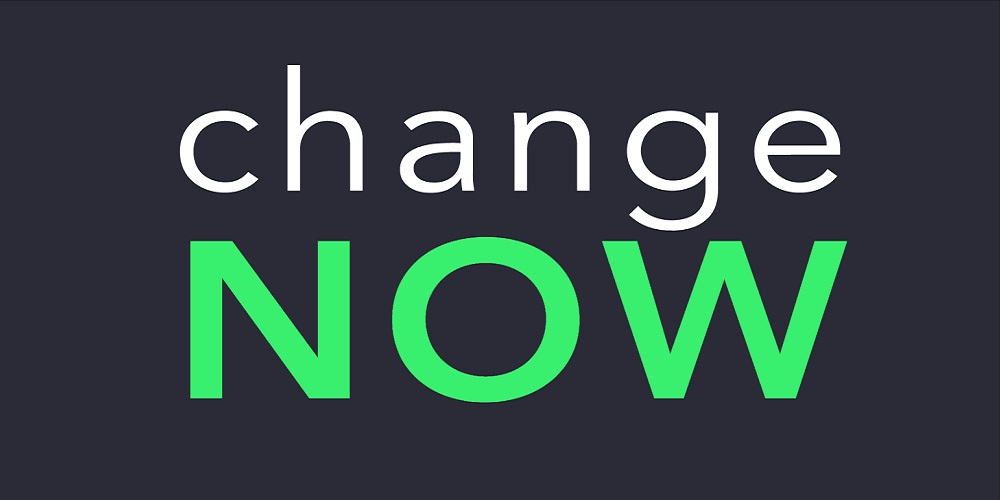 ChangeNOW is a cryptocurrency non-custodial exchange that provides fast crypto-to-crypto as well as crypto-to-fiat swaps with the support of over 10,000 pairs. The platform has an excellent Trustpilot rating and operates all around the globe to offer a bigger number of crypto enthusiasts to make anonymous and affordable swaps. It allows exchanging crypto without any limits, time-consuming registration and verification proceduresto let its users enjoy a seamless swap with a minimum of effort put.
ChangeNOW is a product owned by CHN Group Limited, a company registered in Seychelles. It was established in 2017, and its main goal was to simplify the process of crypto conversions. The exchange has its native NOW Token issued on both Ethereum and Binance Chain blockchains. Thanks to ChangeNOW partnership with such projects as Simplex and Guardarian, service is not limited to crypto-to-crypto exchanges, but also provides quick fiat-to-crypto swaps. It is possible to trade coins not only on the web platform or through the mobile app but also using the Telegram bot. Obviously, ChangeNOW has united lots of features not offered by other exchanges, and probably, it has made its path to success so quick and seamless!
ChangeNOW features
How has ChangeNOW received such an overwhelming rating and popularity? A quick overview of its features will shed light on this point.
Users are provided with absolute freedom since they can forget about upper limits forever. The minimum amount to start with depends on the coin and ranges between $1.7 and $20, and there is no need to worry about daily, weekly, or monthly limits for maximum.
Being a non-custodial exchange ChangeNOW does not store any users' funds and does not ask users for personal details since sign-up is not required too.
Superspeed is guaranteed by ChangeNOW for crypto swaps. The average time of exchanging crypto for crypto is only 2 minutes, while fiat purchases may last a little longer since they are processed by the third-party partner.
The cooperation with multiple crypto trading platforms and exchange partners allows offering the lowest rates to clients without the necessity to compare rates in search of the minimum ones.
There is no need to pass through the sign-up procedure to trade crypto. However, buying or selling coins for fiat money is done with the help of a third-party service that requires registration and KYC/AML verification.
ChangeNOW has provided users with an opportunity to download mobile applications for Android and iOS devices for swapping coins anytime and anywhere. Telegram bot and third-party wallets are other convenient approaches to exchanging assets.
Partnerships with Simplex and Guardarian started in 2019 and 2021 respectively made it possible to buy a cryptocurrency for EUR, USD, GBP, and over 55 other fiat currencies using Visa or MasterCard.
Availability in multiple languages
There are 15 languages to select from on ChangeNOW.
Users who promote ChangeNOW can get paid for every exchange made through the links shared.
Crypto businesses can integrate the exchange API and start making money through an affiliate profile.
ChangeNOW services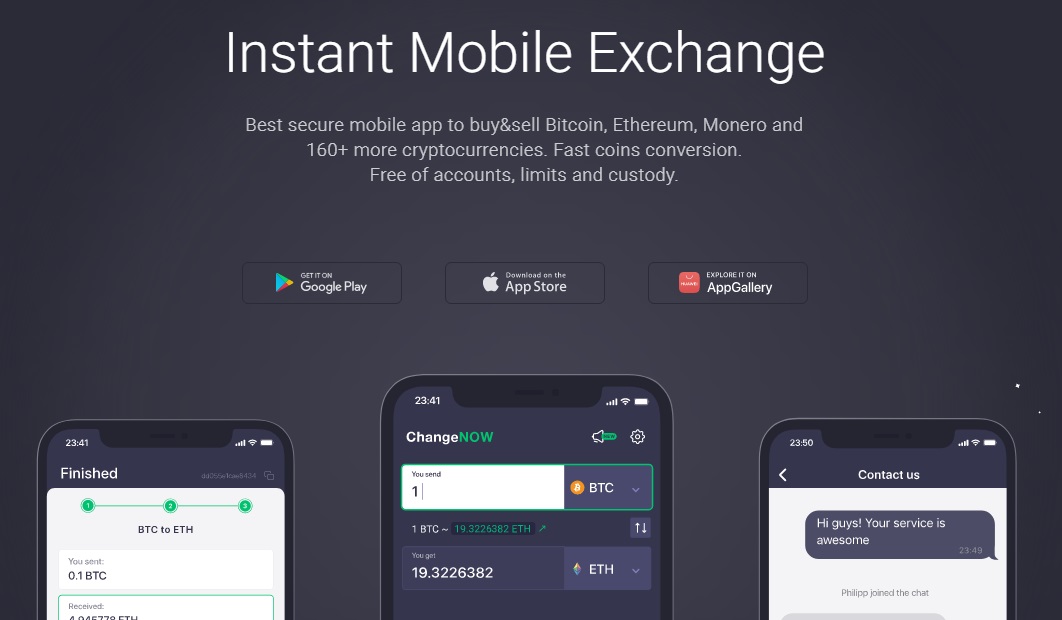 The range of services offered on the exchange is quite versatile. In addition to traditional buying and selling cryptocurrency as well as token swap, users can opt for several additional solutions including:
Asset Listing: startups that want to list new tokens on the platform can fill out a simple application form for 7 minutes or so and the company representative will get back to them with a response.
NOW Wallet: the company has developed its own wallet to manage assets with exceptional security and privacy. In its development, ChangeNOW relies on both years of various expertize in the crypto industry, and users' demand – the service is in close touch with users when adding new assets or features. The wallet supports BTC, ETH, BNB, and DOGE as well as ETH- and BNB-based tokens, and is available on both Android and iOS. The wallet offers a user-friendly experience with a contact directory for wallet addresses, advanced settings, and considerate support.
NOW payments is a solution that allows companies to receive instant crypto payments with no chargebacks, super low fees, and automated coin conversion. It is enough to set up an account, choose integration type, add a button to the website, and get profit. Companies get support for over 50 coins, fees starting from 0.4%, and 24/7 customer support with a personal manager.
Lightning NOW: this is a zero-fee public lightning network node provided by ChangeNOW. This is a stable, reliable, and well-connected node to help provide easier channel creation between Lightning Network users. It allows making transactions fast, affordable, scalable, and cross-chain.
NOW Nodes: this solution offers access to explorer and node APIs of 45 blockchains. Users can get access to a full list of explorers and nodes in one place with a fast and reliable connection of 1 Gb/sec and service level agreement.
Premium membership: Users who want to get the most of ChangeNOW solutions can become premium members of the platform. They will then get access to unlimited loans, tracking all transactions in one place, and enjoy other premium features of the service.
Telegram bot: ChangeNOW Telegram bot provides the possibility to trade almost anywhere. It allows users to start trading right away without any limits, staying up to date, and having it always at hand.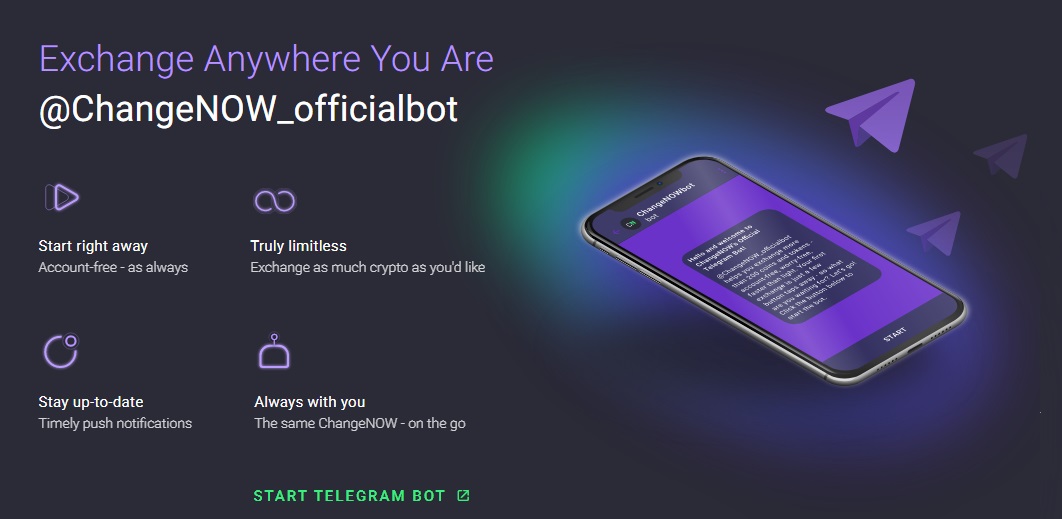 Supported countries
The worldwide availability is another strength of ChangeNOW platform. However, there is a list of restricted countries and territories where citizens are not allowed to use the services of the exchange. They include Cuba, Iran, North Korea, Crimea, Sudan, Syria, the USA, Bangladesh, and Bolivia.
Languages
The list of languages ChangeNOW website can be translated to includes 15 names. These are the most popular languages of European and Asian countries – English, Russian, Spanish, Chinese, Japanese, Turkish, Portuguese, Italian, German, and many others.
User experience
When you open the ChangeNOW website, you can immediately spot a simple and intuitively friendly design. You won't find complex charts and graphs while the exchange window contains only a couple of fields to fill out. The main website menu is located at the top of the screen where you can change the language, learn more about currencies, products, and services as well as NOW Token. The final button that looks like an arrow inside the circle suggests users proceeding with registration and obtaining the Premium membership.
Scrolling the landing page down, users of the exchange can learn how it all works, check its main features, read examples of ChangeNow reviews on Trustpilot, and enjoy a map with worldwide trust.
Taking a closer look at ChangeNOW mobile application, it is worth noting that it looks slicker than a web version. There is a minimum of buttons and a clear easy-to-use interface.
All the services provided by the exchange are performed quickly and efficiently. The fact that users do not need to register on the website and stick to any limits makes swaps an exciting and simple process.
How to get started with ChangeNOW
If you are also excited about trading in a fast and easy manner on ChangeNOW, learn more details about how to use this platform and what you can expect to see there in practice.
Registration and verification
There is no need to sign up for the platform to swap cryptocurrencies since this platform is registration-free. The same goes for verification that can be omitted if you do not buy or sell crypto for fiat money. However, the fact that fiat-to-crypto transactions are performed with the help of a third-party partner leads to the necessity to pass through the registration and verification procedures. Therefore, consider the steps to complete if you plan to use this service:
Press the Arrow button in the upper right corner of the page.
Enter the email address, a password, and tick that you agree with the Terms and Conditions.
Press the Sign up button.
Confirm your email address by following the link sent in the email.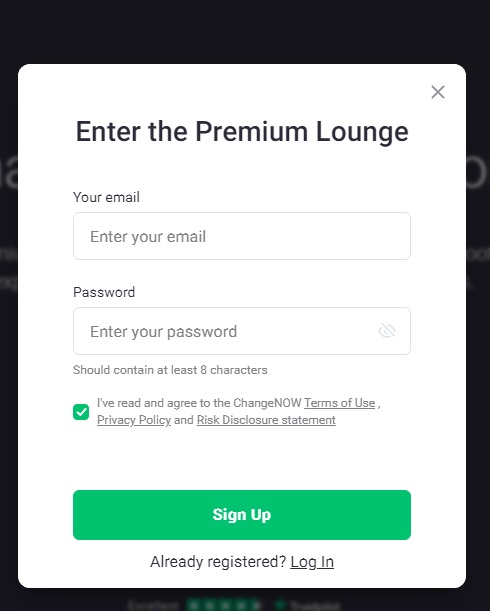 When you complete registration, it is time to proceed to KYC/AML procedure. ChangeNOW is partnered with a KYC provider called SumSub, so you can activate the verification procedure if you follow SumSub's link. The process takes place through a comfortable and smooth user interface, and users get up to 3 days to complete it or refuse from doing that at any stage of the process.
What documents are required by customer support to complete the identity validation? In addition to traditional ID copy 9passport or driver's license), users should make a dust transaction to the address provided by the exchange and upload a photo of the customer holding a paper with ChangeNOW and a clearly written date.
Supported coins and fiat currencies
The number of cryptocurrencies supported by the exchange exceeds 250 names. They include such popular assets as Bitcoin, Litecoin, Ethereum, Ripple, Cardano, Doge, Bitcoin Cash, Monero, THETA, Chainlink, Stellar, and many others.
The platform also supports 55+ fiat currencies including EUR and USD. Therefore, the total number of pairs you can find on the swap service is over 50,000.
ChangeNOW also has its native NOW Token issued to improve the capabilities of the platform. This token is the first-ever side developer's digital token issued in the Binance Chain. It is listed on IDEX, Binance DEX, and EtherDelta as well as can be obtained by participating in the ChangeNOW airdrop.
Payment options
In addition to crypto-to-crypto transactions, ChangeNOW supports fiat-based payment methods including Visa and MasterCard. Such crypto purchases are facilitated by Simplex and Guardarian, and have minimum and maximum limits.
Buying and selling
Crypto swaps on this exchange are characterized by simplicity and high speed. If you want to purchase cryptocurrency, make the following steps:
Select Buy/Sell Crypto on the trading widget.
Select fiat currency from the list.
Enter the amount you will pay.
Choose the Buy option.
Select crypto you want to buy.
Check the estimated rate and the amount you will get.
Press the Buy button.
Enter a recipient's wallet address.
Select a suitable payment method.
Click Next.
Enter banking details and proceed with the transaction.
Wait for the delivery of funds.
The selling process looks similar and consists of the following steps:
Select Buy/Sell Crypto on the trading widget.
Select the cryptocurrency you want to sell from the list.
Enter the amount to give.
Choose the Sell option.
Select the fiat currency you want to receive.
Check the estimated rate and the amount you will get.
Press the Sell button.
Confirm the details of your exchange and press the Confirm button.
Choose a payment method.
Enter all the details required to process funds.
Send coins to the address generated.
Wait for the arrival of money.
In both cases, you should be logged in and verified to complete transactions successfully.
How to swap crypto
Swapping crypto is much easier and faster. You should access the official website, wallet, or mobile app and choose the Exchange Crypto tab in the trading widget. The next steps look as follows:
Select the cryptocurrency you send and enter the amount.
Select the coin you want to get.
Check the exchange rate and the amount you will receive.
Press the Exchange button.
Enter the recipient's wallet address.
Confirm the details of your exchange.
Send the funds you would like to exchange to the address provided.
Wait for the confirmation and delivery of your crypto.
Fees
There are several fees that can be charged during the process of exchanging crypto. They include network fees for deposits and transferring funds to a liquidity provider, trading fees, and network fees for the delivery of exchanged funds to the customer. These fees vary depending on the currency and the amount traded, but ChangeNOW finds the fastest and most user-profitable way to execute an exchange. Users can learn the fee when they enter order details. The amount calculated is definitely the one you will get to the wallet.
For example, at the time of writing 0.1 BTC was exchanged for 1.4163319 ETH, while the average market rate is 14.63. The fee range is estimated at around 0.5% and 4% depending on the coin and the amount.
Buying crypto for fiat can be more expensive due to the Simplex processing fee of 5% and a service fee of 1%. Therefore, the total fee on buying and selling crypto for fiat is over 7%.
Limits
There are no limits for crypto to crypto trading which is one of the greatest platform benefits.
However, fiat-based purchases have limits: the minimum amount for purchasing crypto with a bank card is $2 and the maximum is up to $20000 per day and $50,000 per month.
Safety
There are no reasons to question ChangeNOW safety. The exchange has been in the crypto market for 4 years already, and its rating on Trustpilot is excellent. Being a non-custodial exchange it does not store user funds, so the chance of being hacked shrinks to zero. All the personal information received by the exchange is encrypted and stored in specialized secure storage and is never sold to or shared with any kind of the third party. Any suspicious activity is detected on the exchange by a special risk management system to prevent fraud and any illegal activity.
Customer support
One of the platform's strengths is professional and responsive customer support. It can be accessed 24/7 either in the chat window located in the lower right corner or by email at [email protected]. Users are also welcome to send their feedback and tickets to the ChangeNOW Community Chat on Telegram. And finally, there is also an opportunity to submit a request form or contact company representatives on Facebook. ChangeNOW has an extensive online presence on popular social media platforms and an informative FAQ section too.

Pros & cons
So let's summarize all the advantages and disadvantages of ChangeNOW in brief.
Pros:
Limitless and registration-free;
Worldwide availability;
Support for over 10,000 pairs;
Mobile apps for Android and iOS devices;
Variety of features and products;

Comprehensive ecosystem;

Excellent reputation;
Easy to use and fast swaps;
Non-custodial exchange;
Professional customer support.
Cons:
Fees are higher than on average;
A limited number of fiat currencies and deposit/withdrawal options;
Large swaps require verification.
Is ChangeNOW legit?
ChangeNOW is operated by the company officially registered in Seychelles. It has been offering crypto solutions for 4 years already and has gained the trust of millions of users from different corners of the world. Therefore, this exchange can be considered legitimate and secure.
Why choose ChangeNOW?
The main reason to pay attention to ChangeNOW is the unique character of this platform. Not many swap sites offer a registration-free and limitless trading experience to crypto enthusiasts. Furthermore, not only web platform is suitable for swaps since there are convenient mobile apps, Telegram bot, and third-party wallets that support this service too.
ChangeNOW is one of few exchanges to offer such a variety of trading pairs, support for both crypto and fiat currencies, and possessing a crystal reputation in the crypto industry.
F.A.Q
What is ChangeNOW?
This is a non-custodial crypto exchange that supports crypto-to-crypto as well as fiat-to-crypto trading with the lowest fees, no sign-up, and absent limits.
How does ChangeNOW work?
The exchange is integrated into lots of trusted crypto trading platforms including Binance, Bitfinex, Huobi, OKEx, and Kucoin. It chooses the best rates at the moment of trading analyzing the whole variety of offers and assists with the completion of the transaction.
How fast are all the transactions processed?
It usually takes about 5 minutes to complete a swap on the platform.
Are there deposit and withdrawal fees on ChangeNOW?
Both deposits and withdrawals are free of fees on the platform.
Can ChangeNOW be trusted?
This is a fully secure service created by a team of experienced blockchain developers that does not force users to share personal details upon sign-up and cooperates with reliable crypto trading platforms to offer the best rates.
Summary
Don't you want to waste time depositing and withdrawing crypto to and from the exchange? ChangeNOW is a popular and highly trusted crypto exchange where you can swap funds by entering a wallet address and completing the transaction directly from your personal wallet. However, it is not the only reason why ChangeNOW must be your number one choice. Forget about time-consuming registration, minimum and maximum limits, long-term delays in transactions! ChangeNOW offers an absolutely new crypto swap experience, and it will be a mistake to lose a chance and not to try it!