If you hold many cryptocurrencies and want the best altcoin wallets where you can securely store, send, and receive them, then you will find the answers in this article.
Unlike some content that you may have read, this article lists the ten best altcoin wallets on the market. It also goes beyond the basics to reveal its pros and cons, pricing, best storage measures to keep your assets safe, and so much more.
Table of Contents
If that sounds like what you're looking for, then let's get started right away!
What are Altcoins?
In simple terms, altcoins are cryptocurrencies aside from Bitcoin (BTC). For instance, cryptocurrencies such as Ethereum (ETH), Litecoin (LTC), Bitcoin Cash (BCH), Dogecoin (DOGE), Shiba Inu (SHIB), and many others are regarded as altcoins.
Since the launch of Bitcoin in 2009, other crypto assets were subsequently created, with almost all the coins and tokens promising investors enticing features that are lacking in the world's largest cryptocurrency by market capitalization - Bitcoin.
The total number of altcoins has soared tremendously since the cryptocurrency industry came to light. There were over 8000 altcoins in existence at that time of writing.
For those looking for Bitcoin alternatives, these altcoins have become increasingly popular. They account for nearly 47% of the total market capitalisation, which indicates how valuable the asset classes have become.
That said, let's examine the best place to store your altcoins.
Where to Store Altcoins?
While some people view altcoins as a store of value, others see them as currencies. Irrespective of what you think about altcoins, the bottom line is that they have become valuable over the years and should be kept safe at all times.
Altcoins are safely stored digitally, which could be in the form of hardware or an e-wallet. You can also choose to keep these tokens and coins on your mobile device or PC, depending on your storage preference.
Regardless of where you choose to store the altcoins, emphasis should be on the safety and ease-of-use of the wallet you intend to use.
Going forward, let us look at the different types of altcoin wallets.
Types of wallets
Before we examine the different types of cryptocurrency wallets, you should understand that all altcoin wallets are classified based on how they operate. Two wallet categories:
In simple terms, hot wallets are always connected to the internet. The entire process of storing and accessing your altcoins is done online. The process of setting up and making transactions on hot wallets is relatively easier compared to cold storage.
While the convenience of hot wallets is good for mostly cryptocurrency beginners, the setup process can be hijacked by hackers, especially as its private keys are generated over the internet. Hot wallets are mostly used to conduct frequent transactions.
Cold wallets are the opposite of the hot version. They do not rely on the internet to store your keys as they are stored offline using a physical medium.
Since private keys are not stored on the internet, they are resistant to hacking attempts. To cold store, altcoins is a recommended strategy for long-term crypto holders since you won't be conducting frequent transactions.
This type of wallet works through internet browsers like Chrome, Firefox, Safari, Opera Mini, and Brave.
They come in the form of a browser extension that can be downloaded and installed on your browser. A perfect example of a web wallet is the Metamask extension.
You can store as many cryptocurrencies as you like depending on the types of coins and tokens the wallet provider supports.
Here, you will be required to download and install the wallet application on your smartphone device, including Android and iOS supported phones.
This type of wallet is convenient and easy to use. You can send funds by scanning a receiver's QR codes as well as perform other interesting operations. An example of a mobile wallet is Trust Wallet.
Since the wallet relies on the internet to conduct transactions, they are prone to attacks and can be hijacked by criminals remotely if your private keys are compromised.
Similar to mobile wallets, a desktop wallet is one that can be downloaded and installed on your PC, including Windows, Linux, and Mac OS.
With a desktop wallet, you can perform all activities hosted on other wallet types, including storing, sending, and receiving altcoins.
Again, this type of wallet is flawed as it relies on the internet to function effectively. However, you get a level of protection with desktop wallets.
Upon installation, a file is known as "wallet.dat" is locally stored on your PC, which contains the private key information that you can use to access the wallet.
You may want to consider encrypting the wallet.dat file with a password, which will be used to open the wallet anytime it is run.
Entering the password automatically helps the desktop wallet read the wallet.dat files and access your private keys without having to copy it at all times.
An example of a desktop wallet is Wasabi or the desktop version of most cryptocurrency wallets.
This is a physical electronic device that sometimes resembles a USB pen drive. Hardware wallets do not totally rely on the internet. The setup process can be done offline, which uses a random number generator (RNG) to create your public and private keys.
Your private keys and altcoins are stored on the hardware making it impossible for hackers to gain remote access to it. If you want to send funds, you will be required to press one or two buttons on the device, which goes to confirm that the wallet is being used by you.
A hardware wallet is considered the safest way to store your altcoins. You can store altcoins on Ledger Nano S and Trezor One.
Best Altcoin Wallets
Here is the full list of the best altcoin wallets you can use: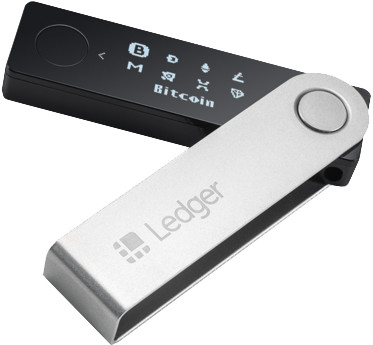 Price: £92
Incorporated Exchange: Yes.
Wallet Type: Hardware
Pros
Securely store, send and receive over 1,800 altcoins
It can be used on major PC and smartphone devices
Users' private keys are stored offline in the hardware wallet
Extremely portable and weighs less than 35g
Ledger has a strong reputation that dates back to 2014.
Cons
The device is equipped with Bluetooth connectivity which poses security risks.
The price may be too high for low-budget cryptocurrency traders.
The Ledger Nano X is an all-in-one altcoin hardware wallet solution. The device is developed with users' security and convenience in mind, which is why the team behind the Ledger flagship has added all the relevant safety measures to keep your cryptocurrencies safe while making it possible for you to carry the wallet everywhere you go due to its lightweight.
Ledger's consistency in developing high-end security cryptocurrency wallets was rewarded with the high-grade CSPN (First Level Security Certificate) certification issued by the French National Agency for Information Systems Security (ANSSI).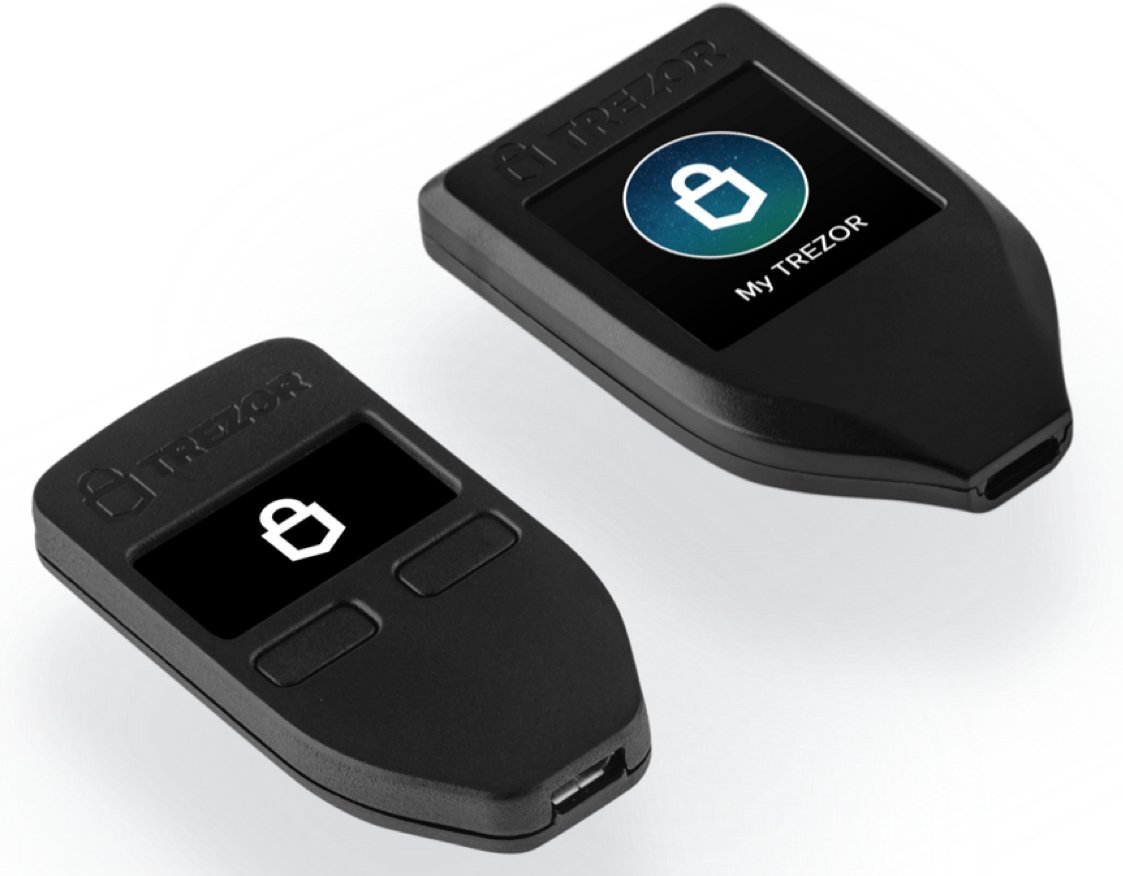 Price: £42
Incorporated Exchange: Yes
Wallet Type: Hardware
Pros
The wallet uses transparent open-source code.
Supports multiple cryptocurrencies of more than 1,000.
The device can be set up by anyone.
Trezor One uses multi-layered security to protect your altcoins.
Professional customer support.
Cons
It's not pocket-friendly due to its size.
It does not support iOS devices.
A few popular coins are also not supported
The Trezor One wallet is one of the best hardware wallets you can get below the price of $60. Despite the low cost of the Trezor Model One, the wallet has been designed to have all the features and services found in its competitors.
The team behind the product has been in the crypto space since 2014, which has seen it add all relevant features and services to all Trezor devices, including the Model One, helping users have a hitch-free experience.
Trezor One weighs only 12g, which is why the developers had to make the size a little bulky so that it wouldn't easily get lost.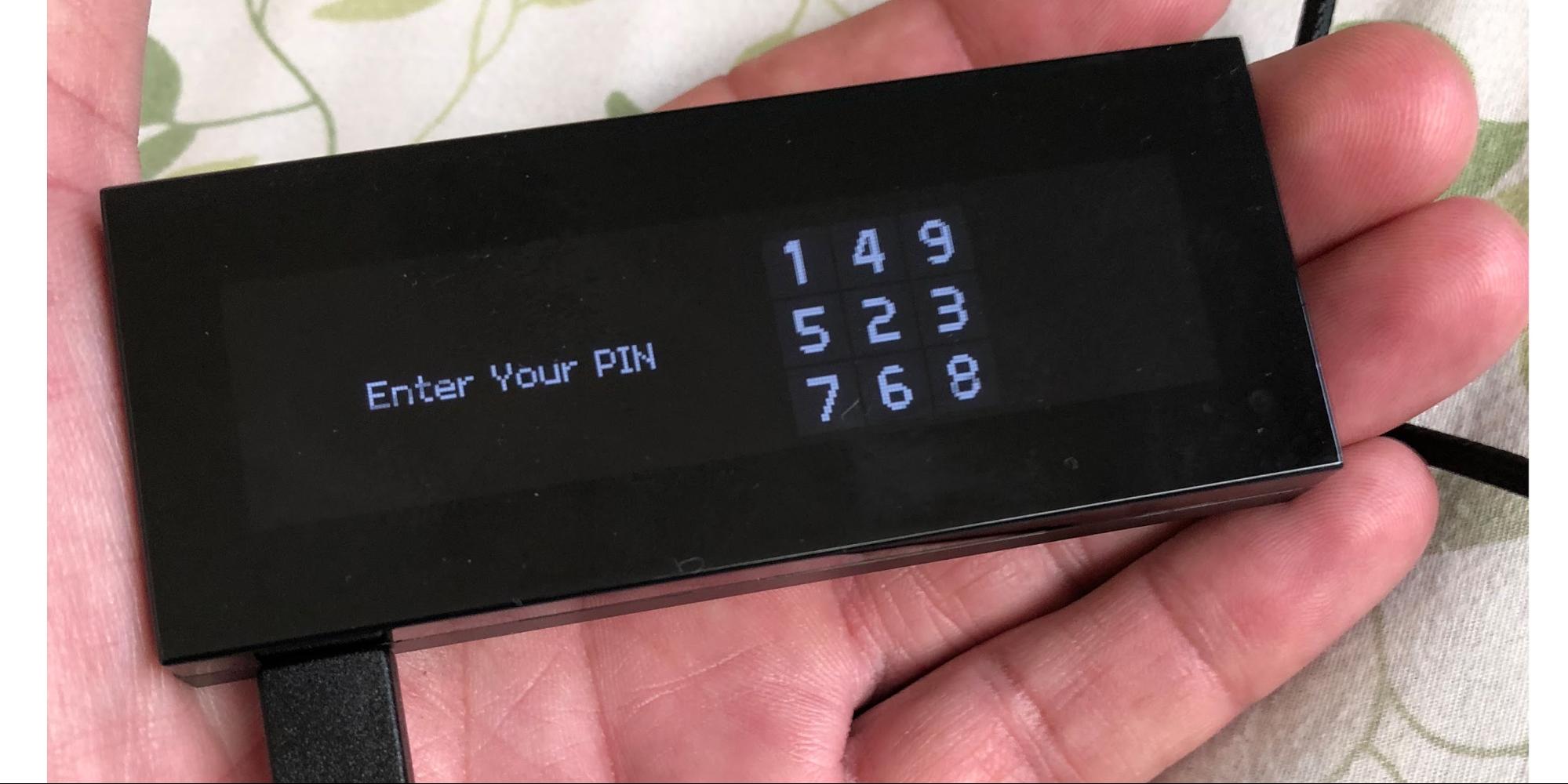 Price: £36
Incorporated Exchange: Yes
Wallet Type: Hardware
Pros
KeepKey uses open-source code.
Stores altcoin using a 100% cold storage method.
The device is equipped with a touchscreen for easy operations.
It is notably one of the cheapest hardware devices to cold store altcoins.
Cons
Supports only a few cryptocurrencies compared to Ledger and Trezor.
The device does not automatically timeout while not in use, exposing clients' funds to risk.
Initially launched as a fork of the Trezor wallet in 2015, the developers of KeepKey made a few changes, including giving the hardware wallet more premium looks and a larger screen. The idea behind the innovation is to grant users a better experience in storing, sending, and receiving cryptocurrencies.
In 2017, KeepKey was acquired by Swiss cryptocurrency exchange ShapeShift, giving users the platform to easily convert cryptocurrencies with ease.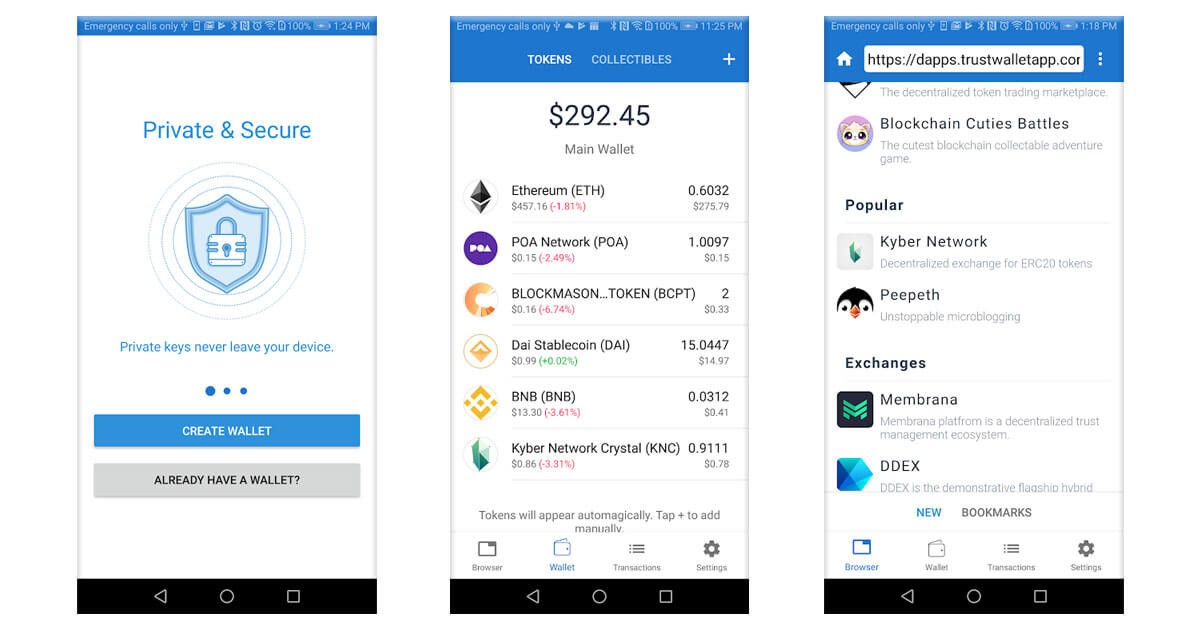 Price: Free
Incorporated Exchange: Yes
Wallet Type: Mobile
Pros
The app is user-friendly and boasts advanced security features.
Users can securely buy, trade, and swap thousands of coins and tokens.
Trust Wallet supports different blockchains and gives you access to various decentralised applications (dApps).
Cons
Trust Wallet is only available on mobile devices.
Insufficient details of fees associated with the in-built exchange feature.
Launched in 2017 by Six Days LLC., Trust Wallet has continued to be the home of all Ethereum-based tokens (ERC-20, ERC-223, and ERC-721) as well as Binance-based tokens (BEP-20) tokens.
Although Trust Wallet uses a hot storage method to store your altcoins, the developers have integrated all the essential safety measures to keep you safe from malefactors, the only thing required of you is to use the measures exhaustively.
Trust Wallet became the official wallet of Binance back in 2018 after the popular exchange acquired it. With Trust Wallet, you can buy, trade, and swap the thousands of cryptocurrencies supported on the platform. You can also access different decentralised applications using the wallet's in-built Web3 browser.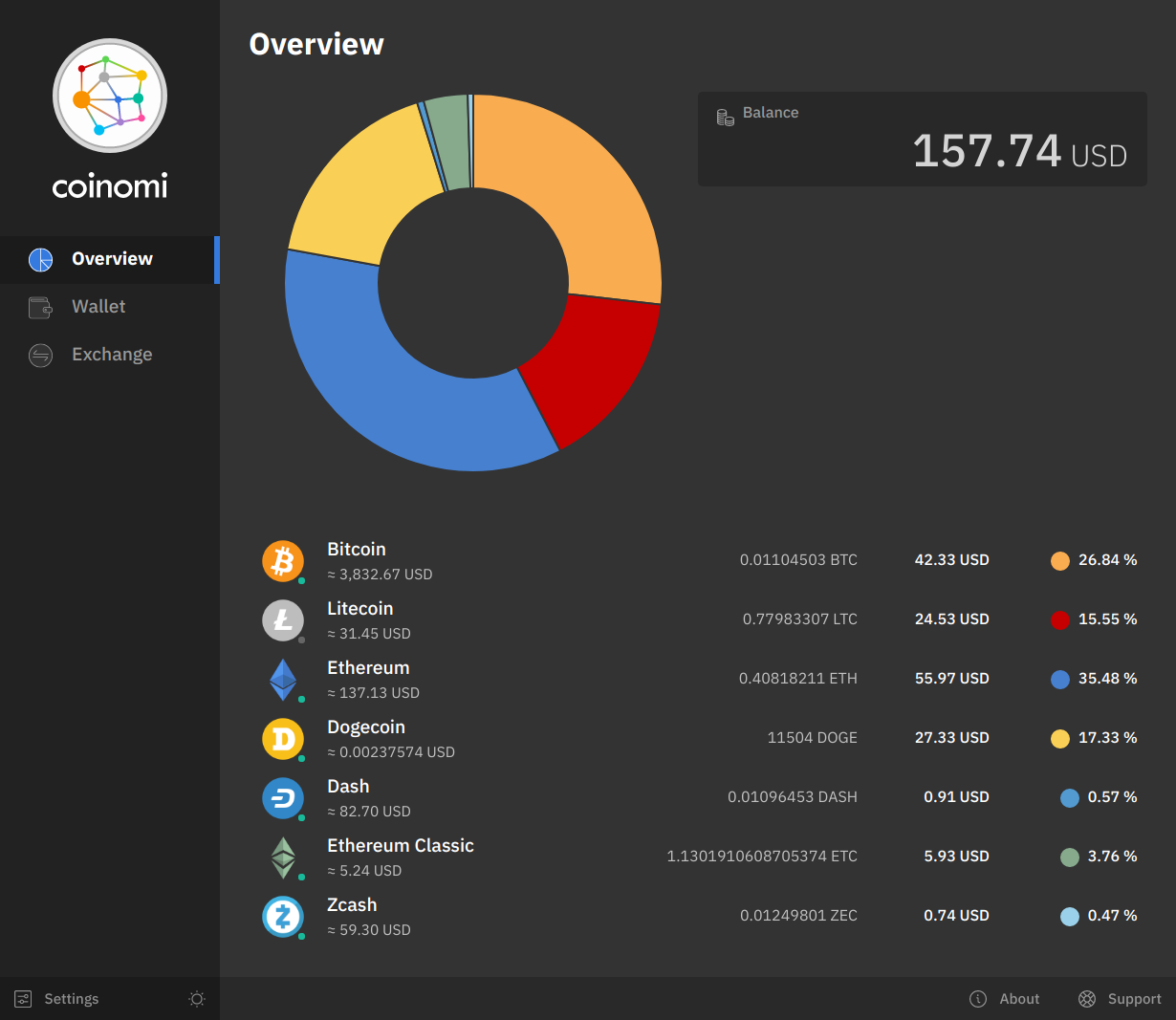 Price: Free
Incorporated Exchange: Yes
Wallet Type: Mobile
Pros
Uses high-security features like HD algorithms and IP masking
Absolutely free
Users can buy and sell cryptocurrencies through integrated exchanges - Changelly and ShapeShift.
Solid reputation since 2014
Professional customer support unit.
Cons
Coinomi wallet code is no longer open-source
The wallet is not ideal for using DeFi applications.
In 2014, Coinomi launched as an Android-only altcoin wallet, providing support for only popular cryptocurrencies such as Bitcoin, Ethereum, Litecoin, and Bitcoin Cash.
However, the wallet has since grown into a force to reckon with, as it now supports iOS devices and can be downloaded on several PC OS, including Windows, macOS, and Linux.

The wallet has also added support for more than 1,700 coins, allowing you to store all your favorite altcoins in one place.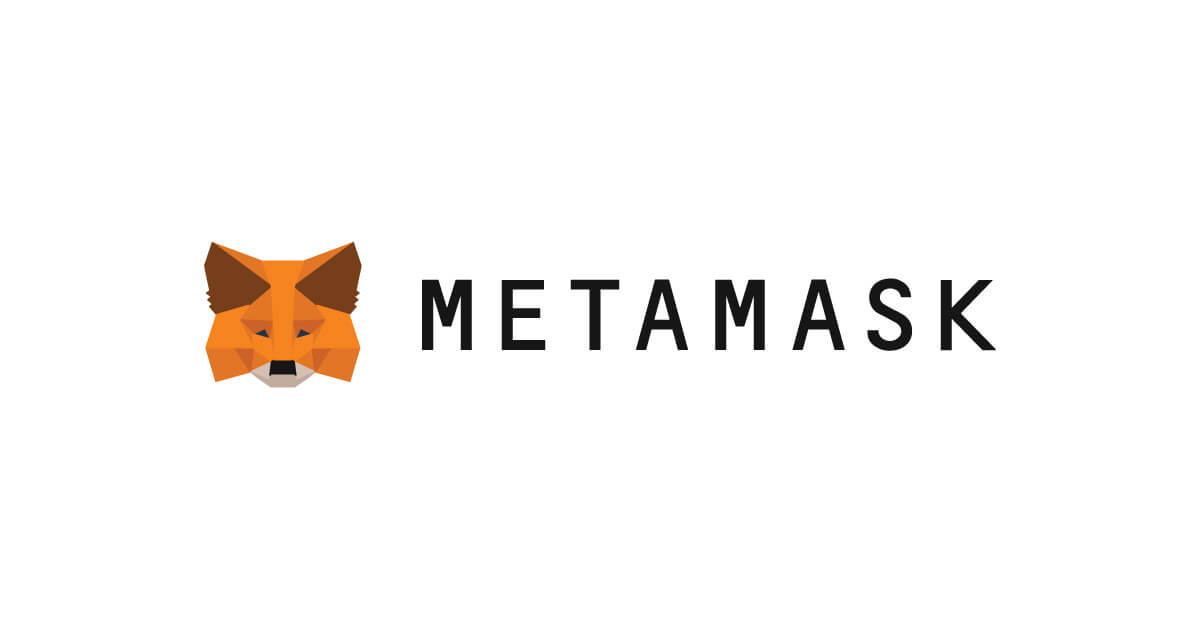 Price: Free
Incorporated Exchange: Yes
Wallet Type: Browser and mobile
Pros
Wallet codes are open-source.
The app is user-friendly and especially ideal for DeFi apps.
Users can safely buy and sell mainly Ethereum-based tokens via the integrated exchange features.
Works as a web extension and mobile app.
Cons
Your private keys are stored in your browser exposing you to risk.
Suitable mostly for Ethereum-based tokens
MetaMask Wallet first started as a browser extension like Chrome and Firefox in its early days. However, we have added support for Android devices.
The wallet was originally designed to store Ethereum-based tokens, but recent upgrades now allow users to add coins from other blockchains via the network section of the wallet. Although it is completely free, MetaMask is equipped with advanced security measures to the wallet like advanced passphrase and HD backup settings.
Since its launch, MetaMask has not suffered any significant hacks, which goes to show that the team is working effortlessly to prevent a hack from happening.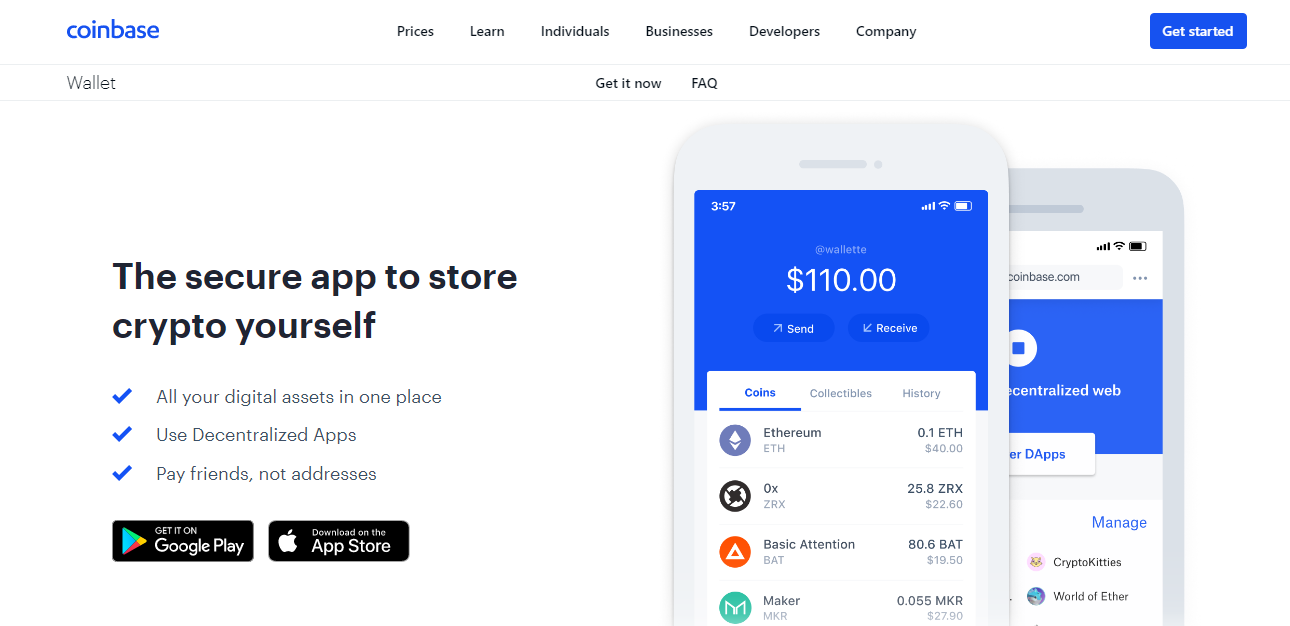 Price: Free
Incorporated Exchange: Yes
Wallet Type: Mobile
Pros
The Coinbase Wallet boasts a degree of high security.
The user interface (UI) is very friendly.
The application supports a range of altcoins, especially Ethereum-based tokens.
The app is ideal for accessing Ethereum-based DeFi apps.
Cons
The app primarily supports the Ethereum network.
Other competitors boast a healthier altcoin selection.
Coinbase Wallet is another popular application where traders and investors store their altcoins. The wallet is not to be confused with Coinbase.com, the exchange platform owned by the same company. Unlike the exchange where the platform holds your private key, Coinbase Wallet lets users store their private key or seed phrase.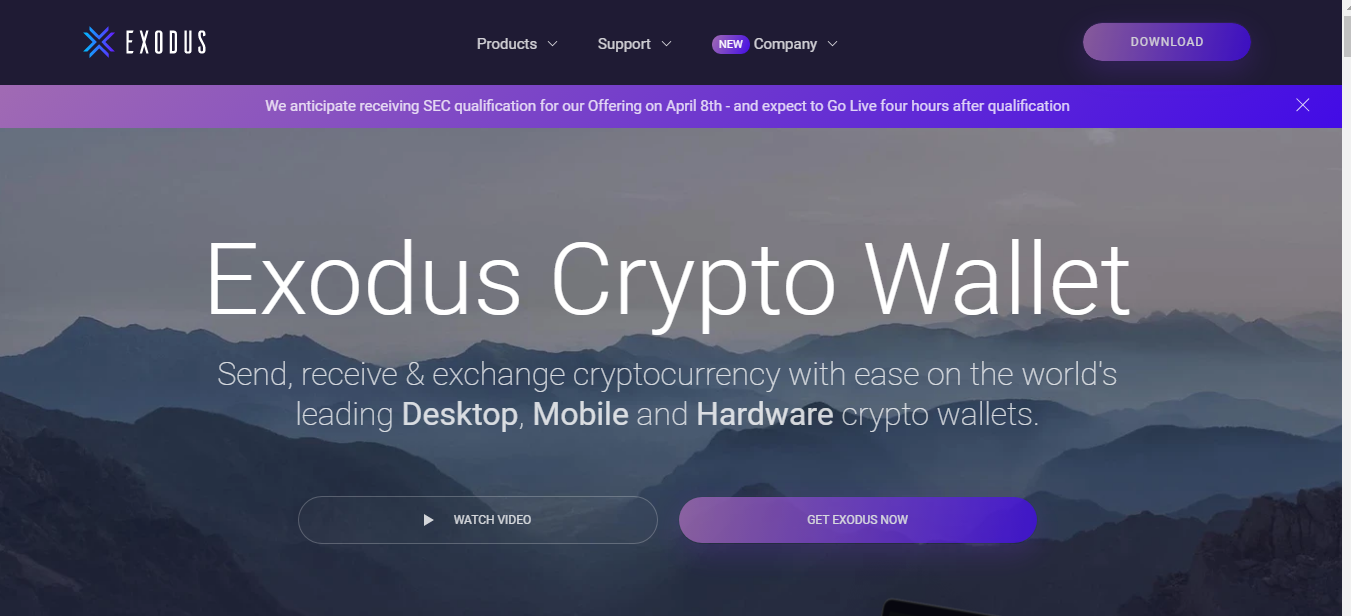 Price: Free
Incorporated Exchange: Yes
Wallet Type: Desktop and Mobile
Pros
Supports multiple cryptocurrencies
Easy-to-use
Users can exchange supported coins and tokens on the wallet platform via the ShapeShift integration.
Available for download on PC and mobile.
Cons
The application is largely reliant on the internet, thus exposing users to risks.
The application isn't ideal for accessing DeFi apps.
The Exodus Wallet is specifically designed for new investors. It offers free, secure, and easy-to-use software that can be downloaded on PC and mobile devices. Aside from its highly secured storage solution, users can also exchange supported altcoins for one another via the integrated exchange feature.
Binance — Best Altcoin Exchange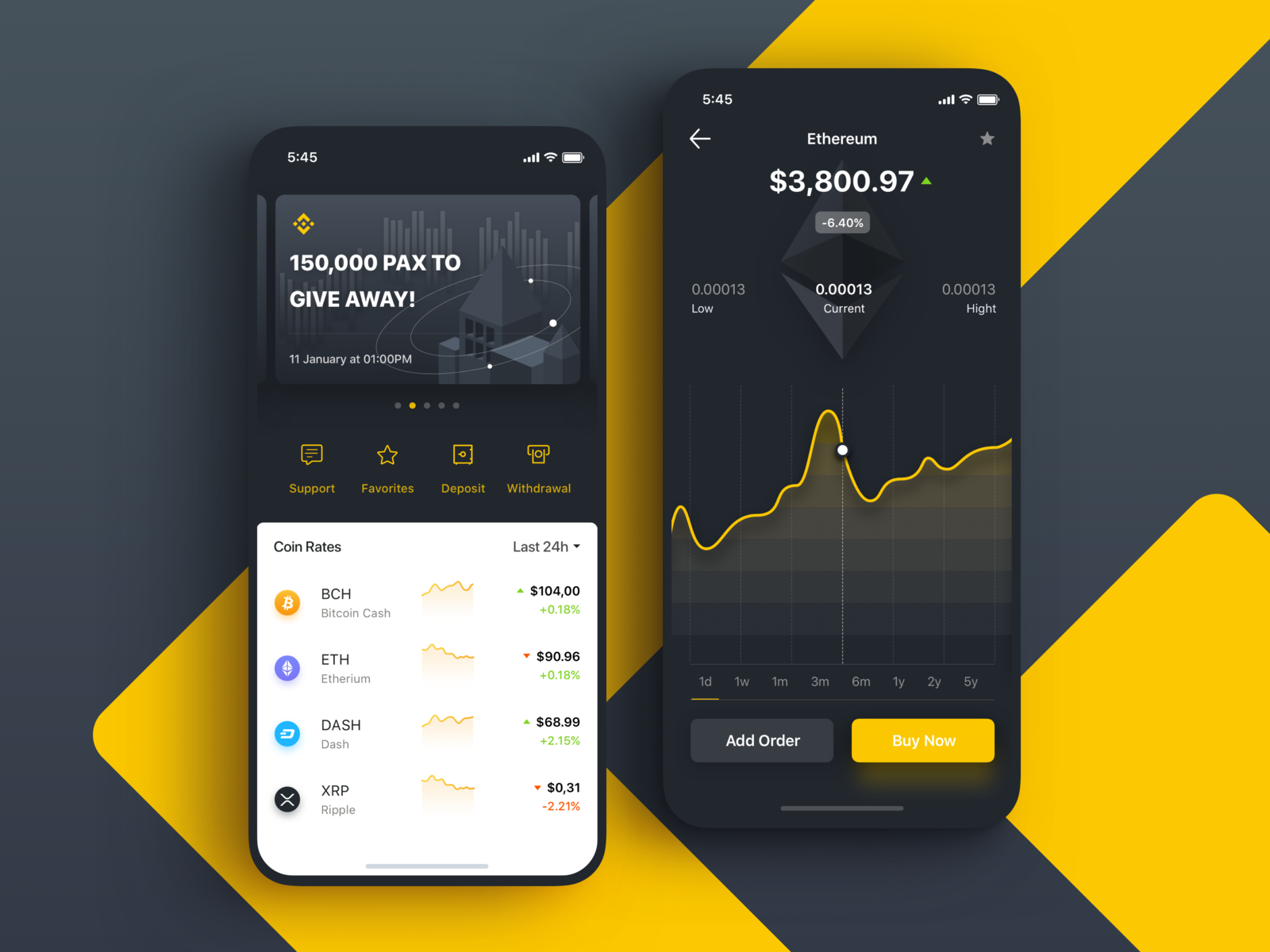 Price: Free
Incorporated Exchange: Yes
Wallet Type: Mobile
Pros
Users can securely buy, sell, and store altcoins on Binance.
The Binance application is available on multiple devices.
The exchange offers a range of features including spot, derivative and savings products.
Binance has the largest selection of altcoins for customers.
Cons
Not available in every country, especially the United States.
Requires KYC to enjoy advanced services.
Launched in 2017 as a cryptocurrency exchange, Binance has become one of the most used platforms for altcoin investors. The exchange has a solid reputation, giving you the assurance that you will surely get a refund if your cryptocurrencies are hacked by bad actors.
However, before this can happen, the hack must not be a result of your carelessness. Binance security measures include two-factor authentication (2FA), SMS and email authentication, among others.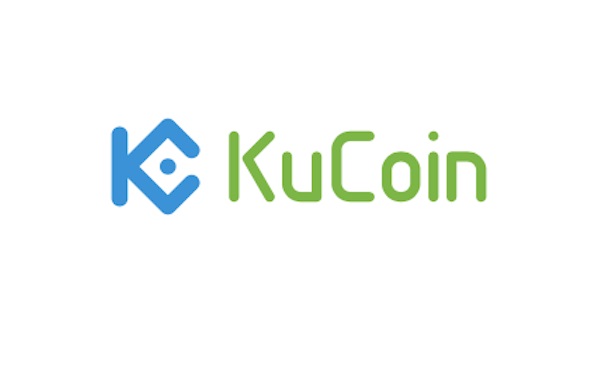 Price: Free
Incorporated Exchange: Yes
Wallet Type: Desktop Web and Mobile
Pros
Users can buy, sell, and store various altcoins.
The mobile app is intuitive and ideal for on-the-go investors.
KuCoin often lists new projects, allowing investors to get early access via its' "Spotlight" platform.
KuCoin boasts a relatively faster customer support service than competitors.
Cons
The exchange has often come under the radar for listing shady crypto projects
KuCoin is not an ideal option for beginners.
KuCoin is a centralised exchange that allows users to buy, sell, and store Bitcoin as well as various altcoins. The exchange is one of the most widely used in the industry and offers advanced features such as leverage and margin trading for supported altcoins.
What Should You Look for in an Altcoin Wallet?
Now that you've seen our selection of the best altcoin wallets, it is advisable that you conduct due diligence to make a perfect choice. In the next section, we've highlighted some factors that can guide your judgment in choosing the best wallet and they include:
Without much effort dedicated toward keeping your cryptocurrency safe and secure, then the whole idea of storing the altcoins in the first place will be wasted.
Cryptocurrencies have grown to become so valuable over the years that hackers are working round the clock to exploit the loopholes found in crypto wallets to cart away users' funds. To avoid such incidents, your selected provider should equip the wallet with the latest and advanced security measures to keep you safe.
Additional safety measures like a two-factor authentication (2FA) service, SMS and email authentication should be added to prevent criminals from gaining remote access to your altcoins.
When you encounter any issue with your wallet, you probably want the problem to be resolved swiftly. Hence, ensure that your preferred wallet has professional support channels that addresses customers' complaints and enquiries in the shortest possible time.
If possible, choose a wallet that has a 24/7 support service, to be sure that whenever the need to use the service arises, you can be attended to by an agent (not bots). In addition, a wallet provider that offers multiple ways in which users can reach out to them should be rated above another that supports only one method.
You don't have to be a tech genius before you can conveniently operate the altcoin wallet. The wallet provider should have crypto beginners in mind when developing the wallet, this way, you can be sure that anyone can use it.
Tips about how to set up, send, and receive funds should be properly documented by the developers, as well as integrated into the wallet's interface, which helps you not to get lost while using it.
As stated earlier, there are over 8,000 cryptocurrencies in existence and it is only fair that your chosen wallet supports as many as possible. It would be nice for the wallet to support multiple cryptocurrencies because after starting off with your favorite coins, you may want to invest in other cryptocurrencies over time, especially when you are given a call by an expert about the coin's prospects.
Based on this illustration, it would be awkward to sign up for another wallet simply because your first choice does not support the coin you recently picked interest in.
Past users' rating of the wallet is considered gives you insight into what past and existing users think about the application and its developers. This information can help you decide whether you should go on to use it.
How to Get a Wallet
Regardless of whether the wallet uses a cold or hot wallet procedure to keep users' funds safe, one important thing to take note of is that the developers have an official website where you can either download the application or order the wallet.
We have included the links in the heading of each of the recommended wallets for your convenience.
Note: Be careful to avoid downloading the wallet software from an unofficial link. The fake website could be infected with malware that easily steals your private keys.
The same applies if you opt for a hardware wallet. Only order the package from the manufacturer's website or from a recommended dealer. Never accept a hardware wallet with a broken seal unless it has anti-tamper-proof technology. Doing anything contrary to this could result in severe loss of funds.
How to Keep Your Altcoins Safe
Cryptocurrencies have grown to become valuable assets and as such, the need to keep them safe cannot be overemphasized. Based on this, we've highlighted a few points on how you can safely keep your altcoins safe:
If You Can, Use a Hardware Wallet
Hardware wallets have been tipped as the most secure altcoins wallets because of their ability to store your funds offline.
With funds safely stored offline, hackers cannot gain access to them. Also, the hardware wallet user is required to press a button or two to confirm transactions before sending. Since the hacker would most likely operate from a remote location, he or she cannot possibly lay hands on your device to perform the operation, unless the theft is being perpetrated by an insider.
Exhaust All Safety Measures
Wallet providers have done their bit to integrate additional security features that require your permission before they can start working.
Features like Google 2FA, email, and SMS authentication will need you to enable them before they can start functioning as they should.
Do well to exhaust all available safety measures provided to keep your altcoins safe always.
Secure Your Recovery Phrase In Multiple Locations
Some new investors often hurriedly set up their wallets to store their altcoins without thinking about how to also store their recovery phrase. The recovery phrase is a list of 12 to 24 words representing the secret data that helps generate your account's public and private keys.
Users are asked to confirm the phrase after the words are first displayed on the screen, which by default shows that the phrase was successfully written down. If this is the case, then you should keep the written phrase in a safe place with maximum security and possibly in multiple locations.
Frequently Asked Questions (FAQs)
How Many Altcoins Exist?
At the time of writing, there are over 8000 known altcoins.
What's the Difference Between Altcoins and Tokens?
'Altcoin' or alternative coins is a term that refers to cryptocurrencies that are not Bitcoin. Tokens, however, refer to assets created on top of another blockchain. Blockchain networks like Ethereum and Solana allow projects to create their own coins/tokens which could also be called altcoins.
What Are the Most Popular Altcoins?
There are so many popular altcoins in the market, but for the purpose of this section, we would list a few such as Ether (ETH), Binance Coin (BNB), Ripple (XRP), Dogecoin (DOGE), Solana (SOL), Polygon (MATIC), Monero (XMR), Shiba Inu (SHIB), etc.
How Do I Buy Altcoins?
The two main ways to get the altcoins are to purchase them from an exchange or via a peer-to-peer (P2P) platform. Interestingly, there are hundreds of cryptocurrency exchanges where you can buy and sell altcoins. It is up to you to conduct due diligence to know the best trading platform to use, and which exchange is allowed to function in your country of residence.
Final Thoughts
True to our promise, this article provided a list of the best altcoin wallets to use. As previously stated, hardware wallets are regarded across the industry as the best to use, especially in a scenario where you have a large and long-term crypto portfolio.
On the other hand, mobile and desktop wallets suit the needs of on-the-go users who probably have to make several transactions. Users must conduct due diligence to find the best way to store altcoins and carefully choose a wallet that satisfies their needs.