Launched in 2014, Shapeshift is one of the oldest and most reliable cryptocurrency exchanges. However, cryptocurrency investors begin searching for Shapeshift alternatives when they realise that the platform doesn't meet certain requirements.
Table of Contents
These deficiencies are probably not the fault of Shapeshift, as every company reserves the right to pursue its value and what it feels is best for their revenue numbers. If you're a Shapeshift user, and looking for other sites like Shapeshift where you can trade your crypto, then you'll learn about them in this article.
Before we dive right in, let's quickly go over some reasons why Shapeshift users may want to move on, or at least use another exchange in addition to the platform.
Shapeshift disadvantages
DEX-based Trading
In early 2021, Shapeshift announced it would now fill customer orders using liquidity pools on decentralised exchanges (DEXes).
By adopting this method, Shapeshift is no longer required by law to collect personal information from customers that use the platform. It allowed the company to maintain its known values of respect for customer privacy.
However, it also limited what Shapeshift can offer. Users no longer had access to trade many coins or used advanced trading tools like charts and indicators. They must now only swap assets as they would on a decentralised exchange, and this isn't a good fit for everyone.
Hardware Wallet Required to Trade
While we recommend the use of hardware wallets for storing cryptocurrencies, Shapeshift's new approach means that users must connect to the platform via a hardware wallet before they can trade. Not everyone can afford a hardware wallet, or want to go through the complicated process of setting up one before they can swap £10 worth of crypto.
Bank Transfer Not Supported
Shapeshift allows users to buy cryptocurrency using Visa, Mastercard or Apple Pay. You cannot buy crypto via bank transfer, and this is a significant disadvantage that it has over Shapeshift alternatives that lets you deposit and withdraw directly into your bank account.
Now that you know what's missing on Shapeshift, it might be easier for us to figure out what to look out for when choosing an alternative.
What to look for in an alternative
Ease of Access: It should be relatively easy for anyone, including a newbie, to get started on a crypto exchange. The process typically involves providing an email address, setting up a password, and completing the KYC process.
The option to deposit or withdraw fiat and crypto is easily accessible as part of the onboarding process, and some exchanges also provide a video guide for first-time users. All of these features are missing on Shapeshift and definitely something to consider when choosing an alternative.
Advanced Trading Tools: Professional traders maximise their profit by using advanced tools such as multiple order types, charts, and leverage trading. Shapeshift currently does not support this option, making it unsuitable for such a category of traders.
At the same time, trades on Shapeshift are routed through the Ethereum network and thus could require high fees during busy network periods. By using other exchanges, you can enjoy far lower and guaranteed trading fees.
Multiple Fiat Deposit Methods: The ease at which you can move your money in and out of crypto is another factor to consider when choosing an alternative to Shapeshift.
The platform supports card purchases but does not allow withdrawals. Hence, the ideal alternative will allow for deposit and withdrawals using multiple fiat methods such as credit and debit cards, bank transfers, etc.
In the next section, we will provide a list of some platforms that offer one or more of the recommended features you can consider when choosing a Shapeshift alternative.
5 Alternatives to Shapeshift
CEX.io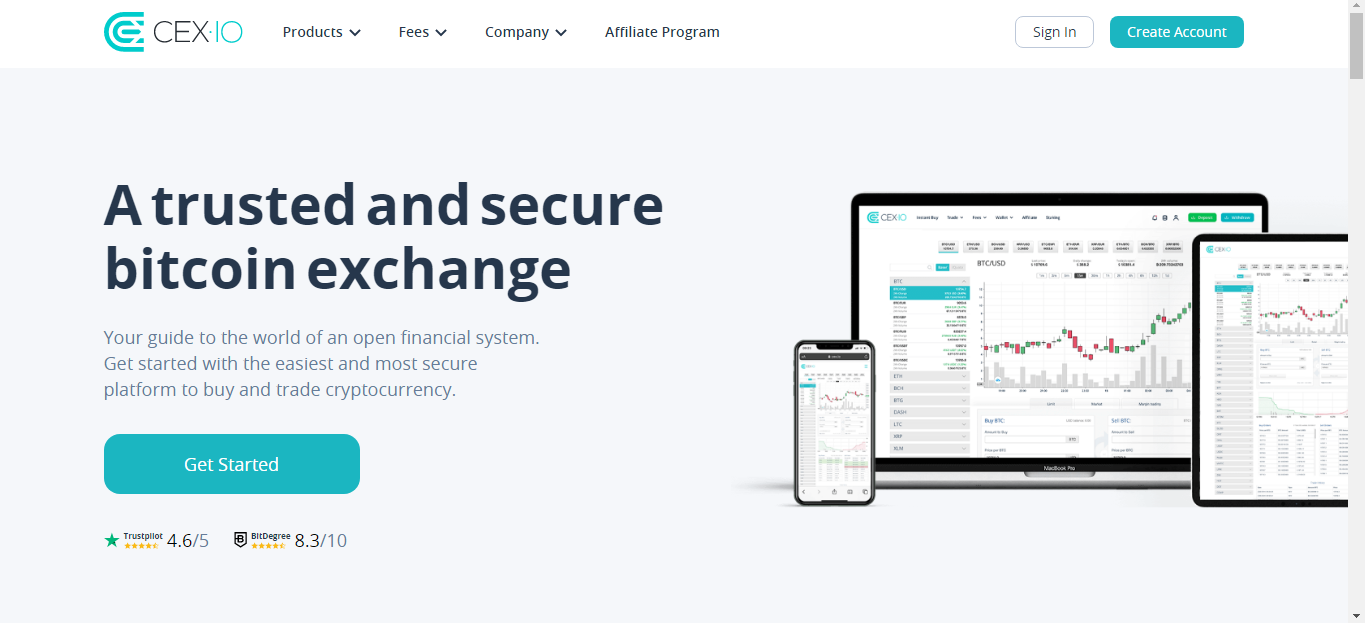 Based in the United Kingdom, CEX.io is another old cryptocurrency exchange launched in 2013. The platform initially catered to the UK audience but has since expanded its services to other countries, including the US.
In our complete CEX.io review, we covered in detail some of its most compelling features and why they are more than just an alternative to Shapeshift, Coinbase, and other popular cryptocurrency exchanges.
Features
Instant buy and sell
Multiple-fiat deposit methods
Mobile app for iOS and Android
Crypto-backed loans
Staking of proof-of-stake (PoS) coins for passive income.
Contract-for-differences (CFD) trading.
Advanced security features for account holders.
Pros
CEX.io has a proven track record of providing reliable and uninterrupted services.
The exchange has an easy-to-navigate user interface on both desktop and mobile.
CEX.io boasts a responsive customer support team compared to competitors.
Users can earn passive income from crypto staking, and also obtain crypto-backed loans.
The platform is also transparent regarding commissions and fees.
Cons
CEX.io lists fewer cryptocurrencies when compared to competitors
The KYC process is compulsory and asks for plenty of information.
Supported Deposit Methods: Cryptocurrency, Bank Transfer (Faster Payments, SWIFT, ACH), Visa and Mastercard, Skrill.
Binance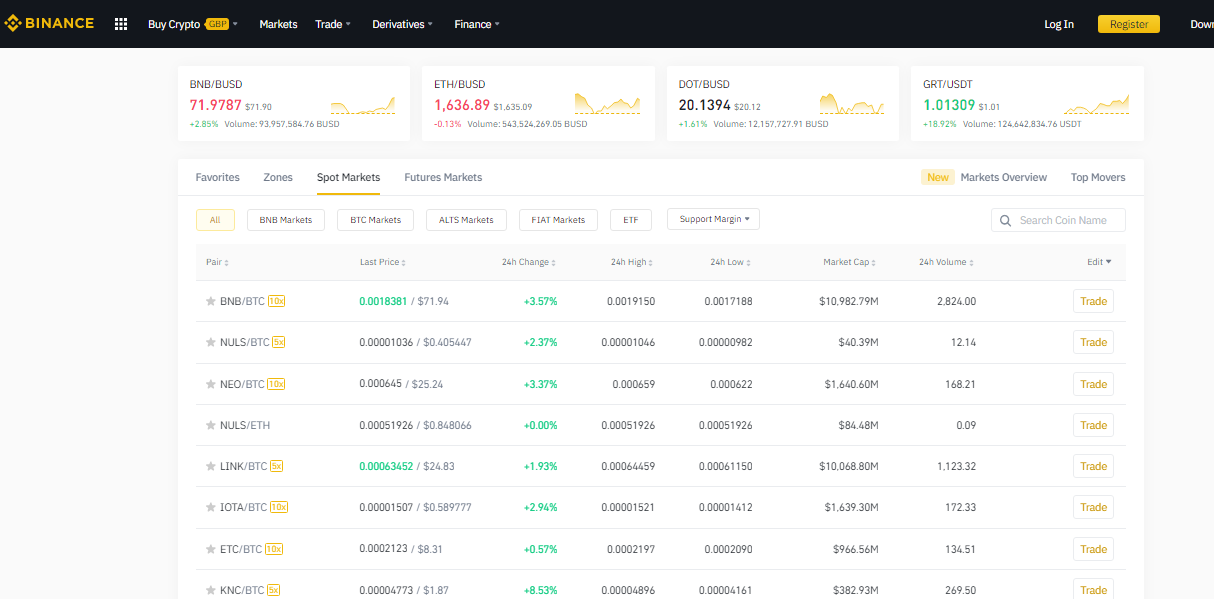 Binance is another popular cryptocurrency exchange that could serve as a Shapeshift alternative. The platform launched in 2017 and has since grown to become one of the largest in terms of the trading volume. The flair with Binance is that users can access many cryptocurrencies, and there are little to no limits for users that complete the KYC process.
Features
Instant conversion.
Spot and futures trading.
Crypto-backed loans
Peer-to-peer exchange
Staking and saving products for earning passive income.
Launchpad and Launchpool platform to buy into new crypto projects
Mobile app for iOS and Android.
Pros
Binance lists a large number of cryptocurrencies and trading pairs.
Professional traders get access to advanced trading tools and functionalities.
Investors can get in early on new crypto projects to generate more returns.
Users who trade only small amounts of crypto on Binance can do so without providing their personal information. KYC process is only required for daily withdrawals above 1 BTC.
Binance supports a variety of fiat payment methods for funding your account, including peer-to-peer trade.
Cons
Binance often suffers a downtime, especially during periods of peak market performance.
The exchange also lags behind others in terms of answering customer inquiries.
Supported Deposit Methods: Cryptocurrency, Bank Transfer, Visa, Mastercard, and local transfer apps via P2P.
Coinmama
Coinmama is an Ireland-based cryptocurrency brokerage platform launched in 2013. It is ideal for investors looking for a way to buy or sell cryptocurrency directly to and from their personal wallets. Users provide a receiving address for purchases and transfer funds to an address provided by Coinmama when they want to sell.
Features
Instant purchases
Multi-currency support
Transparent fees.
Loyalty program
Pros
Coinmama is a reliable cryptocurrency broker.
The platform boasts a highly responsive customer support desk.
Users enjoy high purchase limits compared to normal exchanges.
Coinmama supports a range of payment options.
Cons
Coinmama supports fewer coins.
Delivery of purchased coins on Coinmama typically takes an hour. This is slower than on normal exchanges where purchases are instant.
Supported Payment Methods: Bank Transfer (SWIFT, SEPA), Visa, Mastercard, Apple Pay.
KuCoin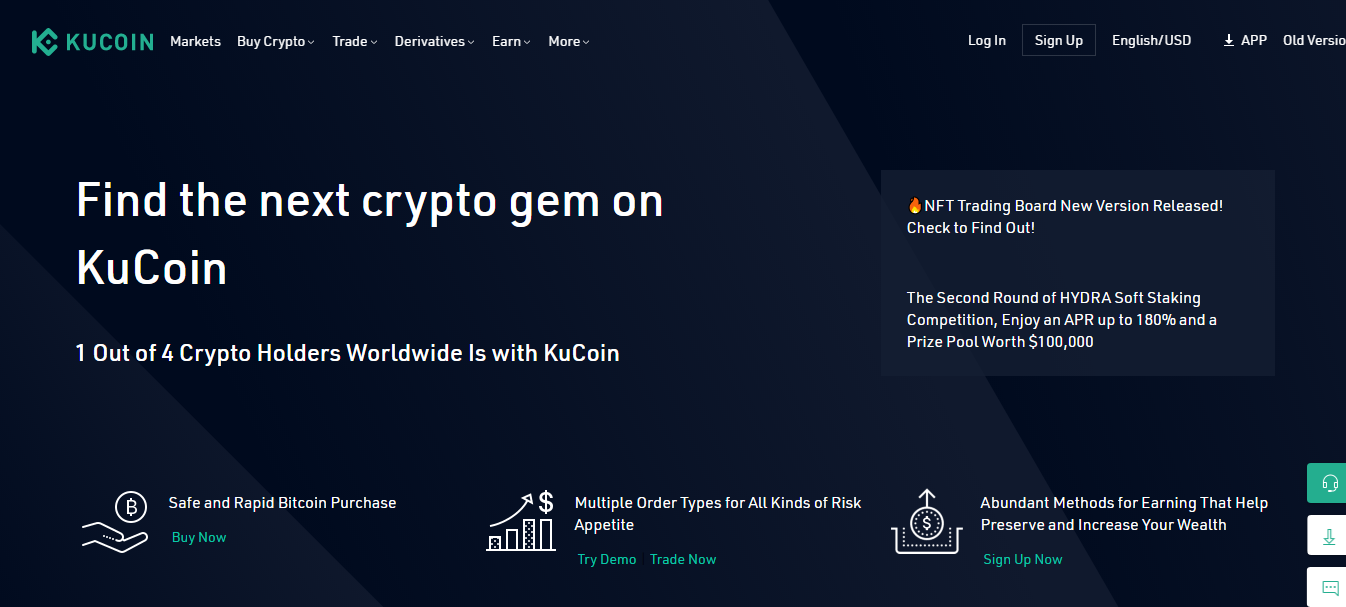 KuCoin is another cryptocurrency exchange that you can use as a Shapeshift alternative. The platform launched in 2017 and became popular for offering investors access to altcoins. KuCoin is an excellent choice for professional traders, as it offers many advanced features that Shapeshift used to have before diverting to the DEX model.
Features
Spot and Futures trading.
'Spotlight' for investing in new projects.
Staking for PoS coins.
Instant purchases
Mobile app for iOS and Android.
Trading bots
Pros
KuCoin offers advanced tools for professional traders.
The exchange has a reliable customer service team
Investors can get in on new crypto projects via the 'Spotlight' platform.
They can also earn passive yield via KuCoin's staking and lending products.
Cons
The KuCoin interface is complex for new investors who simply want to buy crypto.
The platform does not support direct deposits and withdrawals via bank transfers.
Supported Payment Methods: Cryptocurrency, Credit and Debit Cards, Bank transfer via P2P trading.
Uniswap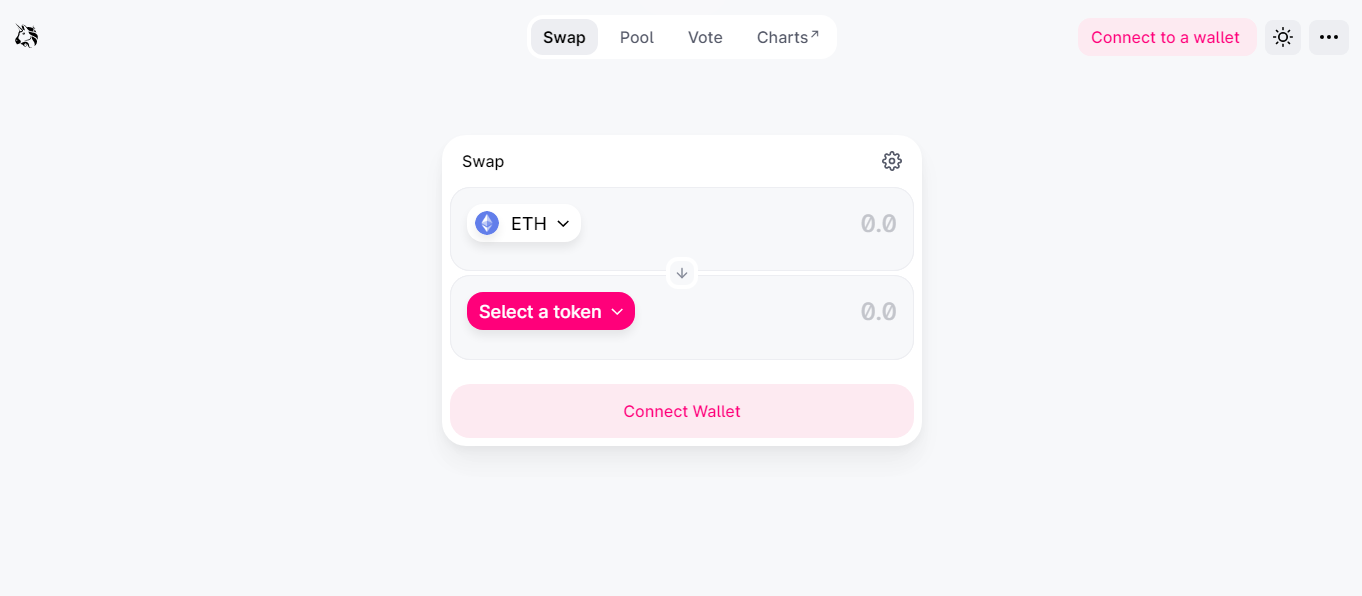 Uniswap is a decentralised exchange built on the Ethereum network. It allows users to swap Ether (ETH) and other Ethereum-based tokens. Shapeshift currently uses Uniswap and other DEXes to fulfill orders that users place on their exchange. Hence, Uniswap is a viable Shapeshift alternative if the only thing you want to do is swap Ethereum-based tokens.
Features
Instant swaps
Liquidity pools
Price charts for the supported assets.
Token Lists
Pros
The Uniswap UI is intuitive and easy to navigate.
Users can earn passive income from adding liquidity to pools.
Following the launch of Uniswap V3, users can enjoy greater yield when providing liquidity.
The Uniswap protocol charges a transparent 0.3% fee for token swaps.
Users remain in custody of their assets unlike on centralised exchanges.
Unlike Shapeshift, where a hardware wallet is compulsory to trade, Uniswap supports web extensions and mobile wallets like Metamask and Coinbase Wallet.
Cons
Sufficient knowledge of the Ethereum network is required to use Uniswap.
Users have to pay network transaction fees in addition to the 0.3% markup. These fees could be even higher during periods of peak network usage.
There is no option for users to deposit fiat.
Supported Payment Methods: Ether (ETH) and other supported ERC-20 tokens
How we picked and tested
In picking the Shapeshift alternatives covered in this article, we considered Shapeshift's past and current features.
The exchange previously offered direct crypto-to-crypto trading before adopting the DEX model, hence, we included one decentralised exchange (Uniswap) to the list. The rest, however, are centralised exchanges that support crypto-to-crypto trades in the same way that Shapeshift did in the past.
How to choose the best Shapeshift alternative
To find out which one would work best for you, it is vital to consider your needs as an investor.
For instance, if you're only looking for where to buy and sell crypto using fiat, then you might consider using CEX.io Binance, Kucoin, and Coinmama. These sites let you exchange cryptocurrencies, as well as fund your account using a number of fiat payment methods.
Meanwhile, Uniswap is ideal for swapping between Ethereum-based assets and allows for such transactions to be done in a non-custodial manner.
Conclusion
Shapeshift is still one of the most popular cryptocurrency exchange platforms and has continued to improve its offering by listing new coins and supporting cross-chain transactions under its new business model.
However, users seeking Shapeshift alternatives can review the exchanges recommended in this article to find out which one works best for them. It is also worth noting that there you can hold an account on multiple exchanges if that is the best way to manage your portfolio.