Nowadays every second person has regretted not investing in Bitcoin when it was introduced. However, it makes sense to leave all regrets in the past and look for another coin that may once beat the Bitcoin record. But where you can learn about the best new tokens to identify possible leaders? CoinList platform offers access to the whole variety of new tokens before they are listed on other exchanges. It is a number-one destination for crypto investors and blockchain startups with lots of other features and functions. Are you ready to join it and try its functionality?
Look: learn more about this platform from this CoinListreview to understand if it is exactly the destination you have been looking for.
Table of Contents
What is CoinList

CoinList is a one-stop-shop for putting crypto to work. The range of its features is quite diverse, but its primary goal is to give crypto investors access to new tokens prior to listing them on exchanges.
CoinList was originally started as an ICO investment portal, but gradually, it has grown into a platform that offers different kinds of crypto-based trades. Its main goal is to manage the compliance, technical peculiarities, and regulatory load connected with the launch of new crypto coins no matter whether these are initial coin offerings (ICO) or security token offerings (STO). Nowadays, it is a fully functional trading system that offers solutions both for individuals and companies.
CoinList is a San-Francisco-based company that was established in 2017 by a group of crypto enthusiasts that stood behind the AngelList company. The founders of the project are Graham Jenkin (CEO), Joshua Slayton (CTO), Brian Tubergen (Chief Product Officer), Paul Menchov (CTO), and Andy Bromberg (Advisor and CEO of Eco). Such an impressive team of experts managed to attract overwhelming investments for start-up capital as well as hold the largest ICO ever done when Filecoin ICO raised $257 million.
Features
What are the main features of CoinList that make it outstanding among other platforms?
Early access to the best new tokens: you may learn about them before they are listed on other exchanges.
Funds security: the platform works only with reputable custodians and the majority of funds are stored offline.
Compliance with anti-money laundering laws.
Several important products and services are available in one place.
Strong re[utation: the company managed to raise over $800 Million in token sales for leading capital names.
Products and services
CoinList offers a range of different solutions for users:
The platform gives access to the best new crypto projects before they join popular exchanges. Users can find out the background information on every project and get alerts about the most recent releases.
There is a trading tool on CoinList that will meet the expectation of casual and professional traders. It provides a full range of features that allow buying and selling crypto assets and recently added tokens in a fast and easy manner.
The platform offers to earn automatic rewards for staking different assets.
CoinList offers a free wallet for account holders. It is possible to store such assets as BTC, ETH, USDT, USDC, LINK, UNI, MKR, COMP, FIL there and this list will be constantly expanding. The security of the wallet storage is guaranteed by cooperation with the top crypto custodians like Anchorage, BitGo, and Gemini Custody.
DeFi lending and borrowing
The portal allows converting Bitcoin to wBTC and deploying it on Compound, MakerDAO, dYdX, Curve, and other top DeFi protocols.
There are CoinList mobile apps that allow getting fast access to the full platform functionality on mobile devices. Now you can manage a portfolio and trade cryptocurrency in few taps only. Both iOS and Android devices support the app.
Exchange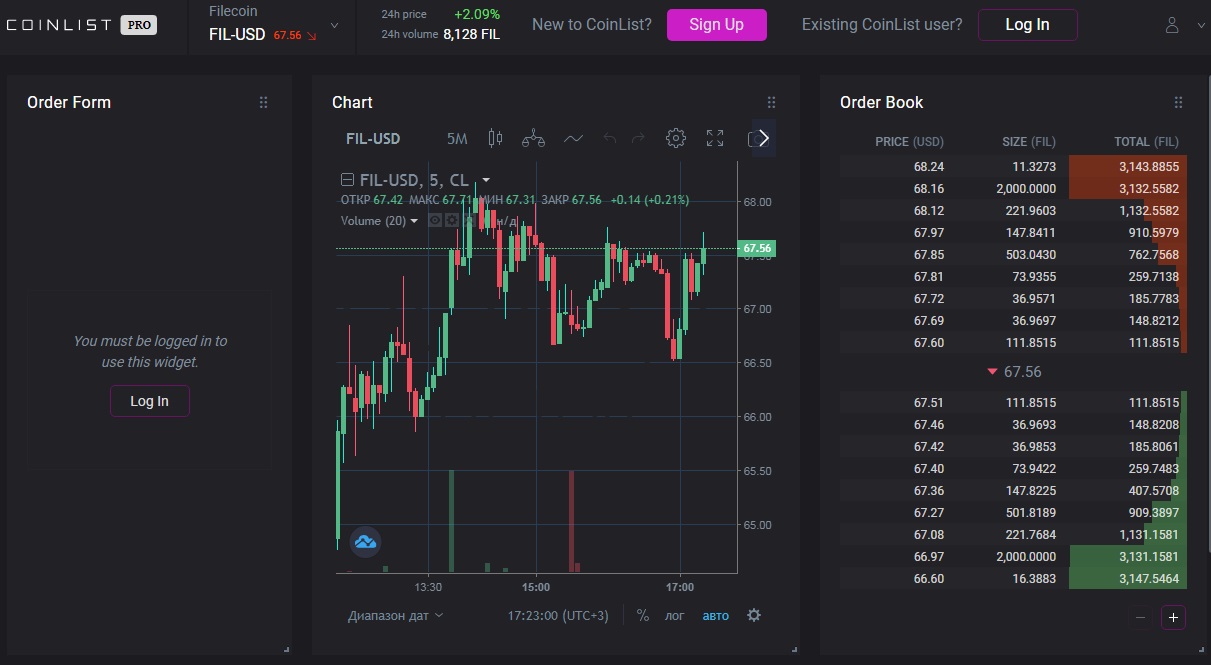 CoinList exchange that allows trading cryptocurrency will be appreciated by any professional. It is necessary to register an account to be able to buy and sell cryptocurrency there.
The exchange supports over 20 pairs and offers access to charts updated every second, order book, balances, trade history, and others. It is important to read the trading rules provided in the Terms and Conditions prior to initiating a transaction.
The trading process starts with topping up the account balance. There are several types of trades available including general ones, trading on CoinList Pro, and CoinList RFQ platform. Users can place 4 types of orders including Limit Order, Market Order (Buy or Sell), Stop Order, and Take Profit Order.
You can proceed to trading only when you log in to the account. There you will find the Buy&Sell button on a navigation panel and it will open a trading screen to make the following steps:
Choose the cryptocurrency you want to buy or sell.
Input the amount.
Choose the currency to pay with.
Preview the order to see its price and confirm the trade within 30 seconds.
Get your coins to the wallet.
How does it work
Being a full-stack solution for crypto CoinList offers different services to the users of the platform. Not only companies and individuals can benefit from its solutions but also developers.
Every startup that wants to initiate an ICO of its token is subjected to an investor check. The last one should confirm the accreditation of all investors as well as the compliance with Know Your Customer (KYC) and Anti-Money Laundering (AML) requirements. As a result, they can attract investments through Simple Agreement for Future Tokens (SAFT), get access to the growing network of investors, and facilitate the full-service token sale. Summarizing the information, companies can launch their protocols, connect with investors, and scale their networks.
Investors interested in new tokens can be introduced to them the first and participate in pre-sale as well as trade tokens and take part in the secondary auctions.

Developers can make their contribution to building the future of the crypto industry by hacking on crypto projects, earning prizes, and swagging.
Supported countries
CoinList operates in many countries with an exception of Iran, Korea (North), Syrian Arab Republic, Cuba, Crimea region of Ukraine and any other jurisdictions as CoinList determines. Unfortunately, CoinList is not available in a number of US states including Alaska, Hawaii, Minnesota, Nevada, New York, Puerto Rico, and the Virgin Islands.
Languages
CoinList is available only in English, but due to the fact that this language is international, there are no obstacles for users in using it.
User experience
CoinList has a user-friendly interface and quite a simple website design when you access it for the first time. You are immediately offered to join the platform or learn more about its features. The main menu is located at the top of the page where you can get quick access to the products, view an exchange, log in to the created account, or register a new one. Scrolling the page down, you can learn the benefits of this platform and the latest tokens distributed to participants. All the legal information is provided at the very bottom of the page where you can also follow the links to download mobile apps too.
When you register an account on the website, the account menu offers access to the dashboard, wallet, trade, auctions, as well as offers to change account settings and get access to products.
How to get started with CoinList
When you open the CoinList website as a guest, you can get only general information on the platform and take a look at the exchange interface. However, if you want to try CoinList features in practice, it is necessary to become a member of the platform.
Registration and verification
How to join CoinList? There is the Get Started button in the upper right corner. By pressing it, you will activate the sign-up procedure that consists of the following stages:
Enter the first name, last name, and email address.
Create a password to protect the account (minimum 10 characters).
Verify the email by following the link provided in the letter.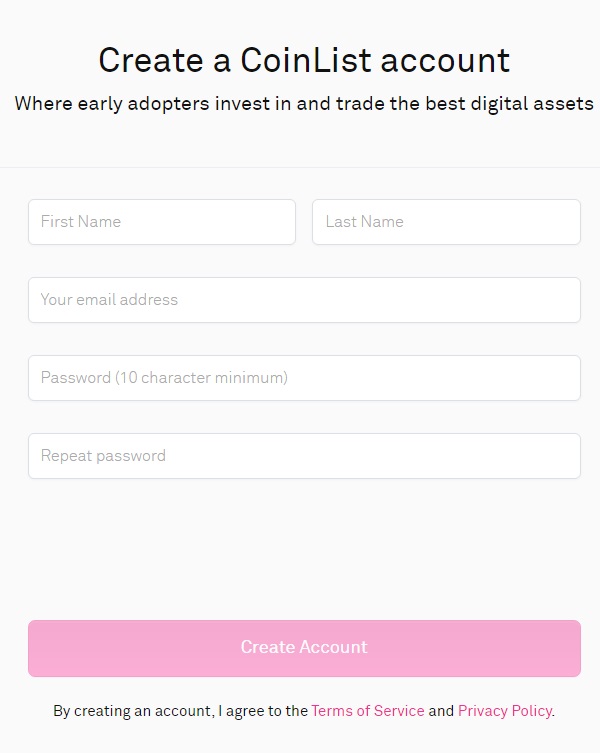 When the account is ready, it makes sense to verify your identity to get access to the whole variety of options available. The service requires users to pass identity verification and KYC/AML (Know Your Customer/Anti-Money Laundering) checks. You need to provide the following details: name, address, a selfie, and government-issued ID image. The process takes from 7 to 10 business days for individuals and around two weeks for entities.
Payment options
The platform supports crypto deposits as well as accepts US dollars when it comes to fiat currencies. Crypto deposits are processed from external wallets while USD can be added by ACH transfer or bank wire transfer only.
Auction process
CoinList organizes auctions when multiple buyers determine the final clearing price of the object for sale. Usually, this is the highest price at which the entire allocation can be sold. These auctions are called Dutch auctions and they are known for their fair distribution of tokens since all the participants buy tokens at the same price which they have collectively determined.
The initial price is set by a seller while participants place bids for the number of tokens to purchase and the maximum price per token that they are ready to pay. The bids that are higher than the current auction price are accepted in the order they were received until the current demand meets or exceeds supply or the reserve price is met.
Every CoinList auction occurs in 4 phases: verification, bidding, pricing, and settlement. Bids are accepted in USD and USDC deposited to the CoinList wallet.
Withdrawals
If you want to withdraw funds from the exchange, the first step is to visit https://trade.coinlist.co/settings/transfers and select the amount you want to cash out to the CoinList wallet. When you complete this step, open the account menu and select the Wallets category there.
Open the corresponding wallet.
Click the Withdraw button.
Follow the instructions: enter the external wallet address to withdraw crypto or choose the payment option: ACH or bank wire transfer to get a USD payout.
Enter the amount to cash out.
Wait for the delivery of funds.
Fees
The transaction fee on CoinList is 0.5% paid in the counter asset currency. The minimum fee is $0.25 or its crypto-equivalent. CoinList Pro users can save on fees depending on the amount of the transaction: it ranges from 0.45% for a taker with a 30-day volume up to $20k and 0.10% with a 30-day volume over $100 million. Fees for makers start from 0.25% and drop up to 0.02%.

There is also a flat fee charged from withdrawals which is 0.0005 BTC in Bitcoin, for example.
Wire fees are absent for incoming transfers, while an outgoing US wire will cost $10 and a foreign wire – $30.
Limits
Every asset has a minimum and maximum trade amount. If you have a look at Bitcoin, it is a minimum of 0.00013 BTC and a maximum of 1.5 BTC. If you trade in US dollars, these limits are $5 and $20,000 respectively. A full list of limits for all coins is available here.
There are also limits for ACH transfers that depend on the user Tier. It is $10,000 a week for Tier 1, $2,500 a week for Tier 2, and $500 a week for Tier 3 for Instant ACH. Normal ACH transfer limits look as follows: $25,000 for Tier 1, $10,000 for Tier 2, and $2,500 for Tier 3.
BTC wrapping and unwrapping are also fee-based. Users pay a 0.25% fee with a minimum transaction size of 0.001 BTC/wBTC.
Staking fees depend on the asset and range from 8% for FLOW to 15% for NU, MINA, and CSPR.
Safety
CoinList treats security measures seriously and takes care of users and funds stored. All securities-related activity is conducted by EC Securities, LLC, an affiliate of CoinList, which is a registered broker-dealer and member FINRA/SIPC, located in San Francisco. The service conducts AML and KYC verification as well as offers 2FA for higher account protection. The website has a clear and accessible Privacy Policy and the Terms and Conditions to clarify all the points connected with its usability and information received from its users. The service has never been hacked and all the data received from users is stored on external servers for its safety.
Customer support
When it comes to assistance required by some CoinList users, there are questions to customer support service quality. You will immediately spot the red Help button in the lower right corner, but it is not a bot or a real assistant. In fact, it is quick access to the FAQ section. You can enter a word or a phrase and the system will offer you articles on similar topics. However, if you access the Help category on the bottom menu and press the blue button in the lower right corner there, you will get the possibility to reach out to the team behind the project.
Pros&cons
If you decide to become a CoinList user, what can you expect to see? Consider the following pros and cons now:
Pros:
All-in-one solution for crypto investors;
Early access to the best new tokens;
Cold storage of the majority of funds;
Compliance with anti-money laundering laws;
Mobile apps for iOS and Android devices;
A variety of features;
Support for fiat and cryptocurrency.
Cons:
A quite high bar for listing token projects;
Verification required;
Customer support is not easy to access.
Is CoinList legit?
The website is operated by Amalgamated Token Services Inc. through its wholly-owned subsidiary, CoinList Services, LLC, but this company is not a registered broker-dealer. The platform admits that the use of the website is subject to certain risks like all the activities connected with cryptocurrency. Another thing that makes users think twice about joining the platform is a quite low Trustpilot rating of 1.3 based on over 200 CoinList reviews. Therefore, it makes sense to question CoinList legitimacy and invest only those amounts that are not critical for losing.
Why CoinList?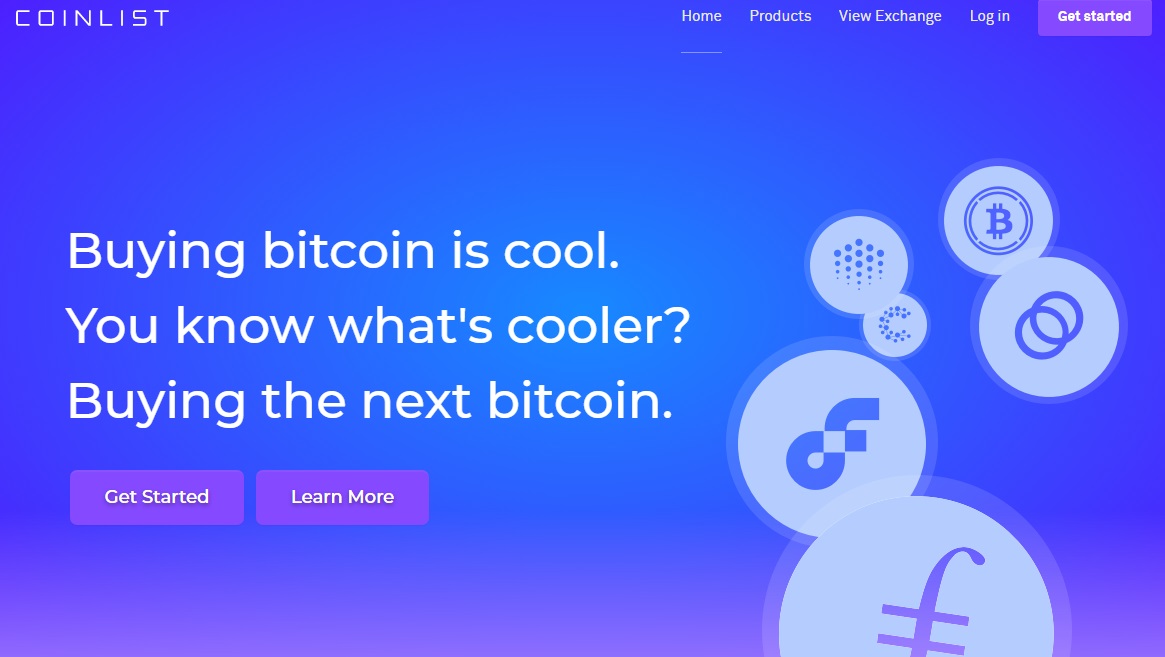 On the other side, CoinList has a number of features that make it attractive to crypto investors. It is a versatile project where users can learn about new tokens, trade crypto, borrow and lend it, get rewards for staking or participation in the referral program. The service can boast over 350k users and functional mobile apps, so there are many things why CoinList may be on your list of crypto-friendly platforms too.
F.A.Q
What is CoinList?
CoinList is an online platform where early adopters make investments in the best digital assets and trade them.
What are the main CoinList features and products?
CoinList offers early access to the best new tokens, trading them and other popular assets on the exchange, lending and borrowing cryptocurrency without spending coins, stake coins, and get dividends for that as well as store funds in the web wallet.
How long has CoinList operated in the crypto industry?
The service was launched in 2017 and has been for around 3-4 years in the crypto market.
Which coins are available for staking on CoinList?
CoinList supports staking rewards for ALGO, CELO, and FLOW, but additional assets are coming soon too.
What is the CoinList affiliate program?
Users can apply for the CoinList affiliate program and get 50% of trading commissions paid by referrals for 3 months since the first trade made.
Summary
CoinList is a trusted guide to the world of the best new tokens that appear in the crypto industry. The service has completed several successful token sales for the world's leading companies and gained a reputation among crypto investors. Naturally, it is important to remember that crypto trading is a risky process and there is always the possibility to lose funds, but CoinList can become a good assistant in finding out projects with verified investors the first!