If you're looking for how to sell Litecoin for GBP, then you've come to the right place. Unlike Bitcoin or Ether that is on almost all cryptocurrency exchanges, finding a venue to cash out litecoin directly to your bank account can be a challenge.
Table of Contents
The only route on some exchanges is to sell Litecoin for another cryptocurrency like Bitcoin and then withdraw BTC for GBP or EUR. Interestingly, we also found a few platforms that let you sell LTC for GBP.
We'll be sharing them in this article, and also show you exactly how to sell Litecoin in the UK.
A quick guide on selling LTC for GBP on Exmo
Register on Exmo.com and complete the KYC process.
Go to Funding and select Deposit on your LTC wallet.
Copy your LTC address and transfer funds to EXMO.
Go to Quick Exchange
Select LTC as the coin to give and GBP as the currency to receive.
Confirm the other.
Go back to Funding and withdraw GBP to your bank account.
Exmo is one of the few exchanges that allow direct conversion of GBP without going through the order book. Let's take a closer look at others that support the latter as a way to sell LTC for GBP.
How to sell Litecoin for GBP
CEX.io

CEX.io is a UK-based cryptocurrency exchange and one of the oldest in the industry. The platform launched in 2013 and supports fiat-to-crypto trading and cash withdrawal to local bank accounts.
How to do it:
Register on CEX.io and complete their KYC process.
Go to Deposit and click the currency menu to select Litecoin as the cryptocurrency to deposit.
Transfer your LTC to CEX.io using the provided address.
Go to Trade and select the LTC/GBP pair.
Change the order type to Market and fill in the amount of LTC to sell.
Click Withdraw and initiate a payout to your bank account.
Supported Fiat Gateways: Bank Cards (Visa, Mastercard), Skrill, Bank Transfer via SWIFT and ACH.
Pros
CEX.io is an established and reputable cryptocurrency exchange.
The CEX.io interface is intuitive and easy-to-navigate.
CEX.io supports a variety of deposit and withdrawal methods.
There is a LiveChat and phone call option to reach the customer support desk.
Cons
CEX.io offers only one route to sell Litecoin for GBP directly.
Their verification process is exhaustive and time-consuming.
EXMO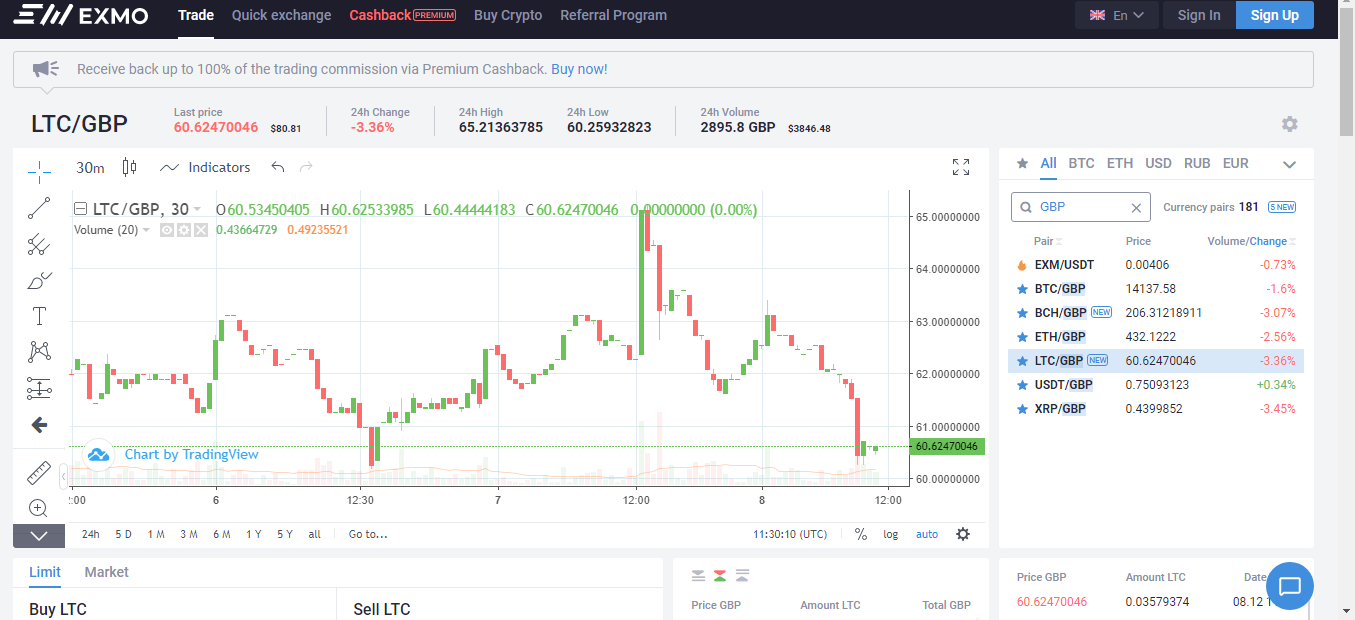 EXMO (which we used for the initial guide) is also based in the UK and offers two methods for selling Litecoin to the bank account. You can try the order book method if you don't want to use the Quick Exchange option we consider earlier.
How to do it:
Create an account on Exmo.com and complete the KYC process.
Go to Funding and click Deposit on your Litecoin wallet.
Create a new address and transfer funds to your EXMO LTC wallet.
Go to Trade and find the LTC/GBP trading pair.
Switch the Order Type to Market
Fill in the amount of LTC you wish to sell.
Go back to Funding click Withdraw on your GBP wallet.
Use your preferred withdrawal method to receive the funds.
Supported Fiat Gateways: Faster Payments, CHAPS.
Pros
The platform is easy to navigate.
EXMO provides multiple options to sell LTC for GBP.
There is a 24/7 customer service team.
You can trade many cryptocurrencies aside from Litecoin.
Cons
EXMO doesn't support card withdrawals.
The platform is not ideal for large transactions.
BC Bitcoin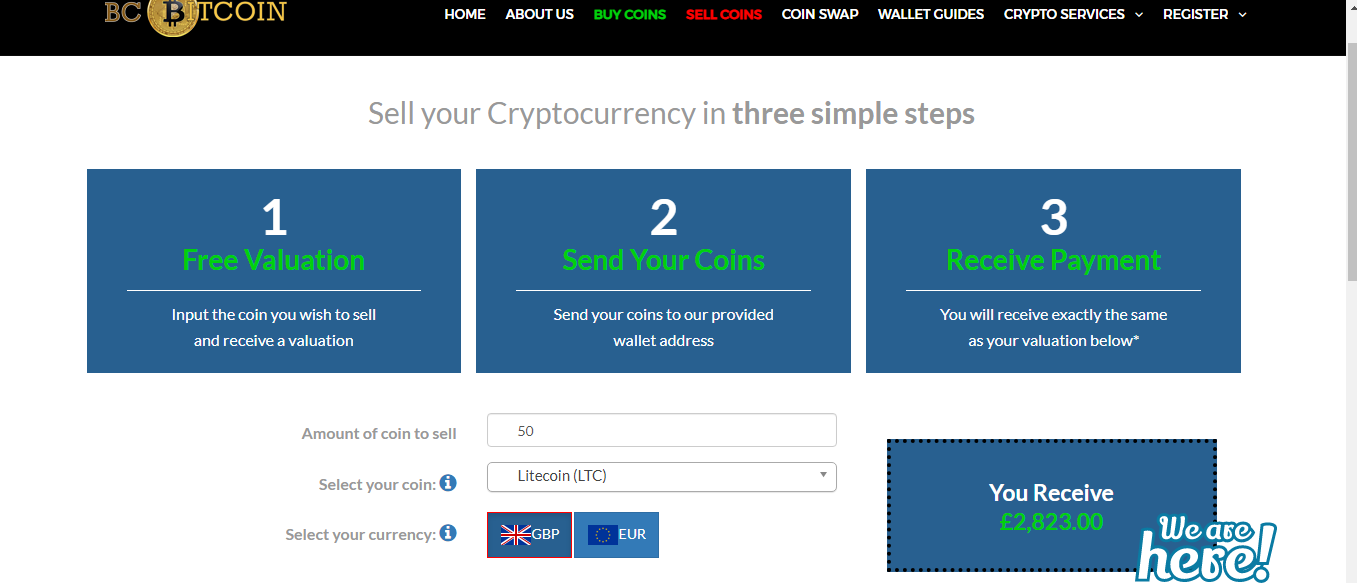 BC Bitcoin is yet another UK-based cryptocurrency exchange but operates in a slightly different manner to platforms listed so far. BC Bitcoin doesn't provide a wallet for you to deposit your coins and then sell from it.
Instead, they provide an address for you to send the funds and then make the equivalent fiat payment to your local bank account.
How to do it:
Register on BC Bitcoin and complete their user verification process.
Go to Sell Coins.
Input Litecoin (LTC) as the coin to sell and GBP as the currency to receive.
Review the provided price valuation and click Next Step.
Enter your bank details on the next page.
Transfer LTC to the address provided by BC Bitcoin.
The company will send GBP to your bank account within a reasonable time.
Pros
The transaction flow is simple and easy to use for anyone.
Transactions are almost instant.
BC Bitcoin offers LiveChat support on its website.
Cons
BC Bitcoin has a cumbersome verification process.
The exchange doesn't offer many fiat withdrawal options.
The transaction size must be up to £100.
Supported Fiat Gateways: Bank Transfer.
Wirex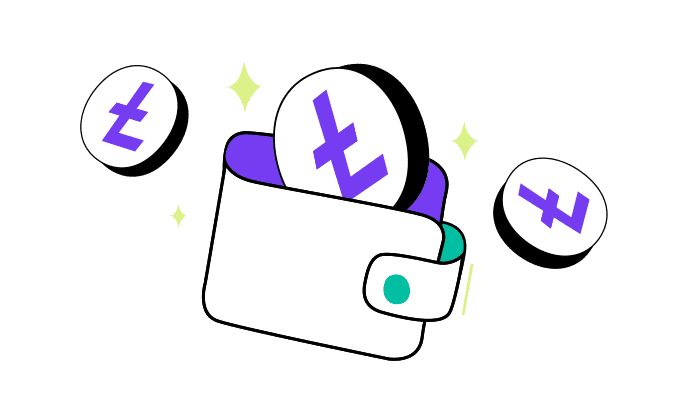 Wirex is not mainly a cryptocurrency exchange service. It is an app that lets users store and hold both crypto and fiat currencies. The platform also offers the chance to convert between these currencies, and it is this 'conversion' feature that makes it possible for anyone to sell LTC for GBP using Wirex.
How to do it:
Install the Wirex App from your device's app store.
Alternatively, you can use the web version.
Register and complete the KYC process.
Go to My Accounts and select Add Funds.
Select Litecoin and copy your address to transfer funds from an external wallet.
After the transaction confirms, select the Exchange option from your Litecoin wallet on Wirex.
Input the amount to exchange, and convert LTC to GBP.
You can then withdraw to your bank account or spend it with the Wirex Visa Card.
Supported Fiat Gateways: Wirex Visa Card, Faster Payments, SEPA, SWIFT.
Pros
Wirex provides an intuitive UI for crypto exchange.
Users can access GBP instantly via the Wirex Visa Card.
Exchange fees on Wirex are friendly.
You can also trade LTC for other fiat and cryptocurrencies.
Cons
Wirex has an exhaustive verification process.
The Wirex Visa Card isn't available to users in some countries.
Kraken

Kraken is a US-based cryptocurrency exchange that launched in 2013. The platform primarily caters to the need of professional traders, but can also serve as an option for those looking to sell Litecoin for cash.
How to do it:
Create an account on Kraken.com and complete the verification up to Pro levels.
Select Funding and then Deposit on your Litecoin wallet.
Copy the provided address and transfer funds to it.
Click the Buy Crypto tab on the top of the website.
Switch the tab to Sell and select Litecoin
Input the amount of LTC to sell and select GBP as the currency on the next page.
Confirm the order details and complete it.
Go back to Funding and Withdraw from your GBP wallet.
Supported Fiat Gateways: Faster Payments, CHAPS, SWIFT.
Pros
Kraken is a reliable and trusted cryptocurrency exchange.
Kraken has a responsive customer service desk.
Users can get GBP withdrawal almost instantly via Faster Payments.
Kraken is a fee-friendly trading platform.
The Instant Buy option is ideal for first-time investors.
Cons
Their verification process takes 24 hours to confirm.
Kraken doesn't support card withdrawals.
Selling LTC for cryptocurrency: a short step-by-step guide.
You may not want to cash out LTC for GBP but instead, want to sell your litecoins for bitcoin or another cryptocurrency. A common way to sell is via the order book on your preferred exchange and choosing the right trading pair.
How to do it:
Sign up on the cryptocurrency exchange complete their KYC (if compulsory crypto trading.)
Deposit LTC using their Litecoin address provided on your account.
Go to Trade or Markets.
Choose a suitable trading pair for the crypto you want to buy (e.g. LTC/BTC)
Switch the order type to Market buy.
Fill in the amount of LTC to sell and confirm the order.
Withdraw the purchased crypto to your non-custodial wallet or leave it on the exchange at your own risk.
Note: On some exchanges, there may be no direct LTC pair for the crypto you want to purchase. In such a case, you can sell LTC to BTC or USDT using the LTC/BTC or LTC/USDT pair. You can then complete the process by choosing the corresponding pair for the crypto you want to buy, e.g., BTC/BNB, USDT/BAT etc.
Things to consider before selling Litecoin
Before offloading your Litecoin holdings, you may want to consider the following factors:
Market Condition: At its all-time high in December 2017, LTC reached a price of $375 per coin. The cryptocurrency's all-time low is currently the $1.11 price recorded in 2015, and the odds of falling back to that territory is very low.
Therefore, it may be best not to sell LTC if prices are very low compared to the time you purchased it. Long-term holdings usually pay off and offer higher returns than selling when market prices are low.
Exchange Fees: The exchanges listed in this article charge fees for trading LTC and then withdrawing to your local bank account. So, we recommended that you compare fees and add that value to the loss you'll incur on selling LTC.
Tax Obligations: Whether you make a profit or loss on your LTC holdings at the point of sale, there are usually some tax obligations associated with it. You can read our article on crypto taxation in the UK, and then choose whether or not to consult a tax expert before selling Litecoin.
Privacy and security tips
Keep these privacy and security tips in mind while using an exchange or non-custodial wallets to trade and transfer Litecoin.
Use strong and different passwords on different exchanges where you register.
Enable two-factor authentication (2FA) or other security features provided by the platform.
For large amounts, get a hardware wallet since they offer substantial protection against theft (see our Ledger vs Trezor wallet comparison.)
Before initiating large transfers, send a test transaction and then follow up with the transfer if successful.
Always double-check addresses before hitting the send button. Clipboard malware on your PC or phone could replace the address you copied with that of hackers.
Use only tier-one exchange such as the ones listed in the article. Also, only leave overnight an amount you can afford to lose.
Only complete KYC verification levels that match the amount you want to trade. Exchanges are susceptible to data breaches and may lose your information to hackers when such happens.
Beware of phishing scams asking you to provide your login details, reset the password, or provide your seed phrase. Double-check email sender addresses before taking any action on your exchange account.
Conclusion
Whether you acquired LTC via mining, a gift from a friend, or as an investment asset, a time will come when you need to sell some or all of them. You can conveniently do so using any of the exchanges covered in this article.
We outlined step-by-step how you can sell LTC for GBP using these platforms and hope that you find it seamless transacting with them.