Introduction
With the GameFi space still developing, we are not seeing many Web3 gaming projects with immersive gameplay and stable monetary incentives just yet. Advanced AI and VR technologies are rarely being utilized, and prizes are often volatile or deliberately difficult to attain. These challenges often result in high user turnover and players migrating from one game to another.
Farcana, a cutting-edge Web3 gaming project, addresses these issues by combining high-quality graphics and immersive gameplay with a consistent reward system. Apart from that, the company collects user data ethically and processes it through its sister project, Farcana Labs, contributing to gaming and health research.
Table of Contents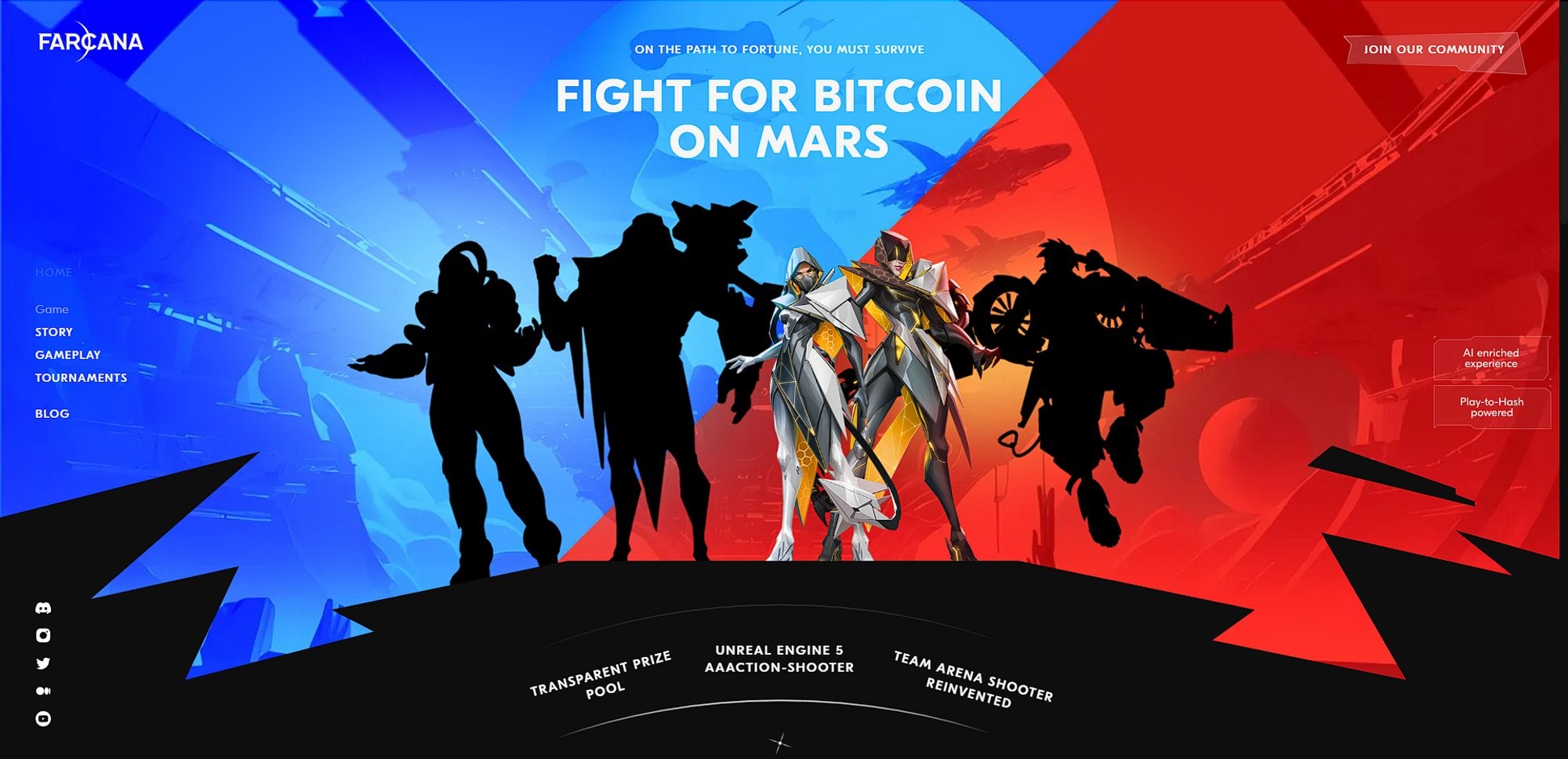 Next-gen shooter powered by AI and Bitcoin
Farcana is a third-person team-arena shooter game. Its storyline revolves around a gladiator-style arena on Mars where participants fight in tournaments for monetary prizes, terraform the land and earn bonuses. With a selection of over 20 characters, various NFT weapons, and battle modes, Farcana offers a vast number of gameplay options.
To create a new-level gaming experience through added immersion and interactivity, Farcana employs VR devices to measure player responses, which are then interpreted, processed, and utilized for further guidance throughout the game. Consequently, the game's difficulty level and storyline are adapted to the player's skill level through the native AI model.
When it comes to monetization, the developers have moved away from conventional models such as advertising and one-time fees. As an alternative, they offer players the option of sharing their personal data, including physical condition, heart rate, and other metrics, through BCIs which scientists can then utilize to develop health technologies.
Farcana's prize pools are supported by their own Bitcoin mining pools — therefore, stable and not dependent on the number of players enrolled in tournaments or community activities.
Farcana has partnered with several world-renowned UFC fighters, including Albert Duraev and Khamzat Chimaev, and has formed a strategic partnership with the Dubai Future Foundation, backed by the UAE government. Dravus Investment has provided $1M in funding to support Farcana's "green" data center development.
Key Features
Combines high-quality game design, AI, and biotechnology.

Delivers a hassle-free incentive mechanism devoid of bothersome advertisements and additional charges.

The storyline consolidates participants into fixed teams of four, encouraging socialization through in-game interactions and enhancing their gameplay experience.
Farcana Labs: driving progress in health and AI research
Farcana Labs, a subdivision of Farcana, is a scientific laboratory dedicated to gaming and AI initiatives. It is based in Dubai. The laboratory's primary objective is to experiment, enhance, and perfect technologies and tools, including brain-computer Interfaces (BCIs), to elevate the gaming experience and collect data for health research.
To achieve this goal, Farcana Labs collaborates with some of the world's most distinguished research scientists and institutions such as the National University of Singapore, King Abdullah University of Science and Technology, ETH Zürich, City University of Hong Kong, and Huazhong University of Science and Technology.
Furthermore, Farcana Labs serves as a fund for investing in new gaming technologies.
Currently, the laboratory is focused on developing multi-sensor devices that enable the ethical collection of player data to diagnose common neurodegenerative disorders. One of the latest papers published by Farcana Labs researchers focuses on the use of labyrinths in studying the neuron activity of the human brain.
The team
The project team stands out because of its diverse range of expertise present in both Farcana and Farcana Labs. In addition to IT specialists, scientists, and biotech professionals, the project has even joined forces with renowned UFC fighters like Albert Duraev and Khamzat Chimaev to enhance the game experience.
Ilman Shazhaev, founder and CEO of the project, is an international tech and crypto entrepreneur and investor with a scientific research and engineering background.
With a decade of experience as a founder and co-founder of deep-tech startups, Ilman holds an MSc in Mechatronics and a Ph.D. in Management of Science and Engineering. An author of 30 scientific publications and ten registered IT patents, he has been appointed as a United Nations Hired Expert for his contribution to health innovations.
Dr. Dmitry Mikhailov serves as Farcana's Chief Scientific Officer and is a Visiting Associate Professor at the National University of Singapore. An accomplished research scientist, professor, lecturer, and business innovator, Dmitry combines Big Data, AI, and engineering to create innovative products that increase sustainability and efficiency across the tech and biopharma sectors.
Adam Zaitov, the project's Lead Blockchain Architect, is a Solidity developer with over 17 years of experience in IT and five years of expertise in developing high-load blockchain infrastructures for crypto exchanges, market making, and multi-chain payments.
Pros and cons
Pros
Engaging and well-designed gameplay;

Specifically addresses underserved

Asian audiences;

Cooperates with leading global research institutions and scientists to create immersive UX;

Partnerships with leading research institutes and support from the Dubai government;

Player data is used in health research to diagnose Parkinson's disease, dementia, and other cognitive impairments.
Cons
As of now, has a smaller user base compared to the larger games;

Has not yet been launched.
Summing up
Farcana has not been released yet. However, it has the potential to offer a unique player experience powered by scientific research performed in Farcana Labs and become a groundbreaking project in both the Web3 gaming and the team arena shooter industry.