With over six million users, Kraken is undoubtedly one of the most popular cryptocurrency exchanges in the world. However, customers can start to look for Kraken alternatives for a number of reasons that do not have to do with poor service from the platform.
If you fall into that category, then you'll find this article with a list of Kraken alternatives really helpful. First, though, let's go over some of the disadvantages of using Kraken as a trader or investor.
Table of Contents
Kraken Disadvantages
Limited Credit and Debit Card support: Kraken primarily supports fiat deposit via bank transfer and other traditional channels. This method can significantly delay transfers to and from the platform for as long as three days on certain occasions.
Additionally, while the exchange allows credit and debit card use for Instant Purchases, this service is not available to customers in popular jurisdictions.
Fewer Coin Selections: Kraken competitors like Binance and Kucoin list more coins. Sticking to Kraken reduces your ability to expand your portfolio at will.
Kraken also does not list new coin projects as early as other exchanges, limiting the ability of investors to profit from early price action on unlisted coins.
Rigorous KYC Process: If you're a fan of privacy, then you'll likely be irritated by Kraken's lengthy requirements for verifying your identity and accessing the platform's full features.
You cannot use Kraken for even a low amount of crypto-to-crypto trade without completing at least the ID verification process.
With these issues in mind, it should be relatively easier for you to find out what you need to look for in Kraken alternatives.
What to Look for in an Alternative
Full Credit and Debit Card Support: Most cryptocurrency exchanges let you deposit and withdraw fiat directly from your bank card. With this option, you can more quickly react to market action and move funds into your exchange account to buy when prices drop.
Better Coin Selection: Find an exchange that lists your favorite coins, as well as add new coins to their platform in response to market demand. While you probably don't want to trade so-called "shitcoins," a good Kraken alternative should offer large-cap assets, as well as new and promising projects.
Fast KYC: For some new investors, the speed at which an exchange can verify and approve their details could determine whether or not they invest in crypto. Hence, a good Kraken alternative should offer faster KYC verification and also request less personal data from new users.
Five Alternatives to Kraken
Binance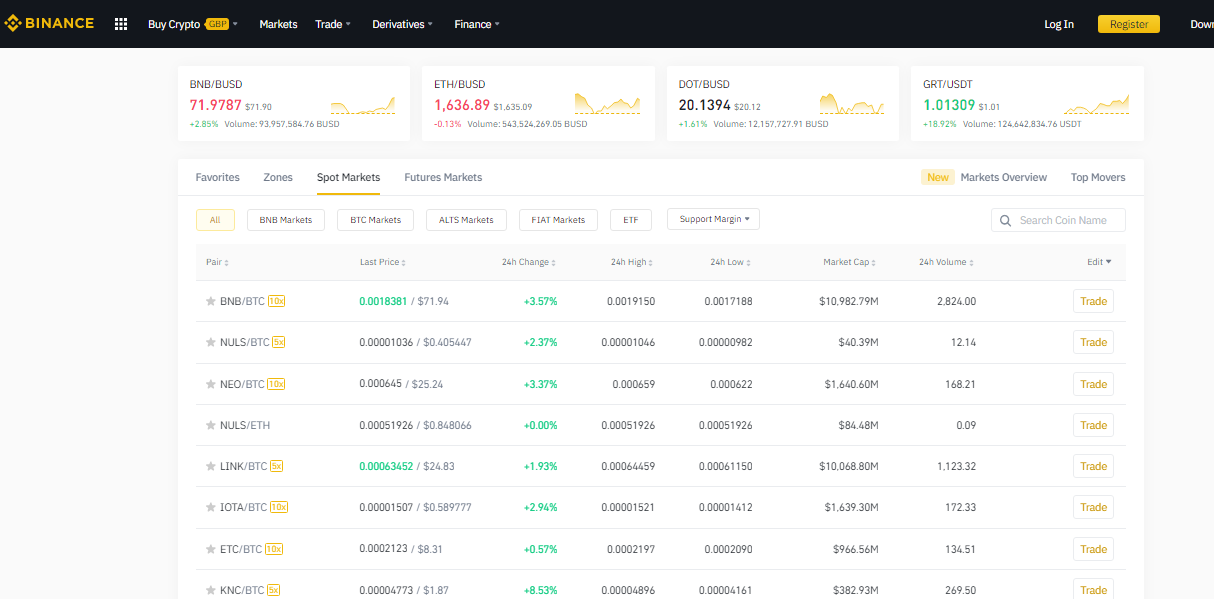 One has to be really new to crypto to not have heard about Binance. Binance is one of the world's largest cryptocurrency exchanges. It is more than a great Kraken alternative, offering several features that make it one of the best platforms for both traders and investors alike.
Features
Trading interface for professional and beginner traders.
Staking and farming of crypto assets for passive income.
Visa-powered debit cards to spend crypto on the go.
Intuitive mobile app with full exchange features.
Peer-to-peer trading with support for many local currencies.
Cryptocurrency futures and margin trading.
Crypto-backed loans.
Pros
Binance supports more cryptocurrencies than Kraken and are usually among the first to list hot and exciting projects for trading.
The exchange offers unparalleled liquidity across its trading pairs, and also supports instant conversion.
Through the Binance Academy platform, new investors can find a range of helpful and educational content to help them grow their knowledge of the market.
Users can enjoy lower trading fees by choosing to pay them using Binance's native token, BNB.
Binance supports withdrawals and deposits to and from many blockchain networks, giving users the option to tap into networks that have cheaper fees.
Binance offers limited KYC-free crypto-to-crypto trading. The KYC verification process is only mandatory for users with large transactions and those who want to directly deposit fiat on the exchange.
Cons
Users report having to wait several hours and sometimes days to reach Binance customer service.
Binance is loosely regulated compared to Kraken.
It is also not the best platform for beginners as the abundance of features might make it difficult for them to find their way around the platform.
Binance.com is not available to US customers.
Supported Payment Methods: Bank Transfer, Credit and Debit Cards, Cryptocurrency, multiple fiat gateways via P2P trading.
CEX.io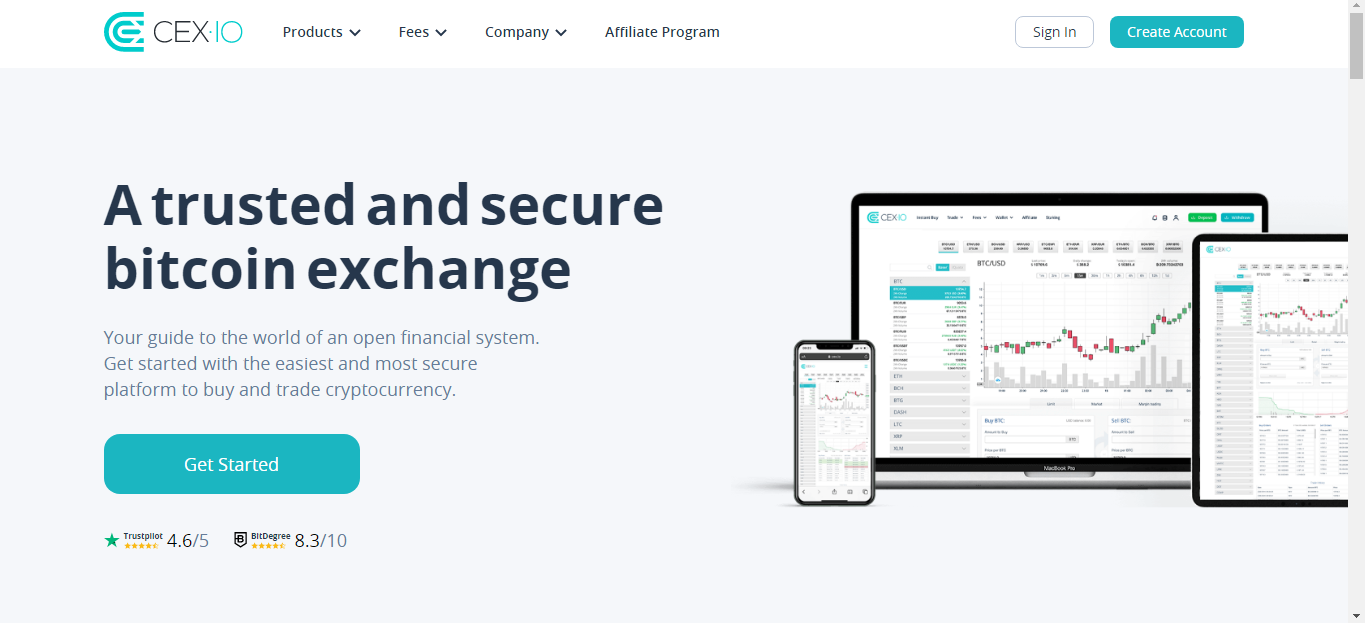 CEX.io is based in the United Kingdom and is one of those sites like Kraken. Both platforms launched a year apart from each other and offer quite similar features. The primary difference is that Kraken is more popular and thus has more users than CEX.io.
Features
Order-book trading interface.
Instant Purchases with credit and debit cards.
Quick conversion from one crypto to another.
Staking of crypto assets for passive income.
Margin trading for supported assets.
Crypto-backed loans.
Mobile app for on-the-go users.
Pros
CEX.io is a highly secure platform with no known history of a security breach.
The platform is highly regulated in most jurisdictions where it's available (including the US).
CEX.io has a clutter-free user interface and thus is an excellent option for new investors and traders.
CEX.io offers a faster customer service experience, including the option to receive assistance via phone.
The exchange supports multiple fiat gateways, especially for UK customers.
Cons
CEX.io does not provide advanced features for sophisticated traders.
The platform lists fewer coins compared to Binance and Kraken.
Supported Payment Methods: Bank Transfers, Credit and Debit Cards, Skrill, Neteller, Cryptocurrency.
Coinbase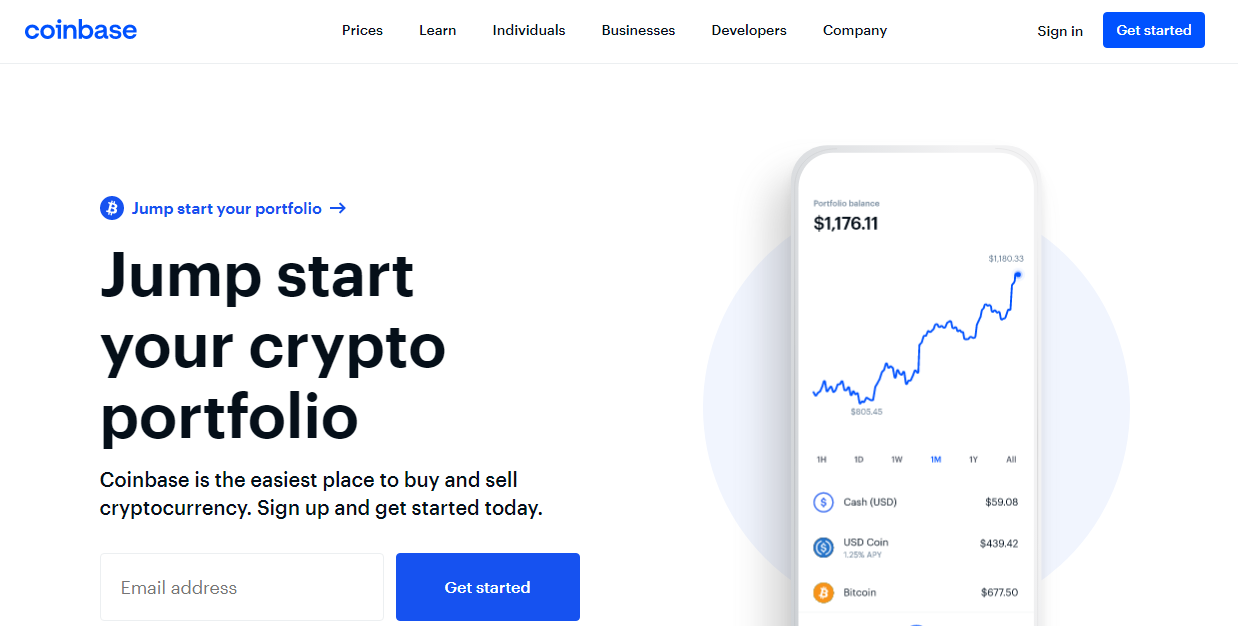 Coinbase launched in 2012 and primarily serves retail users with an interface that makes it easy for even a noob to get in on Bitcoin. Coinbase has since grown its business to include crypto custody and brokerage services for corporations. Coinbase is publicly listed on the Nasdaq stock exchange.
Although more popular in the United States, Coinbase is a great Kraken alternative for users living in supported countries.
Features
Instant buy and sell
Pro trading platform for experienced traders.
Earn crypto by learning about new projects.
Crypto staking
Debit cards to spend crypto on the go.
Recurring purchases
Personal user vaults with time-delayed withdrawals
Portfolio tracking and price alerts.
Pros
Coinbase is a highly regulated and secure crypto exchange.
Coinbase offers a highly intuitive user interface on both web and mobile.
The exchange provides many excellent educational materials for new investors to get acquainted with the industry.
Coinbase supports multiple fiat deposits and withdrawal options.
The exchange offers a "Private Client" service targeting high net worth individuals and family offices.
Coinbase makes up for its poor customer service with an exhaustive FAQ page addressing common questions for users.
Cons
Like most top exchanges, Coinbase users report difficulty reaching the customer service desk to resolve issues.
Coinbase supports fewer cryptocurrencies compared to Kraken and Binance.
Supported Payment Methods: Bank Transfer (ACH, Faster Payments, SEPA), Debit and Credit Cards, Cryptocurrency, PayPal.
Coinmama
If the only thing you do with Kraken is buying crypto and sending it to your personal wallet, then you might consider Coinmama to be an excellent Kraken alternative. Coinmama is not your typical cryptocurrency exchange.
Instead, it is a brokerage platform, allowing you to buy crypto and have it sent to an address you designate. To sell, you transfer crypto to an address they provide, and then receive the equivalent amount in your bank account.
Features
Instant delivery with card purchases.
Multi-currency support.
Loyalty program
Over-the-counter (OTC) desk.
Pros
Coinmama supports a variety of fiat payment methods.
Coinmama has an excellent customer support team.
The KYC process is relatively fast and can be completed and approved within a few minutes.
Coinmama has high spending limits for one-time regular crypto purchases.
The platform provides one of the most straightforward ways to buy crypto and have it delivered to your personal wallet.
Cons
Coinmama supports only nine cryptocurrencies.
The platform does not allow users to set up recurring purchases.
Supported Payment Methods: Credit and Debit Cards, Apple Pay, Bank Transfer (SEPA, Faster Payments, ACH), Google Pay.
Kucoin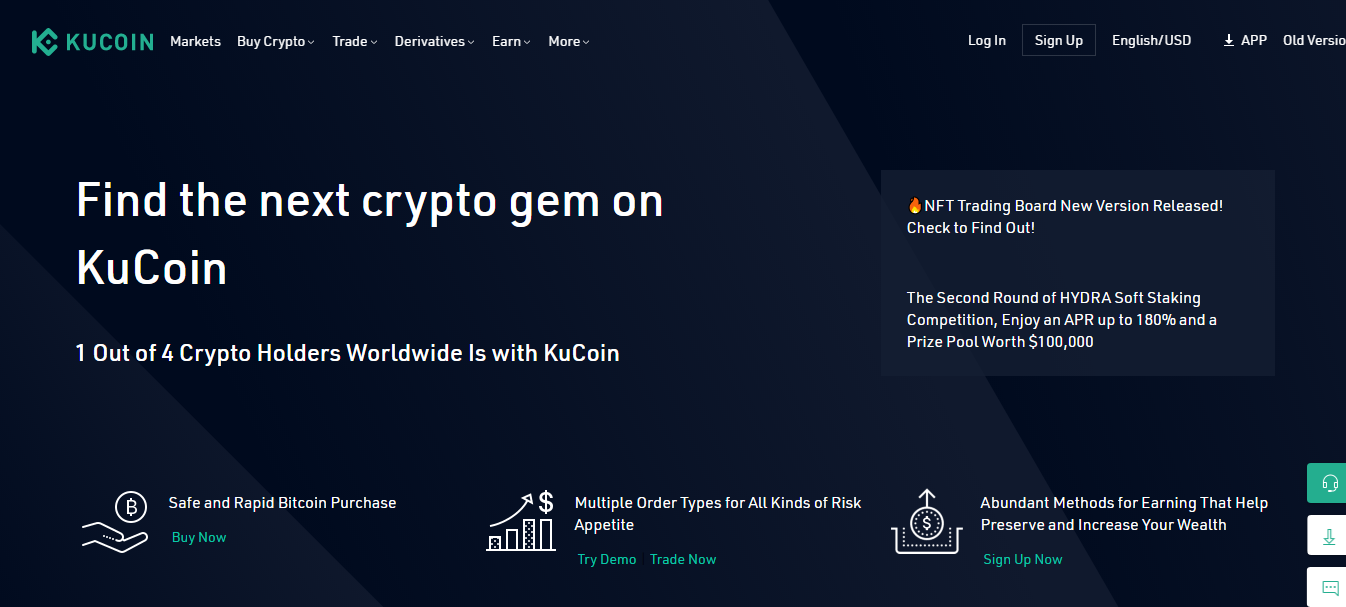 Kucoin is a lot more like Binance and thus a viable substitute for professional traders. The platform launched in 2017 attracted new users by offering a wide range of coin selections and easy onboarding. Basic users do not need to complete the KYC process unless they want to use any of the fiat channels on KuCoin to deposit money.
Features
Instant Buy
Professional Trading Platform
Futures and Margin Trading
Staking and Lending
"Spotlight" platform investing in new projects.
Trading Bot
Peer-to-peer Trading
Pros
Kucoin is an ideal platform for professional traders.
The exchange lists new and hot projects, allowing investors to gain exposure as soon as possible.
Users can enjoy lower trading fees and daily bonuses by holding Kucoin's native token, KCS.
Kucoin has better customer service than most top exchanges, with replies often coming within a few hours after a ticket is submitted.
Cons
Kucoin has numerous features that make it not ideal for beginners who just want to buy Bitcoin.
Kucoin has suffered high-profile security breaches in the past, although the platform reimbursed affected users.
Supported Payment Methods: Cryptocurrency, Credit and Debit Cards, Bank Transfer (SEPA).
How we picked and tested
We made this list of sites like Kraken by considering Kraken's strongest features and then comparing it to exchanges that offer similar options to users.
We mentioned exchanges with advanced trading platforms, namely Binance and Kucoin. For retail users looking to buy and stake popular cryptocurrencies, Coinbase and CEX.io are also excellent choices, offering nearly exact functionalities like Kraken.
Coinmama, as a broker, is ideal for buying and selling transactions, with coins being delivered directly to and from the user's personal wallet.
How to choose the best Kraken alternative
To make the right choice, you need to consider your needs as an investor or trader. Traders often require advanced functionalities such as charting, leverage, order types, and market depth to plan their trades.
If you're a new investor and simply want to buy and sell crypto, then you probably do not need all these features. Platforms like Coinbase, Coinmama, and CEX.io are easier to navigate and will get you the results you need.
On the other hand, if you're an experienced and professional trader, Binance and Kucoin provide all the advanced tools you need and even more. For instance, Binance and Kucoin are better than Kraken in terms of leverage options for both spot and futures markets.
Conclusion
Kraken is one of the best cryptocurrency exchanges on the market today. However, "variety is the spice of life," and it doesn't hurt to know the other options you can explore if you want a platform to use in place of or alongside Kraken.
This article reviewed five alternatives to Kraken, noting their features, pros, and cons, and supported payment options. It also revealed how you can choose the best platform that suits your needs as an investor or trader.
In the end, you'll have to choose the one that best suits your portfolio. Also, no one says you can hold an account with multiple exchanges!