Mdex is a decentralized exchange platform built on Binance Smart Chain (BSC) and Huobi Ecological Chain (HECO). Given the success of many native tokens for BSC-based exchanges, many are looking for how to buy Mdex tokens.
Interestingly, there are a number of platforms where you can buy MDX. The token is listed on decentralized exchanges and also recently got added to Binance. We'll review how to buy it on whichever platform you choose.
Table of Contents
If you already have USDT or BTC, then you can easily get some MDX on Binance using the steps outlined in the next heading.
Quick guide on buying Mdex (MDX) on Binance
Register at Binance.com.
Go to Wallet > Fiat and Spot
Click Deposit on your USDT or BTC wallet and transfer funds to the provided Binance address.
If you transferred BTC, go to Trade > Convert to convert the BTC to USDT.
Next go to Markets and find the MDX/USDT pair.
Under the box for Buy MDX, switch the Order Type to Market (Use Limit Order to buy when price drops to a specific level).
Enter the amount of USDT to spend on the purchase.
Click Buy MDX
Where to buy Mdex (MDX)
Huobi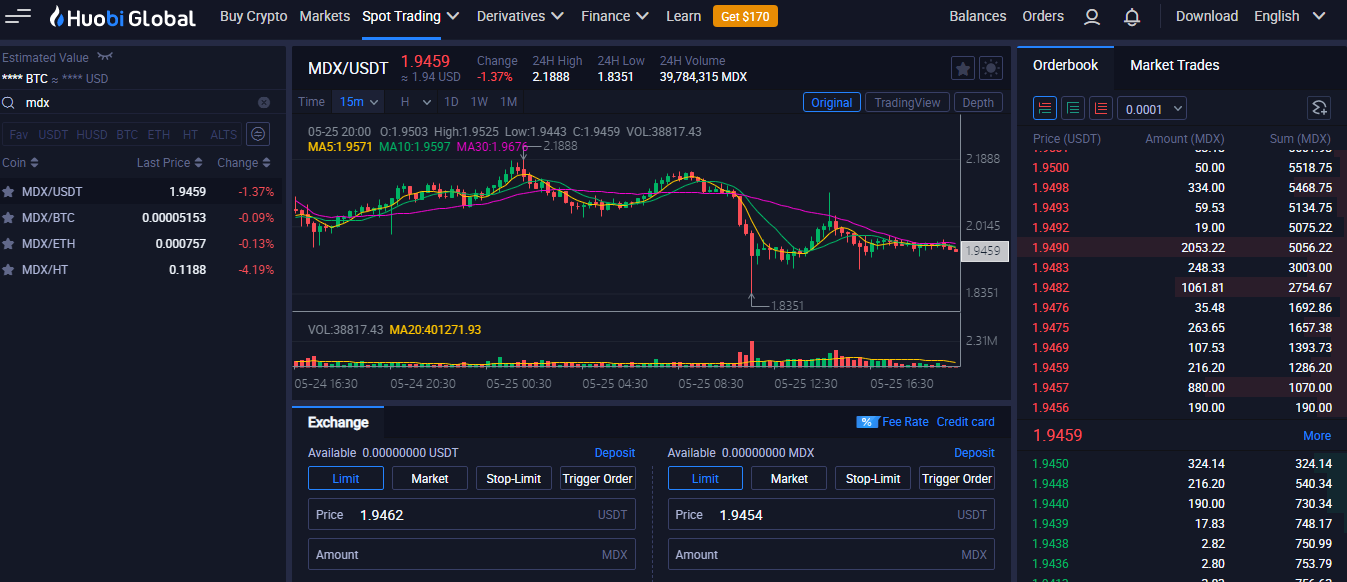 Being a native HECO-chain project meant that listing of MDEX on the Huobi exchange was almost always inevitable. At the time of writing, Huobi offers MDX pairs against BTC, ETH, USDT and HT (Huobi token).
How to do it:
Create an account on Huobi.com and verify your email
Go to Balances > Exchange Account
Locate your USDT wallet and transfer funds to the provided address (Huobi also has a prompt to send the address to your email.)
Go to Spot Trading > Exchange
Use the search bar on the left side to locate the MDX/USDT pair.
Switch the Order Type to Market
Fill in the amount of USDT to spend on MDX and click Buy MDX.
MDEX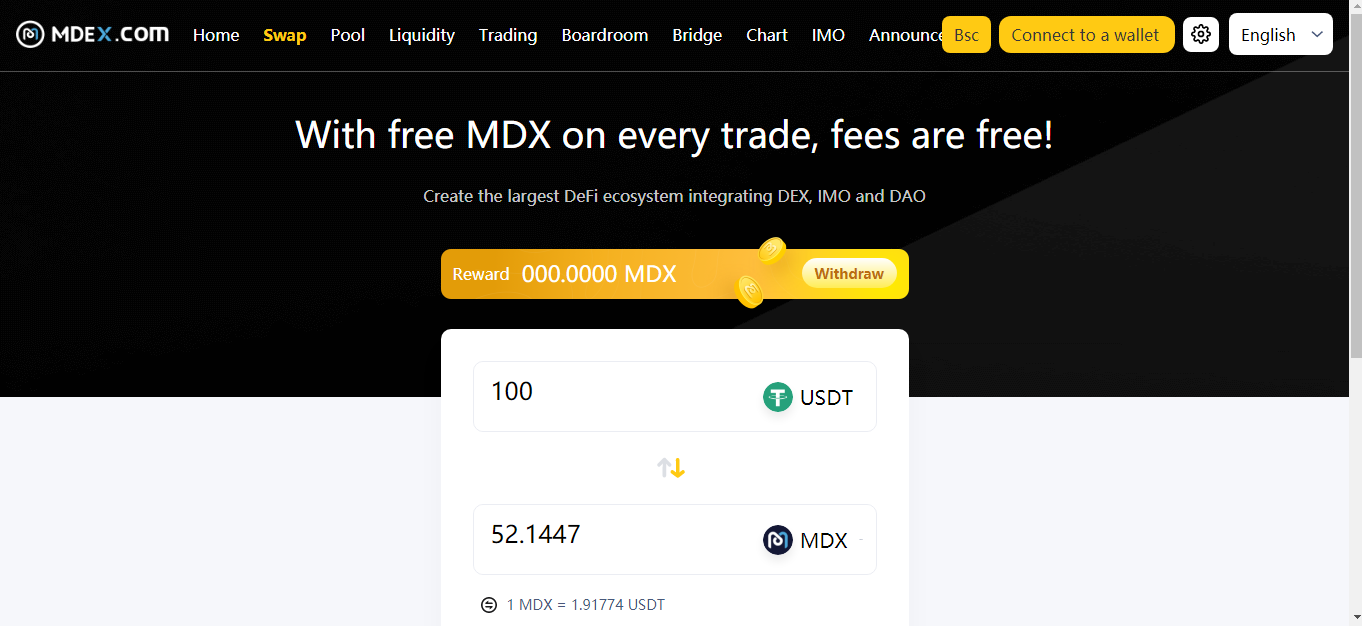 MDEX is the decentralized exchange platform for which the MDEX token serves as a native and governance token. If you're conversant with using DeFi applications, especially on Binance Smart Chain, then you can buy MDEX tokens on the platform
How to do it:
Install the Metamask extension and connect it to the Binance Smart Chain (you can read this guide from Binance Academy on how to do it).
Withdraw some BNB from Binance.com using the BEP-20 (BSC) wallet address on your Metamask or Trust Wallet.
Visit MDEX.com and click Swap from the provided options.
Select BNB as the token to swap to MDX.
Approve BNB spending and wait for network confirmation.
Once successful, click swap MDX and confirm the transaction.
Congrats! You've purchased some MDX.
To view the purchased assets on your wallet, add MDX as a custom token to Metamask or Trust Wallet using this contract address: 0x9c65ab58d8d978db963e63f2bfb7121627e3a739
Gate.io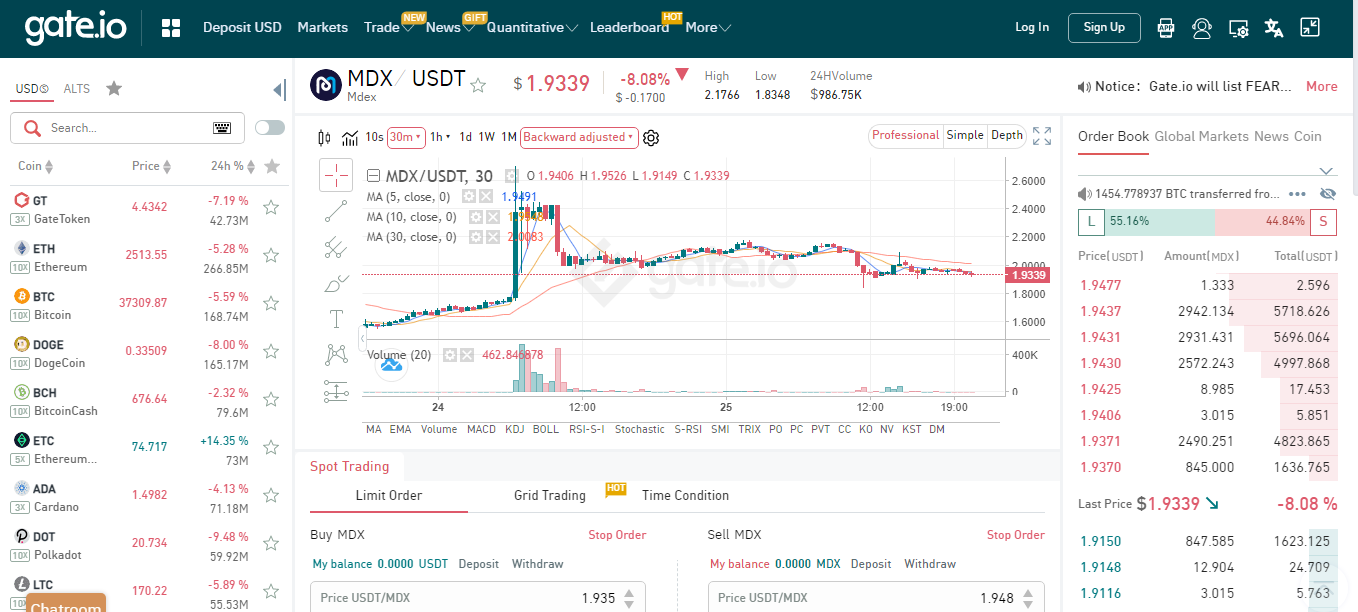 Gate.io is another popular centralized exchange with support for MDX. Unlike the other options considered so far, though, Gate.io only offers an MDX/USDT trading pair. In other words, you have to send USDT to the platform to directly exchange it to MDX, or convert whatever crypto you send there to USDT first before you can buy MDX.
How to do it:
Sign up at Gate.io and complete the email verification process.
Go to Deposit and find your USDT wallet address from the list of supported assets.
Transfer USDT to the address provided by Gate.io
Alternatively, you can use the Deposit USD option on the website to buy some USDT
using your credit/debit card. (Note that this requires KYC verification).
Next, go Trade > Spot Trading
Switch the markets table to Alts and search for the MDX/USDT pair.
Enter the Limit Price at which you wish to buy MDX. This price has to be slightly lower or equal to the current market price on the order book.
Enter the amount of USDT to spend.
Click Buy MDX.
Where to store MDX
Hardware wallets such as Trezor and Ledger are among the most secure ways to store your crypto assets. However, none of these devices support MDX as it is a newly launched token.
The alternative would be to store MDX on other applications that also let you keep your private keys or seed phrases. The following options are available:
Things to consider before buying Mdex Token
Price History: Although past performance does not guarantee future price gain, you might want to consider MDX's price action in the past few months that it has been on the market. The token is trading at an £1.34 price at the time of writing this article.
At its peak, just a month after launch, the token reached as high as £5.7. For one thing, there is no guarantee that the token will revisit its previous highs, and it might as well soar even higher. Investors must gauge their risk appetite and invest accordingly.
Competition: Mdex is competing in an already saturated market for decentralized exchanges. On BSC alone, the project trails PancakeSwap, BakerySwap, and a number of other DEXes that had a first-mover advantage.
The Ethereum blockchain, Uniswap, 1inch and Sushiswap are also more prominent competitors, leaving Mdex with the daunting task of raising its own community and launching numerous features to outwit competitors.
Privacy and security tips
The recommended options in this article for storing MDX tokens are connected to the internet, and thus not fully secure. Hence, you must guard against accessing your wallets using public computers.
If you use decentralized exchanges such as Mdex for your purchase, it might be best to dedicate a computer or device for this purpose and also use strong passwords to secure your wallet.
Write and store seedphrases in secure offline locations and use material that is susceptible to fire and other harsh incidents.
If you purchase and store tokens on an exchange, ensure you enable advanced security features such as email verification for withdrawal and app-based two-factor authentication (2FA).
Conclusion
This article explained how to buy Mdex tokens using both centralised and decentralised exchanges. Users must decide how much to invest in the asset and do so with full knowledge of the risks and rewards associated with cryptocurrency investing.