The Ledger Nano X is one of the most widely used cryptocurrency hardware wallets. This Ledger Nano X review will explain in detail everything you need to know about the device and help you decide whether it can be trusted.
A vital factor to consider when delving into the cryptocurrency market is to determine the best storage method for your assets.
There are so many cryptocurrency wallets in the market, and they have been grouped under two categories — hot and cold wallets.
While hot wallets are online-based, which store your cryptocurrencies and private keys on the internet, the latter keeps your funds offline.
The idea of storing users' private keys offline is the main reason cold wallets are almost impossible to hack because they cannot be accessed remotely. Cold wallet users will be required to confirm transactions on the device, which involves pressing a button or two.

With those points in mind, let's examine Ledger Nano X to check whether it is worth the hype and price.
What is Ledger?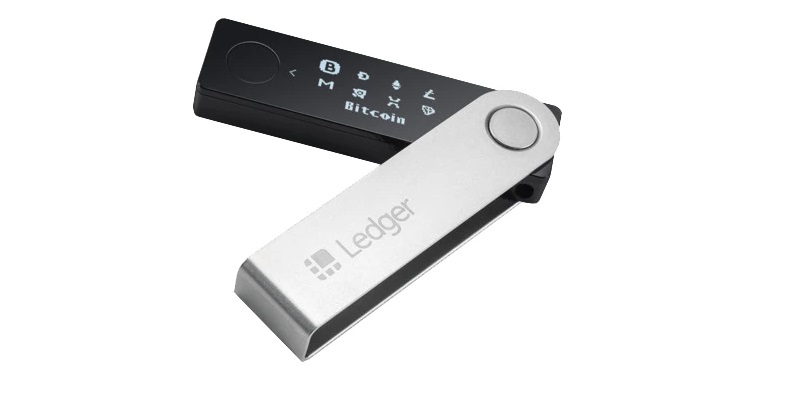 Launched after the huge success of Nano S, the Nano X wallet was developed to give users an improved experience in storing their cryptocurrencies in an efficient cold storage solution.

Developed by Ledger, a France-based firm that launched in 2014, the company has deployed its more than seven years of experience to create one of the best cryptocurrency storage devices on the market.
Ledger is among the top three biggest wallet developers, with its focus mainly on developing different products and services to protect cryptocurrency assets.
The Nano X comes with improved features and functionalities, such as Bluetooth connectivity, 100mAh lithium-ion battery, which supports more cryptocurrencies and applications, among other things.
With Ledger Nano X, your assets are always with you at all times and no one can gain remote access to them unless you compromise your security.
The Technology
Nano X is quite different from other Ledger wallets. The major feature of the product is the integration of Bluetooth connectivity, which allows users to connect it to their smartphones and PC devices without the default USB cable.
The Nano X also comes with a 100mAh lithium-ion battery (0.37Wh = 1 cell) and can stay on for more than five hours while you send and receive funds.
The device is compatible with Windows 8 + and Mac OS, and smartphones such as Android 7+ and iOS 9+.
Like its predecessor, Nano X runs on Ledger's unique operating OS dubbed BOLOS and has a custom CC EAL5+ secure chips ST33J2M0 + STM32WB55.
The device's security is verified and audited by France's national cybersecurity agency ANSSI.
The advanced technology used to develop the Nano X wallet earned it the 2019 CES Innovation award, a competition that honors outstanding design and engineering in consumer technology products.
Key Features
Supports Over 100 Apps
This improvement was added after several users demanded that Ledger should increase the wallet ROM size to support more apps.
In the previous device, users were allowed to install up to six applications. The new version has a larger ROM and RAM size that can allow users to install up to 100 applications on the go.
Bluetooth Compatibility
This is one of the amazing features of Nano X. Connecting the hardware wallet to your smartphone can be done through Bluetooth.
Customers don't need to rely solely on USBs to connect the wallet as this method is sometimes accompanied by certain limitations like connecting with a faulty USB cable.
In-built Battery
Nano X is equipped with a 100mAh lithium-ion battery (0.37Wh = 1 cell), which can last for up to five hours when the device is fully charged.
Multiple Cryptocurrency Support
Ledger's developers understand that we are at the peak of the crypto market where numerous coins and tokens are being unveiled regularly.
For this reason, the storage device currently supports more than 1,500 coins and tokens, including Bitcoin (BTC), Ether ETH, Litecoin (LTC), and various ERC-20 tokens.
Advanced Security
Being a major point of call for Ledger, the wallet is equipped with several security apparatus to safeguard your funds.
Aside from the secure chipset used in developing the device, you can use secret pin codes, recovery phrases, and advanced passphrases (aka the 25th-word protection) to secure your wallet.
There is also tamper-proof technology that regularly checks for any software breaches on the wallet.
Ledger Products and Services
Being in the business of developing reliable solutions to protect consumers' cryptocurrencies and to promote widespread adoption of the asset class, Ledger has launched several solutions aside from the Nano X for this purpose, and they include:
Nano S
This is the predecessor of the Nano X wallet. The Ledger Nano S is considered by many as the lite version of Nano X because it offers similar features to the latter. The only difference is that it does not have Bluetooth technology.
The major pro of the device is that it is cheaper and suitable for crypto beginners who are looking for safer means to protect their funds.
Crypto Starter Pack
The Ledger Crypto Starter Pack is designed with crypto newbies in mind. The product features a concise crypto beginner guide and tricks written in PDF format, a Nano S wallet, and an £18 voucher to make your first crypto purchase.
The voucher is only valid for 14-days, from the day it is mailed to you.
Family Pack S
This package will help you onboard your family and friends into the world of maximum crypto protection. It contains three units of Nano S wallets, which can be acquired for a discount.
Although the main idea is to give the product to your loved ones, you may choose to use it for multi-sig purposes.
Family Pack X
Users ordering this product get three units of Nano X at a discounted price, which you can give to your loved ones or used for multi-sig.
Back-Up Pack
This contains the two wallets of Ledger - Nano S and X. You get to order both at a lower rate than their actual market price.
Cryptosteel Capsule Solo
The Ledger Crypto Capsule Solo product helps you store your recovery phrase in a safe place where it can stand the test of time.
The device protects the recovery phase from extreme conditions such as heat, fluid, etc.

Other products developed by Ledger include:
OTG pack
T-shirt and Sweater
Summer Resilience pack, which features one unit each of Nano X and a resilience sweater
Ledger Live App
It is worth noting that the Nano X device cannot function on its own without the Ledger Live App.
This platform is like an all-in-one solution for Ledger wallets. It allows users to configure the device, manage applications and cryptocurrencies, send and receive funds, etc.
Ledger Live App installation is the second step of your journey into using the wallet.
After a successful purchase of the Nano X, you will be required to install the Ledger Live App on PC, which can be downloaded on (https://www.ledger.com/ledger-live). The app can also be downloaded from your smartphone store, including the Google Play Store and iTunes Store.
Upon successful installation, you can proceed to set up the device and install your favorite cryptocurrency software.
Ledger Supported Coins and Tokens
The Ledger Nano X supports both big and small legit cryptocurrencies. At the moment, it supports over 1,500 coins and tokens, making it easy for users to store all their assets on one device. The supported tokens and coins include:
Bitcoin
Ether
Litecoin
EOS (EOS)
Dash (DASH)
Stellar (XLM)
Ripple (XRP)
Bitcoin Cash (BCH)
Cardano (ADA)
Tether (USDT)
Polkadot (DOT)
Chainlink (LINK)
MakerDao (MKR)
Dogecoin (DOG)
Binance Coins (BNB) and many more.
Nano X Price
The price of one unit of Nano X is £86. While this may seem high for cryptocurrency owners with very little funds, one can rest assured that it is worth every penny. The features and functionality that it boasts surpass the price by a large margin.
Nano X Ledger Wallet Package
The Nano X wallet is packaged with the device itself and a host of other items including:
Instruction leaflet
Recovery seed cards
USB Cable
3 recovery sheets
Ledger stickers
Lanyard
Keychain
The Design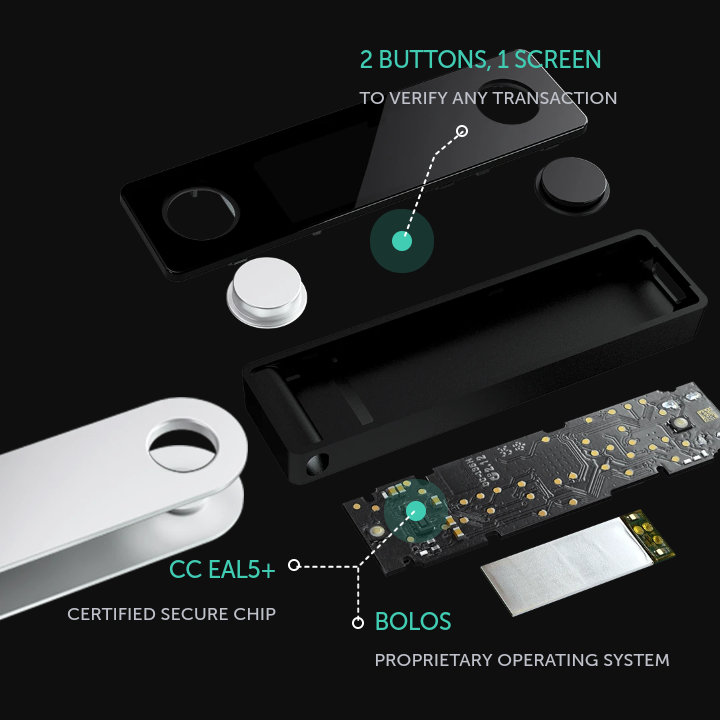 The Nano X shares almost the same design as Nano S. However, the former is slightly heavier, weighing 34g because its entire body is made with brushed stainless steel and plastic.
Although the Nano X is quite bigger than its predecessor, the hardware is still pocket-friendly. It has two buttons at the top that are perfectly positioned close to the screen. You will find the USB Type-A port on the right side of the device.
Languages
The supported languages for the device are: English, French, and Spanish. Although the supported language may not be enough given the widespread adoption of crypto by people of different races, Ledger has promised to add more languages in the future.
Ease of use
Operating the Ledger Nano X is relatively easy compared to most hardware wallets. It does not require one to be a tech genius before you can get the most out of the device.
As stated, Nano X is equipped with two buttons on the top, which can be used to navigate left and right within the menu.
To confirm the selection, the user will need to press both buttons at the same time.

However, this simple design comes with a major flaw, as it is very difficult to retreat back to a previous menu. With this shortcoming, it would be better if Ledger could add a third button, or make the LED a touchscreen, allowing users to navigate the device as they please.
How to get started with Ledger
Upon purchasing the Nano X wallet, you would need to install the Ledger Live App on either your PC or smartphone.
The PC version of the Live App is available for download on the Ledger website (https://www.ledger.com/ledger-live/download), while smartphone users can get the app directly from their respective phones stores – Google Play Store and iTunes Store.
How to set up Ledger Nano X
Once the Ledger Live App is installed, you can proceed to set up your wallet via the following steps:

Step 1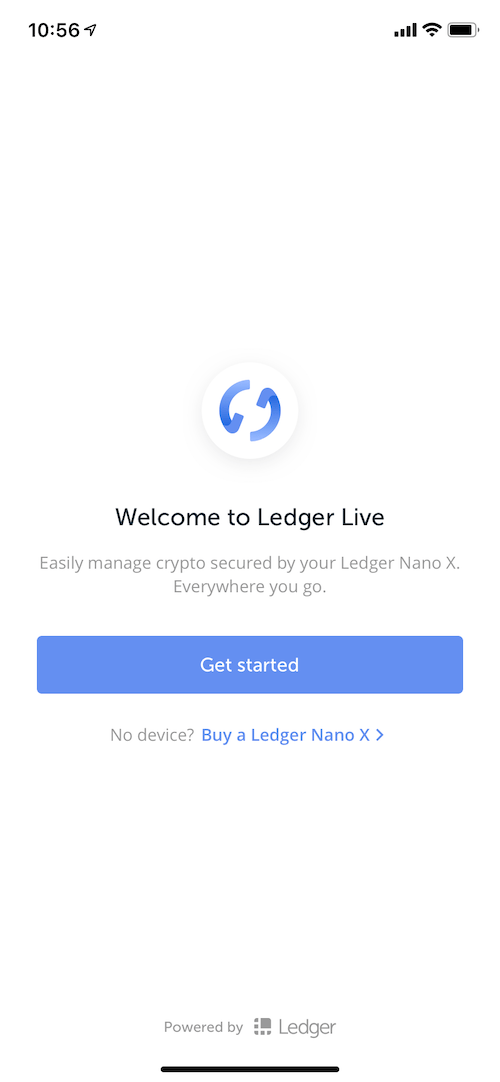 Launch the app on your PC or smartphone and click the 'Get Started' button.
Step 2
The next page will require you to choose the Ledger wallet you want to set up. Since you're setting up Nano X, just select it from the list of options.
Step 3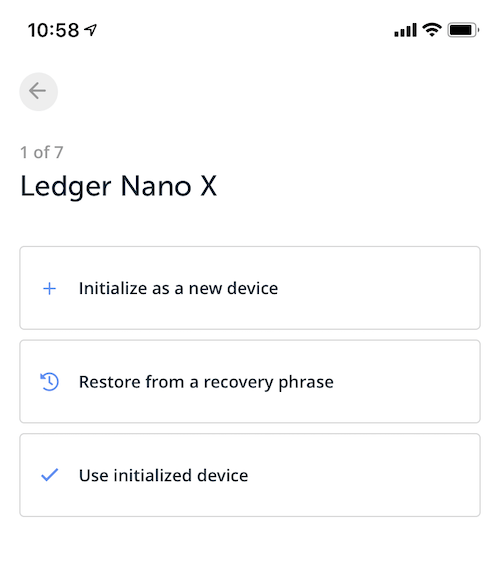 Choose "Initialize as a new device" if you are using the wallet for the first time.
Step 4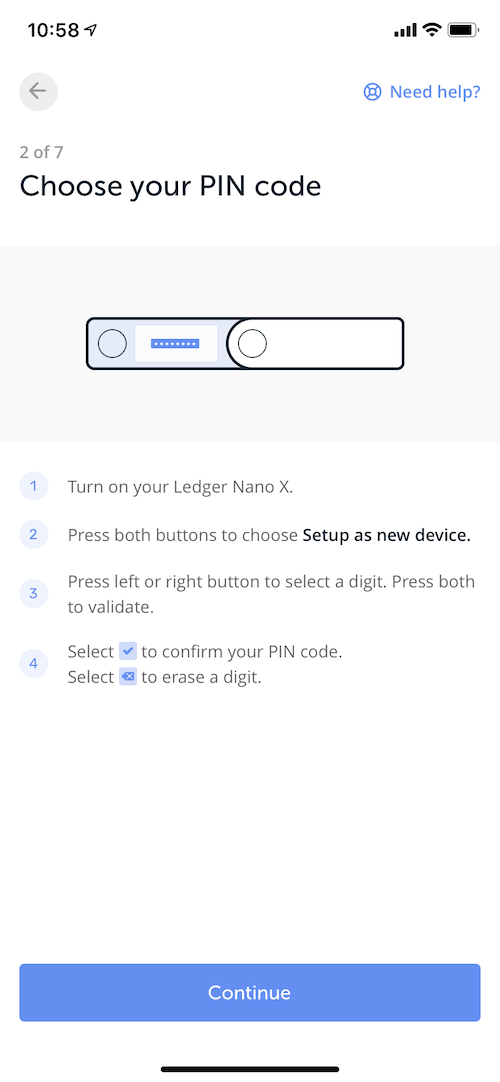 This step will require you to set up a pin for the wallet. Here, you will be required to turn on the device and press both buttons to confirm that you are setting it up as a new device.

You can use the left or right button to select a digit and click both buttons to validate. A list of recommendations on how to set up a strong pin will be suggested on your PC screen.

Step 5
Select the pin and confirm it subsequently on the Nano X device.
Step 6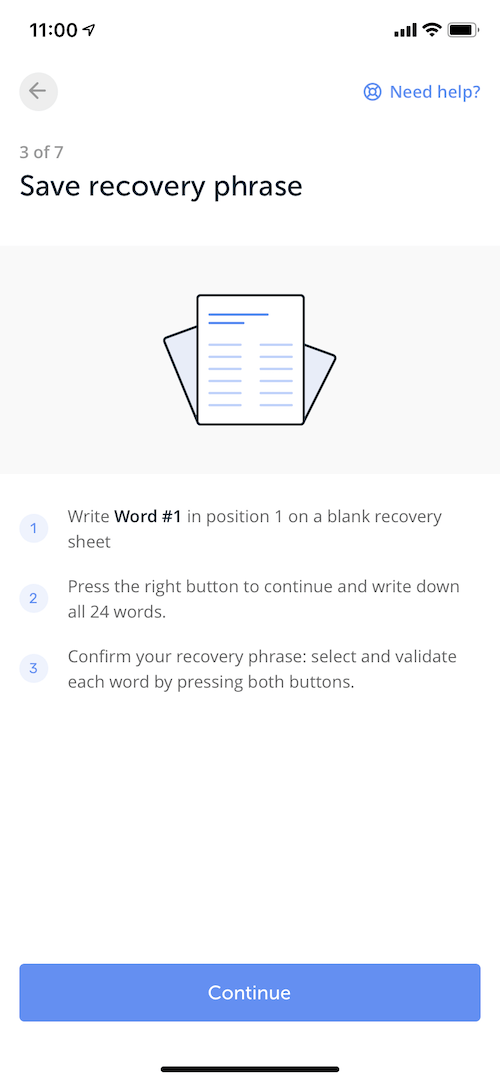 Once done, carefully write down your 24-word recovery phrase, which will be displayed on the LED screen.
The wallet's button will come in handy here, using the left and right keys to navigate from the first phrase to the last.
Step 7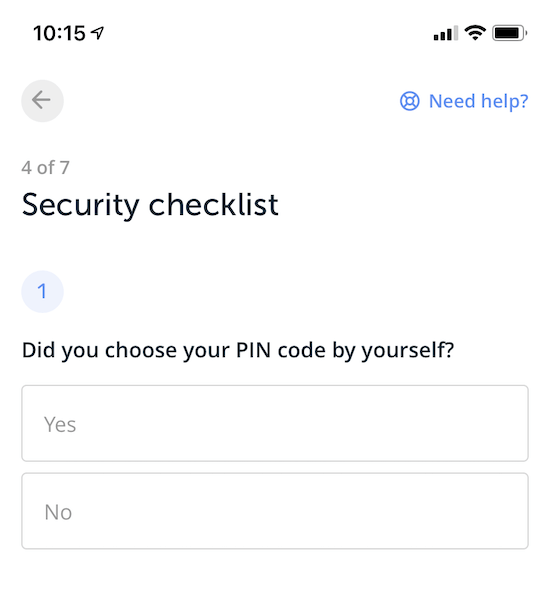 On the Live App, Ledger will inquire whether you followed their instructions by setting up your wallet pin and saving the recovery phrase yourself.
Step 8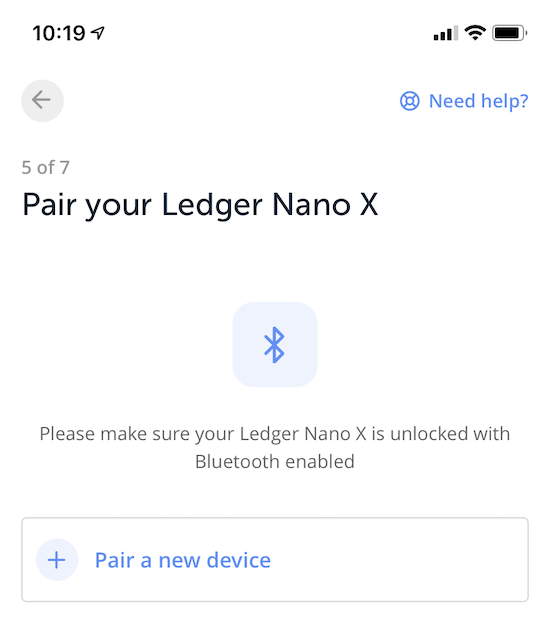 This is where you connect your mobile phone with Nano X using Bluetooth. To do this, turn on your phone's Bluetooth visibility. Pair both devices by confirming the codes on your smartphone and the Nano X.
Pairing should be pretty straightforward. You may encounter one or two issues on your first try, just reconnect and you're good to go.
Step 9
After a successful pairing, Ledger will prompt you to set up a password for the app, which helps shield your portfolio from prying eyes. Do this and proceed to the next menu.
Step 10
You will be asked to choose the type of data you want to share with Ledger.
Step 11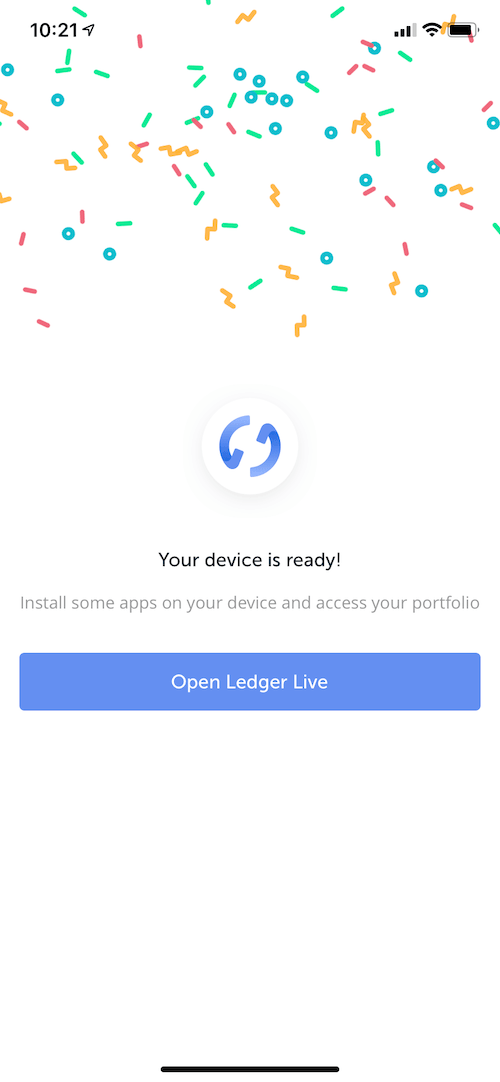 Once done, a message will pop up stating "Your device is ready!"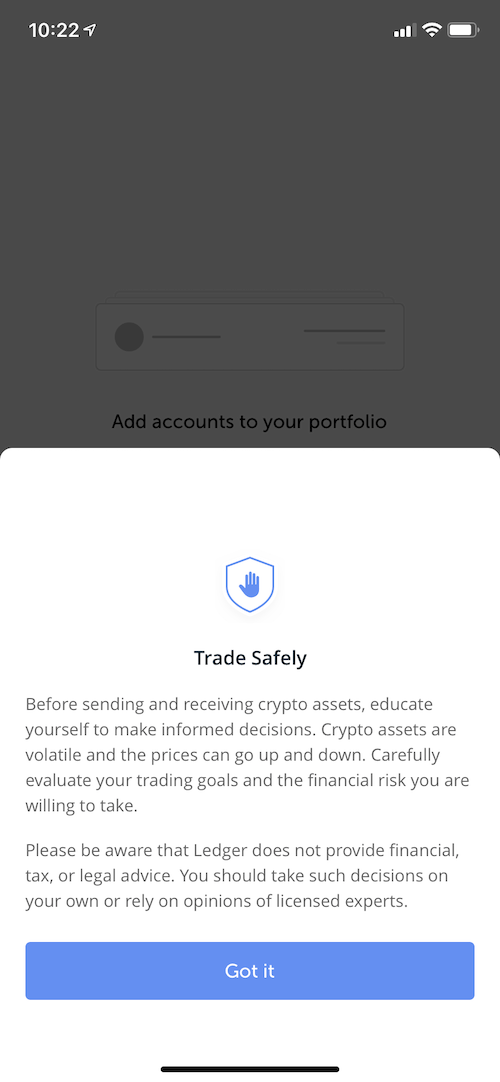 Ledger will further issue a safety warning about exchanging cryptocurrencies, telling users about its volatile nature among others.
You can proceed to add a passphrase, popularly known as the 25th-word protection, which allows you to use a custom text to the 24-word recovery phrase. This option is optional.
Sending and Receiving coins
Sending and receiving coins and tokens on Ledger is also simple. Before making your first transaction, you will have to install the cryptocurrency app on the Live App to proceed.
Open the Ledger Live App and select 'Manager,' and search for your desired cryptocurrency in the box under 'App Catalog.'
Note: For the purpose of this section, we will be using Bitcoin as our desired cryptocurrency.

Once successfully installed, launch the Bitcoin app and create an account in order to send and receive funds.
How to Receive Funds
To receive funds, follow the steps below
Step 1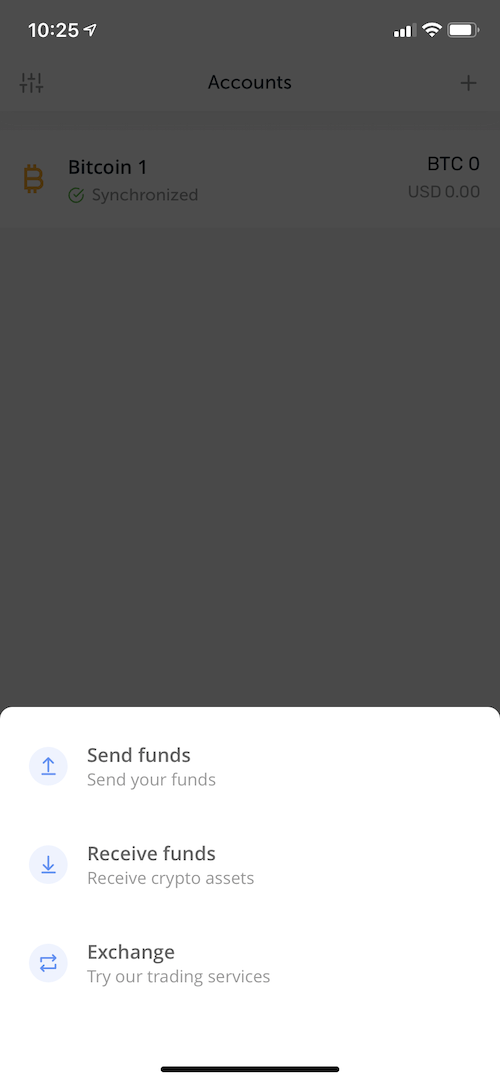 Click "Receive Funds" and select Bitcoin as the account.
Step 2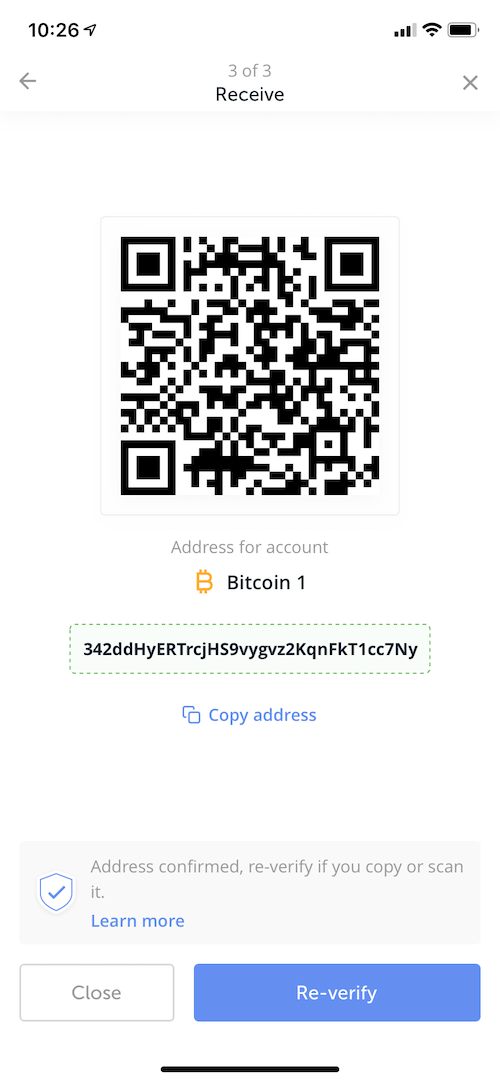 Confirm that the address on your Nano X matches the one on your smartphone or PC device.
Step 3
Copy the address and forward it to whoever wants to send you the funds.
How to Send Coins
Step 1
Click the "Send" button on the transact page and choose the account you want to send funds to. Also, open the corresponding app on your Nano X device.
Step 2
Input transaction details, such as recipient address, amount, and the network fee.
Step 3
Verify the details and click continue.
Step 4
At this point, ensure the Nano X is unlocked and choose it as the wallet you want to use to send the funds.
Step 5
On the Ledger Live App, click continue. Verify the transaction details again and click the two buttons to authenticate the transaction.
Nano X vs. Nano S
Both Ledger Nano S and X share similar features such as security, the number of cryptocurrencies supported, and the mode of conducting transactions. However, both devices differ in a variety of ways.
The Nano X wallet is equipped with Bluetooth connectivity while Nano S does not have the technology.
Another differentiating factor is the ROM and RAM size of both files. While Nano X has a larger storage size that can support up to 100 cryptocurrency applications, Nano S can only support six applications.
Based on the improved features in Nano X, the device cost £86 which is more expensive than the £43 price pegged for the Nano S wallet.
Ledger support
The company is concerned about customers' satisfaction, which prompted it to create a team of professional customer support to address all enquiries and complaints.

Customers who want to contact Ledger's support team can do so through the Live Chat widget located at the bottom of the Support page, or open a support ticket available on the same page.
Ledger's Live Chat support is only available from Mondays to Fridays (9 am – 5 pm CET).
Should you have the need to make an inquiry during weekends, the support ticket function can be used and the team will address the issue at the start of a new week.
Is Ledger Nano X safe?
When it comes to cryptocurrency hardware wallet providers that offer the best storage of assets, Ledger is among the top three.
Ledger Nano X is designed with advanced security tools like tamper-proof technology to ensure no external actor is interfering with your device.
Also, the fact that the Nano X is a cold wallet, your crypto assets are stored offline. This storage method has proven to be the best because the funds cannot be accessed remotely.
Despite the security measures in place for the wallet, it is important that you go the extra mile to ensure your private keys are kept safe at all times, to prevent loss of funds.
Pros & Cons of Ledger Nano X
Pros
Bluetooth connectivity
Larger storage capacity and supports up to 100 cryptocurrency applications.
Highly secure with tamper-proof technology
Easy to use
Cons
Very expensive for small crypto users.
Supports few languages
Why choose Ledger?
The Ledger Nano X wallet gives users the opportunity to safeguard their crypto assets against theft. Since the wallet is designed to work using the Live App, users can conveniently send, receive, and exchange cryptocurrencies with other investors.
The developers have combined their experience in the cryptocurrency and security space to produce one of the most reliable wallets in the market, which is sold at an affordable rate compared to similar devices developed by its competitors.
Ledger's tamper-proof tech helps you scan the device's software to find out when an external actor is trying to gain access to your funds.
With this tech in place, you don't have to worry about the safety of your funds.
However, while this is in place, it is advisable that you also handle your personal wallet security. This entails not being careless with your private keys, avoid downloading the Live App from a third-party website, and do not update the software from any platform aside from the official website and smartphone stores, including Google Play Store and iTunes store.
Known Ledger Hack
In 2020, several Ledger users were victims of a massive data heist that rocked popular eCommerce platform Shopify.
According to reports, hackers stole the personal information of 41,488 Ledger Customers who had used their wallets to purchase goods on Shopify. Data stolen from the platform include users' full names, email addresses, residential addresses, and phone numbers.
The data was used in a phishing attack, with affected customers being contacted to download an updated version of the Ledger Live App software. A few Ledger customers disclosed that they were contacted by the hackers, with some falling for the antics and updating the app with fake software, leading to the loss of funds.
Also in the same year, hackers flooded the internet with a fake Google Chrome extension for Ledger wallets, which required users to enter their private keys in order to send and receive funds.
The fake extension claims to be affiliated with Ledger, despite the fact that Ledger does not have a Google extension.
Ever since the report flooded the internet, Ledger has disassociated itself from the extension, stating that its only supported application is the Ledger Live App.
Frequently Asked Questions (FAQ)
Is VAT Included In the Price?
No. The £86 price of Nano X only covers the actual cost of the wallet. Users are expected to bear the VAT and Excise duty cost when the device is finally delivered.
How Long Will it Take For My Order to Arrive?
Due to a large number of orders, the device is estimated to ship in two weeks and you should receive your hardware wallet in a day or two after depending on your location.
Where Can I Purchase the Ledger Nano X Device?
Aside from Ledger's official website, you can also purchase the device from Amazon and other top eCommerce platforms.
However, it is advisable to only buy the crypto wallet from the Ledger website because of the increased rate of fraud.
How Many ERC-20 Tokens Are Supported?
Ledger believes every cryptocurrency should be given an equal chance to thrive, which is why the Nano X wallet supports 1,250 ERC-20 tokens, with plans to add more Ethereum-based tokens in the future.
Conclusion
Ledger has taken time to develop the Nano X wallet, which is considered one of the best in the market.
The device is equipped with everything to safeguard customers' crypto assets, which is very important to every investor. The Nano X features Bluetooth connectivity, easy navigation, a long-lasting battery, and a larger ROM size that allows up to 100 applications to be installed.
However, there is still a need for a 'return' button for easy navigation.
Regardless of the multiple security solutions that accompanied the Nano X, the tasks to protect your funds solely rests on your shoulders.