Blockchain has become an integral part of the modern community, and more businesses try to utilize it to their benefit. However, how to build a new blockchain project without a reliable platform? Libonomy is an innovative blockchain network that can not only sustain the demands and requirements of today but also avoid becoming outdated in the future. What makes this next-generation blockchain different from others and is it worth your attention?
Look: this Libonomy review provides answers to many questions of yours.
Table of Contents

What is Libonomy
Libonomy is defined as an open-source platform for creating decentralized solutions. Its main peculiarity is being the fastest blockchain in the industry characterized by scalability, efficiency, and interoperable environment. The network has lots of different features and allows saving on project development, so this blockchain deserves the title of the first universal one too.
Libonomy features
Scalability: unlike other blockchains, Libonomy offers lightning speed not only when it comes to transaction speed per second but also reaching block finality. Its speed is 6000 TPS, more than 1000 times faster than Bitcoin, while block finality is achieved in 0.5 - 1 second only.
Decentralization: Libonomy strives in all categories regarding blockchain's decentralized nature including accessibility, dynamic updates, process simplicity, the insignificance of investment, reward system, and the absence of pools. Also, every user can become a validator in this blockchain which makes it completely decentralized.
Security: it has implemented a multi-pool node system where every pool has its task. They include Power, Exploit Finding, Audit, and Maintenance pools, where Exploit Finding pool guarantees that there are no security breaches ever.
Interoperability: the invention of the unique Aphelion protocol allows Libonomy to be interlinked with other blockchains without off-chain implementations. A user can send digital assets from Libonomy to any non-Libonomy blockchain without any need of central or third-party interaction.
Low cost: it is possible to save on the development of blockchain projects with Libonomy.
Uninterrupted access to the network: you can use the platform round the clock, get seamless updates and forget about downtime.
Autonomy: it features the world's first AI engine which is learning and improving incessantly to guarantee the best performance.
Team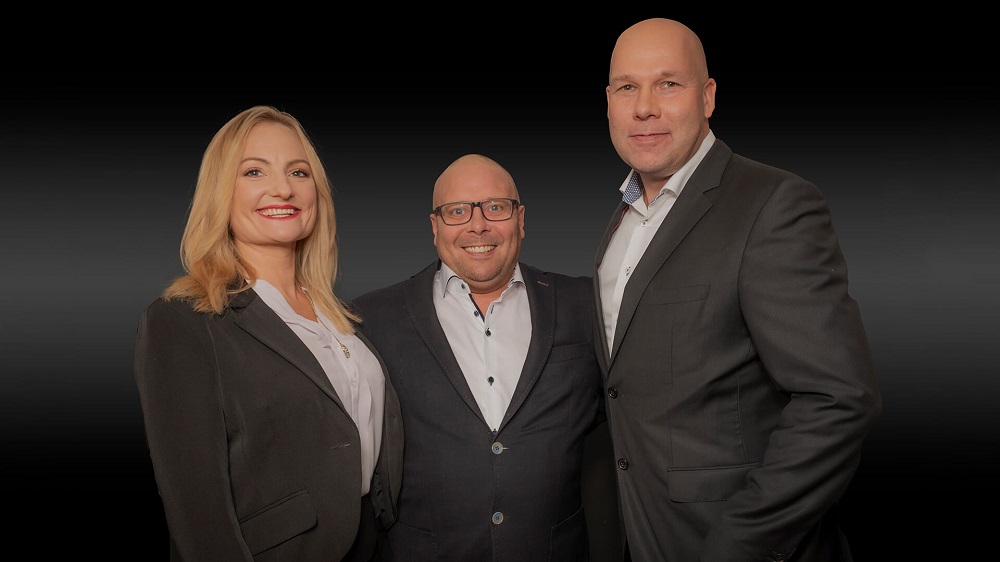 There is an impressive team at the heart of Libonomy technology. The company was founded by three crypto enthusiasts with impressive experience. Richard Haverinen, Fredrik Johansson, and Therese Johansson have attracted the best professionals to the project. Currently, the team consists of a dozen of blockchain and marketing experts who complete new achievements and reach milestones to guarantee the best product ever. They have already completed the testing phase and launched the Mainnet, and continue to add new features and make the network more mature too.
Technologies
The main technology lying behind the Libonomy network is an exclusive Aphelion protocol. Any community can create its own blockchain by plugging in the protocol and interacting with other blockchains. This breakthrough has allowed the most popular blockchains of Bitcoin and Ethereum to be interlinked with the Libonomy network without any third-party or central interaction. It means Libonomy acts like the universal hub of blockchains.
Libonomy blockchain
Libonomy is a new universal blockchain solution that allows everyone to realize the potential of blockchain technology. It supports all popular use cases including decentralized finance, government appliances, supply chains, data storage, and decentralized applications. It can be used for both public and private solutions with full interoperability between them. This blockchain requires less computer power and is more energy-efficient thanks to a unique AI engine implemented by the company. There are several use cases offered by Libonomy at the moment described below.
Desktop software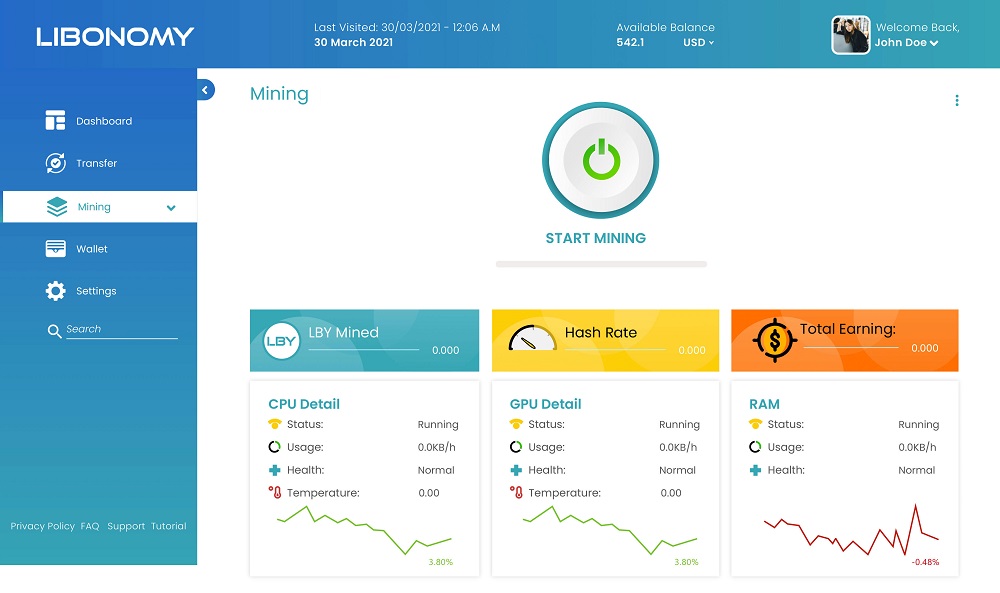 Libonomy blockchain has been provided with simple, fast and low-cost tools for simple use and mass adoption. One of them is a Libonomy desktop software used to manage digital assets, trade, become a miner, interact with decentralized applications and more. It features base functionality including:
Sending and receiving digital assets;
Backup and restoring functionality;
Creating a contact list to save addresses;
Multi-wallet support for one device;
Offline mode support.
It also features a wallet for the primary asset LBY and assets created on Libonomy blockchain.
The team plans to provide this desktop software with a bigger range of functionality including desktop mining, a wallet to support different currencies, DEX, DAPP browser for accessing dapps, file storage, staking, Ledger support and others.
Web wallet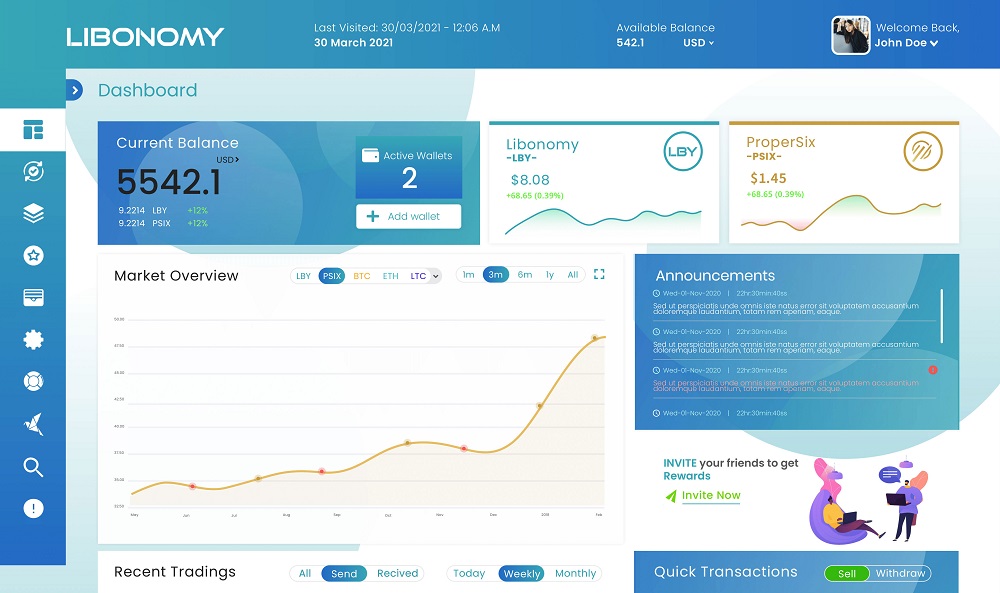 The company has developed a decentralized digital asset wallet to be accessed anytime and anywhere. It is characterized by a user-friendly interface and supports major wallet functionality allowing to send, receive, manage and swap digital assets in a safe and secure environment.
This wallet has been designed for the primary LBY asset and other coins created with the help of Libonomy blockchain.
The upcoming features of the wallet is support for multiple currencies, swapping, browser extension, and Ledger support.
Smart contracts
Libonomy is a one-click smart contract platform that lets anyone create utility and security tokens, stablecoins, real estate tokens or any other digital tokens in a matter of a few clicks. Its main features are fast utility token creation, auto-generated code, verification, simple interaction, and ERC20 support.
The team is also working on the introduction of extra features to this use case including versatility, interoperability, and replication.
Blockchain explorer
You can learn the basic characteristics of the Libocoin from the blockchain explorer. According to it, blocks are found very often with a time difference of several seconds only. The number of daily transactions is not big, but it is gaining pace according to the statistics. The total LBY supply is 70 million coins with over 2 million blocks found already.
Pros & Cons
Libonomy offers a range of benefits as well as has a number of things that may disappoint users. What are they? Let's find out.
Pros:
Unique Aphelion protocol;
High transaction speed;
Interoperability with other blockchains;
Excellent security;
Ease and fast speed of developing cryptocurrency and new blockchains.
Cons:
Lack of popularity;
Absence of guidelines for beginners.
Is Libonomy safe?
Libonomy is a product of a UK-based company. It features zero security risks, unlike other blockchains that may suffer from Sybil attacks, DDOS, poorly written code, off-chain implementations, and other issues. It has been provided with a multi-pool node system that makes every node responsible for running a specific task. It allows achieving the highest level of security too.
Summary
Libonomy is an AI-based blockchain technology characterized by scalability and interoperability. It allows communities and businesses to develop decentralized blockchain solutions in a faster and more secure way. The range of Libonomy features is constantly growing. Users who want to develop their own blockchain solutions should connect to the decentralized application and they will receive an opportunity to utilize complex smart contracts, trace packages, and use Aphelion protocol to develop their own cryptocurrencies or blockchains on top of Libonomy.