With Dogecoin (DOGE) skyrocketing to new highs and becoming highly valuable in recent times, investors are searching for the best Dogecoin wallets available to safeguard their crypto riches.
It's not surprising to see the cryptocurrency gather so much fuss given its massive altcoin-season rally, which was initially sparked by comments made by popular electric car maker Tesla CEO Elon Musk.
What first started out as a joke in 2013, has grown to be one of the most valuable crypto assets in the space.
With its tremendous run and increase in value, it is important that DOGE enthusiasts adopt the best wallet to keep the cryptocurrency safe from hackers. One way to do this is to choose a reliable Dogecoin wallet that offers the best storage measures.
What You Should Look For in a Dogecoin Wallet
While there are tons of wallets that offer support for DOGE, it is advisable that you consider some criteria before choosing from the long-list of options.
Security
Security is better when it is built in, not bolted on. With this in mind, you should only select an app or software that uses advanced security measures, especially two-factor authentication (2FA) and biometric verification.
Choosing a security-focused wallet should be your utmost priority in order not to be a victim of the hackers, and other user-related loopholes that could cause you to lose money.
Simplicity
Ease of use is another point you should consider before choosing the wallet. The developers should design the device and accompanying apps in a way that even those without technical knowledge can conveniently use it without running any risk of losing their money.
Most people showing interest in DOGE of late are mostly crypto newbies who would want everything, including their choice of wallets, to be easier to use.
Customer Support
No one hopes to encounter issues while using a platform, but should any arise, the speed at which the developers would fix the challenge should be a major consideration.
The app provider should offer at least 24/5 customer support services to meet users' needs, which will go a long way to boost investors' confidence that challenges will be quickly addressed.
Regular Upgrades
The importance of upgrades to a wallet application cannot be overemphasized as it helps to keep hackers away. Hackers are always on the lookout to unravel loopholes in storage solutions that would help them steal users' funds.
Based on this, your desired wallet provider should steadily provide relevant upgrades to keep you protected from new vulnerabilities. If an app hasn't released an update in a long while, then it's probably a sign you shouldn't go for it.
Positive User Reviews
Since you are thinking of using the storage solution for the first time, you should conduct due diligence on the available apps that support DOGE to know what existing users are saying about it.
If the reviews are positive, that implies the app or software is good, but you should avoid the ones with several negative reviews.
Wallet Types
Before the list of best Dogecoin wallets, it is worth noting that there are two main types of crypto storage solutions.
Hot Wallets
These are online-based storage solutions for your cryptocurrency that are mostly used to conduct basic transactions.
Here, users' funds and private keys are stored online. It is convenient, free, and faster to create.
However, the rate at which most hot wallets have suffered from hackers in the past prompted the launch of more secure crypto storage in the form of cold wallets.
Cold Wallets
Also referred to as hardware wallets. Here, investors' funds and private keys are stored offline in hardware like paper or USB devices.
Although the idea is similar to that of hot wallets, which entails storage of users' cryptocurrencies, it uses more advanced security measures to store funds. Users are required to always authorize transactions from the device, which gives them the confidence that their funds will never be accessed from a remote location.
Best Dogecoin wallets
Now, we take a look at the top seven best Dogecoin wallets currently available in the market.
Ledger Wallet (Nano X )
Wallet Type: Hardware
Available Apps: Desktop, Android, and iOS
Supported Coins: 1500+
Price: £86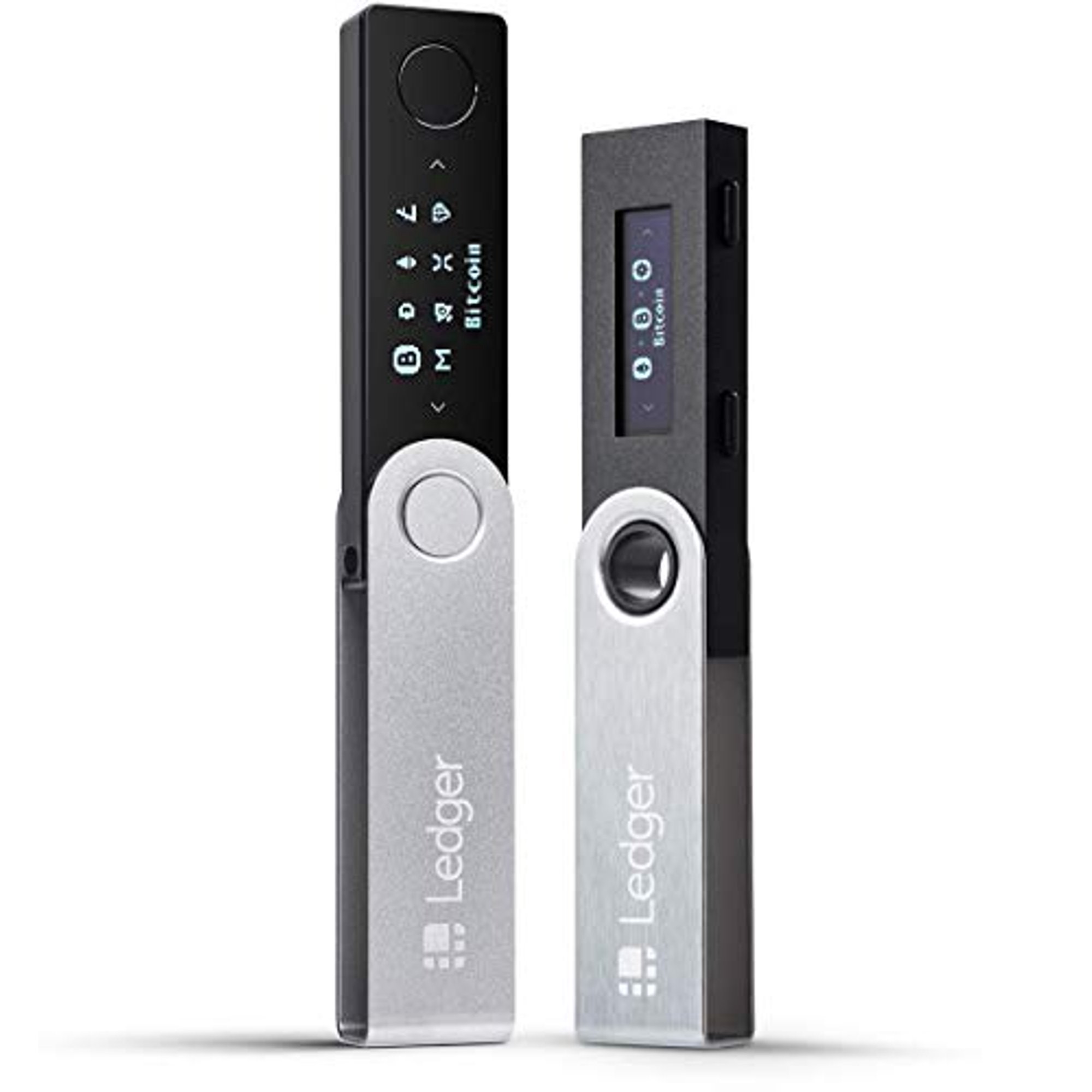 Ledger is among the top three cold wallet providers in the market today. Since its launch in 2014, the company has been developing reliable solutions to keep users' funds safe.
As noted in our complete Ledger Nano X review, the Nano X is the successor of the Nano S device which gained lots of attention at the time of its launch. Nano X keeps your DOGE safe with its advanced security techniques such as tamper-proof technology, 2FA, and passphrases.
Not only will clients be allowed to use Ledger on PC alone. The Nano X can also be connected to your smartphones including Android iOS devices via the bluetooth connectivity
Furthermore, in order to protect users, Ledger developed a unique operating system dubbed BOLOS.
Ledger Nano X has a larger storage capacity than its predecessor, which enables users to install up to 100 cryptocurrency applications.
All these enticing features have been packaged for the price of £86 per unit. The price is one of the major drawbacks of the device, because small Dogecoin owners may not be able to afford it.
The device functions alongside Ledger's Live App software, an all-in-one solution for the wallet, which allows users to configure the device, manage applications and cryptocurrencies, as well as to send and receive funds, etc.
Pros
Bluetooth connectivity
Supports up to 100 cryptocurrency applications.
Equipped with an LED screen.
Highly secure with tamper-proof technology
Easy to set up
Cons
Expensive for small crypto traders.
Customer support service is available only on weekdays from 9am – 5pm CET.
Trezor Model T
Wallet Type: Hardware
Available Apps: Desktop, Android.
Supported Coins: 1000+
Price: £129

The Trezor Model T is a popular cryptocurrency hardware wallet developed by SatoshiLabs. The device supports DOGE alongside more than 1,000 cryptocurrencies, including Bitcoin, Ethereum, Ripple (XRP), Uniswap (UNI), Cardano (ADA), etc.
Anyone who has been in the crypto space since 2016, would agree that the name Trezor is very popular. This is because the device has been widely adopted by crypto enthusiasts to mitigate the rate of crypto theft that plagued the industry at the time.
Security is important to the developers, and they have integrated some safety techniques, such as PIN code support, recovery phrase (24-word protection), and an exclusive security feature named the Shamir Backup.
The device also comes with a touch LED screen for easy navigation.
Pros
Color touchscreen
Passphrase support
Ease of use
Provides cryptocurrency education.
Cons
Expensive than its competitors
Not pocket friendly.
Keepkey
Wallet Type: Hardware
Available Apps: Desktop (Google Chrome App)
Supported Coins: 40+
Price: £36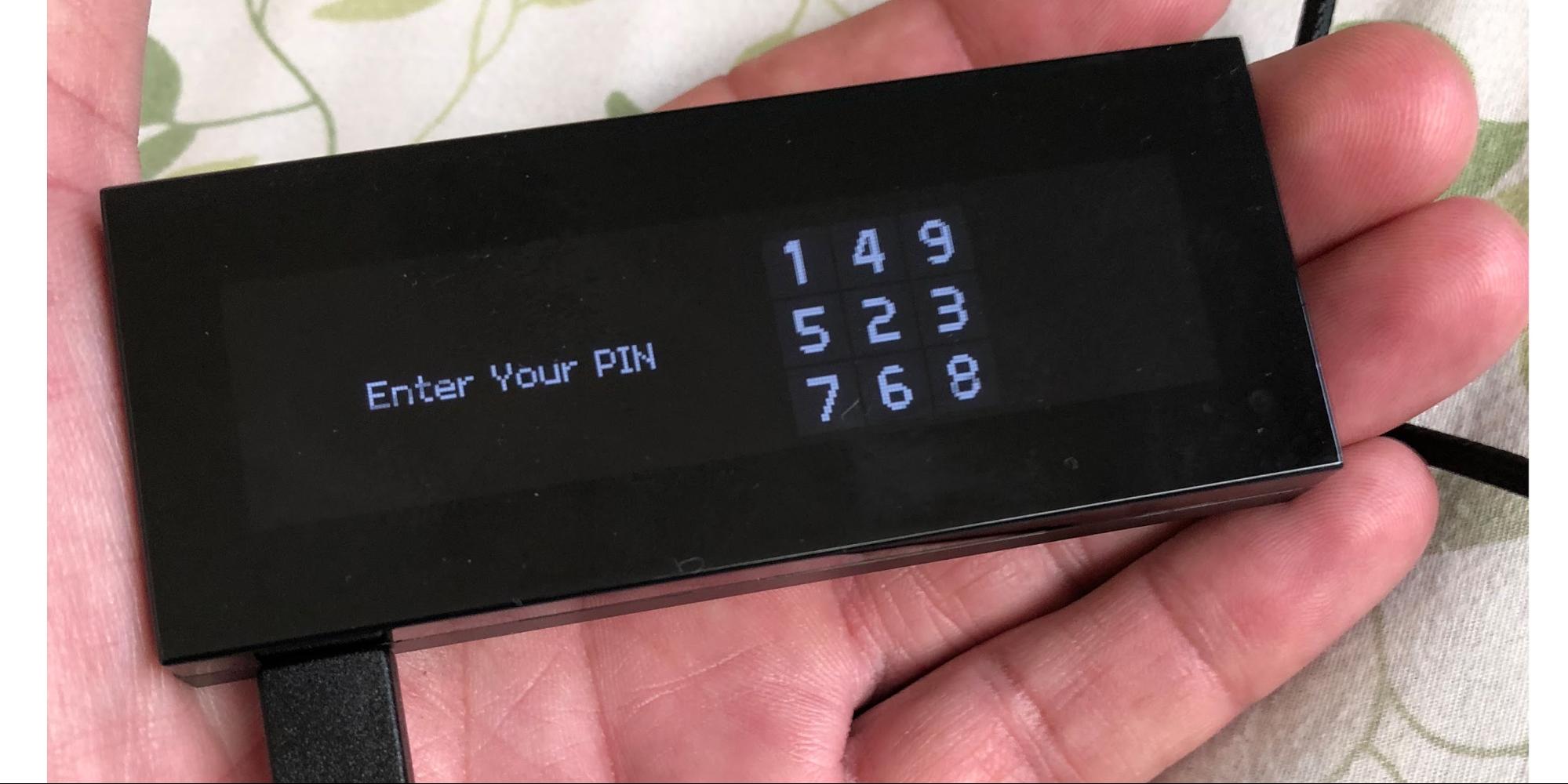 Launched in 2015 by Darin Stanchfield, KeepKey is an easy-to-use hardware device that safeguard users' crypto assets against virtual and physical theft. The wallet is designed to suit the storage needs of both new and existing crypto users.
At the moment, KeepKey supports over 40 cryptocurrencies, with Dogecoin among the list of supported assets.
KeepKey was acquired by Shapeshift in 2017, a move that allows its customers to conduct basic crypto-to-crypto transactions.
Part of KeepKey's security protocols includes a 12-word recovery phrase, PIN, and a Recovery Cipher, a measure that shuffles the letters of your recovery phrase.
The developers understand that high costs have prevented most traders from adopting hardware devices. Based on this, KeepKey has constantly reduced the price of the device from its initial £171 price to £36.
Pros
The device is budget-friendly
Easy to use
Highly secured
Cons
Supports fewer cryptocurrencies
Not pocket-friendly.
Coinomi
Wallet Type: Hot Wallet
Available Apps: Android, iOS, Desktop
Supported Coins: 1500+
Price: Free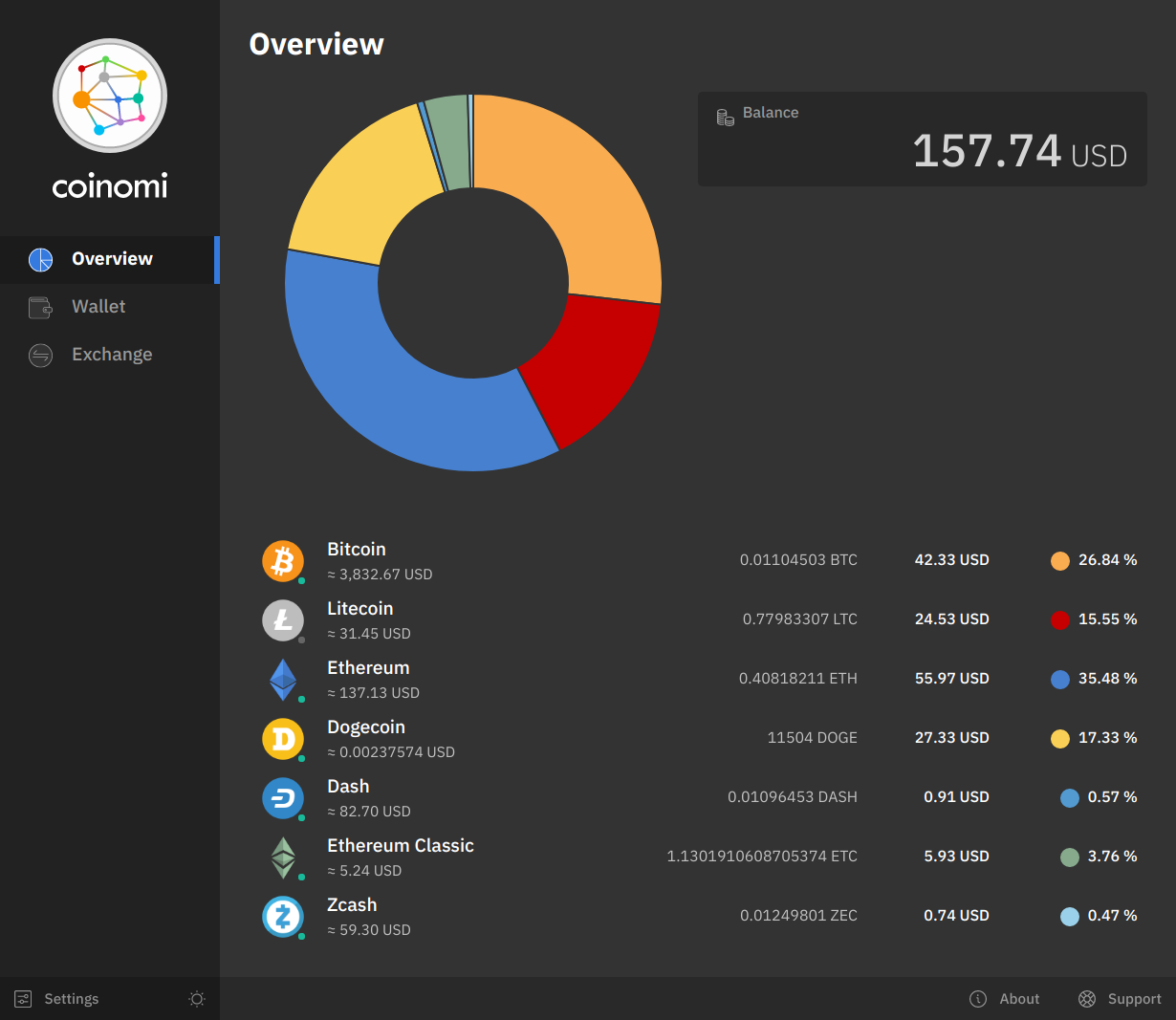 Despite being a hot wallet, Coinomi has tried to integrate a secure solution similar to what most hardware devices offer.
The wallet supports up to 1,500 cryptocurrencies, including Dogecoin, Bitcoin, Litecoin, Ripple and Polkadot (DOT), among others.
With a wide range of listed crypto assets, users can choose to swap their holdings for any of the supported coins and tokens via the in-built exchange feature, which is powered by Changelly and Shapeshift trading firms.
While cold devices are regarded as the most suitable storage platform for your DOGE, Coinomi is also a safe vault for the cryptocurrency because since its launch in 2014, it has not been hacked.
Users do not need any prior tech knowledge before they can use it because the design is made to cater to the storage needs of crypto beginners.
Although Coinomi is online-based, users are not required to go through any know-your-customer (KYC) procedures, which mandate users to submit sensitive information.
Pros
Multi-lingual support
User-friendly.
No KYC verification
Ability to swap cryptocurrencies at will.
Cons
The code for the application is not open-source.
Coinomi doesn't support modern decentralised applications such as DeFi and NFTs.
Dogecoin Wallet
Wallet Type: Hot Wallet
Available Apps: Android, iOS, Desktop
Supported Coins: Only DOGE
Price: Free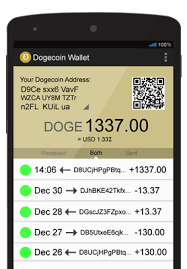 It is worth noting that DOGE has its official app and software dubbed the Dogecoin Wallet. It was developed by the Dogecoin Foundation at the time the cryptocurrency was launched.
Unlike most existing apps that support advanced trading activities like coin swapping, the Dogecoin Wallet is equipped to perform basic transactions like sending and receiving DOGE, as well as checking transaction history.
While this may be the ideal app to safeguard your DOGE, users are advised not to store a large amount of the cryptocurrency in it because it has not received any significant upgrades in years.
More so, several DOGE holders don't use the wallet because of widespread reports of loss of funds, which could be as a result of negligence on the part of the developers who have failed to release a possible fix for the issue.
Pros
Easy to use.
Zero cost.
High privacy
Cons
Supports only one cryptocurrency.
No significant updates since its launch.
Binance Cryptocurrency Exchange Wallet
Wallet Type: Hot Wallet
Available Apps: Android, iOS, Desktop
Supported Coins: 150+
Price: Free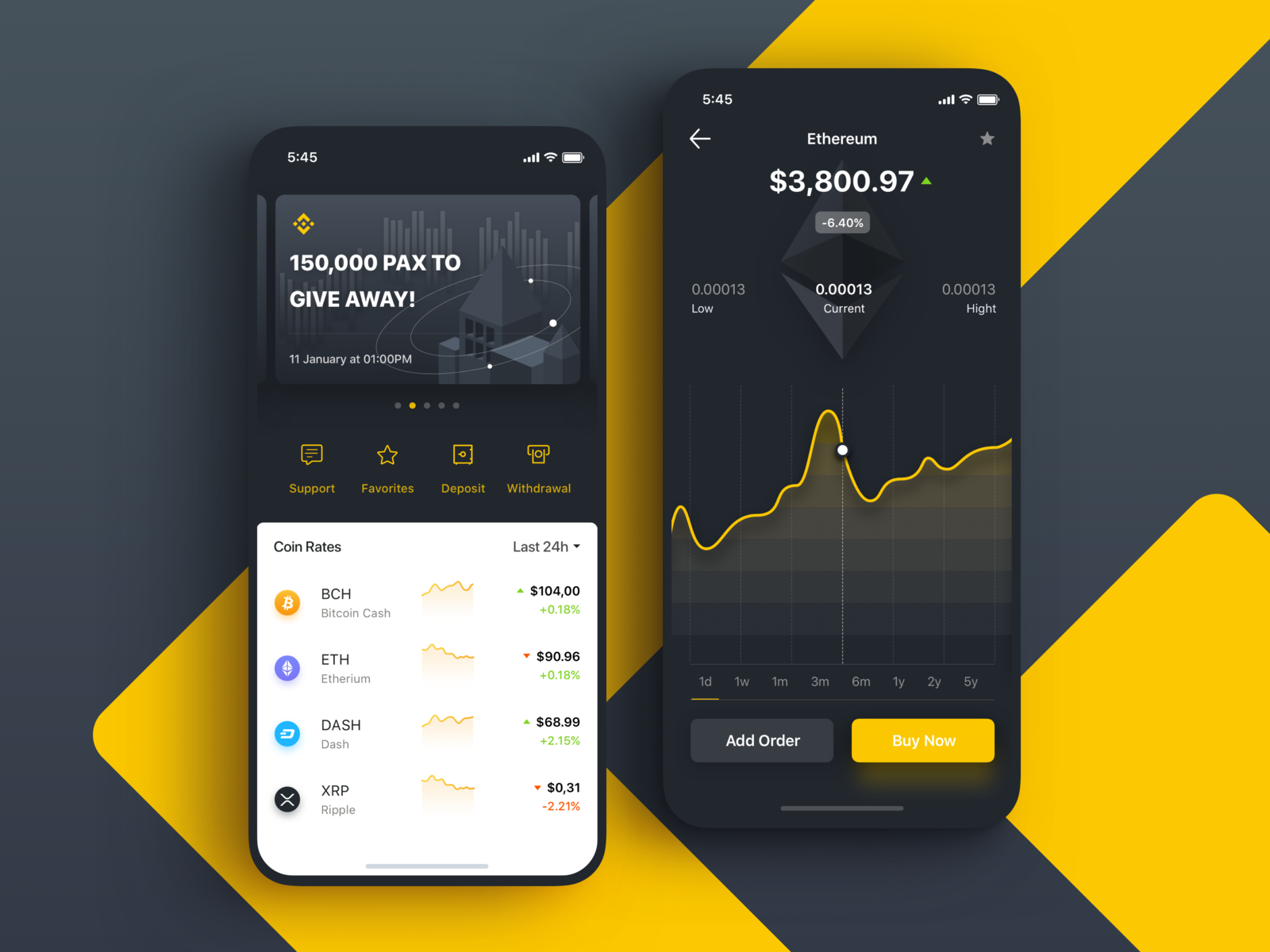 Also known as the World's largest cryptocurrency exchange, Binance is a good platform to store your funds and where to buy Dogecoin.
Although Binance is still a trading platform, the exchange has been widely adopted as a hot wallet for DOGE, as well as other cryptocurrencies such as Bitcoin, Ethereum, Stellar (XLM), Uniswap (UNI).
Users are confident in storing their DOGE on the platform because of Binance's focus on maximum security.
The exchange's team is constantly on the lookout for flaws in their system and has made significant efforts to close every loophole.
Binance is regulated across several jurisdictions, which implies that the owner of the exchange will be held accountable should anything go wrong.
One of the benefits of using Binance to store DOGE is the ability to trade the cryptocurrency against major cryptocurrency and fiat pairs listed on the trading platform.
Despite being one of the most secure trading platforms globally, it is not advisable to use Binance as your Dogecoin purse because of past events of how exchanges have suffered major hacks.
If you do not plan to trade the cryptocurrency anytime soon, then you should move your DOGE to a private wallet where you alone have the keys.
Pros
Supports storage and exchange services.
Highly secure
Great reputation
24/7 multilingual customer support.
Cons
Binance has too many features, and thus not suitable for beginners.
Users report extended waiting hours to contact support for help with account issues.
Trust Wallet
Wallet Type: Hot Wallet
Available Apps: Android and iOS
Supported Coins: 160,000+
Price: Free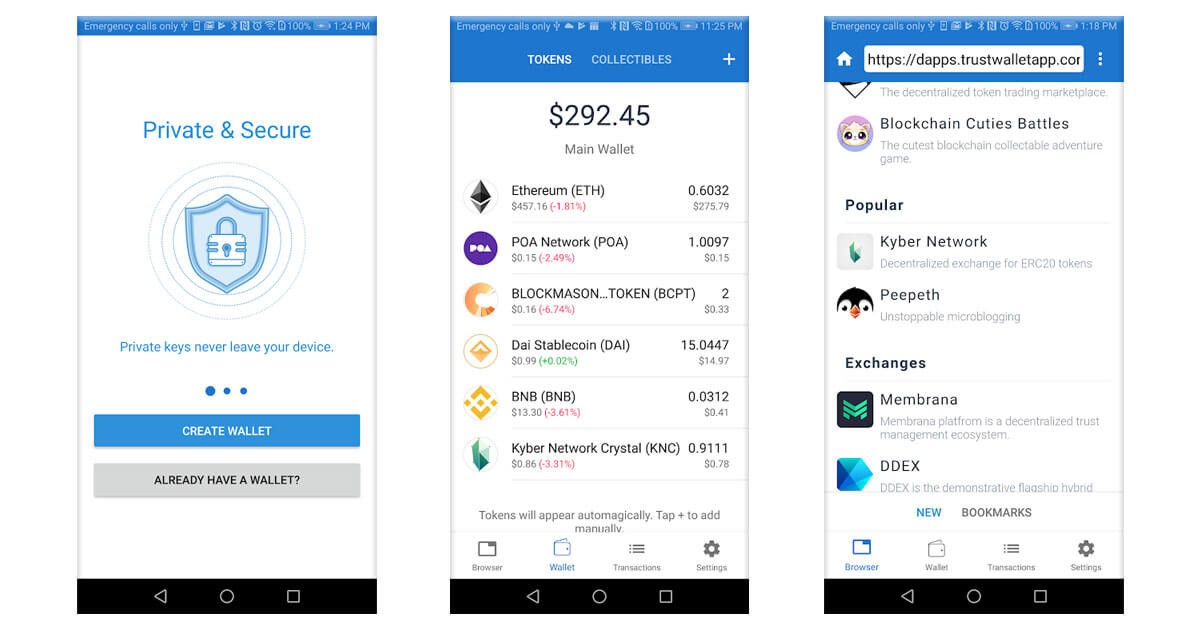 Trust Wallet is another great platform where you can store your Dogecoin. Although it was originally developed to hold ERC-20 tokens (tokens built on the Ethereum blockchain), the developers have upgraded the app to support other digital assets on other blockchains.
So far, the app supports more than 160,0000 cryptocurrencies, including DOGE and Bitcoin. Users can take their favorite cryptocurrencies and earn interest over a specific period.
On the app, users can choose to enable additional security layers in the form of a PIN or biometric verification. The app also comes with an in-built Web3 browser, which grants users access to various decentralized protocols built on different blockchains.
Pros
Absolutely free
Stake and earn without leaving the app or giving up ownership of your assets.
Easy to use
Multi-crypto Support
Cons
Only available on mobile
Users report higher spreads when trying to use the in-built conversion feature.
How to choose the Best DOGE wallet
With the availability of numerous Dogecoin wallets in the market, most users may find it difficult to select the best out of the long-list of options. We have highlighted a few tips to guide your decision.
Compare Available Options: There are several wallet apps and software with native support for DOGE, so you can compare as many as possible to identify the one that best suits your storage needs.
Conduct Research: All existing DOGE storage solutions usually claim to be the best in terms of security, customer support, privacy, etc. These claims may be misleading as new users will not know which of these storage providers is telling the truth. That said, it is necessary for the investor to conduct due diligence about the company such as the firm's background information, security measures, privacy concerns, among others.
User Experience: Since you are a new investor looking for the best Dogecoin wallet, you should surf the internet to know what existing users are saying about the app. If the review is great (watch out for paid reviews), then you can go on to install it. On the other hand, if there are several negative reviews, you should avoid installing the application.
Security: As stated, all available Dogecoin wallets are grouped into two main categories, cold and hot. If you are the type of user who would like to personally store the DOGE in an offline solution, then the cold device is for you. However, should you prefer an online storage solution, you can opt for hot wallets, namely the ones that run on mobile or desktop with internet connection.
How to get a Dogecoin wallet
This depends on the type of Dogecoin storage solution you want to use.
Users who prefer a cold DOGE wallet should place their orders directly on the official website, which gives you the guarantee that the device has not been tampered with, to steal your private keys.
The same goes for hot wallets. Allways download the app from the official link provided by the developers. We included the links in this article to make it more convenient.
Placing your order on third-party websites or installing from unauthorised sources, not recommended by the developers, could result in losing your funds.
How to keep your coins safe
The best way to keep your fund safe is to exhaust all security techniques provided by the app or device you choose to use. Other tips to keep in mind, include:
Enabling two-factor authentication.
Use a strong PIN and password.
Carefully write down and store your passphrase.
Only access the wallet from a trusted device.
Check and double-check the recipient's address before authorizing any transaction.
Only use the recommended upgrades from the app or software provider.
Don't fall for cheap giveaway scam
If possible, only use hardware devices for long-term storage.
Conclusion
This article listed and provided helpful information about the seven best Dogecoin wallets you can use to store the fastest-growing cryptocurrency.
Whether you opt for cold or hot storage, you are tasked with the responsibility of keeping your funds safe, which includes using all available security techniques provided by the exchange.
Only use reputable Dogecoin wallets and should you have any doubt, do not fail to conduct adequate research about the provider before using its storage service.