It is hard to imagine a good token that could actually be of service to the world. Refugees Token is one such unique token that comes with a charity opportunity while allowing investors to make money. This new BSC (Binance Smart Chain) project shows tremendous promise for a long-term investment opportunity in cryptocurrency. Refugees Token is the first charity cryptocurrency that has high liquidity with a small market capitalization.
What is Refugees Token
Refugees Token is a unique cryptocurrency that aims to provide emergency and long-run assistance to refugees by using blockchain technology. It is a unique token that makes charitable initiatives for its investors when they buy or trade the token on the markets. The founders as based in Greece where they have provided financial and material aid to thousands of refugees.
Table of Contents
Refugees Token Features
The cryptocurrency is a Greek charity-based token. Refugeetoken.com 10% of the total supply goes out to help refugees. 5% of the transaction money is credited for charitable activities.
The token is deflationary in nature in the sense that it awards tokens for just holding the cryptocurrency. This also ensures token stability because, with every purchase, the supply of tokens burns automatically.
One can avoid the 10% tax and contribute towards charity by simply joining their whitelist. The whitelisted investor also automatically signs up for their rewards and prizes.
This is a charity project that could also make insane gains. The token has shown 5 times growth in investment for the early investors. In a span of 4 months, Refugees Token has locked in over 1100 holders and promises a good future with an active role in marketing initiatives.
Supported and restricted countries
There is no evident restriction for the trading of Refugees Token. However, it is advisable to trade on the token within the binding regulations of the country.
Available trading pairs
Refugees Token is a relatively new cryptocurrency and is currently not trading on many exchanges. There are not many available trading pairs for the token except for BNB, ETH, NRV, SafeMoon, TKO, USDT, WAI, WBNB, XVS, EPS, BUNNY, BUSD and CAKE on Pancakeswap.
Fees
There is a 10% transaction tax associated with the exchange. 5% of the fees are put in 12-month locked liquidity. The remaining 5% of the transaction tax is set aside for charity.
How to use Refugees Token?
To purchase this cryptocurrency, one has to click on the buy tab on the website www.RefugeesToken.com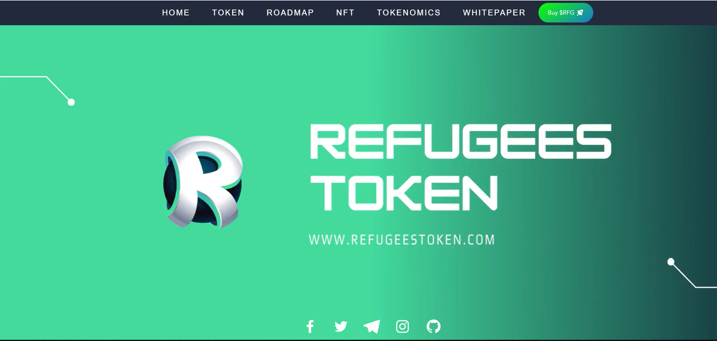 Next, the trader has to select the token in exchange for which they want to buy RFG.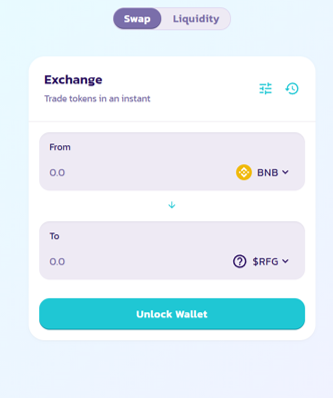 The dropdown will indicate the available exchange rates for both fiat money, and cryptocurrency. The current price of RFG, a quantity of trade and the fees will be clearly indicated as below: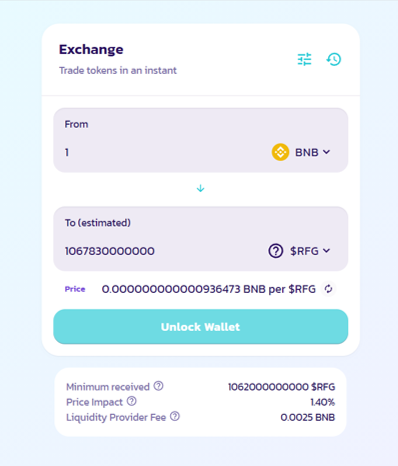 Trade can be completed by making payments through linked wallets.
Customer support
The token does not have any available customer support system on its website. However, Refugees Token is a relatively new cryptocurrency and not yet began trade. It is only a matter of time till the token becomes completely active.
Refugees Token social media platforms are quite active.
Socials
Website: https://www.refugeestoken.com/
Facebook: https://m.facebook.com/refugeestoken
Twitter: https://www.twitter.com/Refugeestoken
Instagram: https://www.instagram.com/refugees_token
Affiliate program
Refugees Token rewards the holder with an automatic redistribution of 5% of every transaction for continuing their support towards charity.
Refugees Token has recently launched their NFTs on www.treasureland.market. They have brought 3D models namely, RFG Metaverse Hero, Elon Musk Metaverse Hero, and CZ Metaverse Hero. The group plans to fund its marketing initiatives through the sale of RFG Metaverse Hero. Refugees Token is also working on its Wallet-Swap application that brings in a big positive change to the token value.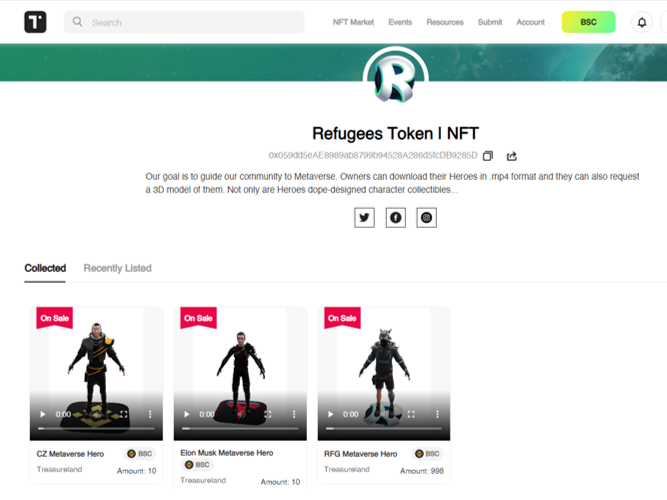 Pros & cons
Pros
First charity-based cryptocurrency
Allows investor to participate in philanthropic activities while he invests and makes money.
High liquidity and low market cap token
Cons
Not supported by any big player in finance markets
There is no finance expert on the board managing the cryptocurrency.
Absence of a Customer Support system.
Is Refugees Token safe?
Refugees Token is a fairly new cryptocurrency but promises authenticity primarily through its unique fees structure with the trade. Every holder gets an automatic credit of 5% of the trade of every transaction. So, the cryptocurrency makes money even when the trader is sitting on the token.
The team has also increased its marketing initiatives and now works on NFT based marketing initiatives which include YouTube promotions and Ads on PooCoin and Bogged Finance among other media promotions. They also got their interview published on Shedia, a local Greek magazine that highlights charitable initiatives.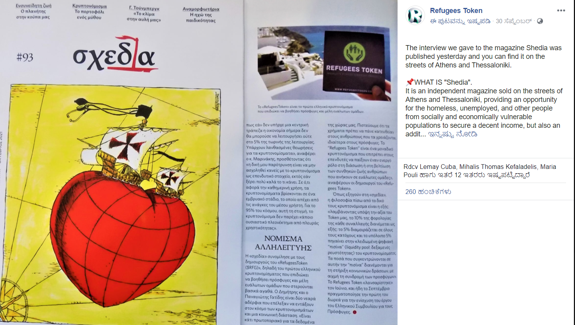 (Source: https://www.facebook.com/107996214788124/posts/185540850366993/?sfnsn=mo)
They are listed on CoinPaprica, Coincodex, Nomics, Coinranking, Livecoinwatch, Coincheckup, CoinMarketCap, Coingecko, and App.angi.eco. The token has also passed the TechRate audit in September 2021.
Why Choose Refugees Token?
Refugees Token has a fairly transparent system of donations. Apart from the clarity on the amount of funds going in directly for charity, the cryptocurrency has also ensured that they have a social media presence for their charitable activities. They have made 4 monthly donations since the time they began public trade and have clearly stated where the funds have gone. One such donation was made to a 30-year-old Greek council for Refugees. Going forward, they also plan to increase their charitable partnerships.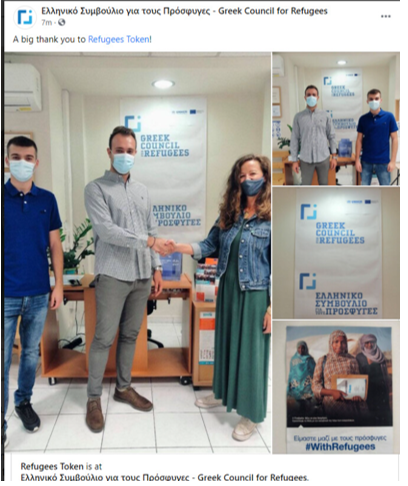 (Source: https://twitter.com/RefugeesToken)
Additionally, Refugees Token allows 5% funds to their holders for every new transaction made. This means that investors get some return on investment even when the token is not traded actively on the markets.
Finally, the growth percentage has gone up to 5 times for the early investors. With a strong initial market capitalization of 190.000$, one can be bullish on the token.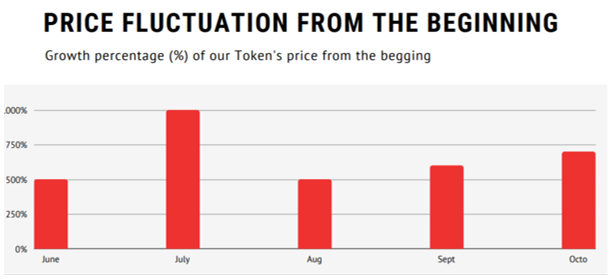 F.A.Qs
Do they work only for regional refugees or have a global charitable purpose?
Refugees Token has collaborations with Greek charitable institutions but has promised an upcoming donation for the Afghan refugees in their latest press release after what happened in the Middle East.
What are their recent marketing initiatives?
The team has collaborated with YouTube influences for a review of their token. They have released their NFT and are currently working on their WalletSwap. The token awaits its CMC listing.
What is the coin cap for Refugees Token?
The token is not yet traded actively on exchange hence the circulating supply is 0. There is no coin cap at present.
Do Refugees Token have its blockchain?
No, the token is based on the blockchain linked to other cryptocurrencies like the EOS Blockchain and Ethereum Blockchain.
Summary
Refugees Token is a promising cryptocurrency that connects with the heart of the people with its charitable purpose. The token is a promising long-term investment that is backed by good market volatility and a solid marketing effort. The team is also expanding on their portfolio to increase its presence. However, one must do its due diligence before investing.