It is not a secret that every crypto enthusiast wishes to swap cryptocurrency or buy it for fiat money with no fees. Though it may sound unbelievable, one of the exchanges has provided this opportunity to crypto traders and it is IQEX.io. Being a new swap platform in the crypto market IQEX can already boast many positive reviews and the range of the benefits offered to users is quite extensive too. What should you know about IQEX and can it be trusted? This IQEX.io review is going to provide many useful details and answer the most common questions.
What is IQEX.io

Table of Contents
IQEX.io is a Lithuania Based exchange service launched in 2020. It allows exchanging, buying, and selling cryptocurrency in one click and with minimum costs. The swap platform supports crypto exchanging without registration, but users can create an account if they want to access the history of transactions. The website is available in English and Russian, but users from any country can access it and use the services following national legislation.
Currently, exchange reservers are not that significant, but they will increase with the appearance of new users.
IQEX.io features
What are the main features of IQEX? There are several important points to focus on:
Automated exchange process without registration: it is enough to provide the swap details to complete the process.
Fast speed: it takes around 15 minutes on average to trade cryptocurrency.
Best currencies exchange rates: currently, users can trade crypto with 0% fees.
Rewarding affiliate program: possibility to get passive income for attracting new users.
Transparency: all currency reserves are displayed on the website.
A reliable partnership that includes such renowned names as Mercuryo, OKchanger, ExchangeSUMO, Advcash, PAYEER, and others.
Supported and restricted countries
There are no countries where users are restricted to access the service, but they should do that only within existing national legislation.
Available trading pairs
The list of currencies supported by IQEX is not that extensive, though it includes both fiat and cryptocurrencies.
The list of digital coins supported by IQEX looks as follows: BTC, ETH, TRX, LTC, BNB, USDC, USDT, and IQN.
The range of fiat assets that can be used on the exchange includes USD, EUR, and RUB.
The total number of pairs traded at the moment is 49, but it will gradually expand according to the exchange team.
Fees
The main advantage of IQEX is zero fees. Users pay 0% fees for swapping cryptocurrency without hidden fees. Probably, this is a special offer due to the novelty of the exchange, but the team promises minimum exchange costs in the future as well.
How to use IQEX?
When you access IQEX, you immediately understand what you should do to start the exchange procedure. All this is achieved thanks to an intuitive and user-friendly website interface. There is a white box on the deep blue website background that offers you to start the swap. The exchange process consists of several simple steps:
Choose the operation: exchange, buy or sell.
Enter the amount to exchange and select the asset or currency you plan to send.
Enter the amount to receive (or it will be calculated automatically if you filled the first field) and select the coin or currency to get.
Press the Exchange Now button.
Enter the wallet address to receive coins.
Enter payment details and complete the transaction.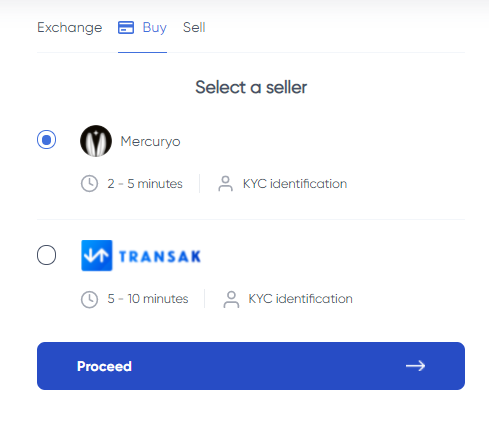 To buy or sell cryptocurrency, it is necessary to select one of two available banking methods Mercuryo or TRANSAK, enter the amounts and select currencies, provide the wallet address or domain name, agree with Terms of Service, and follow the hints provided by the system to complete the transaction.
Customer support
One of the exchange priorities is full customer satisfaction, so the main emphasis is made on the quality of the services provided. The customer support team is available from 03:00 to 23:00 UTC 7 days a week and there are two ways to contact it: email ([email protected]) and Telegram chat (@iqex_support). The team asks users to describe the issue in the message and they will answer in 15-60 minutes depending on the load of the service.
Affiliate program
IQEX offers an opportunity to earn passive income by participating in the affiliate program. For this purpose, it is necessary to register on the exchange and agree to become a participant in the program to get a referral link. You will get 30% of the website's profit for every transaction made by the person who accessed the exchange following your link.
Pros&cons
The number of crypto exchanges is growing incessantly, but why should you pay attention to IQEX and what may disappoint you there? The answer is in these pros and cons.
Pros:
Beneficial exchange rates;
Support for both fiat and crypto;
Advanced security settings;
Fast turnaround time;
Possibility to link wallets to a crypto account.
Cons:
Customer support is available not 24/7;
A limited number of pairs;
A short period of operation time.
Is IQEX.io safe?
IQEX is a new exchange, and it must take time to ensure its absolute safety. However, the exchange has been listed on Trustpilot, and users will soon get access to IQEX reviews and get answers on how safe it is. Currently, it is worth mentioning that the exchange is registered in Lithuania under the registration number 305744365. The absence of the necessity to register and share any personal details prevents vulnerability and possible theft of sensitive data. Users who agree to get an account on the exchange can enhance its protection in the settings by enabling 2FA.
Why Choose IQEX.io?
The main reason to try IQEX.io is the absence of fees and the possibility to get dividends for attracting other users. Traders can not only save on fees but also earn extra profit participating in the affiliate program on this exchange.
F.A.Qs
How long does it take to process an application?
The application goes into processing immediately but the time of completion depends on how busy the network is.

Can you cancel a transaction on IQEX?
No, you can't. Blockchain transactions are impossible to cancel.

Should I make a deposit to trade crypto on IQEX?
No, you shouldn't. Funds are processed between third-party wallets and are not stored on the exchange.

Does IQEX support fiat currencies?
Yes, it is. You can buy and sell cryptocurrency for EUR, USD, and RUB.

Is IQEX available in the UK?
This exchange operates all around the globe and the UK in particular, and it does not have any countries on the list of restricted ones.
Summary
IQEX.io is a young project that is only gaining pace in the crypto market. Despite quite tough competition, it has features to surprise crypto enthusiasts including zero fees, no need to register, and a rewarding affiliate program. Naturally, crypto trading is a risky process, and it is important to be confident in the reliability of the exchange. Therefore, it is better to start by exchanging small amounts to evaluate its functionality and see how it works.