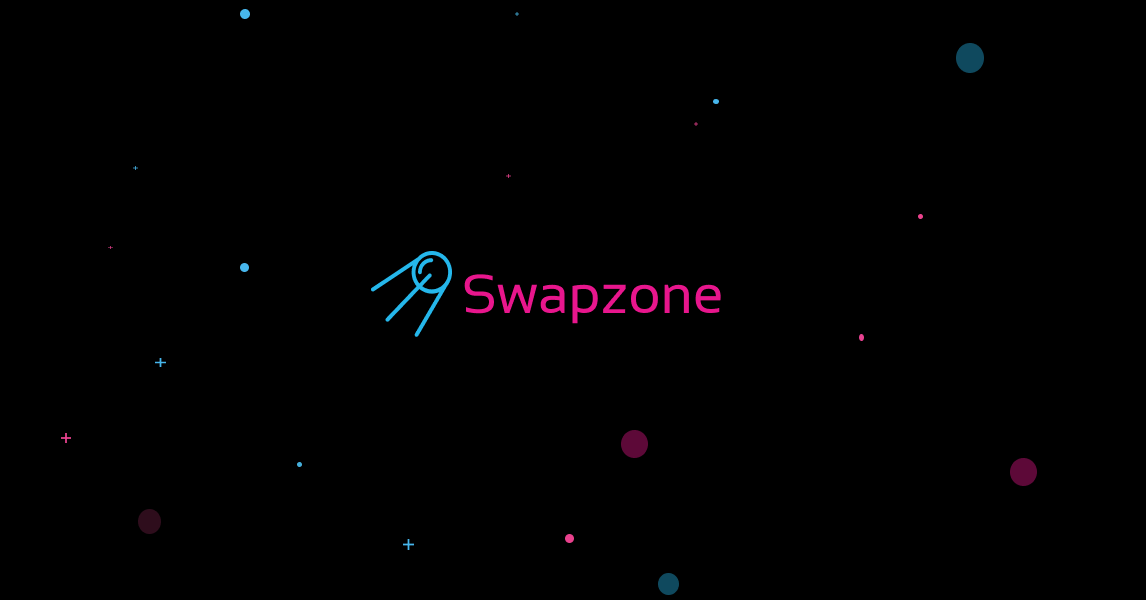 Do you spend a lot of your precious time comparing crypto rates on different exchanges? Swapzone will change your habit forever! This is an online platform that works as an exchange aggregator that allows customers to swap coins at the best rates in a matter of seconds. Are you excited?
Table of Contents
Look: we dived right into the app to research more about this new project for crypto enthusiasts and deliver this helpful review.
What is Swapzone
Swapzone is defined as a reputable cryptocurrency exchange aggregator that allows browsing through different services, comparing exchange rates, and swapping coins using one interface.
It was launched at the end of 2019 with the goal to create an innovative, transparent, and easy-to-use swap service that displays details from multiple exchanges and makes the exchanging process more convenient, valid, and fast.
It is clear every trader wants to get the maximum for the money he pays and Swapzone assists everyone in getting the best deals without putting in much effort.
Swapzone features
What makes Swapzone exchanger worth your attention? The range of its features looks very encouraging for traders:
Free service: you should not pay anything for using Swapzone services;
The simplicity of use: it operates online like any third-party service and does not require sign-up or any extra activity;
Support for 10+ most popular exchanges: Changelly, CoinSwitch, SimpleSwap, N.Exchange, StealthEX, Godex, FixedFloat, Exolix Fixed, Change NOW Fixed, SwapLab, Swft, Swapy, InstaSwap, etc.
Responsive customer support;
Support for swapping 300+ cryptocurrencies including popular assets, stablecoins, and private coins;
How does it work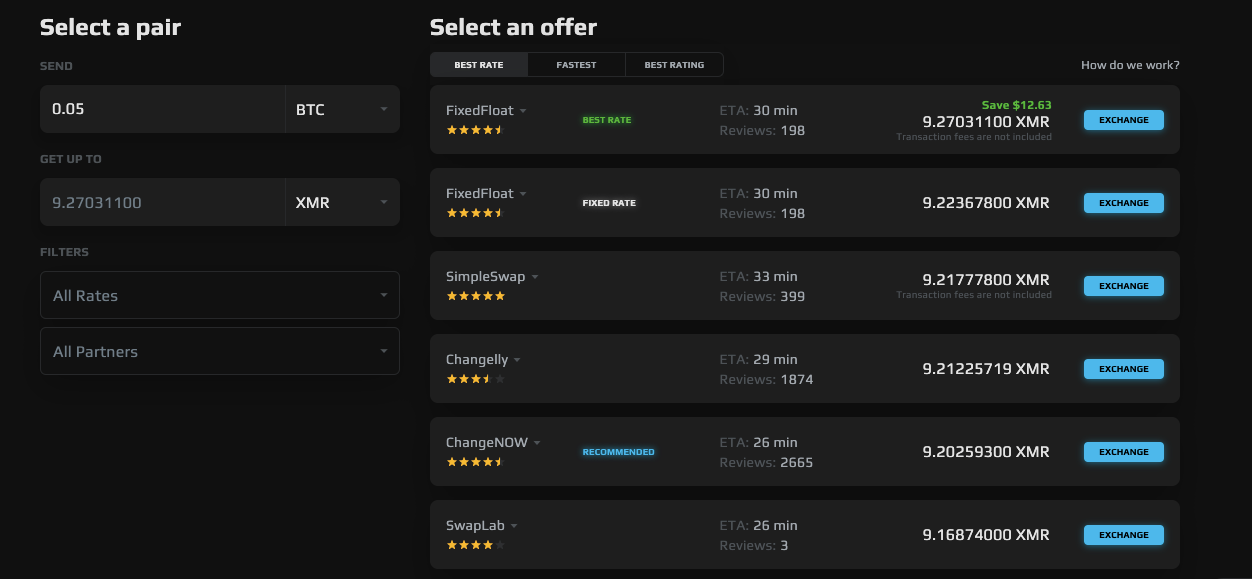 Swapzone is an online tool that stays in a constant scanning process of all the exchanges supported. It gives users an opportunity to choose the best exchange rate among a plethora of rates from different exchangers and choose which suits them best. The data is updated at regular intervals and users are notified about the necessity to refresh the search in order to see actual offers.
Swapzone can be accessed by everyone. It is enough to open the website page to start working there. You should select a pair you want to trade and enter the amount to send. There are two filters below the table that allow traders to specify the rates and partners to choose too.
When you enter all the details, you will see a table that lists exchanges supporting this swap, their rating, number of reviews, turnaround time, and the number of coins you will get. There are colored logos next to fixed rates, best rate, recommended, and warning. Furthermore, you can proceed with swapping coins directly on the website by pressing the Exchange button next to every point on the list. Another great option is three filters that offer to sort exchanges by best rate, fastest transactions, and best rating.
How to exchange crypto
Swapping is also a simple and fast process on Swapzone:
Choose cryptocurrency pair to trade.
Enter the amount to send.
Select the exchange that meets your requirements.
Enter the wallet address to send coins to.
Send coins to the address provided by the exchange.
Wait for the transaction confirmation.
Get your coins!
Referral program
Swapzone admits the existence of the referral program when users can receive profit from each exchange if it is accessed via a referral link. However, more details about it can be received by contacting customer support at [email protected].
Customer support
If you need any help, you can always contact the project's support team at [email protected]. However, it is not the only way to get help from the Swapzone team. There are a detailed FAQ section and an extensive library of tutorial links for people who want to learn more about cryptocurrency, trading, exchanges, etc. Furthermore, there is a chat that can be accessed any time at the right bottom corner of the page.
Pros&cons
Swapzone offers a number of advantages to users as well as features some drawbacks too.
Pros:
Direct receipt of swap rates from the exchanges;
Easy integration guide;
Lots of tutorials for beginners;
High TrustPilot rating;
Free to use and no downloads required;
Easy-to-use and clear website interface.
Cons:
Lack of information about an affiliate program.
Is Swapzone safe?
Swapzone is a non-custodial service. It means Swapzone does not control user crypto assets or manage other people's funds. It does not require any personal information to perform an exchange. The website is free to use and does not have hidden fees too. Furthermore, it has a high TrustPilot rating and wide social media presence to guarantee transparency to users.
F.A.Q
What is Swapzone?
Swapzone is a cryptocurrency exchange aggregator for swapping coins at the best rates with a minimum of effort and in one place.
How much are Swapzone services?
It is a free online service that does not require downloads and registration.
What coins does Swapzone support?
It supports 300+ cryptocurrencies and including popular coins, stablecoins, and private coins.
How to use Swapzone?
You should open the website, select coins to swap, enter the amount to send, and compare rates on multiple exchanges. The next step is to select the exchange, enter a wallet address, send coins to the exchange address, and wait for new coins.
Is Swapzone risky?
Not at all. This service is a non-custodial one. It does not ask for personal details and offers transparency to all users.
Summary
Swapzone is a project that will open new possibilities for traders who want to get the best deals. Its simplicity of use, transparency, and many other benefits make it a great solution for crypto enthusiasts. It keeps on evolving and extends not only the number of coins supported but also partner exchanges to guarantee users the best swapping solutions.