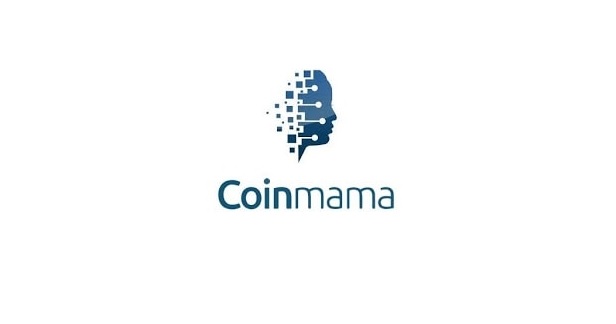 How challenging it is to choose a service to buy cryptocurrency nowadays since the selection is overwhelming at the moment! One of the online destinations with years of experience, millions of happy clients, and worldwide access is Coinmama. Probably, you have heard this name if you dealt with crypto earlier but what makes this exchanger different from others, and how to buy and sell cryptocurrency there?
Table of Contents
Look: this Coinmama review will clear this up and provide you with all the necessary information about this service.
What is Coinmama
Coinmama is a service of changing digital currencies for fiat or other digital currencies. It allows buying and selling cryptocurrency in a fast, safe, and fun way almost everywhere on the globe.
Coinmama was established in 2013 to create the simplest financial service in the crypto industry. The company's headquarters are located in Dublin, Ireland. It is the property of New Bit Ventures Ltd and is operated by Cmama Ltd at the moment. The exchange offers services in 190 countries all around the world and 43 US states which is a great achievement.
The main peculiarity of Coinmama is being a brokerage service. It means this company holds cryptocurrency in its own wallets and sells it to customers directly – without the involvement of third parties. The service is said to be trusted by over 2,300,000 people which is a convincing factor to consider when you choose an exchange.

Coinmama features
What are key characteristics of Coinmama exchanger you should be aware of? Here is a short list to look through:
Providing direct sales of cryptocurrency due to the brokerage nature of an exchange;
Competitive fees on crypto purchases;
Support for 10 most popular assets;
Availability of multiple payment methods;
Any type of purchase can be made only after the ID verification;
Worldwide acceptance;
Responsive and round-the-clock customer support.
Team
The company was established 8 years ago, and its team has been constantly expanding. Now it consists of over 30 members who have decades of experience across different industries. However, speaking of the company's roots, it was originally founded by two crypto enthusiasts: Nimrod and Laurence.
Nimrod is the founder of Israel's first bitcoin ATM company who currently runs company operations and takes the position of COO.
Laurence is an entrepreneur who has been involved in the world of crypto since 2013. The challenges he faced trying to buy Bitcoin himself encouraged him to run a service that will simplify this process and make it easy for everyone.
Nowadays, they manage a team of crypto experts who put lots of effort to guarantee a seamless and smooth crypto buying experience to everyone and do that very effectively.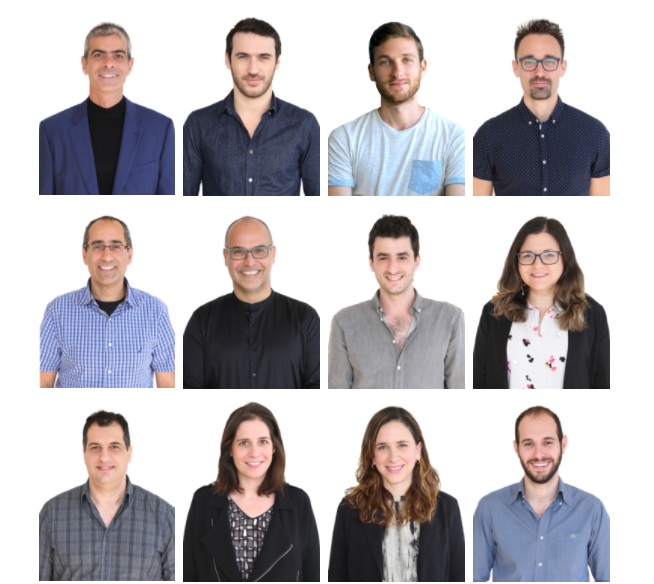 Licenses
Coinmama platform is operated by Cmama Ltd., which is a daughter company of New Bit Ventures Ltd company #514907880 and it owns the Coinmama brand and platform. Cmama Ltd. is a regulated entity registered as Money Service Businesses with Financial Crimes Enforcement Network (#31000172638926). The registration at FinCEN that takes responsibility for investigating financial crimes such as fraud, money laundering, and tax evasion confirms the reliability of the exchange officially.
Coinmama services
The range of services offered on Coinmama website is limited to buying and selling cryptocurrency. However, there is some difference between the services provided to individuals and businesses.
For individuals
Anyone who resides in the country that does not belong to the restricted ones can make crypto purchases on the Coinmama website after completing the registration procedure and ID verification. Coinmama currently allows combined buy and sell transactions of up to $15,000 a day when using a bank transfer.
For business
Being a new service from Coinmama business that need to buy larger amounts of cryptocurrency can do that by filling a respective form. Coinmama Business allows making purchases of $100,000 or more at a time if the company completes an application process and provides all the necessary details.
How does it work
Since the company wants to be at the forefront of the financial revolution, it has simplified the procedure of purchasing cryptocurrency to several steps:
Register for a Coinmama account.
Get verified to be able to make transactions.
Set up a cryptocurrency wallet to send coins to.
As soon as you are allowed to buy and sell coins on the service, you can start your activity there.
Registration and verification
Only registered and verified users can use the services of Coinmama exchange.
The registration procedure is traditional and quick. It is enough to press the Sign-up button located in the upper right corner and provide an email address, password, and select the country you are located in.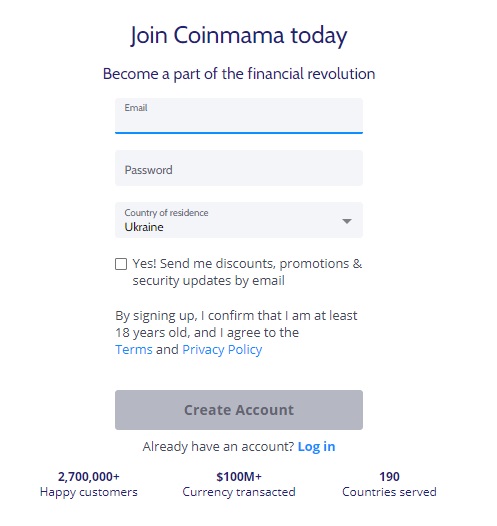 The verification procedure is a little more complicated. When you have created an account and confirmed an email address, you can log into it and click on the Verify my account button. You will be asked to upload a valid government ID (passport or driver's license) along with a selfie containing the ID and a piece of paper bearing the text "Coinmama" and today's date. It may take some time to complete the verification and you will be notified about that.
Restricted countries
There are locations that can not be served by Coinmama and this list of countries and territories looks as follows: Cuba, Crimea, Iran, Israel, Lebanon, North Korea, Palestinian Territories, South Sudan, Sudan, Syria, Somalia, the Restricted U.S. States such as Hawaii and New York.
Languages
The website is available in two languages including UK English and Spanish.
Supported currencies and coins
The exchange supports payments made in such fiat currencies as Euro, US Dollar, Australian and Canadian dollar, Japanese Yen, and British Pound Sterling. When it comes to the list of cryptocurrencies supported by the platform, it includes the following assets:
Bitcoin (BTC);
Bitcoin Cash (BCH);
Ethereum (ETH);
Ethereum Classic (ETC);
Cardano (ADA);
Litecoin (LTC);
Tezos (XTZ).
Deposits and withdrawals
It goes without saying that you should process money to get cryptocurrency in exchange for it. How can you do that on Coinmama? The company accepts payments via Visa and Mastercard as well as bank wire transfers (SEPA bank transfer in Europe and through SWIFT transfer in the rest of the world). Recently, ApplePay has been added to supported banking options too.
How to buy crypto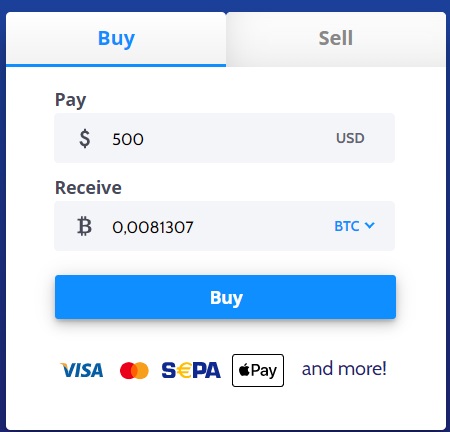 You can purchase assets available on the exchange following these steps:
Log into your account and select to buy crypto.
Select the crypto you want to buy and the currency you want to pay with.
Enter the amount or choose one of the packages offered on the platform.
Enter your wallet address (the exchange does not support crypto storage, so only third-party wallets can be used).
Choose your payment method and follow the instructions to complete the transaction.
Confirm the wallet address following the link sent to your email address.
Get your coins instantly.
How to sell coins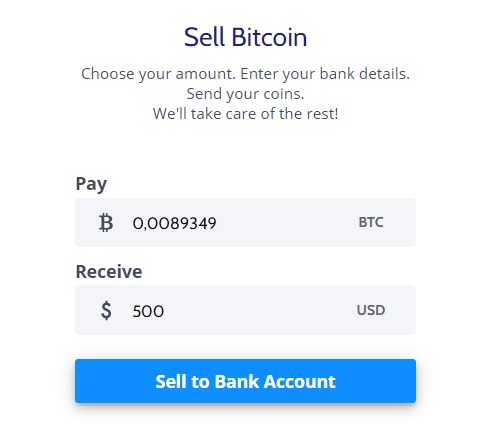 The only coin supported for sale on Coinmama is Bitcoin and it can be converted to cash following this procedure:
Log into your account and select to sell crypto.
Enter the Bitcoin amount you want to sell or the amount of fiat money you want to receive (calculations of the respective amount are made automatically).
Create order and enter your bank details, country, account information, and personal details.
Send coins to the address generated by the system.
When your coins are received, money is transferred to the bank account provided.
Fees
Coinmama's market rate is based on the XBX + 2%. Additionally, there is a commission fee of up to 3.90% on buy transactions and up to 0.9% on sell transactions. For credit and debit card transactions, the company applies a 5% momentum fee. There is no extra fee for SEPA bank transfer, but SWIFT bank transfers are charged a minimum fee of 20 GBP on orders below $1,000 and no extra fee on orders over $1,000.
Limits
The exchange approves combined buy and sell transactions up to $15,000 a day using a bank transfer. However, the transaction limits vary depending on the level of your account:
Level 1 (given to all verified users)
Daily limits:
Card (only purchases): $5,000 up to 5 orders
Wire transfer (buy & sell): $15,000 up to 10 orders
Monthly limits:
Card (only purchases): $15,000 up to 20 orders
Wire transfer (buy & sell): $15,000 up to 50 orders
Level 2 (given to users who have submitted a secondary ID)
Daily limits:
Card (only purchases): $5,000 up to 5 orders
Wire transfer (buy & sell): $35,000 up to 10 orders
Monthly limits:
Card (only purchases): $30,000 up to 30 orders
Wire transfer (buy & sell): $50,000 up to 50 orders
Level 3 (given to users who filled out a short form)
Daily limits:
Card (only purchases): $7,500 up to 5 orders
Wire transfer (buy & sell): $50,000 up to 10 orders
Monthly limits:
Card (only purchases): $40,000 up to 30 orders
Wire transfer (buy & sell): $100,000 up to 50 orders
Level 4
Higher limits are possible if you contact VIP customer support at [email protected] and complete the necessary verification and KYC requirements.
Affiliate program
Coinmama allows earning Bitcoin for participation in the affiliate program offered by the exchange. People who attract new users to the platform will get 15% of Coinmama's commission on all of the referral's purchases. There are no limits for the number of referrals or duration of the program, but you should meet a couple of requirements. Payouts are made every month but only if there are at least 3 successful orders made by 3 different users. You can join the program any time and get your unique referral link after registering in it.
Customer support
Trusted exchanges have always provided users with premium assistance and Coinmama is not an exception. Customer support is available 24/7 in the chat - there is the Help button at the left bottom corner for quick access. The response time is a matter of seconds there.
There is an informative help center on the platform where users can find lots of details not provided in the FAQ section. However, you can also contact Coinmama support by filling the contact back form on the website or calling the US number provided on the Contact page (you can leave a message, and the company's support will get back to you later).
Pros&cons
Like any online service created for customers, Coinmama has its positive features and some drawbacks.
Pros:
Instant Bitcoin purchases less than in 10 minutes;
High spending limits up to $30,000 at a time;
Excellent security level;
Outstanding 24/7 support;
No hidden fees;
Loyalty program.
Cons:
Higher fees than in the market on average;
A limited number of assets to buy;
Support of only Bitcoin sales.
Is Coinmama legit?
Having spent over 8 years in the crypto market and attracted over 2.7 million users, there is hardly any sense to doubt Coinmama legitimacy. Unfortunately, the company once experienced a non-pleasant situation with a breach in security back in 2019, but currently, it pays much attention to the highest level of protection and user safety. It operates in accordance with Your Customer (KYC) and Anti Money Laundering (AML) policies and can boast a Great score on Trustpilot with numerous positive Coinmama reviews too.
F.A.Q
How long does the verification procedure last on Coinmama?
The exchanger guarantees a fast-track verification that will be completed in several minutes.
What currencies does Coinmama support?
It accepts such fiat currencies as USD, EUR, GBP, CAD, AUD, and JPY and the following crypto coins: Bitcoin, Ethereum, Litecoin, Bitcoin Cash, Qtum, Ripple, Ethereum Classic, Cardano, Tezos, and EOS.
Is there a wallet on Coinmama?
Unfortunately, not. Users can withdraw cryptocurrency only to third-party wallets.
Is Coinmama safe?
Yes, it is. This is a reputable crypto exchange that cares about the highest standards of security measures.
Can you buy cryptocurrency on Coinmama without registration?
No, you can't. Only account holders who have passed through the verification procedure can use the broker services.
Summary
Coinmama is a perfect solution for beginners who need a trusted and reputable exchange to buy a cryptocurrency and do not mind paying higher fees for that. Furthermore, this service is appreciated by the instance of transfers and premium customer support that make it outstanding among competitors. At the same time, experienced crypto buyers avoid Coinmama due to quite high fees and a minimum of assets supported, so they look for alternative exchanges to get that.