Every crypto investor dreams about the token that will never lose its price or be subjected to volatility. Wouldn't it be great if cryptocurrency brought its holder constant income without any chance to lose anything. Though it seems unbelievable, such a token was invented and it is called TRGN. It is a product of the Trigon project that has entered the crypto industry quite recently but made headlines thanks to its unique protocol.
In this article, we will shed light on the Trigon project and explain what makes it outstanding and how TRGN can benefit its holders too.
Table of Contents
What is Trigon?

Trigon is a blockchain-based project launched by a group of crypto investors who got tired of losing money on token volatility and suffering from scams. These people have invested money and hired a developer to get a smart contract that will allow equal opportunity for all investors to buy the token and to earn a profit when its price will grow. They also decided to implement an exchange model in the token protocol and it resulted in the development of a unique model where token price never falls.
History of the project
The history of Trigon is very short, but there are already some significant achievements made too. The project was launched on October 12th, 2020 and since there is no token issue process or presales, it has immediately become available to buyers and been traded. As a result, TRGN token price has already increased by 25% since its release and keeps going up.
Problems Trigon solves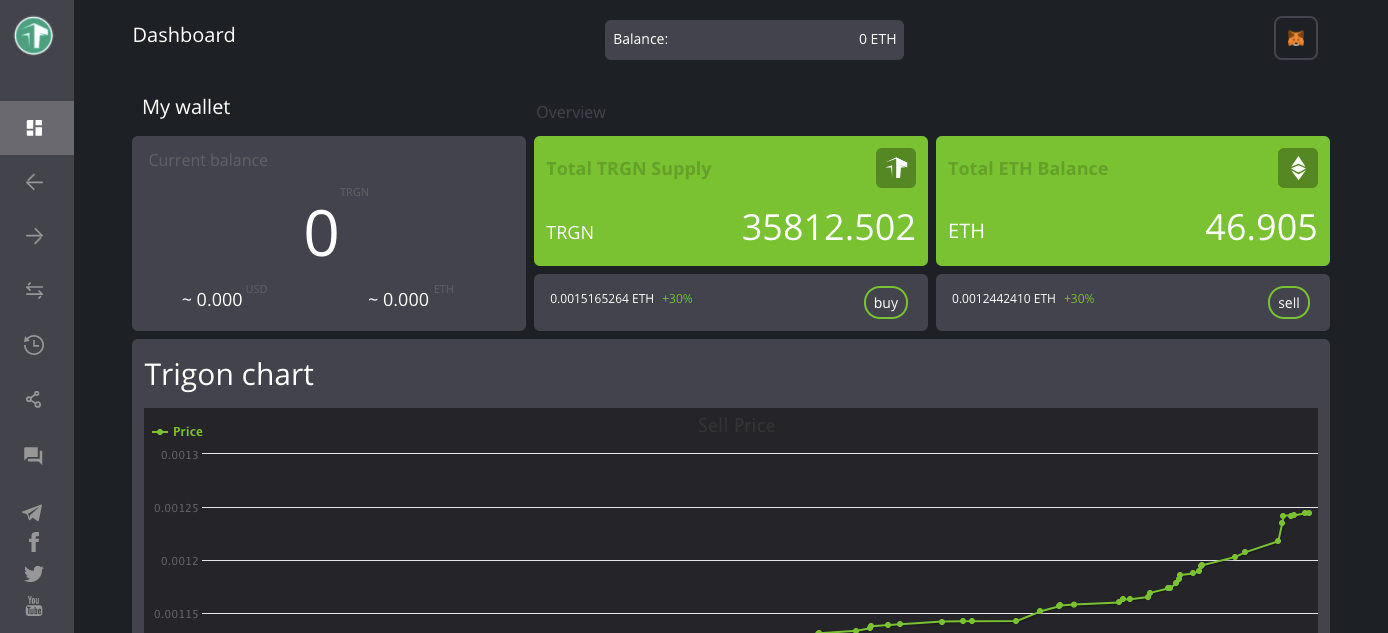 Trigon Wallet
It is not a secret that scams and token volatility are two main problems faced by crypto investors, but TRGN was created to solve both of them. This is a self-sustainable and self-tradable token. Its owners do not need to access any third-party services to trade it since everything can be completed through Trigon native wallet here. It is possible to buy and sell token there using ETH.
How does it work? A user should access the wallet, connect it to his/her Metamask, specify the number of tokens to acquire, and complete the process by pressing the Buy button. The selling process looks the same, but it is necessary to click the Sell button instead.
Trigon features and advantages
The main question that interests crypto-enthusiasts about the TRGN token is why it is not volatile by nature. The main reason for that is the use of the exchange model in the smart contract. Every token has buy and sell prices. TRGN token's buy price is 15% higher than the base price while the sell price is 5% lower than the base price. Naturally, the token is purchased and sold by crypto holders and the difference between the base price and the sell/buy price is added to the value of the coin making it grow incessantly. No wonder that the original value has already increased by 25% for only half a month and keeps on growing on a daily basis.
When it comes to Trigon main features, they look quite impressive:
TRGN token mints on purchase and burns at sell (no pre-mine);
Constant token price growth and the absence of fluctuations;
No need for exchanges: the coin is traded through the wallet;
An immutable smart contract can be subjected to verification anytime and by anyone.
Technologies used
The main idea that stands behind the Trigon project is the Stable Growing Token Protocol. The company calls it the new King of crypto since the main idea of it is to increase the token price investing the commission that is usually taken by an exchange in it. A special mathematical algorithm is integrated into a smart contract to distribute the commission received each time when the token is bought or sold to all issued tokens and increase their value. Being immutable this smart contract can't be changed so any scams are prevented thanks to that feature.
When a person buys TRGN for Ether, tokens are sent to a smart contract that calculates the new buy price. Selling TRGN tokens to a smart contract activates the burn procedure after calculating the new price.
Trigon functions and products
Trigon project has created not only a TRGN token and a wallet for storing and trading but also introduced an affiliate program. Users of the platform who have purchased TRGN tokens worth $50 and more can get an affiliate link and receive 5% from any transaction. It means that a person who accesses the platform following this link and purchases tokens will bring the affiliate a 5% reward paid out in TRGN.
Another upcoming feature to be introduced by Trigon in the near future is the API & SDK. It will be created to connect online shops and other dapps to allow them to accept payments in the TRGN token. Earlier online stores tried to avoid accepting payments in cryptocurrency because of its volatility, but TRGN is unique since its price will always grow and merchants will not lose money accepting this token from their clients. If any shop founders read this article, it is possible to contact the project development team at hello@trigon.plus and they will come back with an offer for a shop.
Conclusion
Trigon is an exclusive token with an absolutely innovative smart contract protocol that allows increasing its value without much effort. It operates similarly to popular exchanges but all the possible commissions paid by users are sent to the general pool that increases the coin price. Can this process be endless? The answer to this question can be found only in some time, but currently, it is a project to watch.
Our content is intended to be used and must be used for informational purposes only. It is very important to do your own analysis before making any investment based on your own personal circumstances.