Following a mild recovery from the £21k range during the week, all eyes were on the Bitcoin weekly candle. The bulls had staged a comeback from the local bottom and a strong close to the weekly candle had the potential to confirm that positive momentum was returning to the market.
The Bitcoin weekly candle did not disappoint at the close, adding £3k to the BTC price within the space of three hours.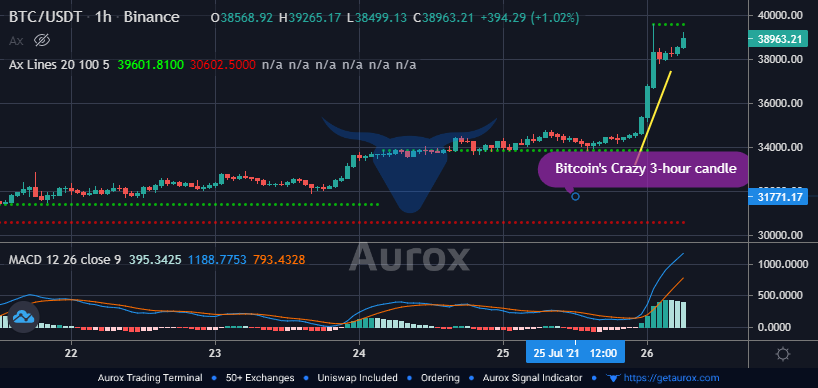 The number of buyers and the increased trading volume overwhelmed the market and ended up liquidating over $720 million worth of short positions according to data from Bybt.
Is Amazon Going to Accept Bitcoin?
The positive price trend was directly attributed to news that tech giant Amazon was planning to accept cryptocurrencies for its products. The news was first shared by an unnamed source from London news agency City AM.
The source had said that Apple's cryptocurrency venture would begin with accepting BTC before the end of the year, and would follow the subsequent roll-out of other products. Per the source, Amazon plans to launch a digital currency as early as next year.
The news followed a job posting last week where Amazon said it was in search of a Digital Currency and Blockchain Product Lead that would oversee the company's digital currency and project roadmap.
The scope of what Amazon is building is still unknown, but the markets seem willing to speculate on the possibilities. With tech companies like Tesla, Square, and MicroStrategy already holding Bitcoin on their balance sheets, this possibility also cannot be completely ruled out for Amazon.
As noted earlier, Bitcoin bulls will be hoping that the market sustains the current price increase and then build on it to restart a period of massive price increases. On the charts, Bitcoin's primary resistance resides around the $40-$42k zone.
Flipping that price range and turning it into support will give confidence to those who still believe that Bitcoin will record a new all-time high this year. Bitcoin is trading at £28,453 at the time of writing, with a £533 billion.