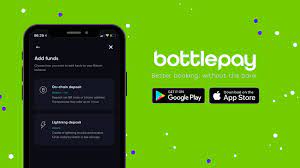 UK-based Bitcoin app Bottlepay announced today the roll-out of a feature that will let customers send and receive British pounds on the Twitter app. Bottelpay has since allowed the tipping to be done with Bitcoin via the Lightning network, but will now expand its offering to include fiat.
All that users with a funded Bottlepay account have to do is write a tweet tagging Bottlepay with instructions to send a certain amount to a recipient tagged in the same tweet. The instruction for example reads, "@bottlepay send @recipient £8."
Such instruction will allow Bottlepay to transfer funds from the account of one user on its platform to that of the designated recipient.
Users can choose to tip their favorite artists, donate to charities, or even reward other Twitter users who make a comment that appeals to them. If the person tagged in a tweet does not have a Bottlepay account, they'll be prompted to create one, while senders can redeem unclaimed amounts from recipients that did not claim the donation.
By allowing money to be moved in as simple as a tweet, Bottlepay customers no longer have to worry about providing additional information, such as the personal address of the recipient. Bottlepay is also looking to attract users to the service with its "no transaction fee" promise. Unlike other crypto and other payment methods where users pay fees or the recipient gets a little less than what was originally sent, Bottlepay will send 100% of the transferred amount.
Commenting on the new "sterling" social payments feature, Bottlepay's founder, Pete Chyne, reportedly said:
"Today's consumers want the power to move their money to anyone, immediately, from anywhere in the world. Bottlepay's social payments are a much-needed update on the clunky, outdated payment systems available up until now, and a leap towards smoother, easier transactions."
The startup hopes to introduce the feature on other major social media platforms including Twitch, Reddit, and Discord within the coming weeks.
Bottlepay is backed by Alan Howard, a former partner at Goldman Sachs who is currently working with digital asset manager NYDIG. Alan Howard had led an £11 million ($15.4 million) funding round for the startup in February.