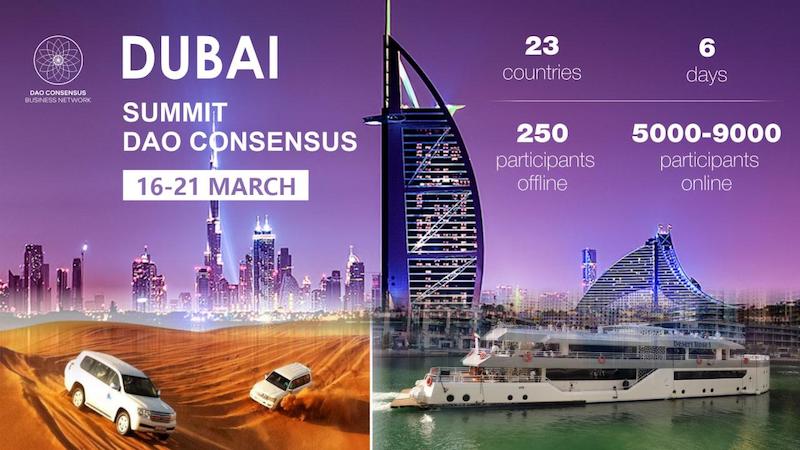 The largest crypto event of the spring – Dubai DAO Consensus Summit, – brought together more than 40 major experts, entrepreneurs, investors, and traders on March 16-21.
#DUBAIDAOCONSENSUSSUMMIT was a hot week of pumping in the world of the digital economy in an online&offline format with a live broadcast and a live program in Dubai.
On each day of the summit, the online broadcast and offline program was attended by between 5,000 and 9,000 people! Among the participants of the summit in Dubai were representatives of 21 countries (Russia, Germany, England, Spain, Greece, the Netherlands, Kazakhstan, South Korea, Vietnam, Japan, Turkey, Colombia, Argentina, etc.).
The summit program was intense:
25 keynote speeches

5-panel discussions

round table

teleconference

workshops

communication with viewers and participants

answers to the most relevant questions

awarding of industry leaders

afterparties and networking
The speakers covered such topics as the digital ecosystem, staking, farming, smart contracts, cybersecurity, challenges that modern blockchain protocols face, ways to solve them, the role of forks in blockchain ecosystems, the best investment channels for entering the crypto market, NFT, tokenization of real estate, opportunities for international tokenized promotion companies, etc.
The experts also analyzed the market, talked about the prospects and opportunities for earning money in blockchain, and introduced the participants to the opportunities for investments in the digital economy market.
Among the speakers were:
Tone Vays, Content Creator, Derivatives Trader & Consultant

Gordon Einstein, Founding Partner at CryptoLaw Partners

Mr Patel

,

Investor, Best Selling Author,

CEO Sapian Group, COO Flashgroup

Jorge Sebastiao, seasoned ICT Expert in areas of Cyber Security, Artificial Intelligence, Blockchain, CTO Advisor, Speaker CISSP

Ilya Churakov, CEO of DAO Consensus and TESTAMEX

Sergei Khitrov,

Founder and CEO of Listing.Help and Blockchain life

Maria Stankevich, Head of Business Development at the EXMO Cryptocurrency Exchange

Georgy Galoyan, founder of DAO.vc

Vyacheslav Nazarov,

PR director of DAO Consensus

Oleg Orlov, Chief Financial Officer of DAO Consensus

Mikhail Zhukov, crypto investor & entrepreneur, managing partner at various innovative startups

Nitesh B. Gianchandani, head of Digital Media Department, Nagaya Technologies Pte Ltd

Yorat Johannes Tjandra,

Founder of Nagaya Technologies Pte Ltd

Sergey Savich, business coach, coach of millionaires
and others.
The organizer of the Summit is DAO Consensus, a global business community, each member of which receives a share of all the network's profits. The DAO is based on smart contracts, where each transaction is transparent, and each member of the community can influence its decisions with their own voice.
Summit partner is Digital Week: collaborating companies held the pre-party on March, 19 in Dubai. And some days earlier, on March,12 the event https://digitalweek.online was streamed by DAO Consensus.
Special partners of the Summit are Crypterium and Testa. Community partners are Gooooup, Platinum Software development, MIG.Business, ThinkTank Comminuty, Akintsev&Partners, Neironix, Crypton (&Studio).
Summit media partners are BeinCrypto, Listing.Help, Coinstelegram, Bits.Media, Newconomy, CryptoNewsZ, BestInvestBlogs, Kingdom of Kaprika, Crypto News Freedman Club, Bitnovosti, Bitcouriere, Altcoinlog, PRnews.io, and more.
The next DAO event will be the Turkey DAO Consensus Summit to be held on June 10-13 in the sunny city of Antalya. Registration is open! The early birds get the most pleasant ticket prices: https://daoconsensus.info/turkeysummiten