Crypto trading brings about overwhelming profits to thousands of people, but a key to the success of such a risky activity is the choice of the right platform. One of the most popular brokers that allow trading easily, profitably, and safely is 7b. This platform has become a credible instrument for asset management for lots of traders, so should you check this broker as well?
Look: this review of 7b cryptocurrency broker focuses on the main peculiarities of the platform for every crypto enthusiast to make a conclusion if it is worth their attention.
Table of Contents
What is 7b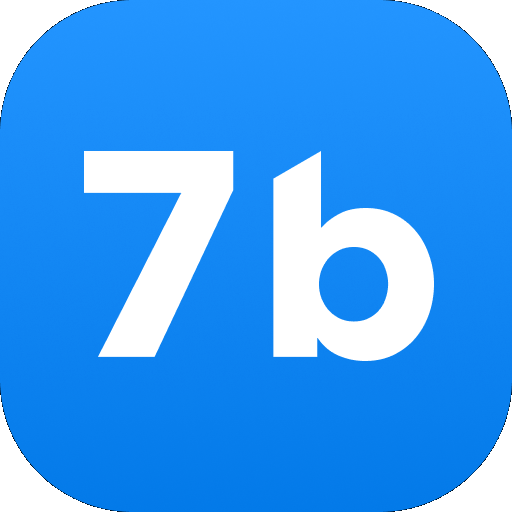 7b is a new crypto broker for simple, safe, and rewarding trading. It is a reliable intermediary that assists with processing crypto transactions and accompanies traders at all stages of the process and provides analytical and statistical data required for making more accurate decisions. 7b broker completes trades on behalf of the user through the Android app and works through Binance. In fact, you get an app that will be your personal assistant in trading that is always with you.
7b features
What are the main features of 7b? Here are several important things to remember:
Friendly environment suitable for beginners;
All the necessary financial instruments for advanced traders;
Powered by Binance Brokerage API;
Utmost security provided by a broker trading app;
Easy-to-use portfolio with many useful data and details.
Team
7b has appeared thanks to the idea of crypto enthusiasts with 10 years of experience. They decided to develop a tool that will become a user-friendly assistant for everyone and support a great diversity of pairs to make the trading process more versatile and easier. The core of the development team consists of 3 professionals.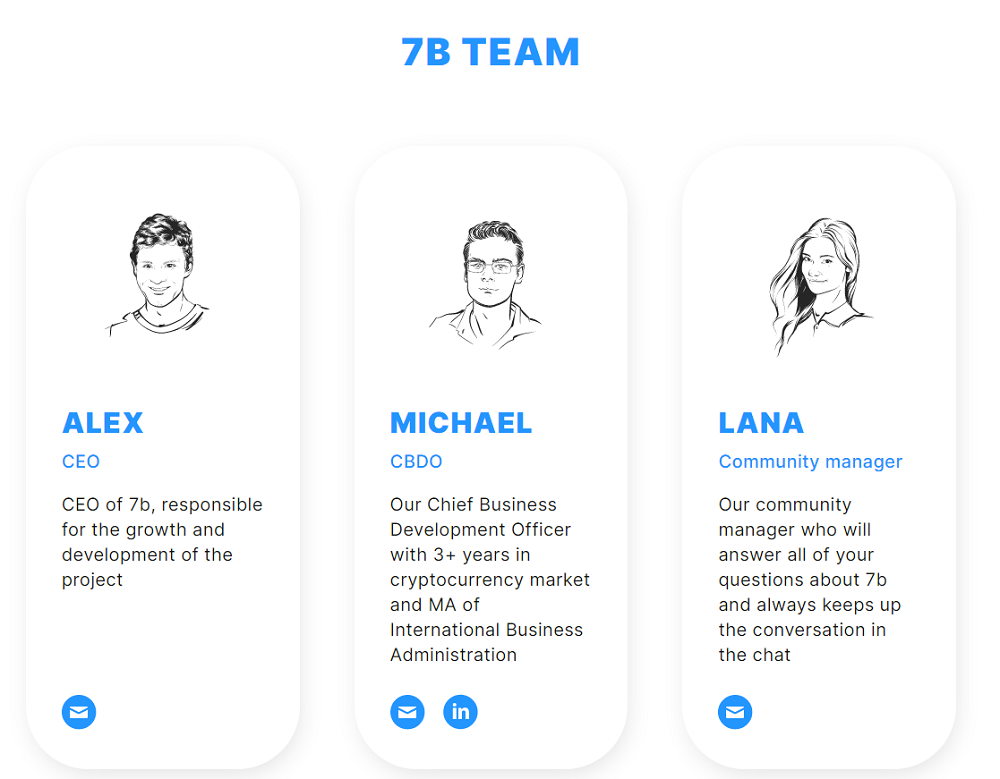 Alex is a company CEO whose responsibility is to grow and develop the project.
Michael is a Chief Business Development Officer who can boast over 3 years of cryptocurrency experience.
Lana is a community manager who can be accessed in the chat and give answers to all questions users of the platform are interested in.
7b website is owned and operated by Stash Tech Solutions Limited, a company registered in Seychelles.
How does it work
Starting to trade with the help of a 7b broker is not difficult. The first step on the way to success is registration and account verification if you plan to use increased limits. You can proceed to this step immediately after the download of the Android app. The procedure is simple and requires a minimum of personal details.
When you become a member of the platform, you should complete the following steps:
Fund the account.
Place a market order.
All the next steps are completed by a broker: he places orders for you and deals with all other necessary procedures. The task of the trader is only to follow how crypto arrives at the balance but also the results of trading operations in general.
The functionality of the app is quite various. Users can do the following things there:
Viewing current exchange rates;
Tracking price changes for all coins;
Adding coins to favorites;
Funding a balance to trade crypto;
Crypto withdrawals;
Viewing portfolio.
Available coins
The range of coins available for trading on 7b is similar to the one offered on Binance. In fact, it supports over 400 cryptocurrencies including such popular coins as Bitcoin, Litecoin, Ripple, Ethereum, Bitcoin Cash, and many others. Currently, there is no support for fiat money but it is planned for the future.

Fees
Transparency is the main feature of the fee system used by 7b. Users can see the exact fee without hidden sums and last-second changes. The commission size is characterized by precision and finality. It can differ depending on the coin but users can always see the final amount making a transaction.
Customer support
Professional customer support is a significant feature for reputable companies, and 7b has paid lots of attention to this question as well. The support team is available 24/7. Users who want to make a query should contact the support team at [email protected] or use a Twitter account (sevenb_roker) for the same purpose. If you want to learn more about this broker, you can access the FAQ section on the website or ask questions in the chat available in the app.
Pros&cons
Pros:
No hidden commissions;
Intuitive interface;
High trading limits without verification;
Lightning-fast transaction speed;
Ease-of-use.
Cons:
Regional restrictions;
No desktop trading.
Is 7b safe?
Security is one of the features possessed by a 7b broker. The system is provided with high-security protocols that subject every transaction to automatic security checks. All the personal details and other sensitive data you share with the platform are encrypted to prevent its loss or theft. The service does not have access to private keys and requires email confirmation to process a withdrawal. Therefore, it makes no sense to question 7b safety for traders.
Why Choose 7b?
The main reasons why 7b can become an alternative to other trading brokers are its simplicity of use, affordable and clear fees, as well as a high trust rate. Many users admit its suitability for both beginners and advanced traders as well as the possibility to withdraw up to 2BTC without KYC verification.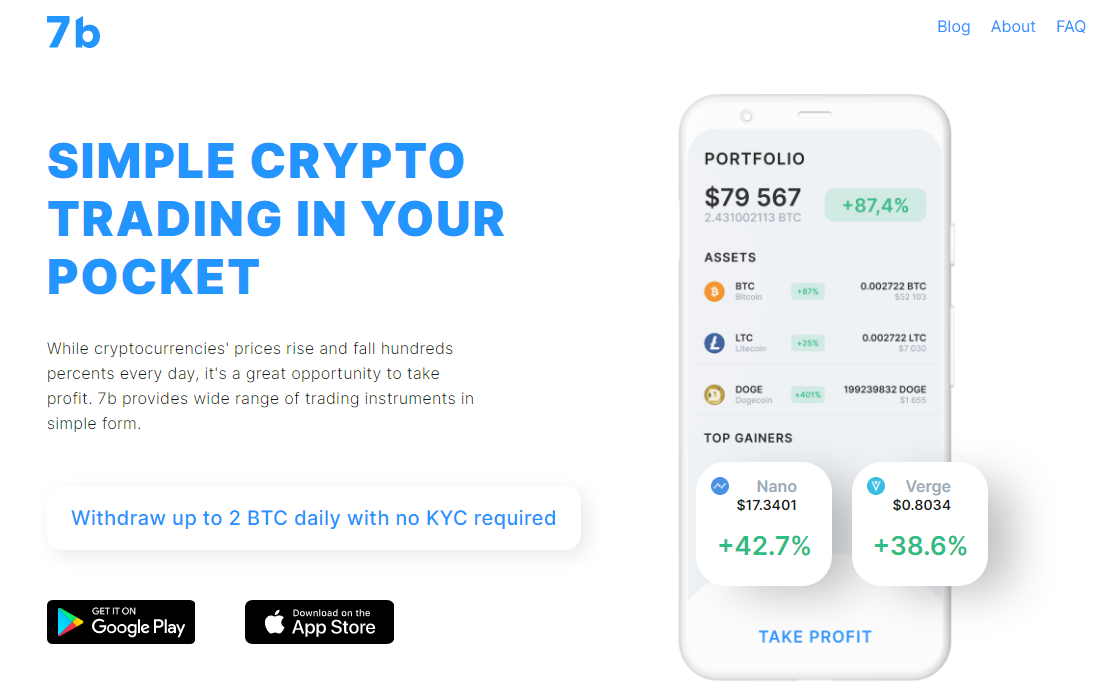 F.A.Q
Why is 7b broker a necessity?
Unlike a traditional crypto trading experience with lots of distractive information, 7b broker has a user-friendly and easy-to-use interface and offers all trading instruments for everyday use.
How does 7b customer support work?
Users can contact customer support in the chat, by email or on social media 24/7.
Are there any risks of trading on 7b?
Any crypto trading activity is characterized by a definite number of risks that include volatility, the absence of regulation, and a high risk of speculation. 7b minimizes them greatly but it cannot protect from them fully.
What countries are not served on 7b?
Residents of the United States, Belarus, Cuba, Crimea, Democratic Republic of Congo, Iraq, Iran, North Korea, Sudan, Syria, Zimbabwe, and also other countries are not allowed to use the services of this broker.
How to start on 7b?
There are 3 simple steps to complete: register an account, fund it, and make your broker place orders.
Summary
The modern crypto trading industry has a plethora of offerings when it comes to trading platforms and brokers. Such a big choice makes it difficult to select the best broker personally for you. If you have no time and desire to analyze lots of charts and make risky decisions on the spot, consider a 7b broker as a reliable assistant, and probably, you won't regret your choice.