Introduction
TTT is the token native to Eternal Wallet, and an integral part of Eternal Wallet and Atom Solutions' operations. It is an ERC-20 based token but is scheduled to be released on its own mainnet in the future, as well as its transition to a DeFi token.
As noted before, hodling TTT has many benefits and allows for highly beneficial merits.
Table of Contents
TTT is also available on various cryptocurrency exchanges starting from centralized exchanges such as Digifinex, P2PB2B, etc., as well as decentralized exchanges such as Uniswap and Sushiswap.
The current circulating supply of TTT is 104,789,400 TTT, while its maximum supply is capped at 2,000,000,000 TTT.
What is Eternal Wallet?
Atom Solutions is in the midst of developing and operating a web-based App, named Eternal Wallet, scheduled to be launched within the year.
This is an online-based digital wallet that provides currency exchange, overseas remittance, and payment services, at the world's most competitive rates.
The company has made this possible through utilizing blockchain technology and digital money.
Usually there is a wide spread between the Buy rate (Telegraphic Transfer Buy Rate) and the Sell rate (Telegraphic Transfer Sell Rate) when sending or exchanging money. However, Atom Solutions and Eternal Wallet utilize the Telegraphic Transfer Middle Rate, minimizing the spread and allowing users to send or exchange at a more profitable and efficient rate. On top of this, there is only a cost of 0.5% of the total remittance rate (third-party fees may apply).
Remittance fees are just 5 USD cents, a minimal cost compared to existing methods.
Initially Eternal Wallet is scheduled to debut in The Philippines and Vietnam, where the company already has partnerships with local major payment serve providers.
Following, it is expected that the company will expand into other regions.
Furthermore, there are benefits to holding an Eternal Wallet account other than just overseas remittance.
By holding the company's native token, TTT, within Eternal Wallet,users are entitled to receive a portion of the trading fees accumulated on Eternal Wallet each week.
Also, there is a lending function within Eternal Wallet where users can lend out their fiat currency to receive interest on the amount they lent out.
What is TTT DeFi Token
The TTT DeFi token is a token that is aimed at using the blockchain for the delivery of smart contracts. The financial services that are aimed at being delivered on the DeFi include insurance, loans, hedge funds, derivatives, exchanges, and market predictions. Also, there is no need for an intermediary as opposed to a centralized system for financial services. The DeFi promises to be a swift and secure way of making financial transactions. The TTT is now being altered to adjust to the new decentralized exchange trading platform like the DeFi.
Atom Solutions TTT features
TTT or The transfer token is a cryptocurrency that is available for trade on a centralized exchange platforms. However, Atom Solutions is now developing the token to make it available for trade on a decentralized platform like the DeFi. The cryptocurrency will distribute 50% of the fees to users who hold their TTT in the Eternal Wallet based on the number of TTTs stored within the wallet. The TTT can also be used for lending money through the external wallet. Users lending out will also be eligible for a proportionate commission within the wallet.
Supported and restricted countries
Atom Solutions is available for global trade. However, any local restrictions of trade in The Transfer Token (TTT) may be applicable.
Available trading pairs
TTT or The Transfer Token can be used to trade on centralized exchange with the following exchange swaps.
TTT/USDT
TTT/VND
TTT/PHP
TTT/BTC
TTT/USDT is available on decentralized exchange like sushiswap, uniswap.
Fees
Atom Solutions charges variable fees when the TTT is exchanged on various exchanges using the External Wallet. This fee is not specified and varies according to the Gas fees at that time.
What is Eternal Wallet?
We are not an online bank service but an online based wallet service. One can make deposits and withdrawals wherever they are irrespective of location over their E-Counter. Users can also obtain local currencies in the country in which they are operating or travelling. The Eternal wallet can be used to store TTTs and to pay for various utility bills, charges, loans, etc.
How to Use TTT?
TTT can be used like any other token for trading in various currency swaps and also in exchange for fiat currency. USD is not purchasable, so the preferable sentence would be One can purchase TTT through fiat money on any of the cryptocurrency exchanges at the market rate. The cryptocurrency also has fixed currency swaps that can be used to trade in the token on different platforms.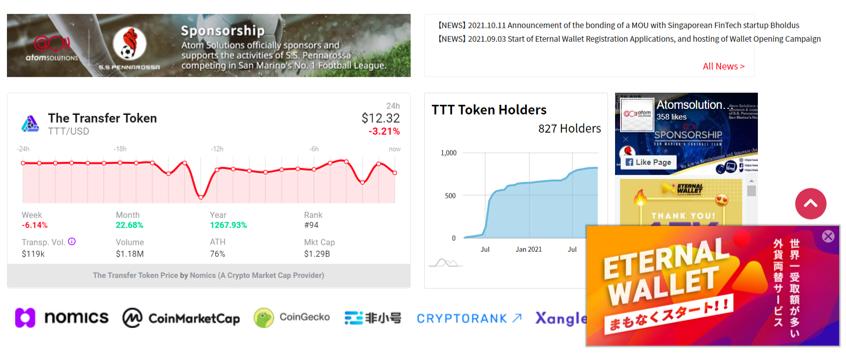 Customer support
Atom Solutions' website has an email address [email protected] that can be used for any communications on the Eternal Wallet. However, there is no number where one can call and ask questions for immediate resolution.
Socials:
Website: https://www.atom-solutions.jp/en/contact/
Twitter: https://twitter.com/AtomOfficialSNS
Facebook: https://www.facebook.com/AtomOfficialSNS
YouTube: https://www.youtube.com/c/AtomSolutionsOfficialSNS
Affiliate program
No evident affiliate programs are running at present.
Is Atom Solutions safe?
The Transfer Token for the TTT has been applied for various token. The complete list of patents is available on the whitepaper issued by Atom Solutions. These patents include the DeFi token usability, the overseas remittance logic, and the use of eternal wallets. The operation and management of this eternal wallet are carried out by The Philippines Token hub Asia. All these efforts by Atom solutions allow the investor to believe in the token and its safety. However, it is difficult to predict the acceptance and popularity of the token at the very beginning as the market reactions cannot be anticipated.
Why Choose Atom Solutions?
3 basic reasons push one to use TTT as an investment avenue.
Atom Solutions' DeFi trades in both fiat currency as well as tokens.
Atom Solutions brings ease in trade with minimum intermediaries and highest level of transparency
TTT can be traded by users on the DeFi network even without a valid bank account.
F.A.Qs
What is the ticker symbol for Atom Solutions?
TTT is the symbol used for The Transfer Token by Atom Solutions.
How can I stay updated on the DeFi platform development?
Atom solutions have a news link on their website where they publish all updates about their token, the TTT, and the DeFi platform. Additionally, one can also get regular updates from their telegram link or the Twitter and Facebook handles.
How do download and install the Eternal wallet for mining Atom Solutions?
A quick installation guide and a link is available on their website at https://www.atom-solutions.jp/en/eternalwallet/.
When will the DeFi platform be operational?
The DeFi exchange is operational and is expected to gain popularity as the Decentralized Exchange platform gains wider acceptance.
Summary
It can be stated that TTT and its native wallet Eternal Wallet are set to revolutionize the current landscape of overseas remittance, currency exchange and trading currencies. The coin is naturally beneficial and a positive impact on the industry, and should be regarded as a highly interesting investment in the months to come.