According to the report released by the UN, the Bitcoin market alone uses up to 120 terawatt-hours of energy annually. This is more amount of electricity than that consumed by countries like Argentina, Sweden, and Malaysia. It also states that if Bitcoins were a country, it would rank in the world's top 30 energy consumers. In such an energy depletion scenario, Bandexcoin is the first cryptocurrency that comes intending to cause the least harm to the environment. The development and packaging of the cryptocurrency are such that it uses the least amount of energy as compared to other popular cryptocurrencies.
What is BandexCoin
BandexCoin is a cryptocurrency that aims at building a sustainable future for the cryptocurrency market. Currently, it is being traded on http://miningpool.space/ and is working towards building its exchange. The coin does not make use of the standard SHA-256 encryption. It uses the Scrypt encryption that consumes a lesser hash rate owing to a simpler algorithm. Scrypt also uses more memory during the coin mining process. This implies that the cryptocurrency needs a lesser amount of hardware to maintain a functional core. Bandexcoin also has a lesser block time at 5 minutes which makes use of less hardware in the mining process and thus saves more power.
Table of Contents
Bandexcoin features
First, Bandexcoin is a nonprofit and eco-friendly cryptocurrency that aims at transparent mining of cryptocurrencies. The idea of the non-profitability of a cryptocurrency grabs immediate attention. The founders aim at maintaining this by ensuring transparency in technology development, power usage, and mining.
Secondly, the cryptocurrency talks highly for renewable sources of energy and aims at continuous reduction of energy use in mining of Bandexcoins over different platforms. The key to it is continuous innovation in technology and energy resources.
Finally, the coin has its wallet and this wallet address can be used for mining Bandexcoin currently at http://miningpool.space/. Once the exchange of Bandexcoin is developed, the platform will be used for allowing the trade of different coins along with Bandexcoin.
Supported and restricted countries
BandexCoin is available for trade worldwide. However, any local restrictions on the trade of cryptocurrency apply to a specific nation.
Available trading pairs
BandexCoin is a new cryptocurrency that was recently launched in August 2021. It has not been actively traded on any of the exchanges. Therefore, the cryptocurrency does not have any trading pair. Additionally, BandexCoin is also working on developing its own exchange where it will allow the trade of cryptocurrency.
A sneak peek into the exchange portal under construction for BandexCoin.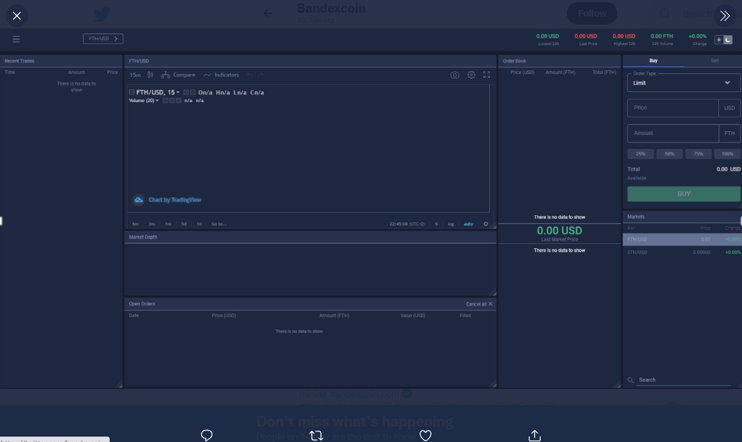 Fees
BandexCoin charges a 3% pool fee.
How to use BandexCoin?
Bandexcoin can be mined at https://mining.bandexcoin.com/. The team is working on its own exchange where one can mine Bandexcoin along with other coins that will be listed once the exchange is up and running. For mining Bandexcoin, one has to first join the pool at https://mining.bandexcoin.com/.
Alternatively, miners can also mine Bandexcoin at http://miningpool.space/. To log on to the mining pool, users have to create a wallet address. Bandexcoin has created its own wallet (available on the website) and, to trade in the same, miners have to use Bandexcoin wallet address on http://miningpool.space/. Bandexcoin aims to be the next big cryptocurrency like USDT and BTC.
For trading on these platforms, one needs to install the Bandexcoin wallet.
Customer support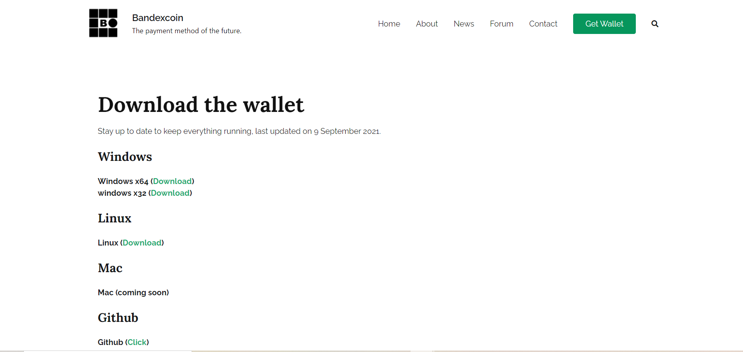 BandexCoin's website has a dedicated customer care tab where there is a contact form. Any query or complaint can be sent through that form. There is also a separate email address, [email protected], to address customer complaints.
Socials:
Website: https://bandexcoin.com/
Twitter: https://twitter.com/bandexcoin
Facebook: https://ko-kr.facebook.com/Bandexcoin-106940271698745/
Instagram: https://www.instagram.com/bandexcoin/
Affiliate program
No affiliate programs are running at present.
Pros & cons
Pros
The idea of environmental consciousness is unique and appealing to the public eye.
The non-profit motive gains immediate public attention.
They work closely with the community and the developers and aim for high transparency.
Cons
It is a new cryptocurrency with not much social presence.
There are few marketing initiatives available on various platforms.
It was managed by only one person, Jonas Bellaert until recently when Rick Blokland joined the team to develop the exchange platform.
Is BandexCoin safe?
It is always difficult to predict the safety of a new cryptocurrency especially because there is no governing body to confirm authenticity. However, BandexCoin looks like a safer bet for the following reasons:
Rick Blockland is one of the 2 founders who is also the owner of Cryptotargets for the development of the exchange platform for Bandexcoin.
Bandexcoin is a nonprofit cryptocurrency. This is proved by the fact that the genesis block came online much later than the coin and the wallet.
Bandexcoin provides constant updates on the Twitter handle on the progress it makes in the development of its different features. This assures that there is transparency in cryptocurrency.
Bandexcoin is developing its exchange where different cryptocurrencies can be traded. This brings in higher transparency and trust in the coin.
However, one must always be careful and read thoroughly about the missions and goals of the cryptocurrency and, match it with their actions to assess the transparency and credibility of the investment.
Why Choose BandexCoin?
3 key reasons could push you to choose Bandexcoin.
Bandexcoin is one of the few coins that have a concern for the environment.
Bandexcoin shows the environment-friendly way of mining to larger cryptocurrencies.
Bandexcoin aims at maintaining transparency, continuous innovation, energy conservation, and a nonprofit motive.
F.A.Qs
What is the ticker symbol for BandexCoin?
BEX is the symbol used for BandexCoin.
What is the current coin availability for BandexCoin?
The currently available coins stand at 81,920,000 for BandexCoin.
How do download and install the wallet for mining BandexCoin?
A complete installation guide is available at https://www.youtube.com/watch?v=Wzsbjwuk5aA.
When will the Bandexcoin exchange be functional?
The Bandexcoin exchange is running its trials and the basic features are up and running. It is only a matter of time when the complete exchange would be ready for active mining.
Summary
Bandexcoin is among the few environment-friendly cryptocurrencies that aim at energy conservation in the cryptocurrency mining process. The mission and vision of the currency are quite impressive. However, it is important to note that the coin is relatively new and is yet to gain market attention. Hence, one must do proper due diligence before mining into the currency that comes with the promise of a safer crypto environment.