There are over a hundred crypto brokers where anyone can register an account and buy or sell cryptocurrencies.
However, there are also numerous fraudulent brokerage platforms. Many have lost their life savings simply because they trusted the wrong broker. Others have also learned the risks of using crypto brokers the hard way.
Table of Contents
We wrote this article to help you understand what a crypto broker is, how they work, and the best crypto brokers you can use as a trader in the UK. Additionally, we cover the difference between an exchange and a broker and the pros and cons associated when you trade with a brokerage platform.
Let's get started by defining crypto brokers.
What is a Crypto Broker?
A crypto broker refers to a person or platform that acts as the middleman between an investor and the market. Their purpose is to let one buy or sell cryptocurrencies in a custodial way.
For instance, you can buy cryptocurrencies and send them to a custodial address such as that on your Ledger hardware wallet or sell them from your wallet and receive the fiat payment in your bank account.
Some brokers also function as peer-to-peer (P2P) platforms. They provide an inbuilt wallet (escrow), where users can temporarily hold the purchased or on-sale bitcoins and disburse bitcoins after transacting parties complete fiat payments.
Let's take a closer look at how the whole thing works.
How Do Bitcoin Brokerages Work?
Most Bitcoin brokerages work as market makers. They buy and sell cryptocurrencies to traders at a fixed price that is usually close to the widely known market price.
The gap between the market price and the price quoted to the trader allows the broker to fulfil the order even if prices fluctuate after the placement.
Brokers make money from the trading fees charged during trade execution.
Here's a scenario:
Bob goes on a bitcoin brokerage platform to place an order for 1 BTC. The market price of bitcoin at the time was $30,000. The broker quotes a $30,100 price, and Bob places the order, with the full knowledge that the broker charges a 3% fee based on the execution price.
If the time of execution (when the broker receives the fiat payment), Bitcoin's price is still at $30,100, then the broker sends the 0.97 BTC to Bob, marking out 0.03 BTC as the fee for the transaction.
On the other hand, if the price of BTC drops to $29,700, Bob gets more BTC, around 0.971, while the broker keeps 0.029BTC as the fee for the transaction.
Now that you know the basics of crypto brokers, let's go over a list of the best ones you can use if you live in the UK.
Best Bitcoin Brokers in the UK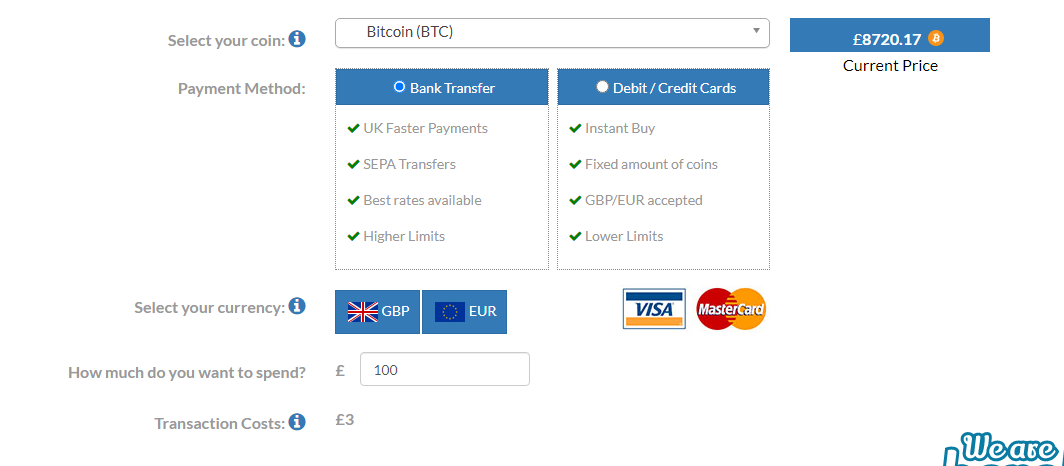 Headquartered in Hertfordshire, England, BC Bitcoin is a UK-based crypto broker launched in 2017. They buy and sell cryptocurrencies for clients and offer one of the most straightforward interfaces.
Features/Services Offered
Buy and sell cryptocurrencies for fiat.
Exchange cryptocurrencies
Over-the-counter (OTC) trading.
Recurring Buys
Coin Storage.
Supported Payment Methods: UK Faster Payments, SEPA Transfers, Debit and Credit Cards, Bank Wire Transfers.
Supported Currencies: British Pound (GBP), Euro (EUR)
Supported Cryptocurrencies: Bitcoin (BTC), Ether (ETH), Solana (SOL), Ripple (XRP), Tether (USDT), Litecoin (LTC), Polkadot (DOT), Bitcoin Cash (BCH), Compound (COMP), Cardano (ADA), VeChain (VET), Apecoin (APE) and 60+ cryptocurrencies.
Pros
BC Bitcoin is a reputable cryptocurrency broker service.
The platform is easy to use, even for new investors.
They offer customer support via email and phone.
BC Bitcoin promptly adds support for new large-cap cryptocurrencies.
Unlike other brokers, BC Bitcoin is transparent about associated fees.
Cons
BC Bitcoin has a lengthy and exhaustive KYC process.
The platform supports fewer fiat currencies.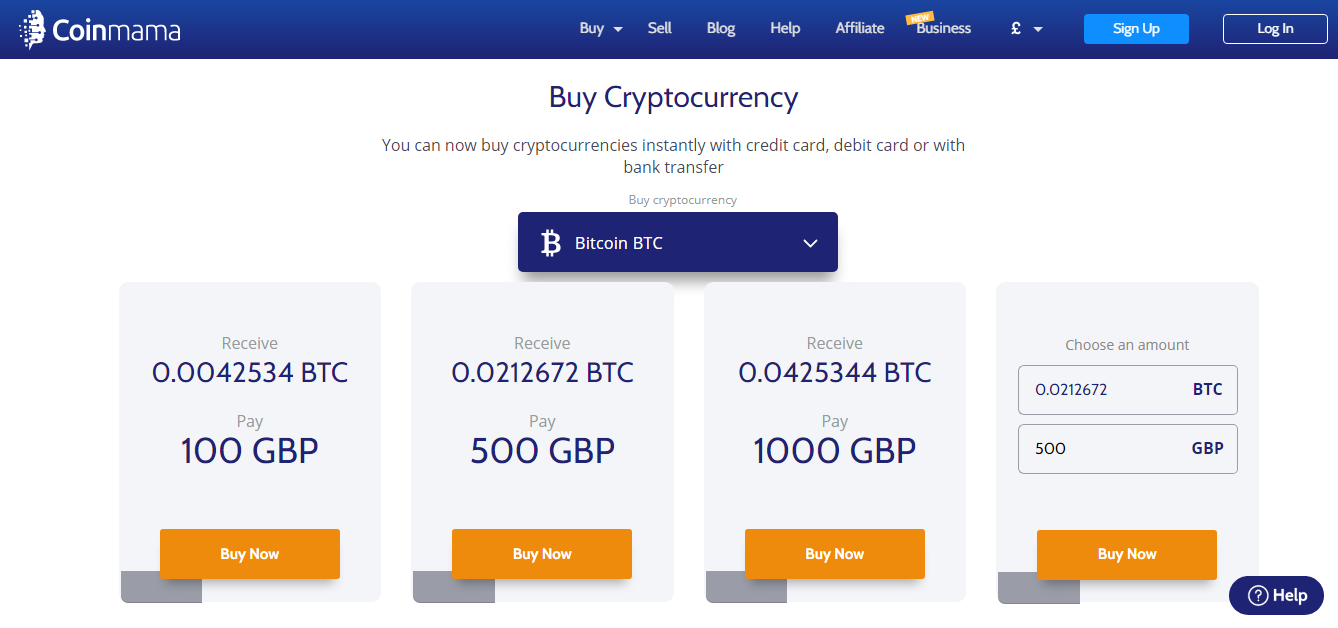 Coinmama is based in Dublin, Ireland, and has been a crypto broker since 2013. The process of buying or selling cryptocurrency via their platform is similar to BC Bitcoin, and they support a variety of payment options.
Features/Services Offered
Buying and Selling of cryptocurrencies for fiat.
OTC Trading (orders above $100,000)
Supported Payment Methods: Debit and Credit Cards, SEPA Transfers, SWIFT, Bank Wires.
Supported Currencies: Great British Pound (GBP), Euro (EUR), U.S Dollar (USD), Japanese Yen (YEN), Australian Dollar (AUD).
Supported Cryptocurrencies: Bitcoin (BTC), Ether (ETH), Uniswap (UNI), Bitcoin Cash (BCH), Litecoin (LTC), Tezos (XTZ), Dogecoin (DOGE), Ripple (XRP), Aave (AAVE), Chainlink (LINK), Wrapped Bitcoin (WBTC), Ethereum Classic (ETC), OMG Network (OMG), Numeraire (NMR).
Pros
Coinmama is also a reputable crypto broker and one of the oldest on this list.
Their interface is easy to use.
The KYC process is less exhaustive compared to BC Bitcoin's
Coinmama has a loyalty program that rewards users with lower fees and more crypto for recurring purchases.
Cons
Coinmama supports fewer cryptocurrencies.
Their average commission fee of 3.9% is relatively high compared to competitors.
3. Bittylicious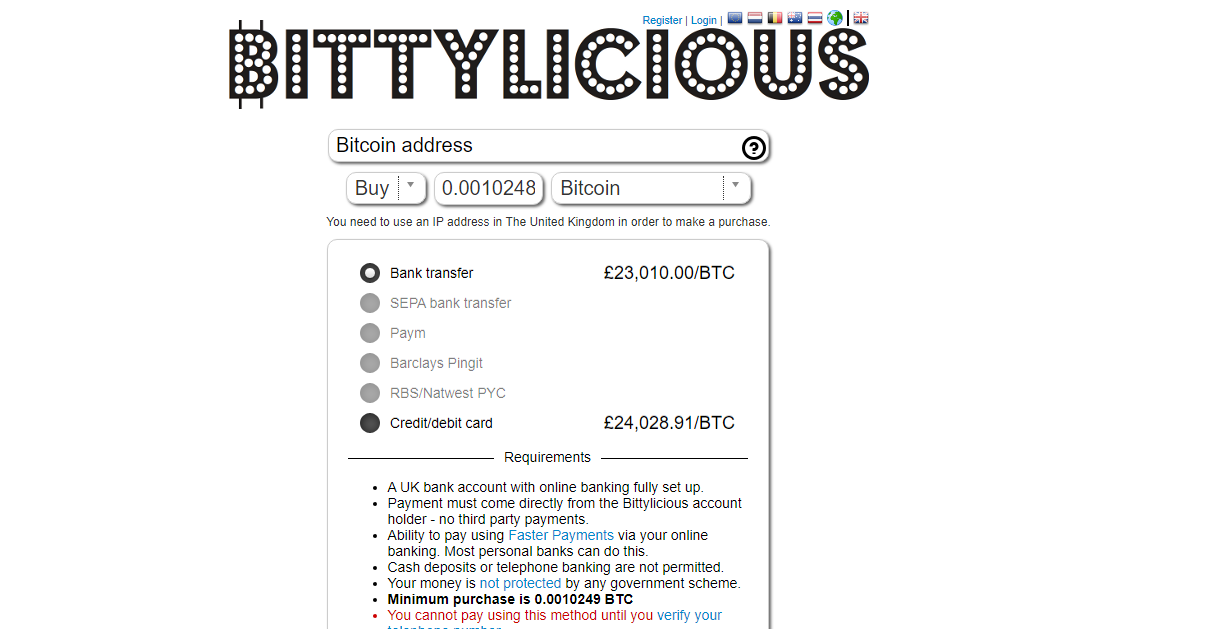 Bittylicious is another UK-focused crypto broker that has been around for a while. They are registered in the Isle of Man and launched in 2013, initially letting people buy bitcoins without providing much personal information.
However, the advent of stringent know-your-customer and anti-money laundering (KYC/AML) requirements on exchanges means Bittlycious is no longer an anonymous cryptocurrency broker.
Features/Services Offered
Buying and Selling Cryptocurrencies.
Supported Payment Channels: UK Faster Payments, SEPA Transfers, Local Bank Transfers (RBS/Natwest PYC, Barclays Pingit, Paym).
Supported Currencies: Great British Pound (GBP), Euro (EUR).
Supported Cryptocurrencies: Bitcoin (BTC), Ether (ETH), Dash (DASH), Digibyte (DGB), Litecoin (LTC), Vertcoin (VTC), Groestlcoin (GRS).
Pros
Bittylicious supports direct bank transfers from UK buyers.
The purchase process is straightforward.
Bittylicious claims to offer a full refund if the payment arrives late and the sender wishes to cancel.
They also have a highly responsive customer support team on UK working days.
Cons
The Bittylicious website could use an upgrade to look modern.
The platform supports fewer cryptocurrencies.
Fees are not stated clearly.
4. LocalBitcoins

Unlike the platforms we've considered so far, LocalBitcoins is a marketplace for crypto brokers, bringing crypto buyers and sellers together.
LocalBitcoins serves as an escrow service until the buying party sends money to the seller and then disburses the bitcoins to the buyer if the seller confirms that they received the fiat payment.
Their service is available in many jurisdictions, including the United Kingdom.
Features/Services Offered
Peer-to-peer cryptocurrency exchange.
Supported Payment Methods: Local Bank Transfer, World Remit, Advcash, Revolut, PayPal, Payeer, Webmoney, etc.

Supported Currencies: Great British Pound (GBP), Euro (EUR), and many other local currencies.
Supported Cryptocurrencies: Bitcoin only.
Pros
LocalBitcoins is one of the oldest and safest P2P marketplaces for trading bitcoins.
There is almost no fee charged for buying bitcoins on LocalBitcoins. The seller pays the 1% fee for the trade.
Being peer-to-peer allows traders to use a variety of payment options.
Reputation rankings protect users from falling prey to bad actors.
LocalBitcoins has excellent escrow and customer support service.
They also offer an in-house wallet for storing purchased bitcoins.
Cons
LocalBitcoins is a bitcoin-only brokerage service.
The platform doesn't support card purchases.
5. Raido Finance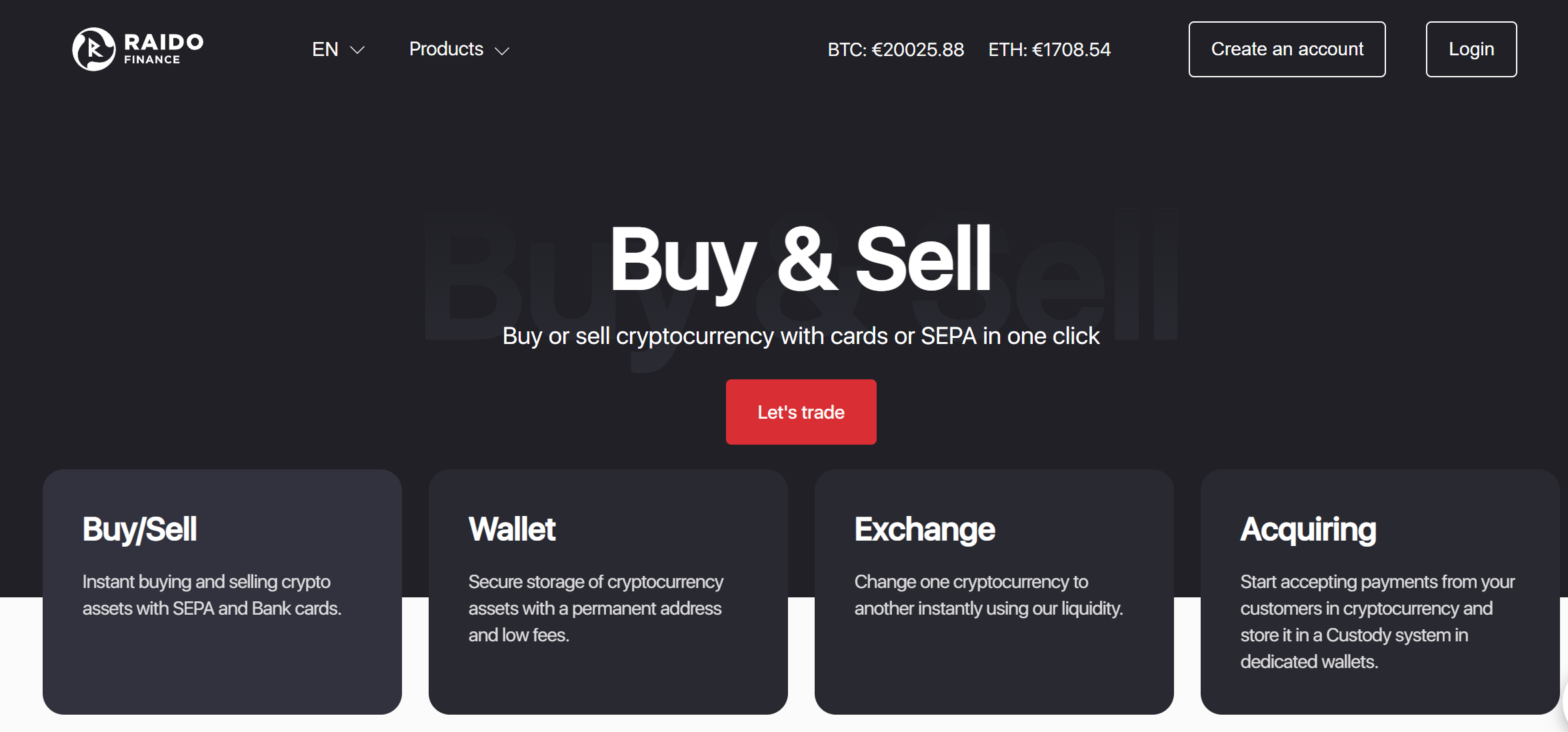 Raido Finance is licensed in Estonia and is another cryptocurrency broker that caters to the UK and European audience. The platform launched in 2018 and functions as a broker and a mini exchange platform.
Features/Services Offered
Buying and Selling Cryptocurrencies.
In-built crypto wallet
Coin swapping
Crypto custody
Supported Payment Methods: Bank Cards, SEPA Transfers.
Supported Currencies: EUR, USD.
Supported Cryptocurrencies: Bitcoin (BTC), Ether (ETH). Tether (USDT), Status (EURS).
Pros
Raido Finance is a fully-licensed crypto broker.
Raido Finance has an intuitive user interface.
They have a mobile app available for Android and iOS users.
Users can choose to store it in their in-built crypto wallet or withdraw it to an external address.
Cons
Raido Finance has a stringent KYC process.
They support fewer cryptocurrencies.
The Difference Between a Broker and an Exchange
It is not uncommon to read online content or hear people confuse cryptocurrency brokers with exchanges. As we've learned in this article, though, there are notable differences between these business models.
Here are some that stand out.
No Order Books: While exchanges maintain an order book to match buyers and sellers, brokers are mainly market makers. They buy and sell cryptocurrency on behalf of their clients and pocket trading fees at the execution point.
Since they primarily serve as middlemen, crypto brokers do not offer a trading interface like have on exchanges.
No In-house Wallets: Most crypto brokers do not provide an in-house wallet for their customers. Instead, they request buyers to provide an external address that will receive the purchased crypto.
The process differs from that of exchanges, where users have to purchase crypto first and then initiate a withdrawal to their wallet.
Fewer Supported Assets: Cryptocurrency exchanges list a range of assets for trading. But crypto brokers often focus their offerings on large-cap cryptocurrencies, especially Bitcoin and Ether. These assets are highly liquid markets compared to other altcoins and are less volatile.
On the other hand, brokers like BC Bitcoin, which offers several altcoin trading options, charge a high fee.
Why Do You Need to Use Bitcoin Broker Services?
Although most investors prefer to use exchanges, bitcoin brokers' services also fill a vital role in the industry.
Convenience: Cryptocurrency purchases using a crypto broker typically have fewer processes. This makes it an excellent option for experienced crypto investors, especially those that want to buy and hold assets.
Security: Bitcoin broker services allow you to purchase cryptocurrency that the platform will send to your custodial wallet. This approach mitigates the third-party risks associated with storing funds on crypto exchanges and is probably the safest way to buy cryptocurrency.
Large Purchases: When large companies or individuals want to buy or sell a huge amount of cryptocurrency, they use brokers to avoid their trade moving the market significantly. The broker breaks the orders into smaller sizes and places them at a different price range until they are filled. For instance, Coinbase Prime brokered a $425 million bitcoin purchase by a U.S company, MicroStrategy. The transaction was executed in a manner that didn't move the market and wasn't publicly known until after the execution.
How to Choose a Bitcoin Broker
Keeping these factors in mind when choosing a broker can help protect you from any future difficulties:
Review Their Regulatory Status
Given the global push to regulate crypto trading venues, one way to determine whether a broker is legit is by reviewing their regulatory license. This information is usually available on their home or legal page and often determines the level of personal information they collect when you want to create an account.
The lower the fees on a brokerage platform, the more crypto you can get for your money. Therefore, make sure to review the fees on an exchange you intend to use and see how it compares with what competitors offer.
If a broker isn't transparent about the fees associated with using their service, it's probably a sign that you shouldn't use them.
Review Supported Assets and Currencies
Unless you intend to buy bitcoin only, you may want to review the list of assets supported by a broker. As noted earlier, most brokerage platforms support only large-cap assets, and you may have to resort to using an exchange account if you want to invest in specific cryptocurrencies.
User reviews are probably one of the easiest ways to learn whether a broker is trustworthy. Search through the broker's social media forums, or ready third-party review websites. You'll likely learn about issues other users may have faced and how to avoid them.
Pros & Cons of Using Cryptocurrency Brokers
Pros
Crypto brokers are ideal for instant purchases using credit/debit cards.
Using these platforms simplifies the process of buying and storing crypto and encourages self-custody of purchased assets.
Users save on transaction fees associated with buying on a crypto exchange first and then moving crypto across the blockchain.
Cryptocurrency brokers are ideal venues for completing large transactions in a regulatory-compliant manner.
Cons
Using a crypto broker requires sufficient knowledge of blockchain networks and practices such as setting up a custodial wallet, etc. This heightens the barrier to adoption for those who are just getting started with cryptocurrency.
Since most brokers do not have mobile applications, their platforms are less user-friendly than cryptocurrency exchanges.
The minimum purchase amount is usually higher than what users can buy on crypto exchanges.
F.A.Q
How Long Does It Take For Purchased Crypto From a Broker to Arrive at My Wallet?
This information is usually available as part of the transaction flow for placing your order with the broker. Typically, you can expect to receive the purchased crypto within 15-30 minutes after confirming your payment.
If you're buying Bitcoin, you may also want to factor in slow network confirmation, which can sometimes take a few hours or even days on rare occasions.
Should I Store My Crypto With Brokers?
We mentioned earlier that some brokers offer to help users store their cryptocurrencies. Note that using this service comes at a cost other than what is charged by the platform. Keeping your crypto with a broker is almost the same as leaving it on an exchange.
We recommend keeping custody of your crypto-assets using a hardware wallet like Ledger or Trezor or custodial mobile wallets.
Should I Use a Broker or an Exchange?
This is entirely your choice and depends on your needs as an investor. Our recommendation is to use top bitcoin brokers to buy crypto that you want to hold for the long-term and then use exchanges for amounts that you intend to trade actively.
Conclusion
This article provided the best bitcoin brokers list for investors in the UK, reviewing their offerings, pros, cons, and supported assets. While it's easy to think that crypto brokers and exchanges are the same, you've learned the key differences and when you need each platform as an investor.
As the cryptocurrency industry grows, crypto brokers will likely take on increased significance and onboard more users to the market. Knowing the right ones to use is an advantage you now have and will help protect your portfolio.