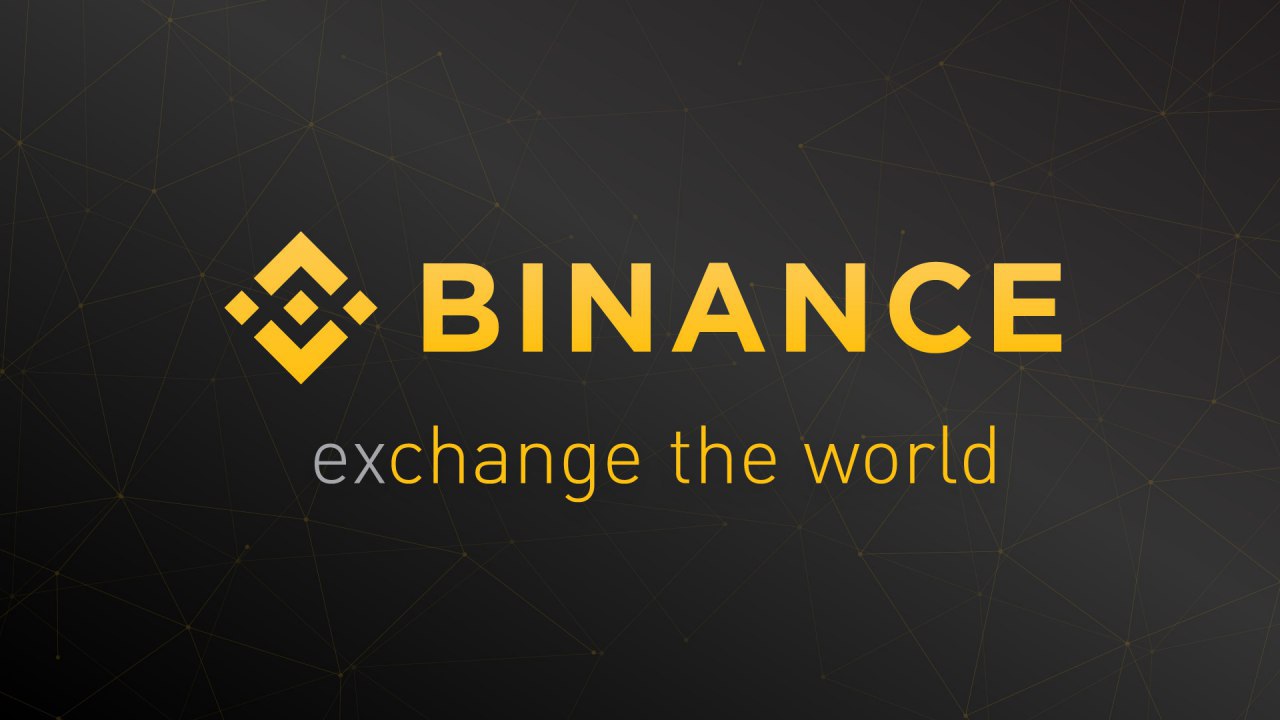 You have probably seen or read many Binance review articles claiming to offer a thorough overview of how the platform works and whether it is a legit option for cryptocurrency investors.
However, you most likely haven't read a review written by someone who is not only a regular user of the platform but also has monitored the company's sudden rise to fame in the last few years.
This Binance review article would be helpful if you believe that such an expert opinion matters.
Ready?
Let's dive right in!
What is Binance?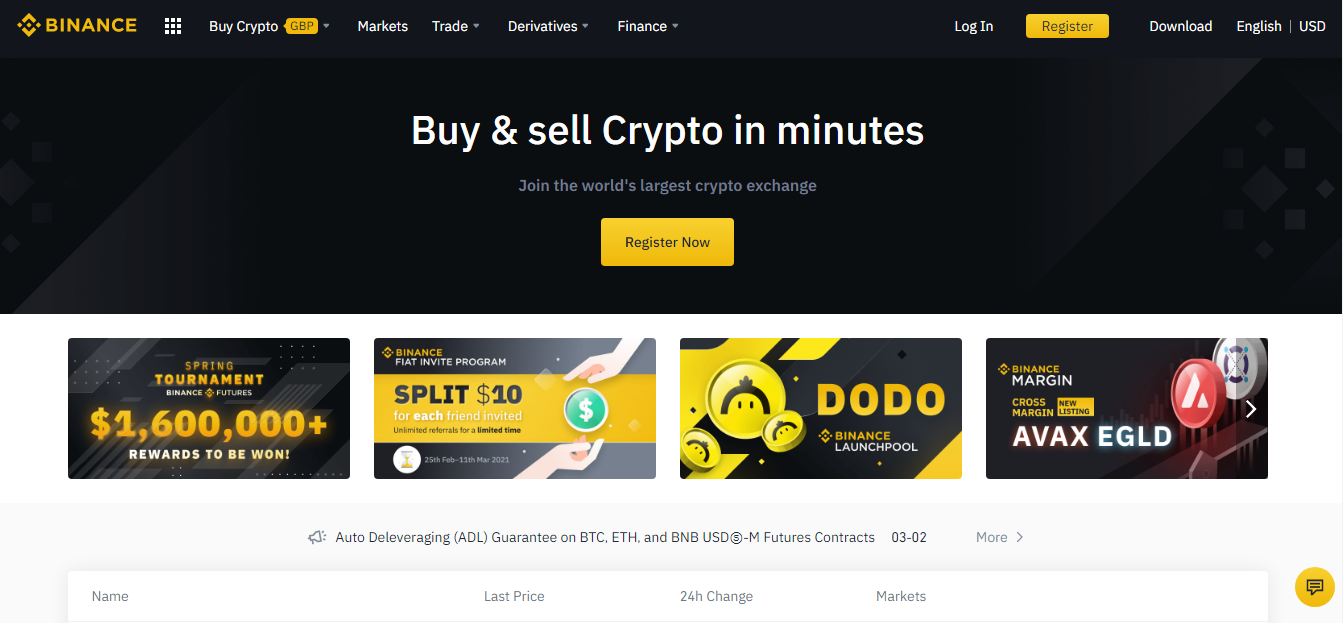 Binance is a leading cryptocurrency company founded in 2017. Binance started as a cryptocurrency exchange platform but has rapidly expanded its products and services in ways many observers would not have initially thought impossible.
The company raised a modest $15 million from its initial coin offering (ICO) of Binance Coin (BNB). It announced the launch of its exchange platform within a few days after the fundraiser campaign.
Since then, Binance hasn't looked back, launching feature after feature and capturing a significant portion of the cryptocurrency trading market. At the time of writing, Binance was the largest cryptocurrency exchange by trading volume, handling $64 billion daily across its over 500 trading pairs.
Binance Team
Binance has always branded itself a decentralised autonomous organisation (DAO). The term means that the company doesn't have physical offices in most countries. Hence, it doesn't seem surprising that most Binance team members work behind the scenes to contribute to the company's growth.
Some key Binance Team members are active on social media and are also the ones you usually see representing the company in the press.
Binance Team Members
Key features
Mobile and Desktop Apps
Spot trading
Margin trading
Crypto-based futures and derivatives.
Launchpad for new crypto projects.
Loans and Savings
Peer-to-peer Trading
Fiat gateway for supported countries.
Mining pool
Academy and Research unit
Binance News Feed
Debit Card
Charity Foundation.
Binance products & services
Exchange
Binance's primary offering is its cryptocurrency trading and exchange platform. The service launched at the peak of the bull market and at a time when few exchanges offered investors access to altcoins.
Today, Binance still offers a wide selection of altcoins and deep liquidity across its trading pairs. Binance can list many altcoins because the company isn't registered in the U.S. or any region where regulators ban the sale of certain cryptocurrencies deemed "securities."
Supported Functions on Binance Exchange
Spot trading via order books.
Limit and OCO order types.
Live charting via TradingView
Price Alerts
Margin trading
Quick conversion of one crypto to the other.
Fiat deposit via bank card or transfer.
Peer-to-peer (P2P) using a variety of payment methods.
The Binance exchange is available on the web via Binance.com and as a desktop application. Additionally, Binance offers its mobile apps on Android and iOS.
Futures and Derivatives
In July 2019, Binance launched its futures trading platform and added support for a range of crypto-denominated derivatives products. The exchange allows up to 50x leverage across some of its future products.
Available Futures and Derivatives Products on Binance
Coin Margined Futures: Derivative contracts bought and settled in different base cryptocurrencies. Binance offers coin-margined futures for BTC, ETH, LINK, XRP, BCH, and many other coins.
USDT-Margined Futures: Derivative contracts bought and settled in Tether (USDT), akin to traditional futures contracts paid in fiat.
Leveraged Tokens: Tokens representing open positions in the futures market. Holders of Binance's leveraged tokens can enjoy profit from price increase or decrease depending on the positions they enter. For instance, BTCUP tokens produce 1.5x to 4x gains when the price of Bitcoin goes up, while BTCDOWN tokens have the opposite effect.
Quarterly Futures: Although most Binance derivatives products are perpetual contracts and thus do not have a fixed settlement date, the platform also offers Bitcoin (BTC) quarterly futures.
As of September 2020, Binance reported that its futures trading platform had handled up to $1 trillion in volume.
Launchpad and Launchpool
Launchpad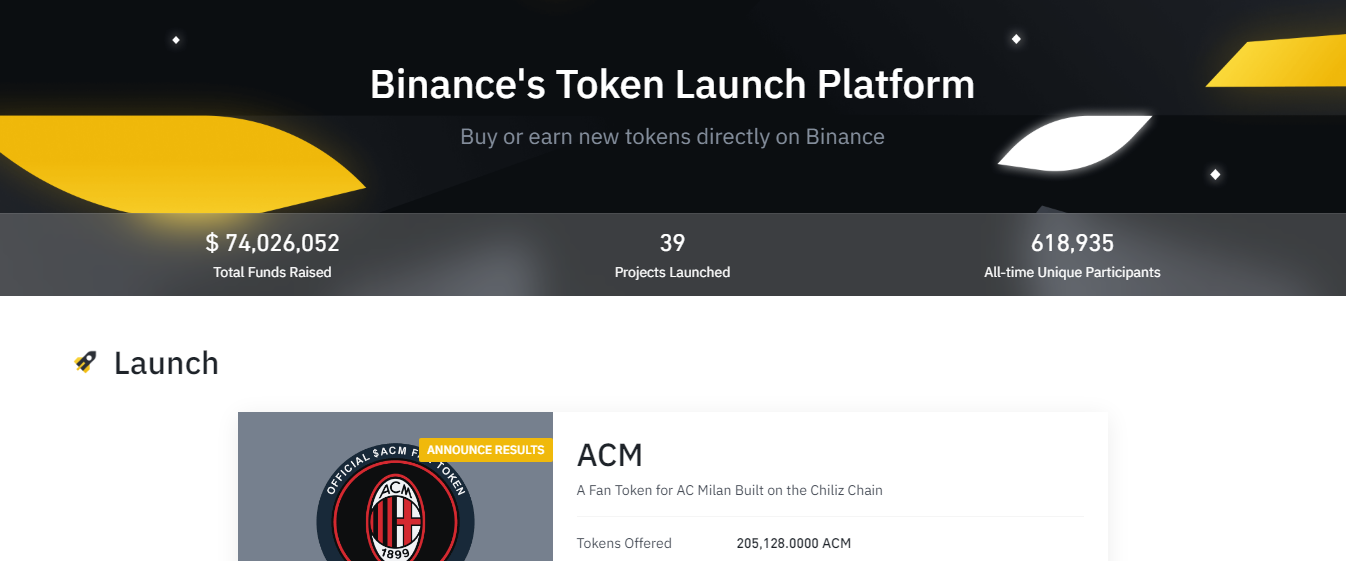 Binance relies on its global user base to help new cryptocurrency projects raise money.
The exchange provides a platform where users can signal interest in buying new tokens before they're released eventually to the market. This fundraising method is known as the initial exchange offering (IEO), and Binance released a dedicated service called Launchpad for this purpose.
Users had to lock up Binance coins (BNB) up to the amount of new tokens they wanted to purchase while Binance executed the token sale on a pre-announced date.
Famous projects that raised funds via Binance Launchpad include BitTorrent (BTT), Elrond (EGLD), Matic Network (now known as Polygon), WazirX (WRX), Band Protocol (BAND), and lots more. At the time of writing, projects had raised $100 million via Binance Launchpad.
Launchpool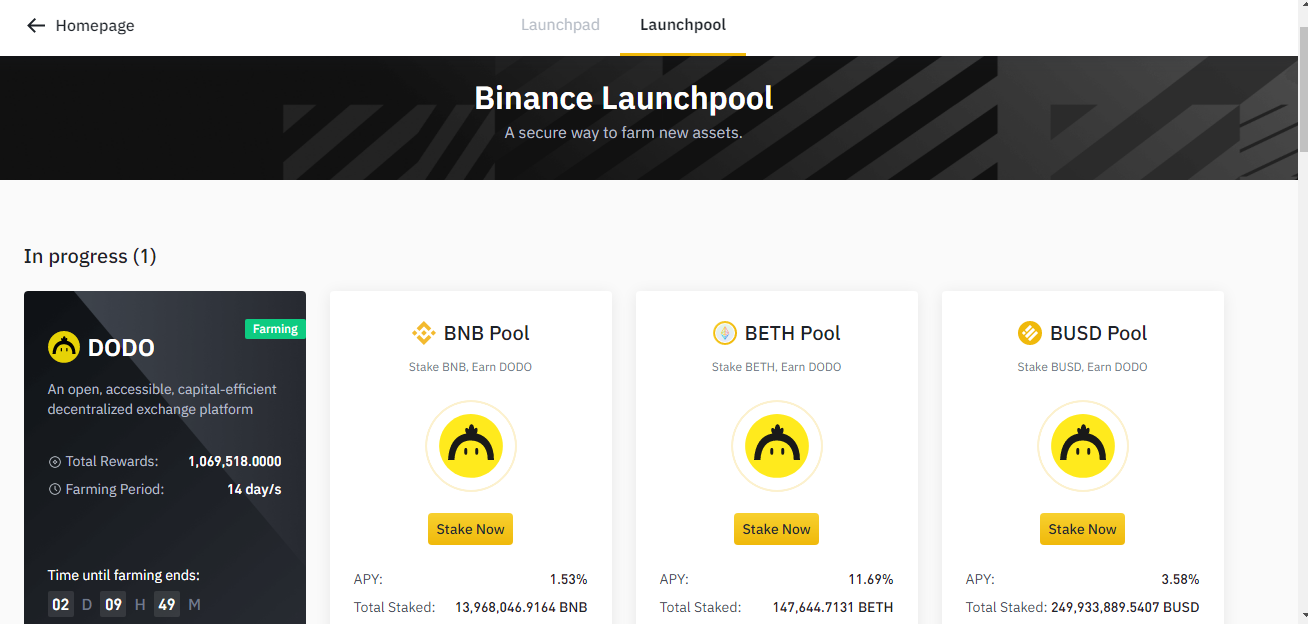 Following the advent of decentralised finance (DeFi) applications and the popularisation of token issuance via liquidity farming, Binance launched a new product called Binance Launchpool.
The process involves users locking their BNB, BUSD, or other coins selected for the token distribution event. In exchange, users will receive new tokens for the Launchpool project at a predetermined APY rate during the farming event.
Binance realises a profit from listing fees collected from projects that choose to distribute their tokens via the Launchpad or Launchpool product. These fees may sometimes include a percentage of the total coin supply. Many new projects are willing to pay the price because of the instant exposure from being listed on the industry's largest crypto exchange.
Binance Card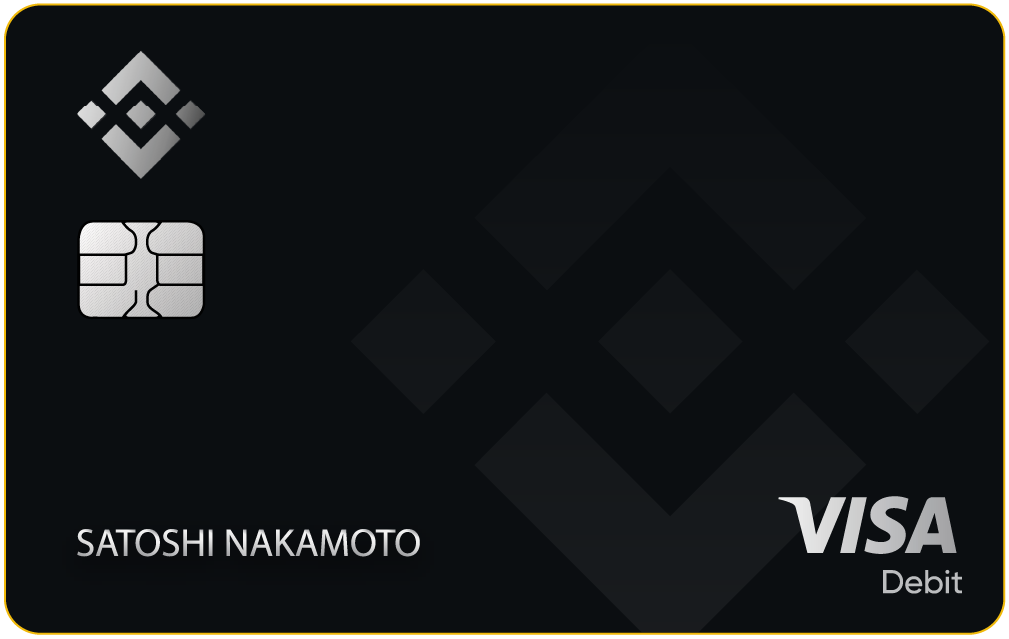 In April 2020, Binance announced the launch of its Visa card. The card lets users convert and spend their crypto at any 60 million merchants globally that accept Visa-issued cards. The card offers a generous 8% cashback, although you have to hold a large amount of Binance coin (BNB) to get up to that amount in cashback.
Binance supports the spending of BNB, BTC, ETH, SXP, and BUSD. As Bitcourier has reported in the past, Binance cards are already shipping in the UK and Europe.
Binance Savings and Lending
Binance has an option for users to receive modest returns on their cryptocurrency holdings. The platform primarily offers the following:
Flexible Savings
Fixed Terms
Flexible savings allow the user to earn interest as a reward locking their crypto assets over an unspecified period. Within this savings option, you can withdraw the funds and accrue interest at any time.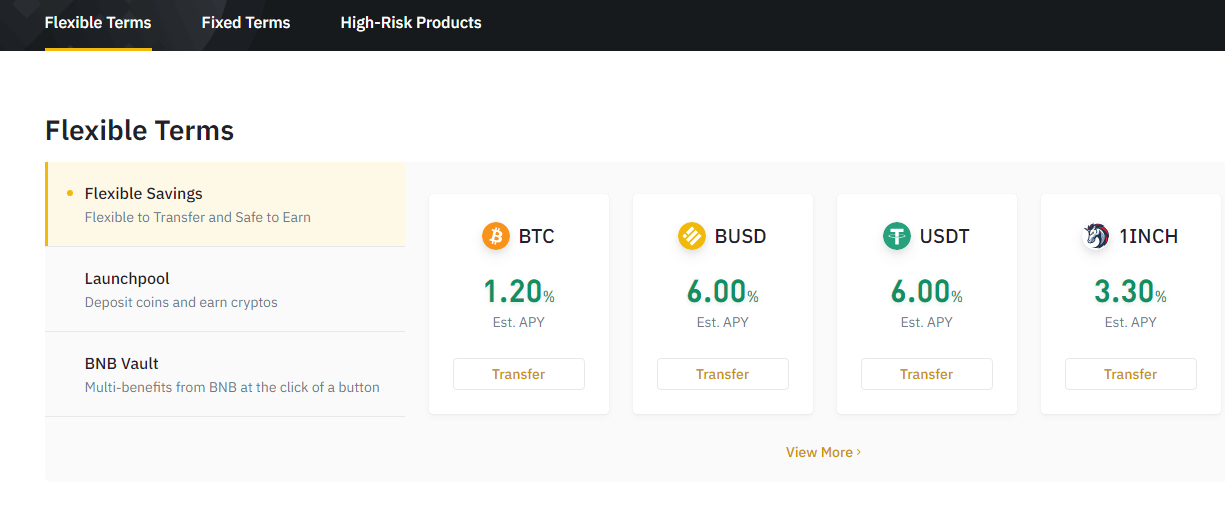 On the other hand, Fixed Terms savings must be locked up for a specified period, ranging from 7-90 days. These classes of savings products offer slightly higher interest rates and often include highly volatile crypto assets, as well as stablecoins.

Binance likely used locked-up coins to boost its platform's liquidity and participate in staking programs that generate yield for savers.
Crypto Loans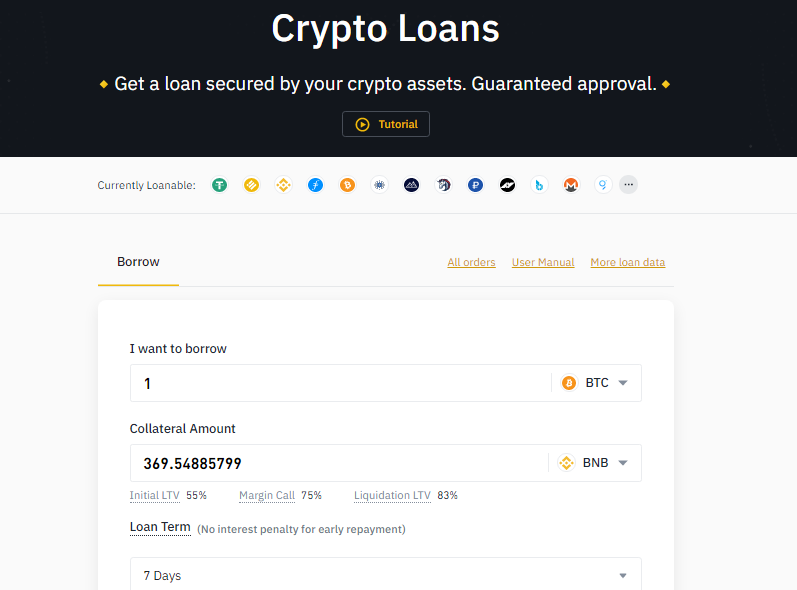 If you need cash to spend but don't want to sell your BTC or crypto because of their profit potential, then you can use Binance's Loan program.
The option lets you borrow up to 50-75% of your portfolio's worth and repay the loan within a specified timeline ranging from 7-180 days. Binance charges an interest rate on these loans, which are always over-collateralised since you can only borrow a fraction of your deposit amount.
You can repay the loan using the value of your crypto if it rises or face liquidation if prices attempt to drop below the USD value of the borrowed amount.
Binance-backed Coins
Like most cryptocurrency-based projects, Binance has its native currency and even goes further by launching a stablecoin to boost its exchange business.
BNB
Binance coin (BNB) is the exchange's primary currency. The company initially issued the coin on the Ethereum blockchain as an ERC-20 token and then sold it to investors during Binance's ICO at 1 BNB to 0.1 USD.
BNB sells above $240 per coin at the time of writing and, with a $38 billion market cap, ranks among the top four cryptocurrencies. Early investors in the project gained massive returns, which may rise further as Binance continues to grow.
Binance coins have a total supply of 200,000,000 BNB, with the team conducting pre-announced quarterly burns to reduce the number of coins in circulation and boost prices.
BNB Use Cases
Users of the Binance exchange get discount fees if they pay their fees in BNB instead of the traded coin.
Investors stake BNB to receive slots for new Binance Launchpad and Launchpool projects.
Users need BNB to get maximum cashback on the Binance card.
Being the native currency for Binance's dual blockchain network – BNBChain – developers and users who transact on these chains need BNB to pay fees.
BUSD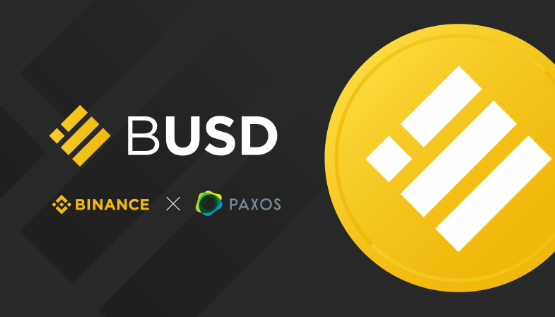 Binance USD (also known as Binance Dollars) is a stablecoin backed by the exchange platform. Binance launched BUSD in partnership with US-based crypto company Paxos and received approval from the New York Department of Financial Services (NYDFS) for the stablecoin.
Like other USD stablecoins like Tether (USDT) and Circle USD (USDC), BUSD is pegged to the USD at a 1:1 ratio and serves as a tool for crypto investors to hedge against market volatility.
Paxos has custody over Binance's dollar reserves used to back the issuance of BUSD. The simplest way to understand it is that Paxos ensures they do not issue more stablecoins than the dollars Binance has in their bank account.
For instance, if Binance has $250 million in a bank account, it can only issue $250 million worth of BUSD, thus ensuring that the exchange can always redeem BUSD anytime customers want to swap it for cash.
BUSD had a $16 billion market cap at the time of writing and is traded actively on the Binance exchange across different pairs. Many other exchanges also support BUSD, but do not enable it as a base currency for listed pairs.
Mobile App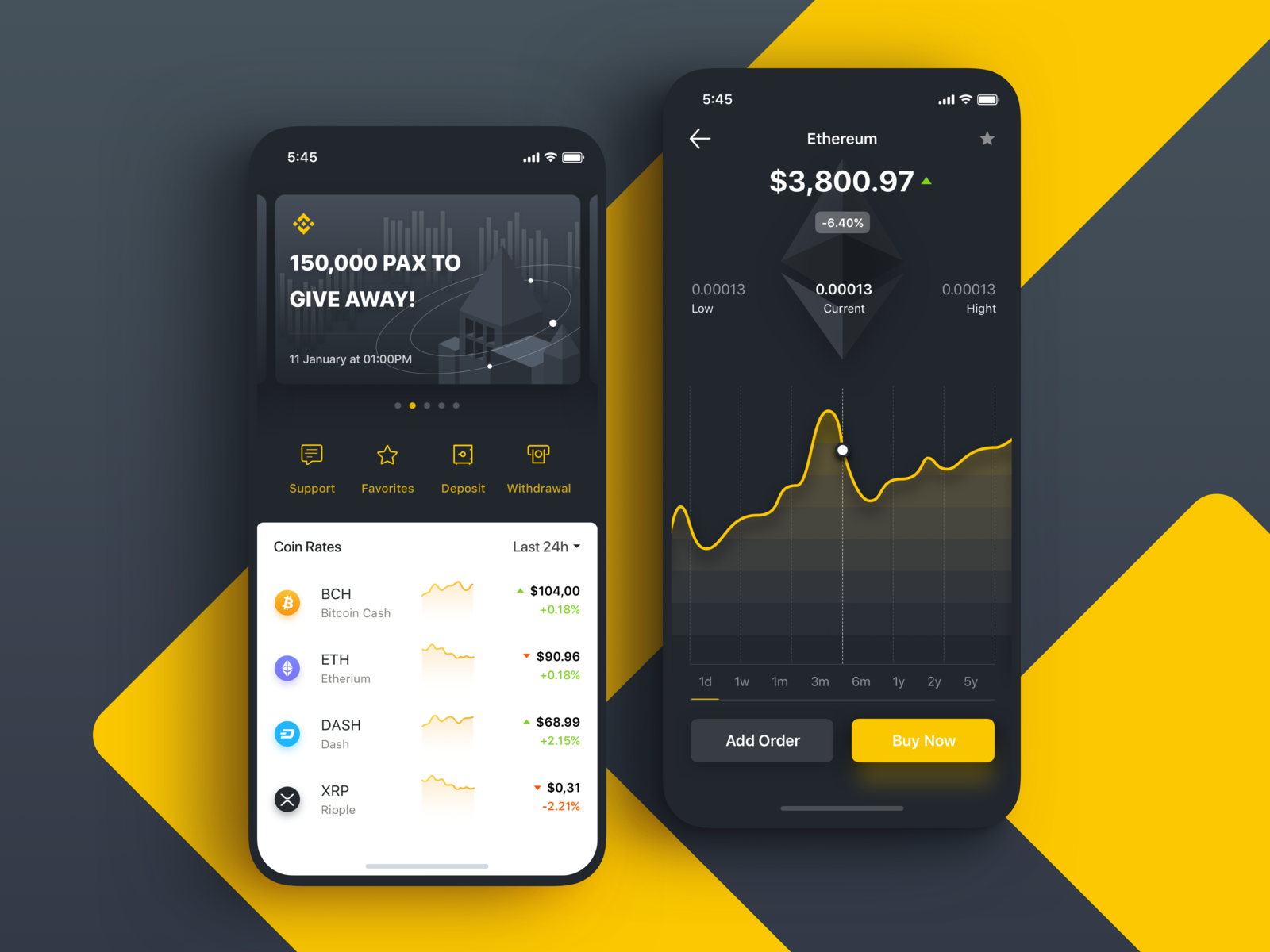 Binance offers an intuitive mobile app available on Android and iOS. The app includes nearly all the features you can find on the Binance cryptocurrency exchange and has a sleek outflow that helps those who want to trade or manage their portfolio on the go.
A prominent mobile app feature is Lite Mode for users who do not need the advanced trading features available on the Profession or Full Mode. Users can also set up price alerts and recurring purchases and use the app in many languages besides English.
Binance's mobile app has over 10 million app installs and maintains a decent 4.5-star rating on Google and the Apple Store.
Desktop App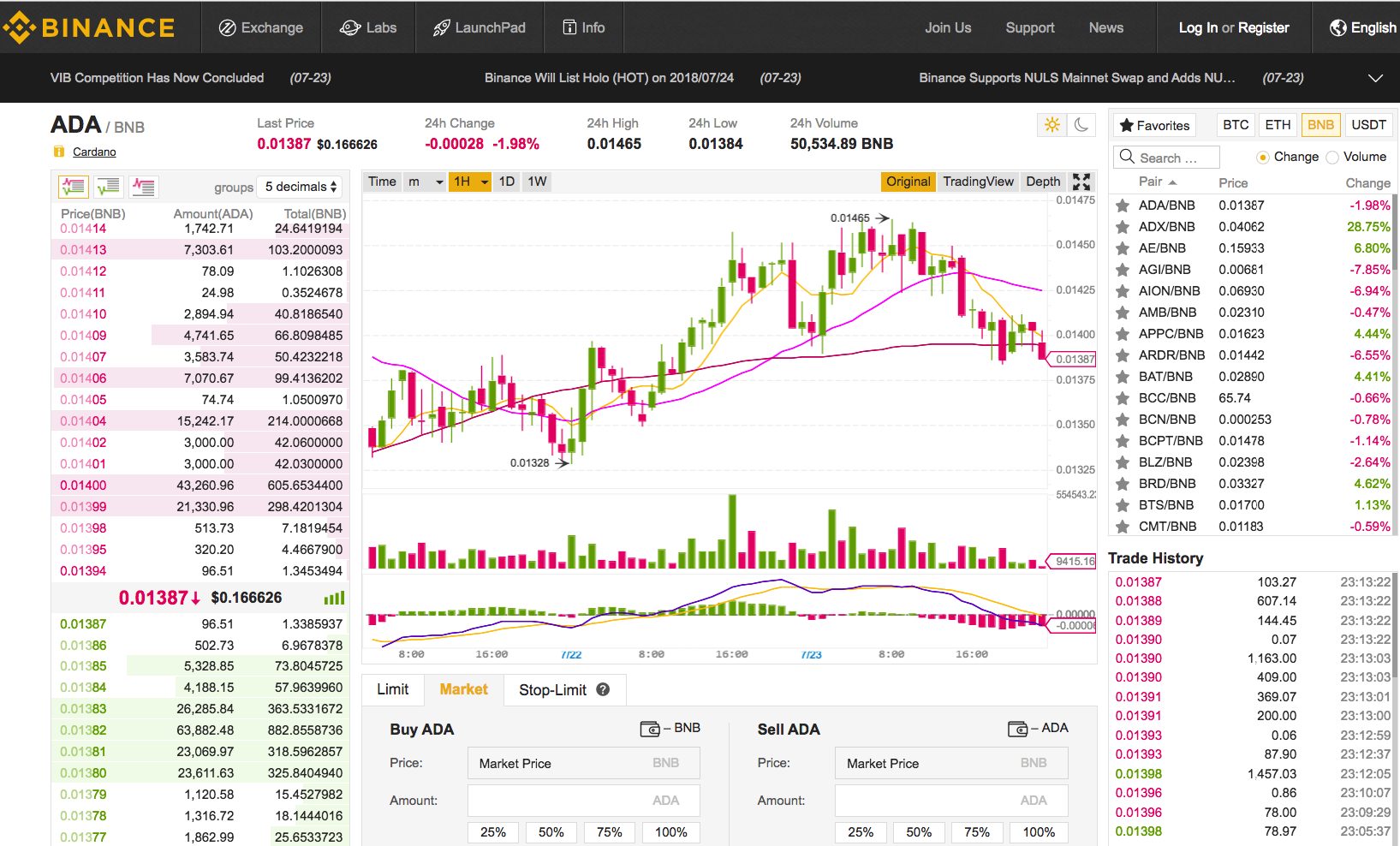 In addition to its web interface and mobile, Binance has a powerful desktop application. Worth noting is that having a desktop app can be a protection when the mobile app or web interface temporarily goes offline, perhaps for maintenance.
Binance's desktop is available for macOS, Windows, and Linux.
Supported countries
Binance.com is available to users in over 180 countries, including the UK and most EU jurisdictions. However, the platform does not support users in the United States or any UN or OFAC-sanctioned countries, including Iran, North Korea, Zimbabwe, etc.
United States customers use Binance.us, a US-regulated exchange that uses the Binance brand and trading technology. Binance US, however, lists fewer coins and has fewer trading features than the global Binance.com exchange.
How to get started with Binance
If you do choose to create an account with Binance, here are the steps to get you started:
Registration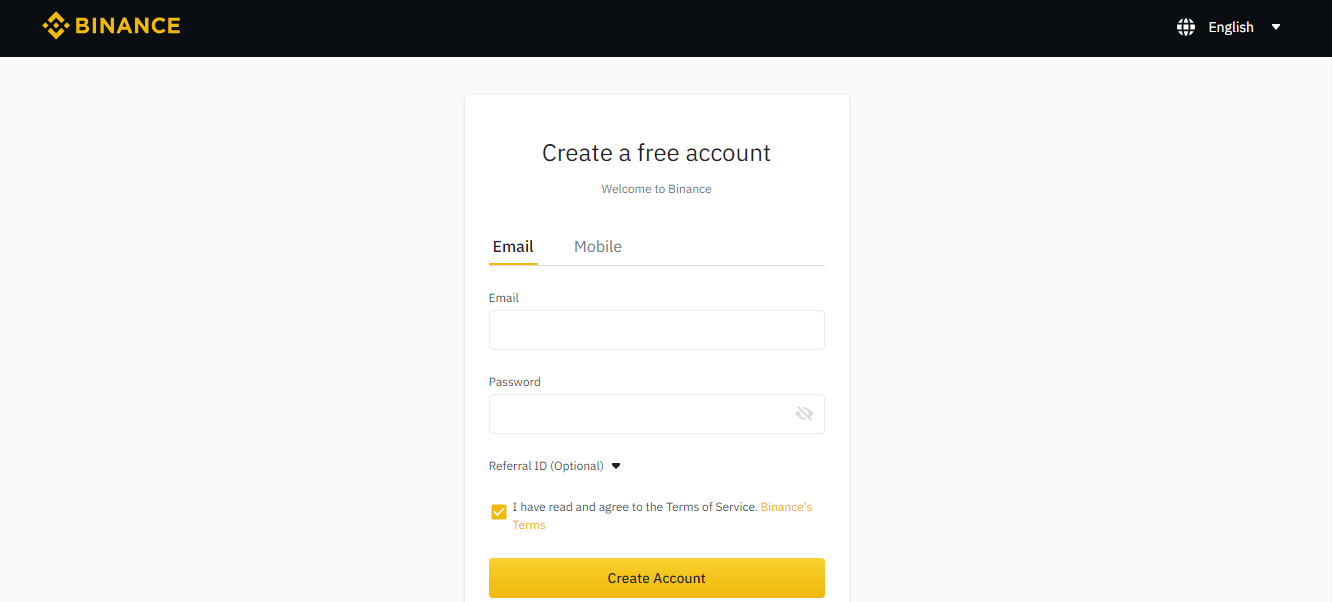 Visit Binance.com and click Register. You can use either your email address or phone number to sign up. Create a secure password and verify your account via the link sent to your email or the code you receive SMS.
Did you know that you can get up to 45% cashback on all trading fees? Use our Binance kickback code N7HTYTIN or click here to register a new account. Discounts to your trading fees will be automatically applied to each operation.
Verification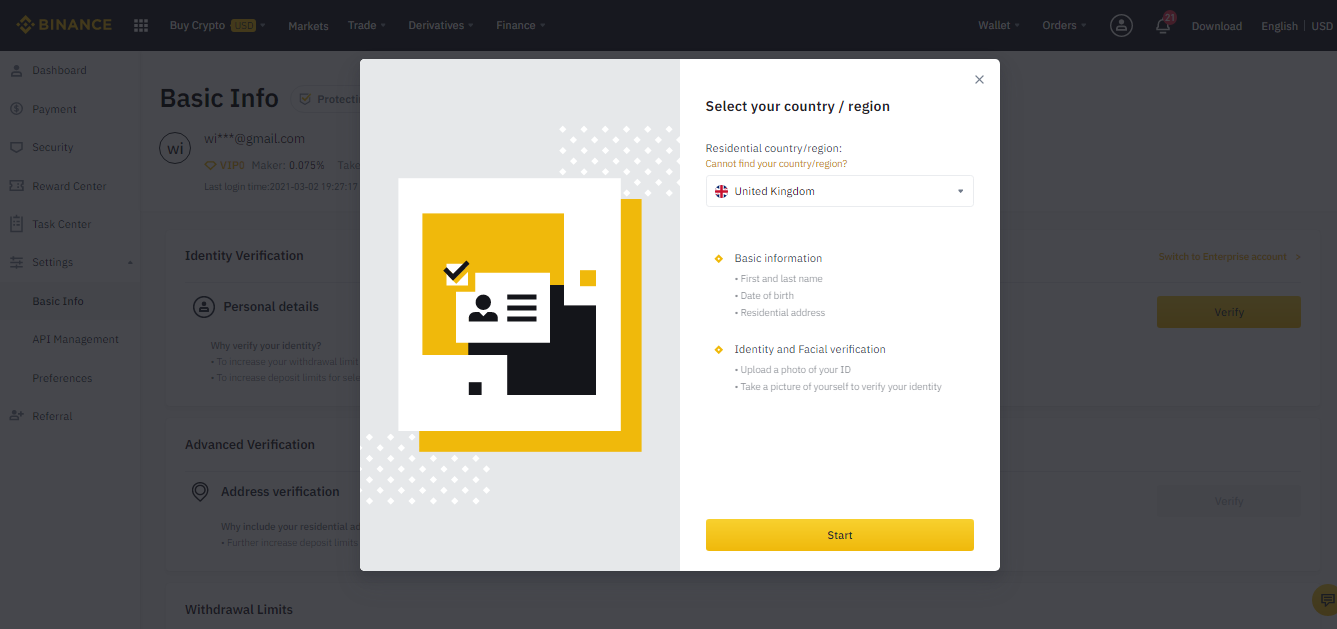 After creating your account and signing in to your new Binance dashboard, locate the Profile Icon and select the Verification option from the menu. You must complete this process to deposit fiat via Binance and access other features.
During the verification process, Binance asks you to provide your personal information as it appears on your national identity document. You can submit either a Driver's License, a national ID card, or an International Passport.
You will also take a live picture of yourself to complete the verification process. Once completed, you can access all Binance features, including the option to deposit or withdraw fiat.
Deposit and withdrawal options
Binance supports a range of local currency deposits and withdrawal methods depending on your country of residence. If you live in the UK, the following GBP and EUR deposit options are available on Binance:
Faster Payments
SEPA Transfer
Bank Cards (Visa and Mastercard).
Aside from local currency, you can also deposit and withdraw supported cryptocurrencies via Binance. You can access the Deposit and Withdrawal Button on any of the assets you want to deposit by going to Wallet > Fiat & Spot.
You will receive your Binance account's address for the specific coin used to deposit cryptocurrencies. For cash deposits via Bank Transfer, Binance will provide you with your bank account details and a transaction ID to include while sending the payments.
Trading pairs
Binance currently lists over 500 trading pairs on its platform. This includes crypto-to-crypto pairs for popular cryptocurrencies like BTC and ETH and fiat-to-crypto pairs based in GBP, EUR, and other supported fiat currencies.
At the time of writing, the five most actively traded pairs by trading volume on Binance are:
BTC/USDT
BTC/BUSD
BUSD/USDT
ETH/USDT
ETH/BUSD
Supported GBP pairs on Binance
BTC/GBP
ETH/GBP
GBP/USDT
BNB/GBP
SOL/GBP
CAKE/GBP
GBP/BUSD
ADA/GBP
XRP/GBP
CHZ/GBP
GMT/GBP
DOT/GBP
LINK/GBP
VET/GBP
MATIC/GBP
DOGE/GBP
SXP/GBP
SHIB/GBP
RUNE/GBP
ENJ/GBP
AVAX/GBP
For its EUR pairs, Binance supports all the coins listed above. Additional EUR pairs include JASMY, TRX, GALA, EOS, XLM, ALPINE, HOT, ICP, SXP, BCH, WAVES, GAL, YFI, UNI, FTM, LTC, ATOM, EGLD, PORTO, and GRT.
How to buy crypto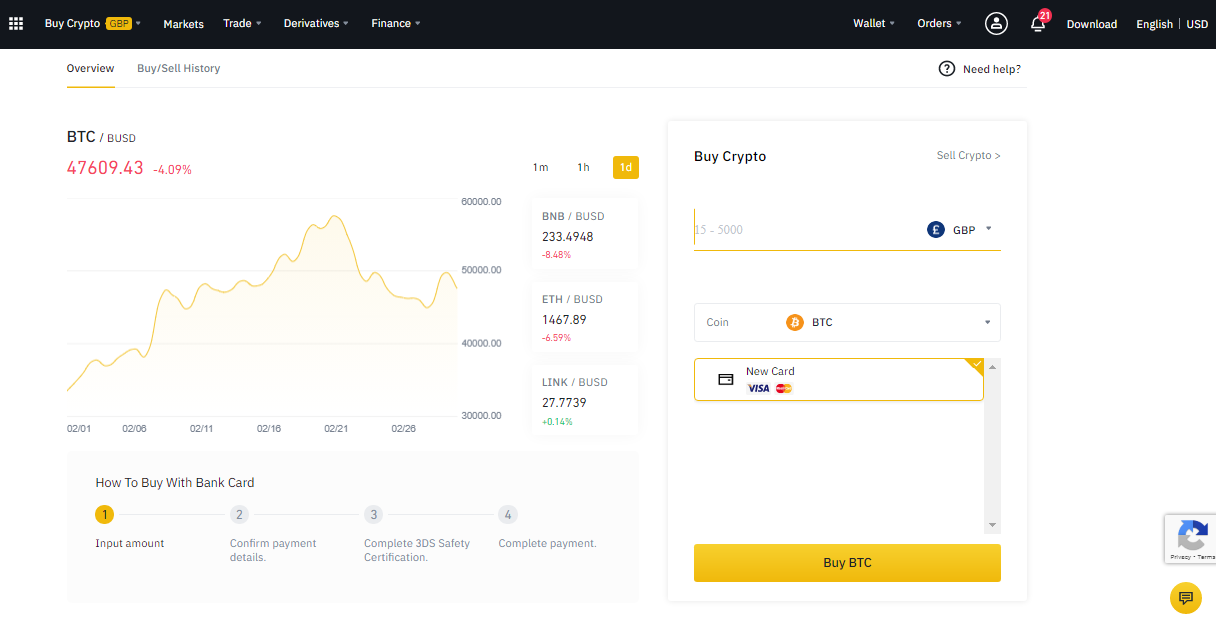 Binance supports various methods to deposit local currency on the platform. However, the most common way to buy bitcoin on the platform is via debit or credit card.
How to do it:
Access the Buy Crypto tab on the website, mobile, or desktop app.
Select the coin you want to buy and the amount.
Proceed with the purchase by verifying the transaction details.
Provide your card information to complete the purchase.
If successful, Binance will add the purchased amount of crypto to your wallet.
You can locate the purchased coins via Wallet > Fiat and Spot.
On Binance, you can buy Bitcoin and other supported cryptocurrencies via peer-to-peer trading (P2P). This option involves directly purchasing from another user on the exchange and sending the payment via bank transfer or any other method approved by the seller.
Binance serves as an escrow service and releases the coins to you once the user confirms that they received your payment.
How to trade - a short guide
After buying Bitcoin on Binance or depositing another cryptocurrency, you may wish to convert it to another crypto. For this purpose, Binance offers both simplified and advanced trading via its order books.
To convert one crypto to the other: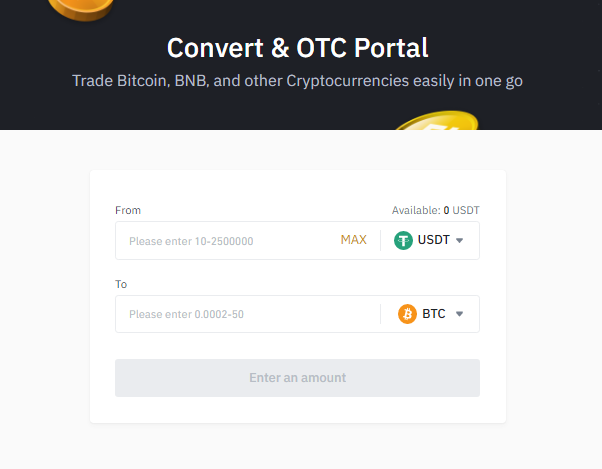 Go to Trade and select Convert.
Choose the coin you have and the one you wish to convert it.
Enter the amount to convert.
Click Preview Conversion
Confirm and complete the trade.
Binance will add the newly converted coins to your Fiat & Spot Wallet.
Since the Binance Convert feature doesn't support all trading pairs on the platform, you can also trade via the order book on the exchange.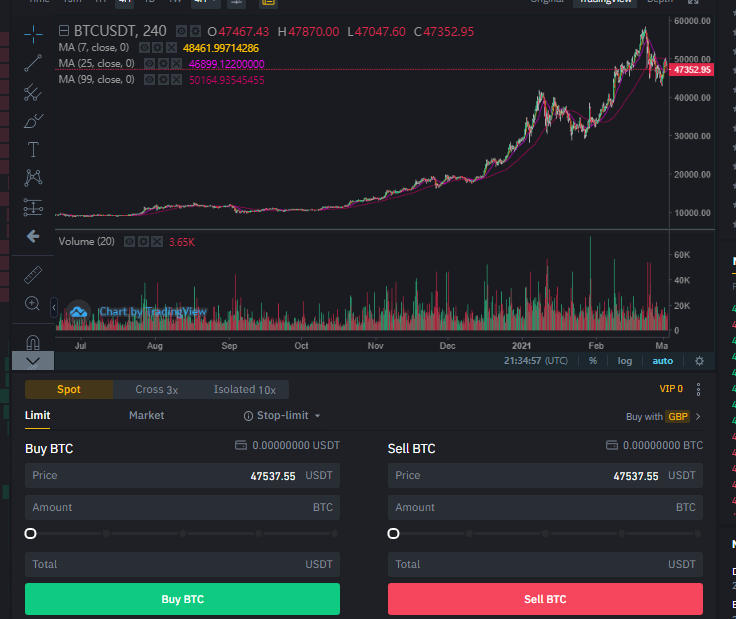 Binance BTC/USDT trading interface
How to do it:
Click on Markets
Use the search bar to find the pair you want to trade one coin for the other.
Open the pair and scroll down to the Orders tab.
Switch the Order Type to Market
Enter the number of coins you want to buy with your current balance.
Once you click Buy, the order executes instantly.
Binance will add the purchased coins to your Wallet.
Buying limits
The purchase limit on Binance for debit and card deposits is based on the level of verification completed and is as follows:
Basic Info Verification: €5,000/day for card deposits
Address Verification: €10,000/day.
GBP and EUR Deposits
SEPA
€50,000 daily
€500,000 monthly
€20 - €15,000 per transactions
Faster Payments
£50,000 daily
£500,000 monthly
£20 - £15,000
Verified Corporate accounts: €/£500k deposit daily via Faster Payments and SEPA.
Fees on Binance
Card Purchase: 1%
Maker and Taker fee: 0.1%
SEPA/Faster Payment deposit and withdrawals: €/£ 1.50
BTC withdrawals: 0.0002BTC
ETH withdrawals: 0.012 ETH
View the full Binance fee schedule
Binance kickback
Binance has an attractive referral and feedback program for customers who refer others to the platform. Each user gets a unique referral link and can decide what percentage of fee kickback they want to share with others that they refer.
The referral commission is paid out in real-time as the user trades on the Binance spot or futures platform, while the referred user can get up to 5%, 10%, 15%, or 20% fee kickback as set by the referrer. Referred users who hold up to 500 BNB on their account can get up to 40% fee kickback, while the referer also benefits.
Follow this link and get up to 20-45% kickback with our referral ID!
Binance support
Binance primarily offers customer service via the LiveChat option on the desktop, web, and mobile app. However, having so many users means it could take several hours to reach the customer support desk on LiveChat and via email.
Is Binance Exchange Safe?
Binance is a relatively safe and good exchange to use. The platform integrates security features for customers to secure their funds and abides by high-security standards.
However, Binance has suffered a security breach in the past. In May 2019, the exchange lost 7000 BTC (appr. $40 million) to hackers.
Binance subsequently refunded users via its Secure Asset Fund for Users (SAFU fund). The SAFU fund is a self-managed insurance account in which the company allocates 10% of the daily trading fee it collects from users. The proceeds reimburse users if the platform suffers a security breach or other substantial losses.
Binance also publicly shares its wallet addresses to provide blockchain-based proof that all deposited assets are held in reserves. You can find Binance's proof-of-reserves data on CoinMarketCap or Nansen.
While it is relatively safe to store funds on Binance, we always recommend storing crypto that you want to hold for the long term in a wallet where you keep the private keys. Ledger or Trezor hardware wallet devices are a good option and have proven secure for cryptocurrency investors.
Pros & Cons
Pros
Binance lists various coins and thus gives crypto investors more options.
The Binance website is available in over 36 languages.
Binance ultimately fulfils the professional crypto trader's need by combining spot, futures, high margin, and leveraged trading, all in one exchange.
The exchange boasts unrivalled liquidity across its trading pairs and handles larger ones via its OTC portal.
Binance exchange fees are relatively cheap when compared to its competitors.
The Binance team is quick with building and rolling out new products that match the fast-evolving cryptocurrency industry.
Binance is ideal for users looking to earn interest on their cryptocurrencies.
The Binance Card is ideal for investors who want to spend their crypto with the same flexibility as cash holdings.
Cons
Binance's exchange platform is loaded with too many features that do not precisely meet new and inexperienced retail investors' needs.
A large user base means it can take several hours to reach the Binance customer service team occasionally.
Not being registered or regulated in a prominent country means Binance's business practices may not be fully trustworthy. The company could become subject to regulatory action, especially for its listing of high-risk cryptocurrency projects.
F.A.Q
Where is Binance Registered?
When asked the above question, Binance CEO Changpeng Zhao responded: "Well, I think what this is is the beauty of the blockchain, right, so you don't have to … like where's the Bitcoin office, because Bitcoin doesn't have an office."
Binance has never been outright regarding its headquarters, preferring to identify itself as a decentralised autonomous organisation (DAO).
Although many initially thought Binance was based in Malta, the Malta Financial Services Authority (MFSA) outright denied in a statement that Binance is under its jurisdiction. Other reports suggest the company has entities registered in the Cayman Islands and Seychelles. Although Binance does not have a prominent physical headquarters, the company holds licenses across several jurisdictions, including Italy, Dubai and France.
Conclusion
Binance has grown from a spot crypto exchange to the industry's largest business and ecosystem within its first few years.
Unlike other Binance reviews, this article touched on different products and services offered by the platform. It also reviewed the platform's safety features and covered the pros and cons of trading with Binance.
Prospective users and customers armed with this information will be better positioned to choose whether to create or continue using a Binance account.